If you're getting PC gaming hardware, especially from Corsair, then you're very likely getting RGB. That fact has become a meme at this point, and it's something I learned firsthand when I started doing product reviews for TheGamer. Suddenly I found myself with a mechanical RGB keyboard, a headset that lights the way to bathroom breaks during late-night gaming sessions, and even an RGB desk. It's funny – in that desk review I wondered why everything marketed for gamers has to have RGB. Now, as I type this out on my Corsair K65 RGB Mini, I love what I see.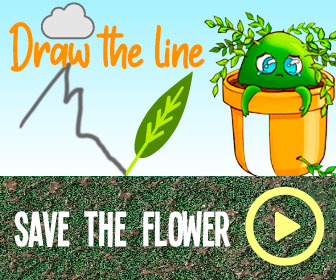 When I first plugged in the K65 Mini, I was greeted with the typical display of shifting colors. What surprised me, however, is that it wasn't the usual reds, yellows, and blues that are often associated with RGB. Instead, I saw soothing white-blue, purple, and light green. It's a nice change of pace, and indicative of all the options the K65 Mini gives you.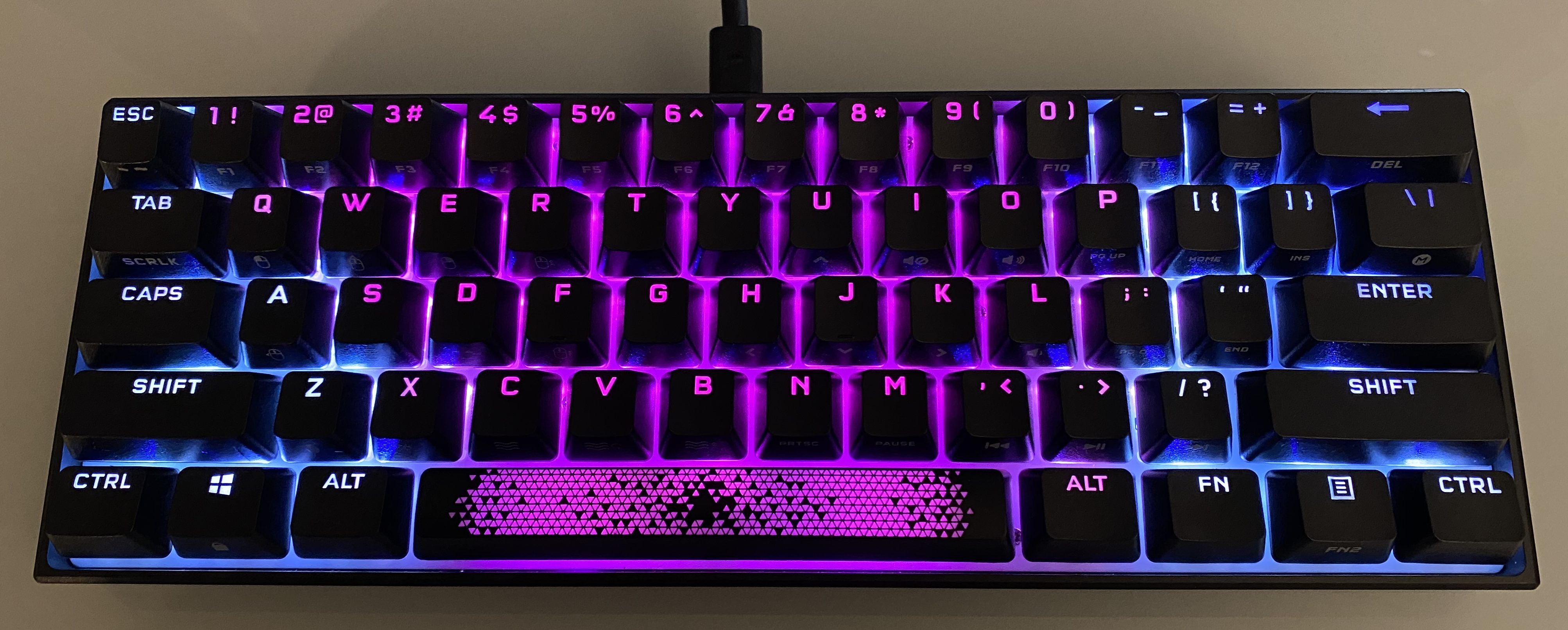 There's a wealth of patterns and colors available with simple hotkey commands, or you can use Corsair's free iCUE software to set your preferences. A nice touch is that iCUE works with Mac. Yes, gaming computers are largely PC, but my work laptop is a MacBook Air, so it was nice to see the support. The K65 Mini also supports Xbox One (and presumably Series X|S), so it might make a handy tool for chatting in party-based multiplayer games like Outriders, which was just announced for day one Game Pass availability.
That versatility and portability are the selling point of a 60% keyboard, at least to me. With the work-from-home life keeping me in my apartment all day, I'm doing what I can to change the scenery in small ways. A mini mechanical keyboard suits this lifestyle nicely – in particular, its height makes it perfect for a more ergonomic standing desk setup. I might suggest the ability to alter height in a future mini, though. That said, I'm happy with having the precision of a mechanical keyboard in a lighter package.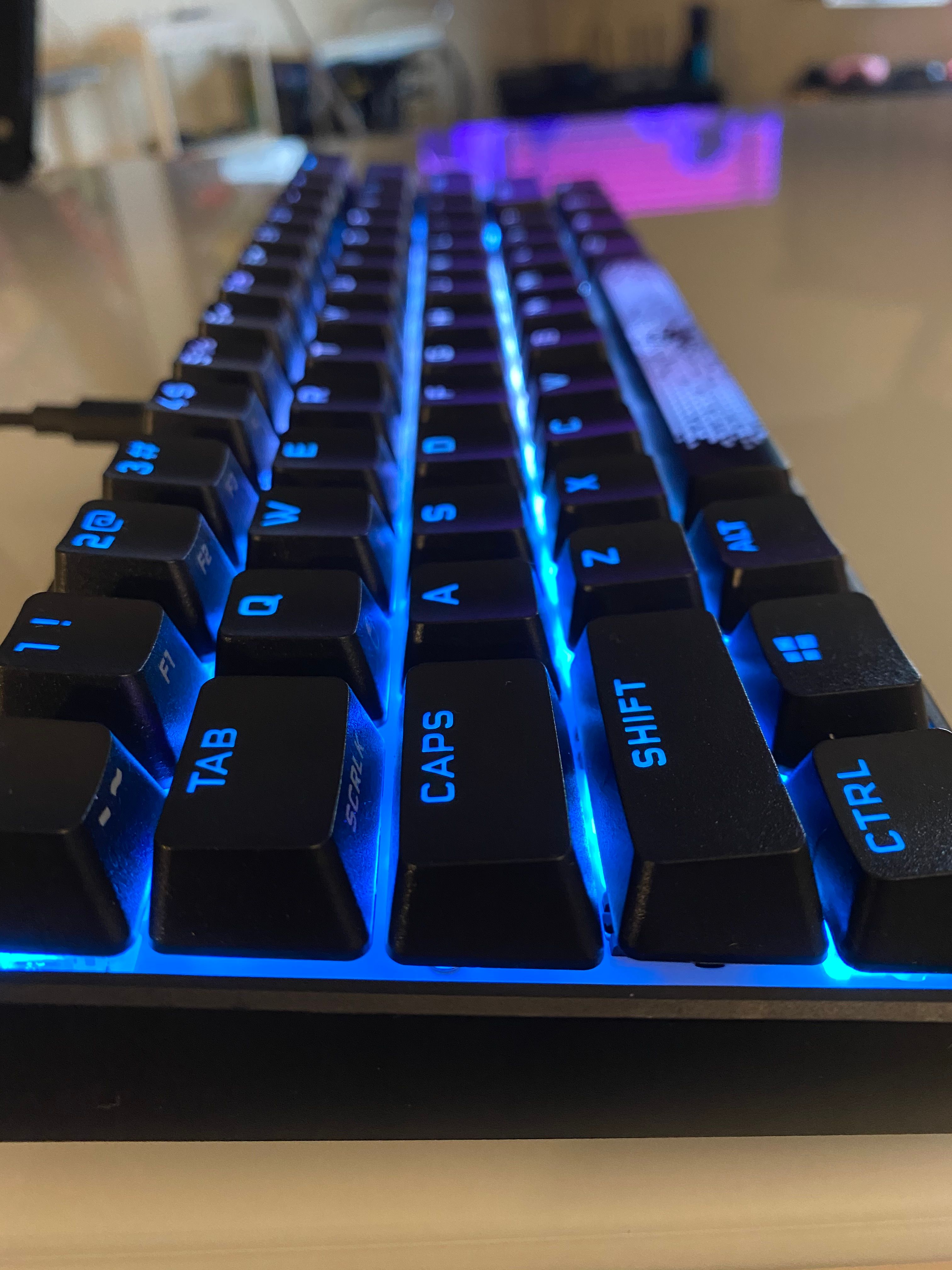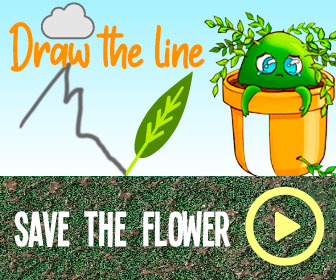 As a gaming keyboard, it offers pretty much everything you could need for a more compact setup. The keys are responsive and give that satisfying feel of a mechanical, but are also don't make too much of a clicky sound. If you're mostly into FPS or action games, there's definitely a case to be made for getting a mini keyboard to give yourself more mouse space.
Mini keyboards have become a new trend, and Corsair's take on it is a solid piece of hardware with soothing RGB. If working from home is going to be a reality for you even after everyone can ditch their masks, you might want to consider this sturdy little guy. And if you're looking to create more space on your gaming desk, the K65 RGB Mini will do that for a pretty good price.
A review unit of the K65 RGB Mini was sent to TheGamer for Review. It's available now, check Corsair's site for details.
Next: Diablo 3 Is Revamping Followers To Make Them Far More Useful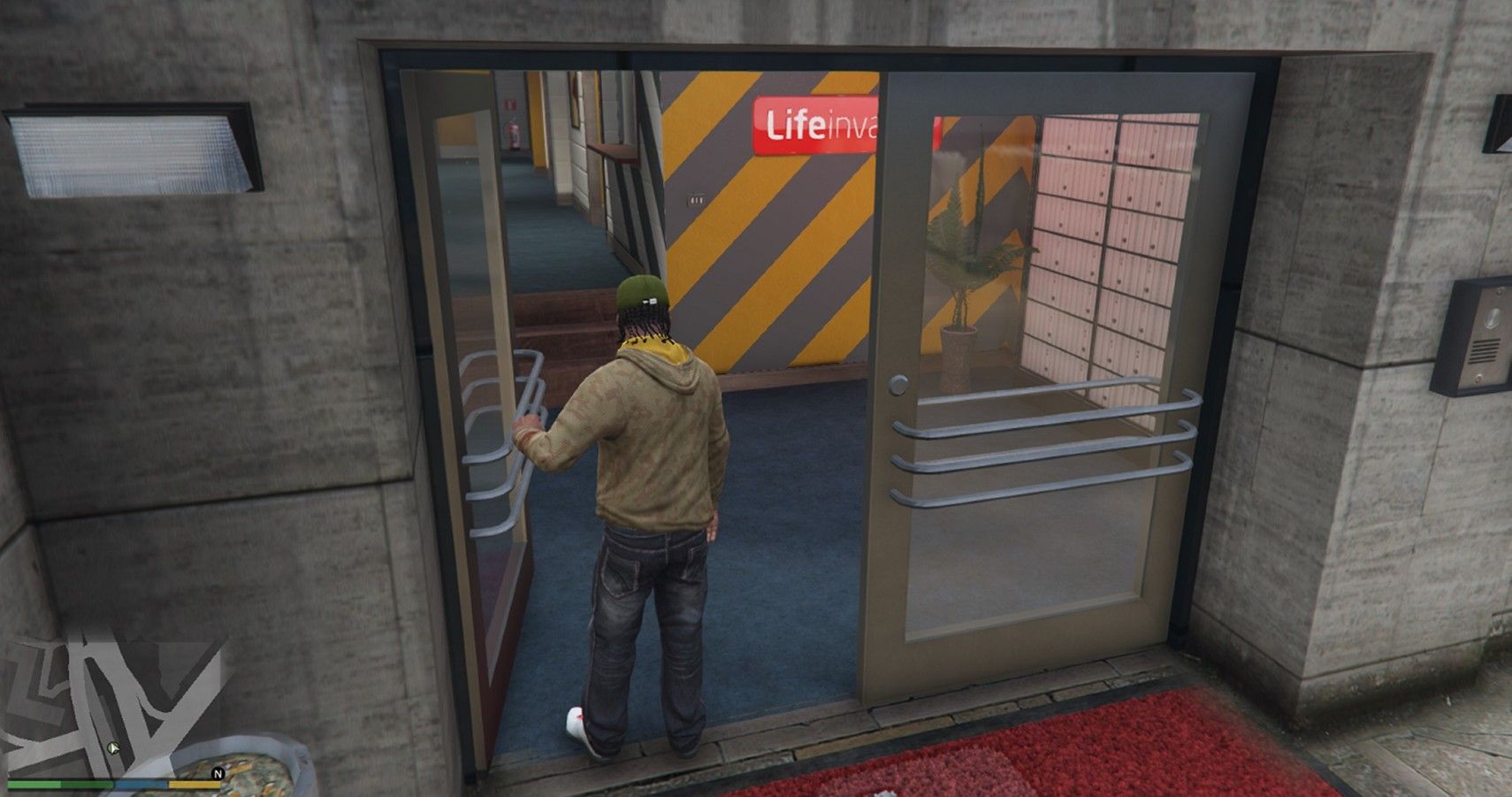 TheGamer Originals
Tech
Corsair
Sergio is the Lead News Editor for TheGamer. But usually he asks people to call him "Serg" because he wants to sound cool like the guy from System of a Down. He began as a convention reporter for FLiP Magazine and Albany Radio's The Shaw Report to get free badges to Comic-Con. Eventually he realized he liked talking to game developers and discovering weird new indie games. Now he brings that love of weird games to TheGamer, where he tries to talk about them in clickable ways so you grow to love them too. When he's not stressing over how to do that, he's a DM, Cleric of Bahamut, cosplay boyfriend, and occasional actor.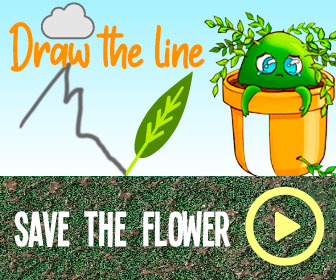 Source: Read Full Article