Microsoft unveiled today that Cyberpunk 2077 will be considered once more under its standard refund policy, specifically for Xbox digitally-purchased games. Previously, refunds were distributed for some Cyberpunk consumers on Xbox who purchased the game on the Microsoft Store, which goes against the company's policy of all digital game sales being final upon completing a purchase.
As per Microsoft's standard refund policy: "All sales of Digital Game Products are considered final, but we understand there may be extenuating circumstances." As would certainly be the case with Cyberpunk 2077, arguably one of the biggest blunders in recent video game history, causing so much of a commotion that it was inevitably pulled even from Sony's PlayStation storefront and amassed several lawsuits against CD Projekt Red.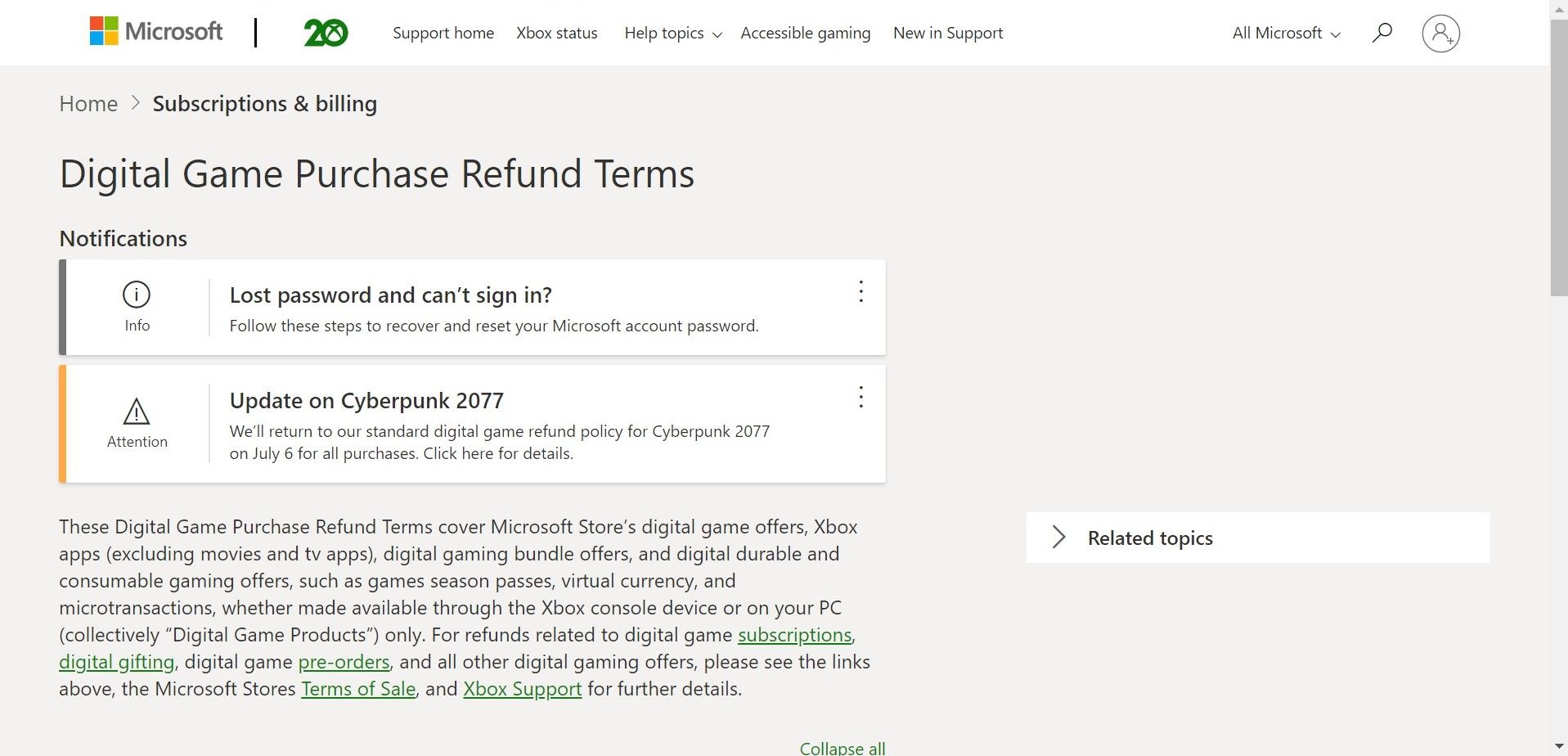 Microsoft even has its own Cyberpunk 2077 addendum attached to the Digital Game Purchase Refund Terms, which now attests to the new changes going into effect on July 6 for "all new and existing" Cyberpunk 2077 purchases. If you still want a refund for the game by this point, head on over to Xbox support and request a refund before it is too late.
The reasoning behind these changes is due largely to CDPR's continued support of the game, with hotfixes and patches going out almost monthly since its ill-fated release back in December. As Microsoft itself says, "The team at CD Projekt Red continues to work hard to improve the experience of Cyberpunk 2077 for Xbox players and has made a number of updates." Despite these words of approval, the game faced some poor optimization of late, acquiring even more bugs in its latest 1.23 patch.
The news comes not a full day following Cybrerpunk's fated return to the PlayStation digital store, allowing PS4 and PS5 players who didn't get it the first time in December to try it anew. Unfortunately, it appears CD Projekt's supposed magnum opus still runs relatively poorly on last-gen consoles, and Sony even spelled out this dilemma by recommending players stick to PS4 Pro or PS5 playthroughs of the game.
It seems Cyberpunk 2077 simply can't escape its negative backlash, but with free next-gen upgrades and a slew of DLC options on the near horizon, maybe it will find some form of redemption in the near future.
Source: Read Full Article