Quick Links
How Do I Upgrade The Crown Of Sorrow?
Where Do I Find Opulent Umbral Energy?
Destiny 2: Season of the Haunted launched today with a brand new seasonal vendor at the H.E.L.M. The Crown of Sorrow plays an important role in the story that is unfolding on the Derelict Leviathan, but it also serves as our umbral vendor and progression keeper this season. If you've started to collect Vestige of Dread, Opulent Umbral Energy, and Figments of Darkness, you may be wondering what they're for. Here is a full guide to the Crown of Sorrow vendor and Season of the Hunted's seasonal progression.
How Do I Upgrade The Crown Of Sorrow?
The only currency you'll need for upgrading the Crown of Sorrow is Figments of Darkness. The number of Figments you are able to collect each week is limited, so you won't be able to grind out all of the upgrades right away. Unlike previous seasons, however, there's a few extra Figments you can get right now if you'd like to get a head start.
There are three sources for Figments: weekly challenges, Crown of Sorrow rank rewards, and seasonal story progression. This week, there are five possible, but it's likely most weeks will only offer two. Right now you can earn one for finishing step five in the Bound in Sorrow seasonal questline, one for completing the Sustained Fire weekly challenge, and three for reaching reputation ranks four, ten, and 16 with the Crown of Sorrow. Each of the crown's upgrades costs a single Figment, but you have to unlock two in the previous columns before the next columns upgrades become available. In other words, you can't unlock all the upgrades in a single row until you've unlocked some in the other rows too.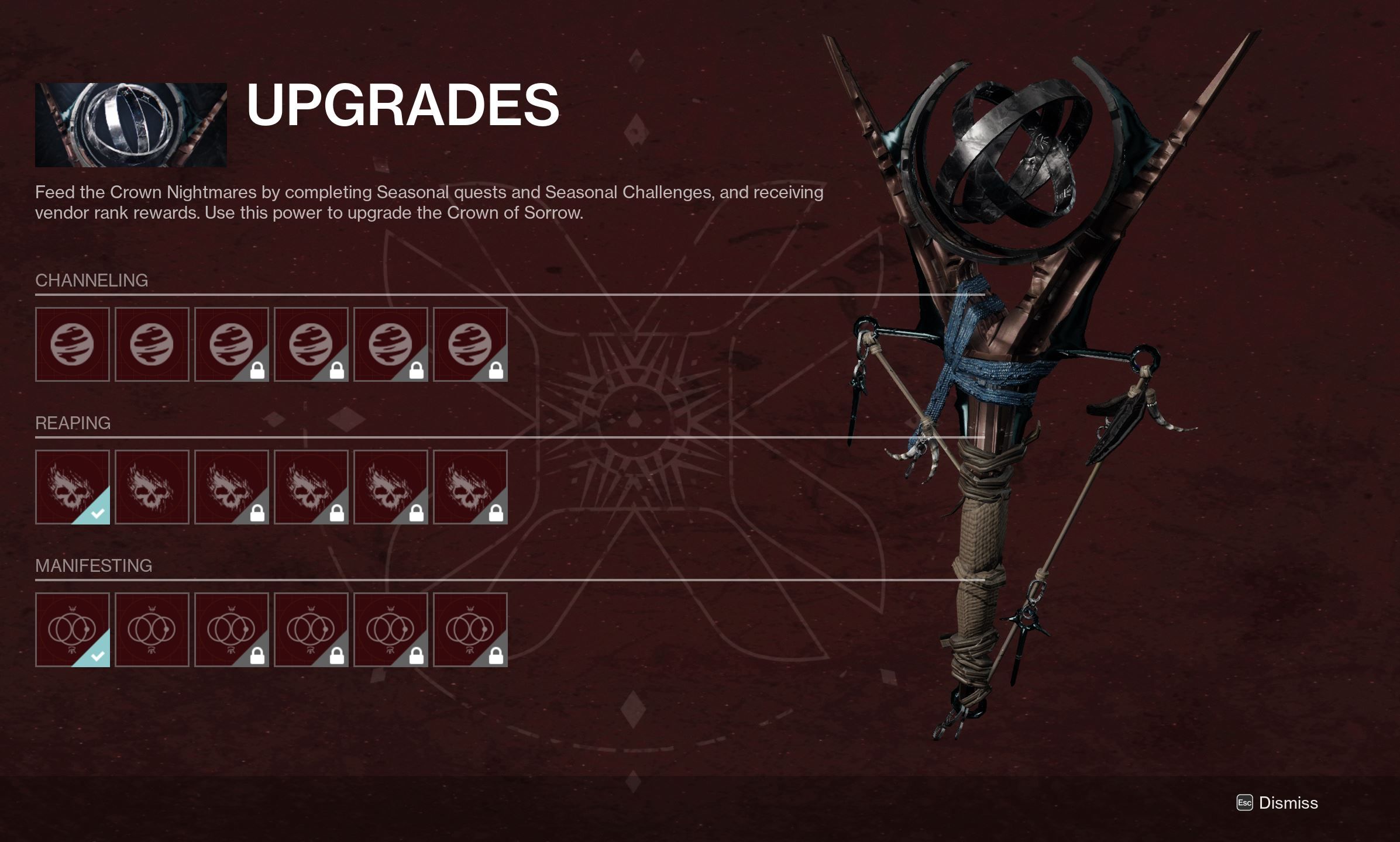 You can increase your reputation rank by completing seasonal challenges, doing Crown of Sorrow bounties, opening chests in the Sever activity, and completing Nightmare Containment Tiers. There's nothing to stop you from grinding your Crown of Sorrow rank to 16 if you want all your Figments right away. Once you've unlocked all three rank reward Figments of Darkness, you'll only receive Figments from challenges and story progress, so it's important to plan out and prioritize which upgrades you unlock. The top row offers upgrades that increase the number of gear drops you receive in seasonal activities, including Deepsight drops. The middle row upgrades increase the number of Vestiges of Dread you receive, making it easier to farm seasonal activities for gear and Opulent Umbral Energy. The bottom row unlocks the ability to focus Umbrals into three different categories, as well as increase the amount of Opulent Umbral Energy you receive. Prioritize the middle row and all of the Deepsight upgrades in the top row to maximize your farming potential and get the new weapon blueprints faster.
Where Do I Find Opulent Umbral Energy?
Aside from providing seasonal upgades, the Crown of Sorrow is also where you'll focus your Umbral engrams into specific weapons and armor pieces. There are three categories of focused engrams you can find on the second and third page of the Crown's vendor page. Opulent Weapon Focusing includes four weapon from Season of Opulence, rereleased in Season of the Haunted with new new roles. These weapons can be crafted at the Relic, so it's a good idea to farm them for Deepsight version if you want to make your own version. The Haunted Weapon Focusing category includes six brand new weapons – also craftable at the relic, and the Haunted Armor Focusing category features a full set of seasonal armor called Eidolon Pursuant. All weapons have the same price; one Umbral Energy, 50 Legendary Shards, and 27 Opulent Umbral Energy. Armor pieces cost one Umbral Engram, 25 Legendary Shards, and 10 Opulent Umbral Energy.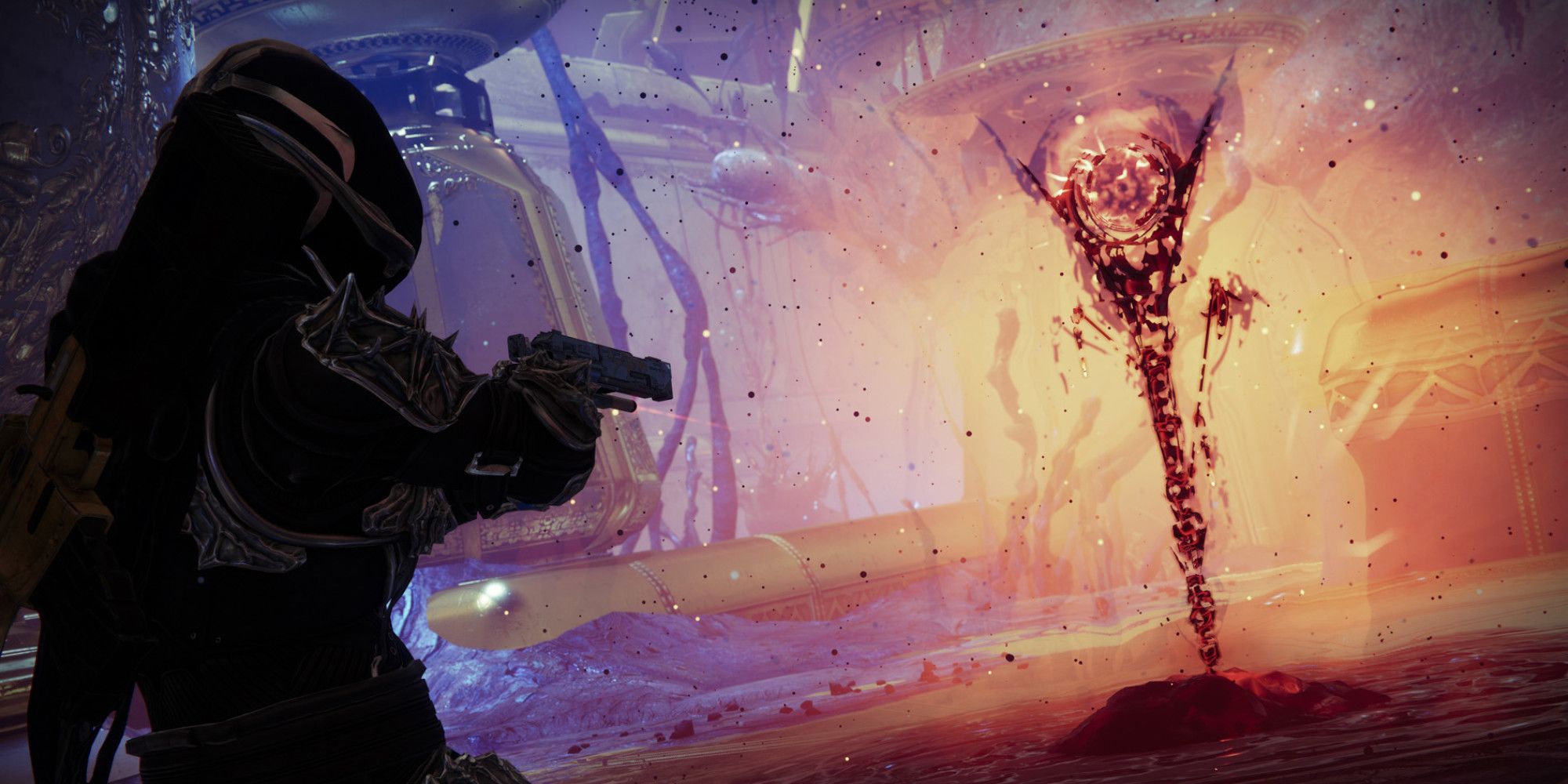 There are three sources of Opulent Umbral Energy. The season pass give Opulent Umbrals at levels two, 52, 70, and 92 for a total of 21 energy, which isn't quite enough to focus a weapon. You'll receive seven energy every time you bind the nightmares at the end of a Containment activity. You do this by depositing 150 Vestiges of Dread into the Harvester after killing the boss in Containment Tier 3. The faster you earn Vestiges of Dread, the faster you can collect Opulent Umbral Energy from the Containment activity.
The final source of energy comes from the Sever activity. Anytime you bind nightmares at the end of Containment, there's a chance you'll recieve a Bound Presence. If you do, complete the Sever mission and open the chest at the end to receive five energy.
The grind for focused Umbrals seems particularly long this season, but luckily there's no time gate to stop you from farming energy right now. As you collect upgrades throughout the season, it will get easier and easier to farm for these valuable materials.
Source: Read Full Article