Quick Links
How To Progress The Season Pass
Fall Guys just debuted their free-to-play launch on existing and new consoles for this title. With this comes their most ambitious season update yet – Season One: Free for All. This brings several updates to new and existing players; including a new and improved Season Pass.
Expanding on the Fame Pass that was available in past Fall Guys seasons, this Season Pass offers you 100 Tiers, each rewarding you with an in-game cosmetic or item. With twice as many rewards as past seasons, this new update brings a handful of changes to how this Battle Pass system functions. Use the information provided to familiarize yourself with these differences to ensure that you are earning all desired Season Pass rewards.
What Is The Season Pass?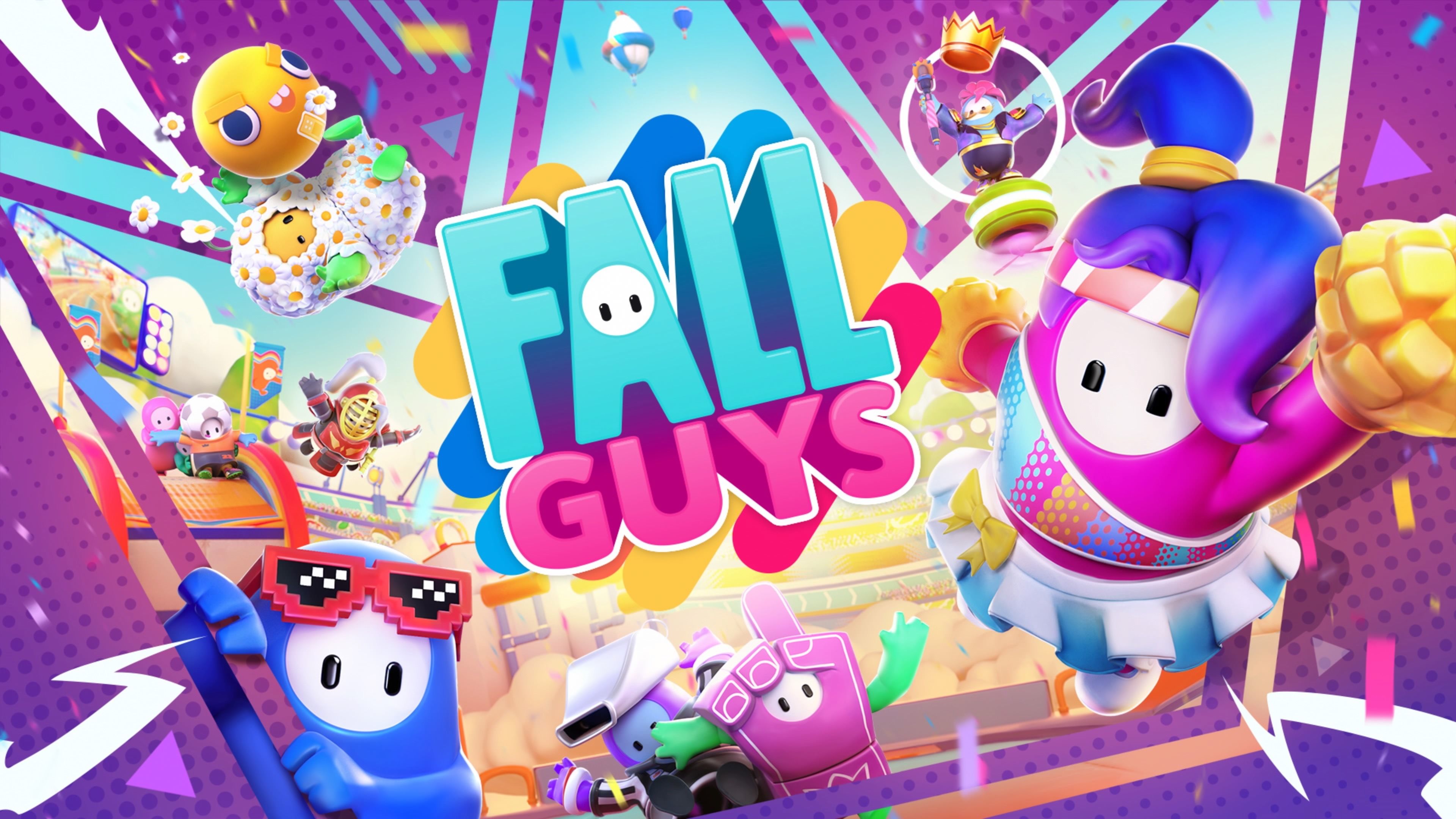 The Fall Guys Season Pass expands on the previously offered Fame Pass to present players with an incentive to spend more time playing this title. Offering 100 exclusive rewards, players are required to compete in Fall Guys Shows to progress their Season Pass, earning them these items.
Although there are 100 rewards that are offered, not all rewards come without a price. Due to the increase in size of this feature, in addition to this title now being free-to-play, players will have to pay for access to all 100 rewards available in this Season Pass. This will cost Show-Bucks, a new paid-for currency brought to the game, but is not necessary, as there are several rewards featured in this Season Pass that are being offered for free.
If you purchased Fall Guys prior to its free-to-play launch, you will be granted access to all 100 Tiers of the Season Pass, free of charge.
How To Progress The Season Pass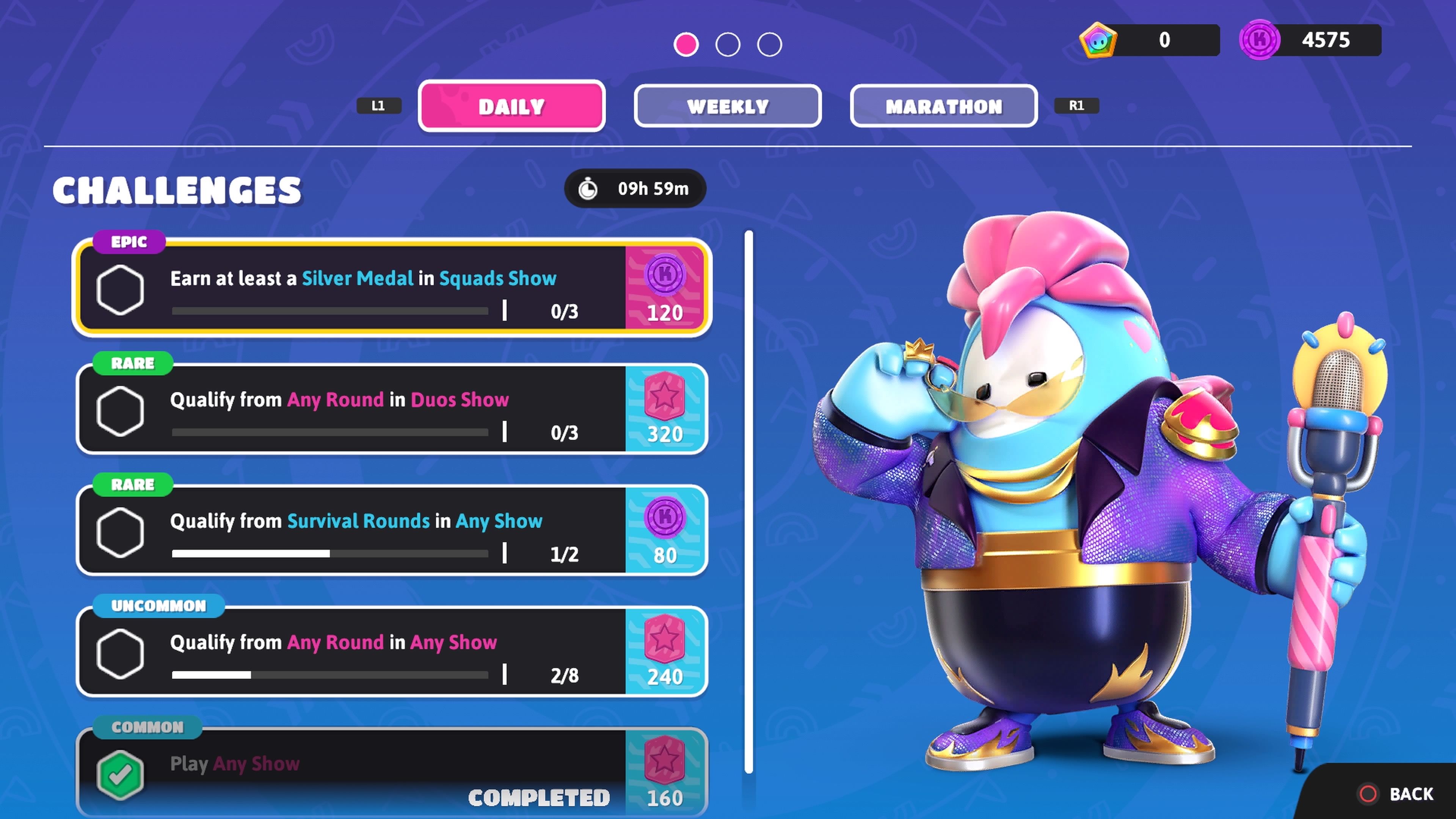 As mentioned above, you will need to spend time competing in Fall Guys shows to progress your Season Pass. Depending on how many Rounds you survived and how well you performed, you will be rewarded with Fame at the conclusion of each Show that you compete in. These points are required to level up your Season Pass from Tier to Tier, providing you with a new reward each time.
Additionally, there are several challenges available that can be completed in exchange for Fame. Players can view all available challenges from the main lobby of the game; presenting you with Daily, Weekly, and Marathon Challenges. These will require you to perform a set task, rewarding you appropriately depending on the difficulty of the challenge.
Going for these challenges proves to be an extremely effective method for progressing the Season Pass; not only providing you with Fame when completed, but also requiring you to play in Shows to complete these tasks. When deciding which challenges to go for, make sure that you are taking note of the rewards provided. Some challenges will give you Fame; while others will give you Kudos, another in-game currency.
Players can also spend Show-Bucks to skip Season Pass Tiers. This can be done from the main Season Pass screen of the game.
Season Pass Rewards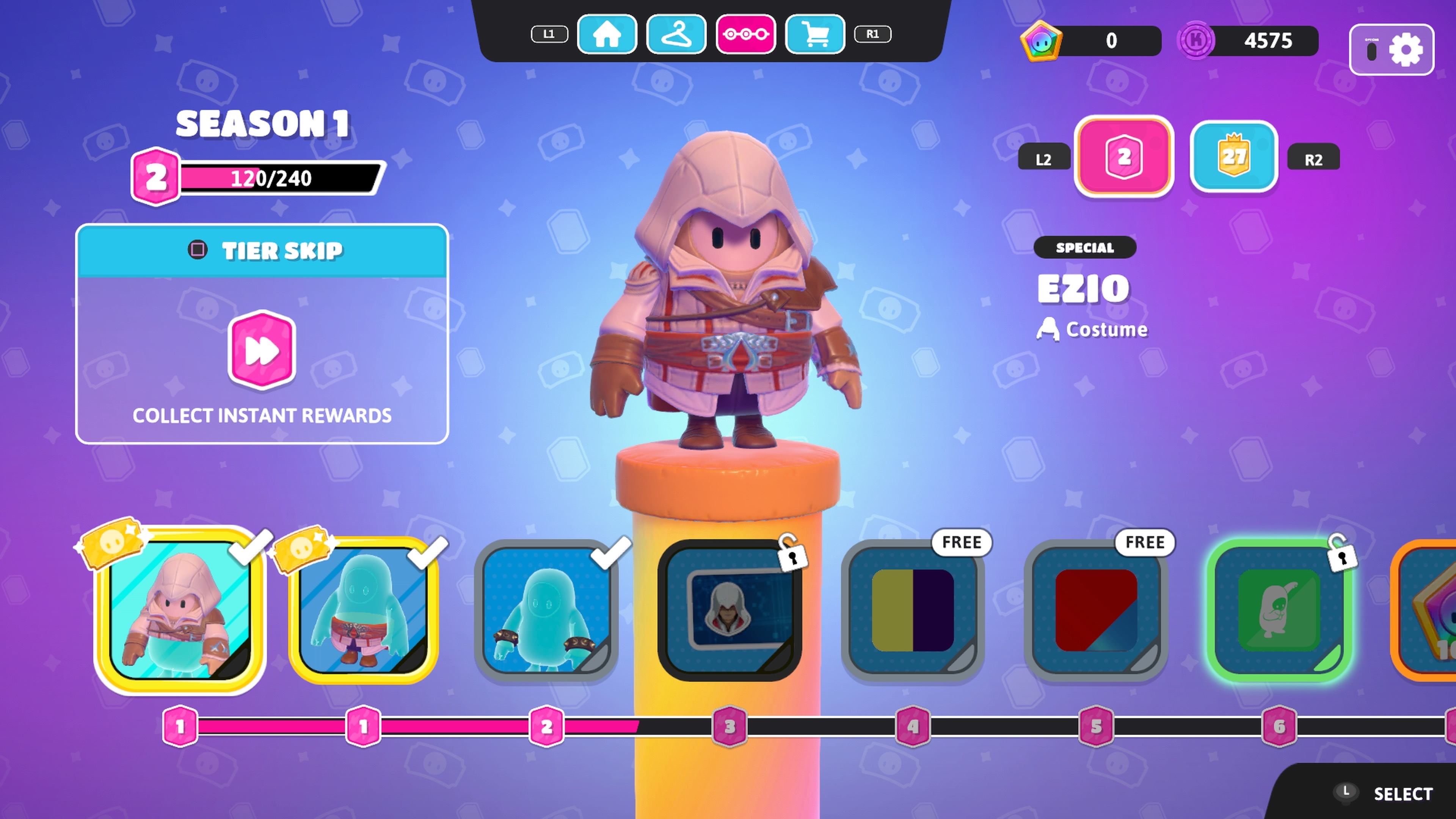 Each of the 100 Tiers offered with the Season Pass provides players with different in-game rewards. These rewards include several cosmetic items that are exclusive to this Season Pass, in addition to other in-game currencies. Progress the Season Pass to get through all 100 Tiers, potentially earning you countless unique rewards. Although there are rewards offered to those who do not wish to pay for the Season Pass, it's important to note the difference in quality of the free rewards. Many of the major rewards advertised for this Season Pass will require players to pay for all 100 Tiers.
While it will cost you money to obtain the Paid Season Pass, you will earn enough Show-Bucks through rewards to purchase next season's pass. This means that, as long as you save them, you will only have to pay for Show-Bucks once, and then you'll be able to purchase future Season Passes free of charge.
Fall Guys – Season One: Free For All Season Pass
Tier
Reward
Item Type
Free/Paid Reward
1
Ezio (Top and Bottom)
Costume
Paid
2
Punk Band (Top)
Costume
Free
3
Enter The Animus
Nameplate
Paid
4
Down The Middle
Pattern
Free
5
Reddy To Go
Color
Free
6
Tiger Stance
Emote
Paid
7
100 Show-Bucks
Currency
Free
8
House of Auditore
Nickname
Free
9
Leap of Faith
Celebration
Paid
10
200 Kudos
Currency
Free
11
Arctic Flip Flops (Bottom)
Costume
Free
12
Dragon Dance Head (Bottom)
Costume
Paid
13
Dragon Dance Body (Top)
Costume
Paid
14
Pink Chill
Faceplate
Free
15
100 Show-Bucks
Currency
Paid
16
Dance Dragon Tail (Top)
Costume
Paid
17
200 Kudos
Currency
Free
18
Dragon Dance Head (Top)
Costume
Paid
19
Happy Place
Nameplate
Free
20
Shape Up
Pattern
Free
21
100 Show-Bucks
Currency
Paid
22
Safety Helmet (Top)
Costume
Free
23
Three Pointer
Emote
Paid
24
Benchwarmer
Nickname
Free
25
Chiselled Bust (Bottom)
Costume
Paid
26
Chiselled Bust (Top)
Costume
Paid
27
Pumpkin Spice
Color
Free
28
200 Kudos
Currency
Free
29
Pumpkin Spice
Faceplate
Paid
30
Swivel Star
Nickname
Free
31
Jungle Frog Pouch (Bottom)
Costume
Free
32
100 Show-Bucks
Currency
Paid
33
Foam Finger
Nameplate
Free
34
Bein Cheesy (Bottom)
Costume
Paid
35
300 Kudos
Currency
Free
36
Bein Cheesy (Top)
Costumer
Free
37
Melon Slices
Pattern
Free
38
Crowd Pleaser
Emote
Paid
39
Top Three Guarantee
Nickname
Free
40
Creepy Peepers
Faceplate
Free
41
100 Show-Bucks
Currency
Paid
42
Breaker Gang
Nameplate
Free
43
Spring Daisies (Bottom)
Costume
Paid
44
Pegwin Gang
Pattern
Free
45
Spring Daisies (Top)
Costume
Paid
46
Fire Forged
Color
Free
47
100 Show-Bucks
Currency
Paid
48
300 Kudos
Currency
Free
49
Winter Pegwin Bow (Top)
Costume
Paid
50
Tummy Time
Pattern
Paid
51
Pixel Shades (Top)
Costume
Free
52
I'm With Winner
Celebration
Paid
53
Speed Boost
Pattern
Free
54
100 Show-Bucks
Currency
Paid
55
Speed Champ
Nickname
Free
56
Peter Pointer (Bottom)
Costume
Paid
57
300 Kudos
Currency
Free
58
Peter Pointer (Top)
Costume
Paid
59
100 Show-Bucks
Currency
Free
60
Clap Clap Woo
Emote
Paid
61
Blue Me Away
Color
Free
62
100 Show-Bucks
Currency
Paid
63
Day At The Races
Nameplate
Free
64
Peg-Wig Cake (Top)
Costume
Paid
65
Sprinkle Top
Pattern
Free
66
100 Show-Bucks
Currency
Paid
67
Lilly Leapers Slippers (Bottom)
Costume
Free
68
Golden Grey
Color
Paid
69
Sumo Inflatable (Bottom)
Costume
Paid
70
300 Kudos
Currency
Free
71
100 Show-Bucks
Currency
Paid
72
Sumo Inflatable (Top)
Costume
Free
73
Happy Jammer
Nameplate
Free
74
Shake and Swirl
Pattern
Paid
75
Pink Afloat
Color
Free
76
400 Kudos
Currency
Free
77
Rhino Rodeo
Celebration
Paid
78
Not the Fastest
Nickname
Free
79
Swash Sash (Bottom)
Costume
Paid
80
100 Show-Bucks
Currency
Paid
81
Avocado
Pattern
Free
82
Prized Pin
Nameplate
Free
83
Patty Pack (Top)
Costume
Paid
84
Beetroot Blush
Faceplate
Free
85
Daisies
Pattern
Free
86
Burning Sensei (Bottom)
Costume
Paid
87
100 Show-Bucks
Currency
Paid
88
400 Kudos
Currency
Free
89
Burning Sensei (Top)
Costume
Paid
90
Criss-Cross
Pattern
Free
91
100 Show-Bucks
Currency
Paid
92
Golden Grey
Faceplate
Paid
93
Sprinkles Donut Bag (Top)
Costume
Free
94
Wide Eyed
Pattern
Free
95
Epic Sax Bean
Emote
Paid
96
Mechagodzilla (Bottom)
Costume
Paid
97
Technological Terror
Nickname
Free
98
Humanity's Greatest Weapon
Nameplate
Paid
99
Mechagodzilla (Top)
Costume
Paid
100
100 Show-Bucks
Currency
Free
Source: Read Full Article