Quick Links
'Suited for Affection' Seasonal Quest Walkthrough
How To Get The Eat Chocolate Emote And Valentione's Heart Desk Furnishing
Love is in the air in Eorzea as the Valentione's Day event returns to Final Fantasy 14. If you want to snag yourself a new glamour outfit and yet another eating emote (because we can never have enough of those), then get ready for this brand new seasonal quest.
The event runs from today until February 15, 2023 at 6.59am (PST)/14:59 (GMT). Seasonal quests cannot be completed after this time, so make sure you have everything wrapped up before then and have already claimed your rewards so that you don't miss out.
'Suited for Affection' Seasonal Quest Walkthrough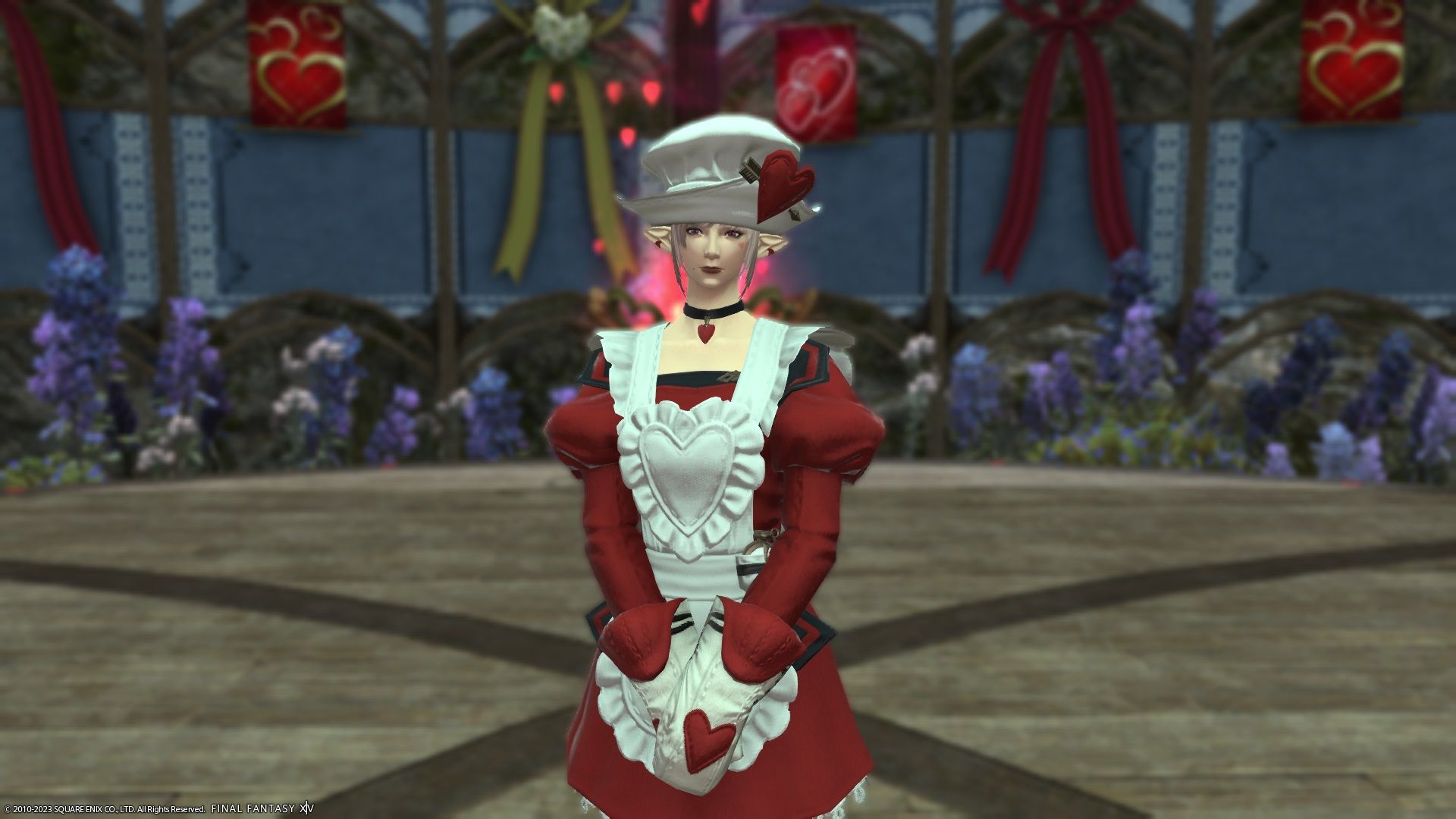 Head to Old Gridania and speak to Lisette de Valentione at (X:10.2, Y:9.4) to start the event. You must be at least Level 15 and have completed the main scenario quest 'It's Probably Pirates' to accept this seasonal quest.
After the cutscene, speak with Emilie at (X:10.2, Y:9.4) to have her accompany you. First, head to (X:12.1, Y:8.5) and speak to the Idle Resident.
On the way, there are glowing blue areas called 'conversation points' where you can speak to Emilie if you wish.
Next, speak to the Relaxing Resident at (X:14.0, Y:9.0), then carry onwards and speak to the Contemplative Resident at (X:13.2, Y:6.5).
Return to Mih Khetto's Amphitheatre, where you started the quest (there is a handy Aethernet Shard nearby), and speak to Emilie at (X:10.2, Y:8.7) to complete the quest.
Once complete, you'll earn yourself the Emissary's Attire Coffer and the 'To Thine Own Self Be True!' achievement.
Your coffer will give you the clothing attributed to your character's gender, but you can purchase the other gender's outfit from the House Valentione Maid Maid NPC upon completion of the quest.
However, the outfits are gender-locked.
Valentione's Ceremony Seasonal Instance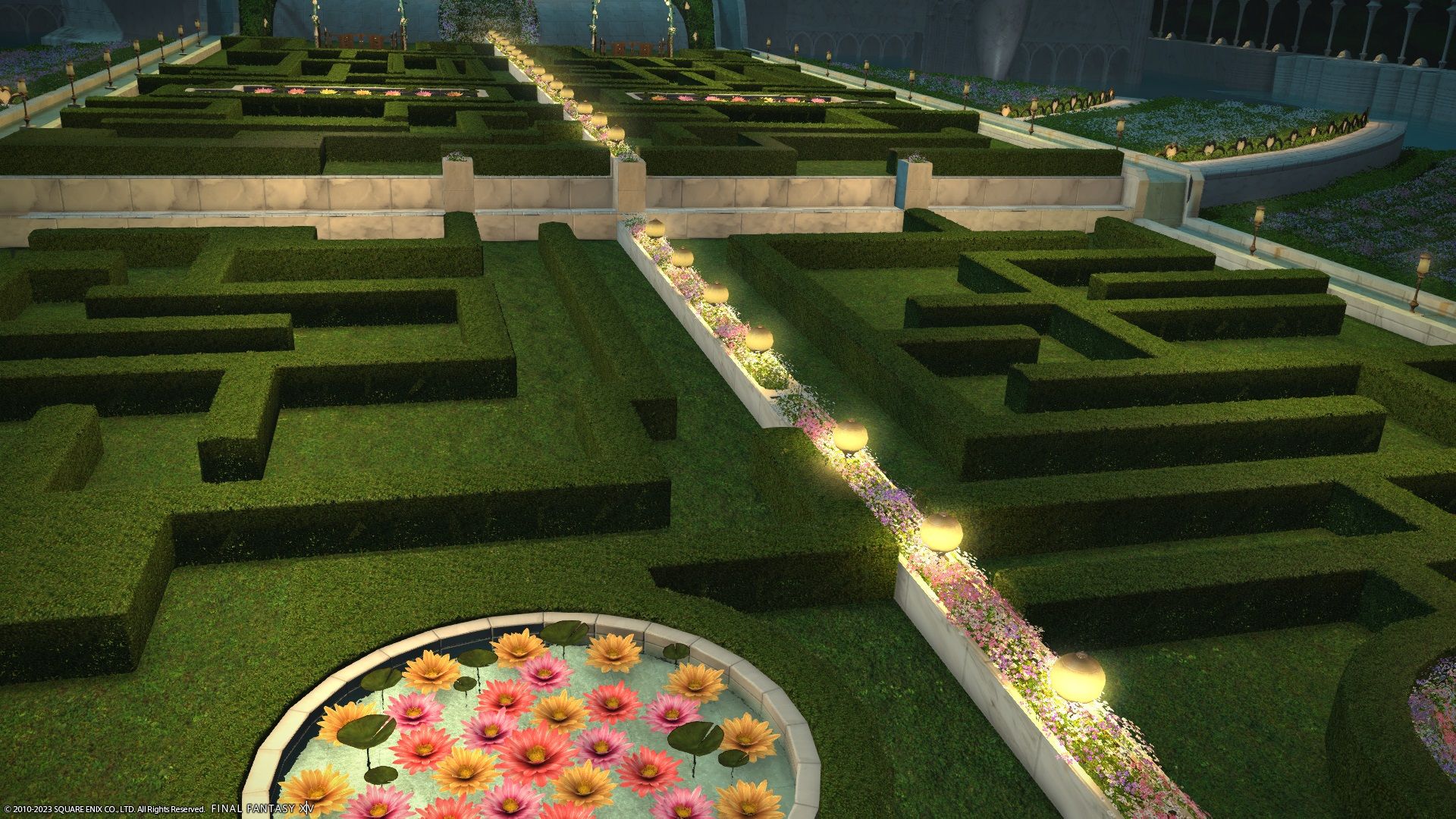 You'll also gain access to the Valentione's Ceremony seasonal instance upon completing the quest — you just need to speak to the House Valentione Servant at (X:10.3, Y:9.2) in Old Gridiania to enter. There, you can participate in a trial with another player to complete two challenges.
The first challenge is making it through a hedge maze while keeping your affinity bond intact. If you stray too far from one another, your affinity begins to count down from 100. Reaching zero will fail the task and kick you out of the instance. You will have to work together to open gates for one another and ensure your bond is not broken.
The second challenge is a card memory game where you must work together to find the pairs.
The instance requires two players, but the game will randomly match you with another player if you enter solo.
How To Get The Eat Chocolate Emote And Valentione's Heart Desk Furnishing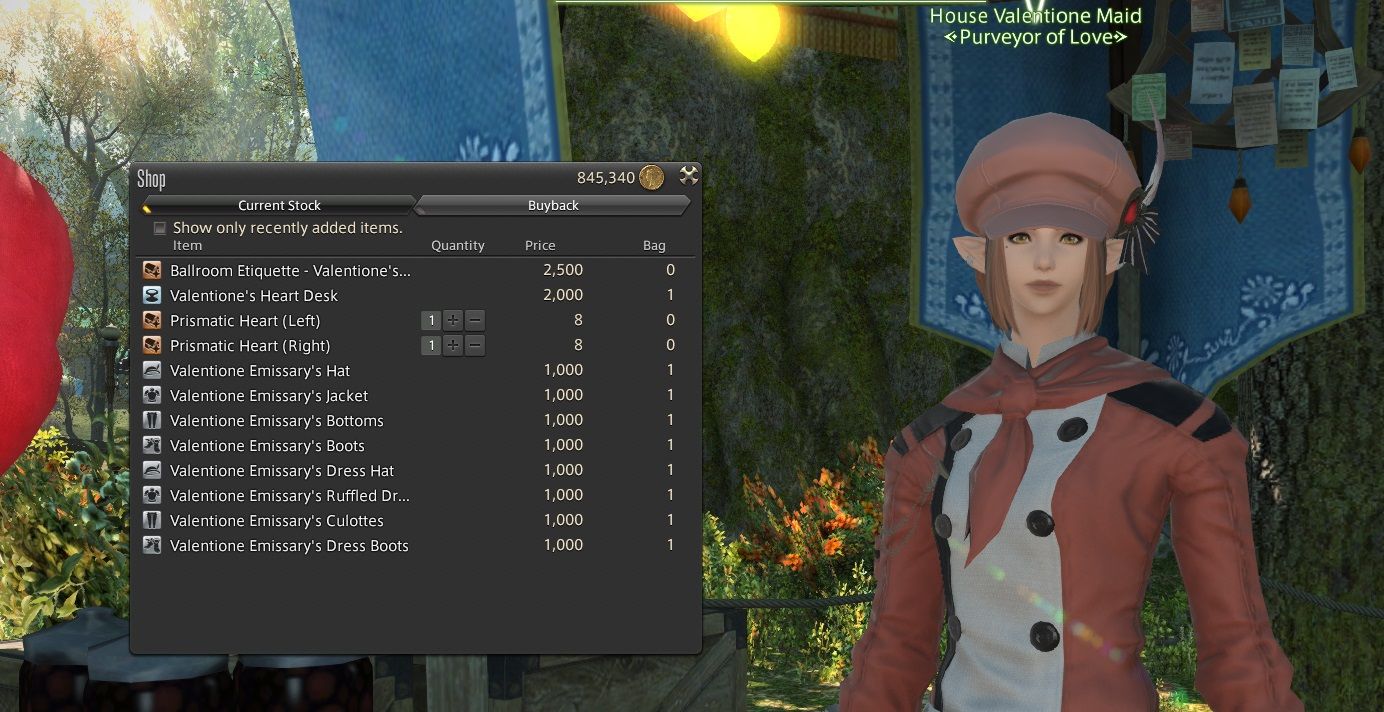 This year, in addition to the glamour outfit you'll receive from completing the quest, the event adds a new emote and furnishing. If you're wondering where to get these, you just need to speak with the House Valentione Maid at (X:10.6, Y:8.8) in Old Gridania to view her wares.
Item

Price

Ballroom Etiquette – Valentione's Dangers (Eat Chocolate Emote)

2,500 gil

Valentione's Heart Desk (Furnishing)

2,000 gil

Prismatic Heart (Left)

8 gil

Prismatic Heart (Right)

8 gil

Below Items Are Only Available Upon Completion Of The Seasonal Quest

Valentione Emissary's Hat

1,000 gil

Valentione Emissary's Jacket

1,000 gil

Valentione Emissary's Bottoms

1,000 gil

Valentione Emissary's Boots

1,000 gil

Valentione Emissary's Dress Hat

1,000 gil

Valentione Emissary's Ruffled Dress

1,000 gil

Valentione Emissary's Culottes

1,000 gil

Valentione Emissary's Dress Boots

1,000 gil
Source: Read Full Article