Quick Links
Where To Find Ovibos Milk
What Is Ovibos Milk Used For?
With the launch of Final Fantasy 14's latest Endwalker expansion, a whole host of new items has been added, many of which are needed for crafting all the new recipes that were added too. One sought-after item is Ovibos Milk, which is used in plenty of culinarian recipes.
Of course, you can simply choose to purchase Ovibos Milk from the Market Board, but if you want to source it yourself to save a little Gil, we're going to cover how and where you can find Ovibos Milk in the game right here.
Where To Find Ovibos Milk
Purchased With Gemstones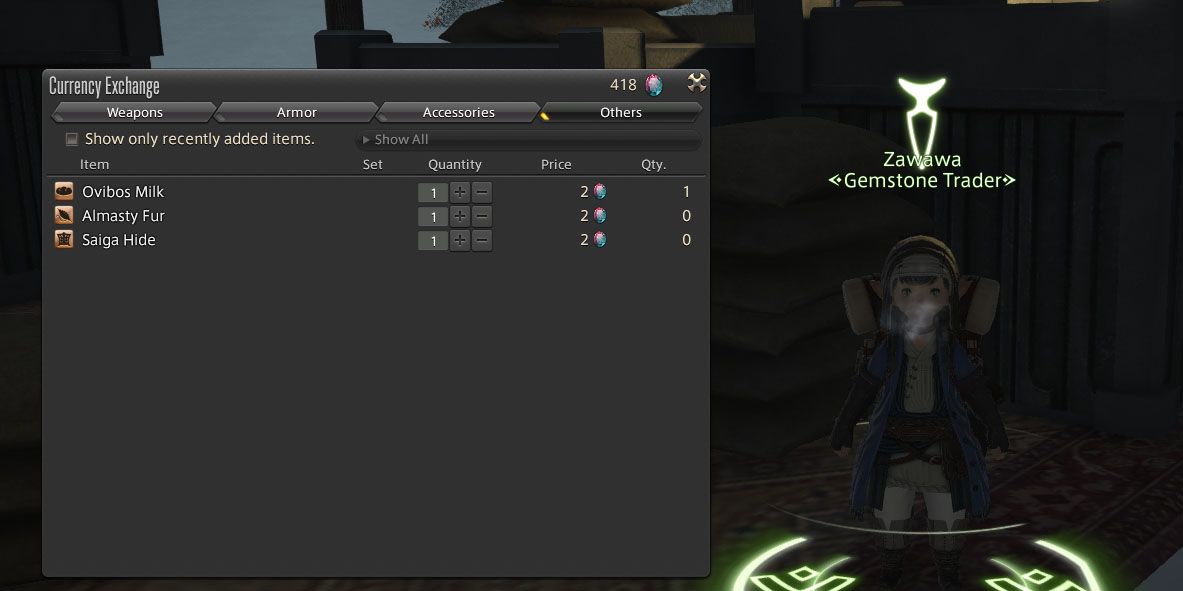 If you want to get Ovibos Milk quickly, you can simply purchase it from the following Gemstone Traders for two gemstones each:
Zawawa in Garlemald at (X:12.9, Y:301)
Gadfrid in Old Sharlayan at (X:12.8, Y:10.5)
Sajareen at Radz-at-Han at (X:11.1, Y:10.1)
Farmed From Ovibos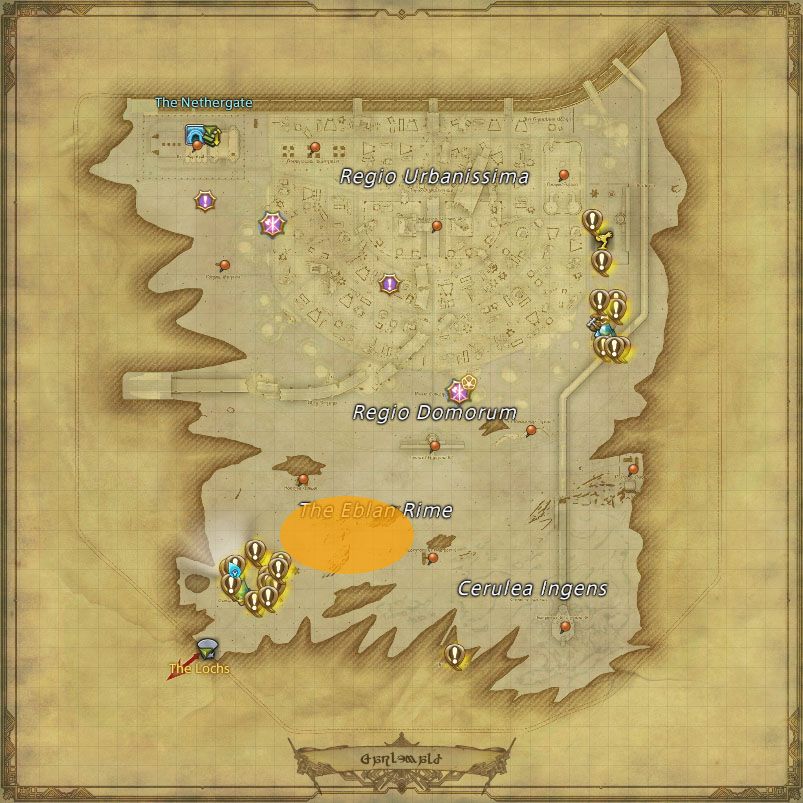 Alternatively, you can simply farm Ovibos yourself. They are found in Garlemald in the Elban Rime area. The map above shows you where you can find them, but it's not the most common of drops.
What Is Ovibos Milk Used For?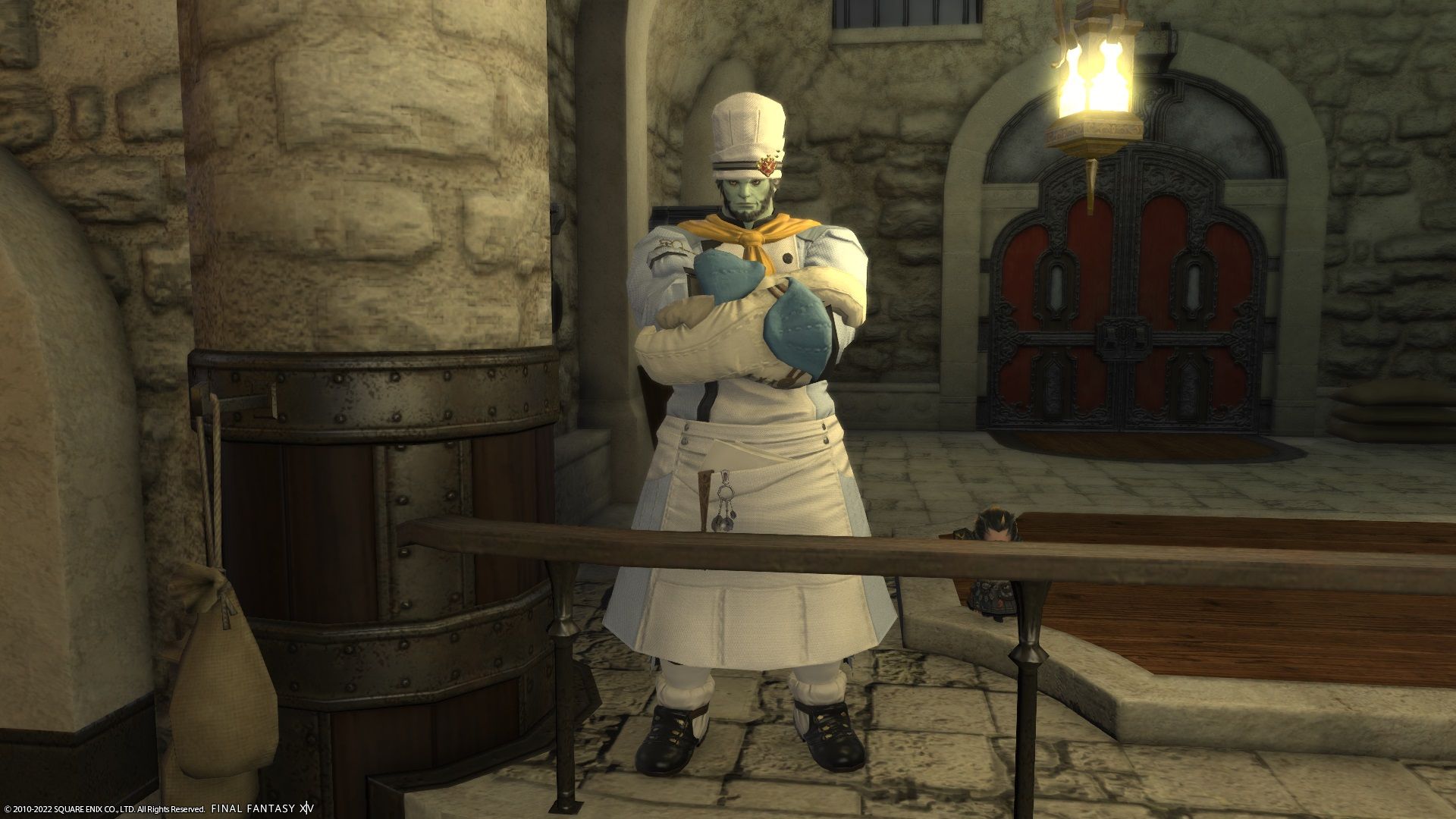 Ovibos Milk is used in quite a few Culinarian recipes, which we have listed here.
Item
Recipe Level
Ingredients
Amra Lassi

---

Culinarian

82

1x Amra
1x Obvibos Milk
1x Palm Sugar
2x Peppermint
8x Fire Crystal
7x Water Crystal

Garlean Cheese

---

Culinarian

84

5x Obvibos Milk
8x Fire Crystal

Wine-dark Soup

---

Culinarian

84

2x Beet
1x Russet Popoto
1x Obvibos Milk
1x Garlean Cheese
1x Peppermint
8x Fire Crystal
7x Water Crystal

Skyr

---

Culinarian

86

2x Palm Sugar
2x Obvibos Milk
2z Ambrosial Water
1x Peppermint
8x Fire Crystal
8x Water Crystal

Yakow Moussaka

---

Culinarian

87

1x Doman Eggplant
1x Yakow Chuck
2x Giant Popoto
1x Obvibos Milk
1x Upland Wheat Flour
1x Cucumber
8x Fire Crystal
8x Water Crystal

Sykon Bavarois

---

Culinarian

90

2x Sykon
1x Gelatin
1x Ovibos Milk
1x Palm Sugar
1x Lemonette
1x Ambrosial Water
8x Fire Crystal
8x Water Crystal

Rarefied Sykon Bavarois (Collectible)

---

Culinarian

90

1x Sykon
1x Gelatin
1x Ovibos Milk
3x Palm Sugar
8x Fire Crystal
8x Water Crystal

Archon Burger

---

Culinarian – Master Culinarian IX

90★★

1x Butterbeef
1x Potent Spice
2x Dark Rye Flour
1x Ovibos Milk
1x Iceberg Lettuce
1x Alien Onion
3x Fire Cluster
3x Water Cluster

Beef Stroganoff

---

Culinarian – Master Culinarian IX

90★★

1x Butterbeef
1x Potent Spice
2x Perilla Oil
1x Ovibos Milk
1x Giant Popoto
1x Iceberg Lettuce
3x Fire Cluster
3x Water Cluster

Pumpkin Potage

---

Culinarian – Master Culinarian IX

90★★

1x Giant Pumpkin
1x Potent Spice
2x Northern Sea Salt
1x Ovibos Milk
1x Ambrosial Water
1x Alien Onion
3x Fire Cluster
3x Water Cluster

Peach Tart

---

Culinarian – Master Culinarian IX

90★★

1x White Peach
1x Potent Spice
2x Dark Rye Flour
1x Egg of Elpis
1x Ovibos Milk
1x Ambrosial Water
3x Fire Cluster
3x Water Cluster

Sykon Cookie

---

Culinarian – Master Culinarian IX

90★★

1x Subtle Cinnamon Sticks
1x Potent Spice
2x Dark Rye Flour
1x Sykon
1x Egg of Elpis
1x Ovibos Milk
3x Fire Cluster
3x Water Cluster

Thavnairian Chai

---

Culinarian – Master Culinarian IX

90★★

1x Subtle Cinnamon Sticks
1x Potent Spice
2x Palm Sugar
1x Sideritis Leaves
1x Ovibos Milk
1x Peppermint
3x Fire Cluster
3x Water Cluster
Source: Read Full Article