Glamours are a big part of Final Fantasy 14. They allow players to don their favourite outfits while still keeping their top-notch stats intact. Aside from preventing armies of characters all wearing the latest tome gear, it's a way to express yourself and unleash your creativity. Some players like to cosplay, others change their outfits with the seasons, and many have individual go-to glamours for specific job roles.
I've attended events with cosplay and glamour contests, and I've met amazing people dedicated to the weekly Fashion Report, but this week I experienced something I had never seen before — a boutique for glamours. When you combine the sheer popularity of glamours with the creativity of the FF14 community, this seems like a no-brainer, and yet it was the first one I've come across.
The Cats Boutique & Bistro on Omega features a wide range of complete outfit glamour designs that rotate, so there is something new each time you visit. Designs range from casual dress to battle-ready concepts, and everything in between. There's also a bistro on the upper floor where you can peruse the menu, indulge in a little roleplaying, and select a tasty treat to enjoy while overlooking the shopfloor.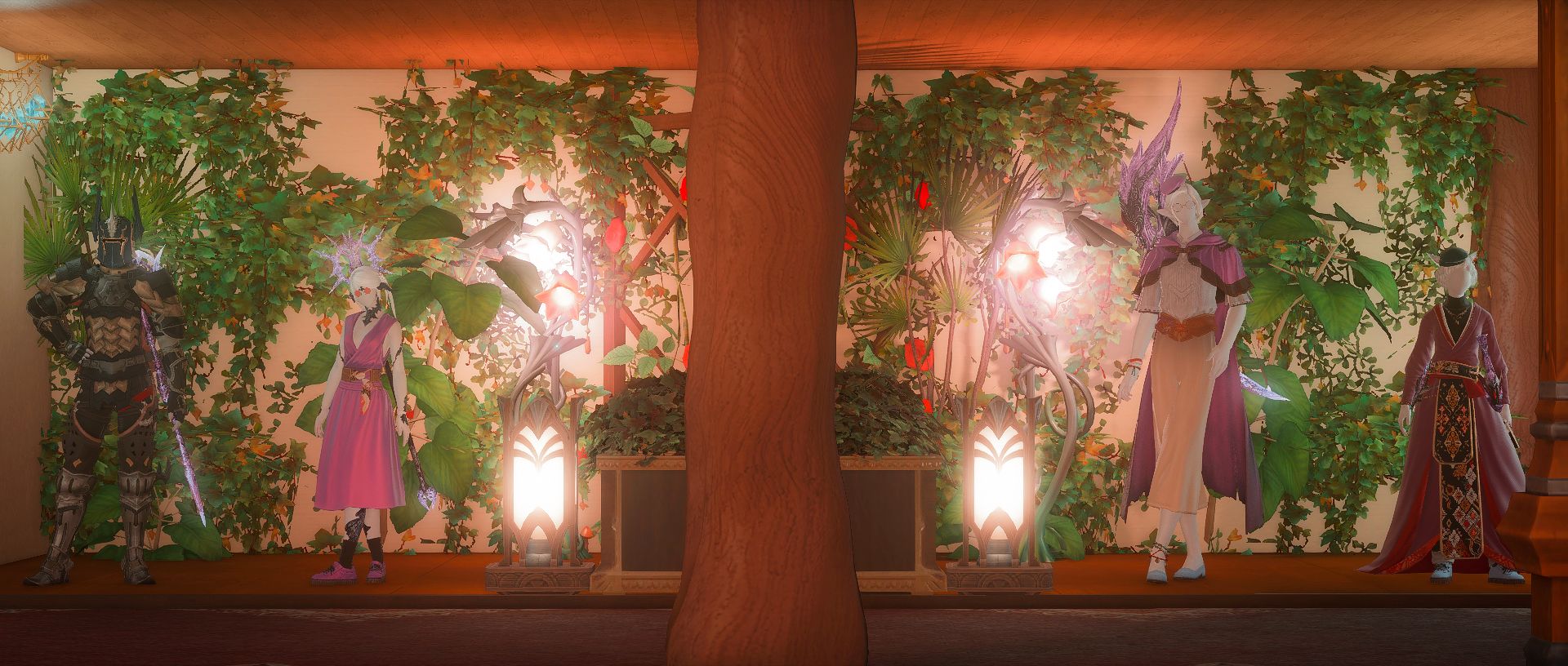 The boutique was founded by Sol Stys, Luhri Melirah, and Luna Natsuiro. The team managed to strike it lucky amidst the housing crisis in May, scoring themselves a medium-sized Free Company house that kickstarted the idea of bringing something fresh to the community.
"Naturally, the idea came to start a roleplaying venue, but which? There were already so many cafes, clubs, [and] taverns." Sol explains to me. "That's when it hit me. My partner Luna bought items from my retainers in the garden! Many people already use mannequins in their homes, but usually, it's to show off their amazing gear from raids, or mogstore glams. Not to make sales. Not to bring amazing looks to the people. That niche is where I decided to strike. We eventually opened in early July, and have been working hard to establish ourselves. Ultimately I put all of my gil towards this endeavor, and by the end of the first day, we had ten million in sales and an incredible wealth of compliments! We're so happy about the lovely reception."
The team works together to ensure the boutique runs smoothly, with each person spearheading a different part of the business. Sol heads up the customer service, working as an RP greeter and salesperson on the shop floor, as well as organising the team and new ideas for the venue. Luhri is responsible for running the bistro cafe, while Luna is an omnicrafter dedicated to crafting the stock and visiting other worlds to advertise the boutique via shouts. Luhri and Luna also helped to design the boutique itself, with Sol expressing how the two created the wooden loft in the house. Araya, the most recent partner to join the team, has their own room in the house to display their designs for customers.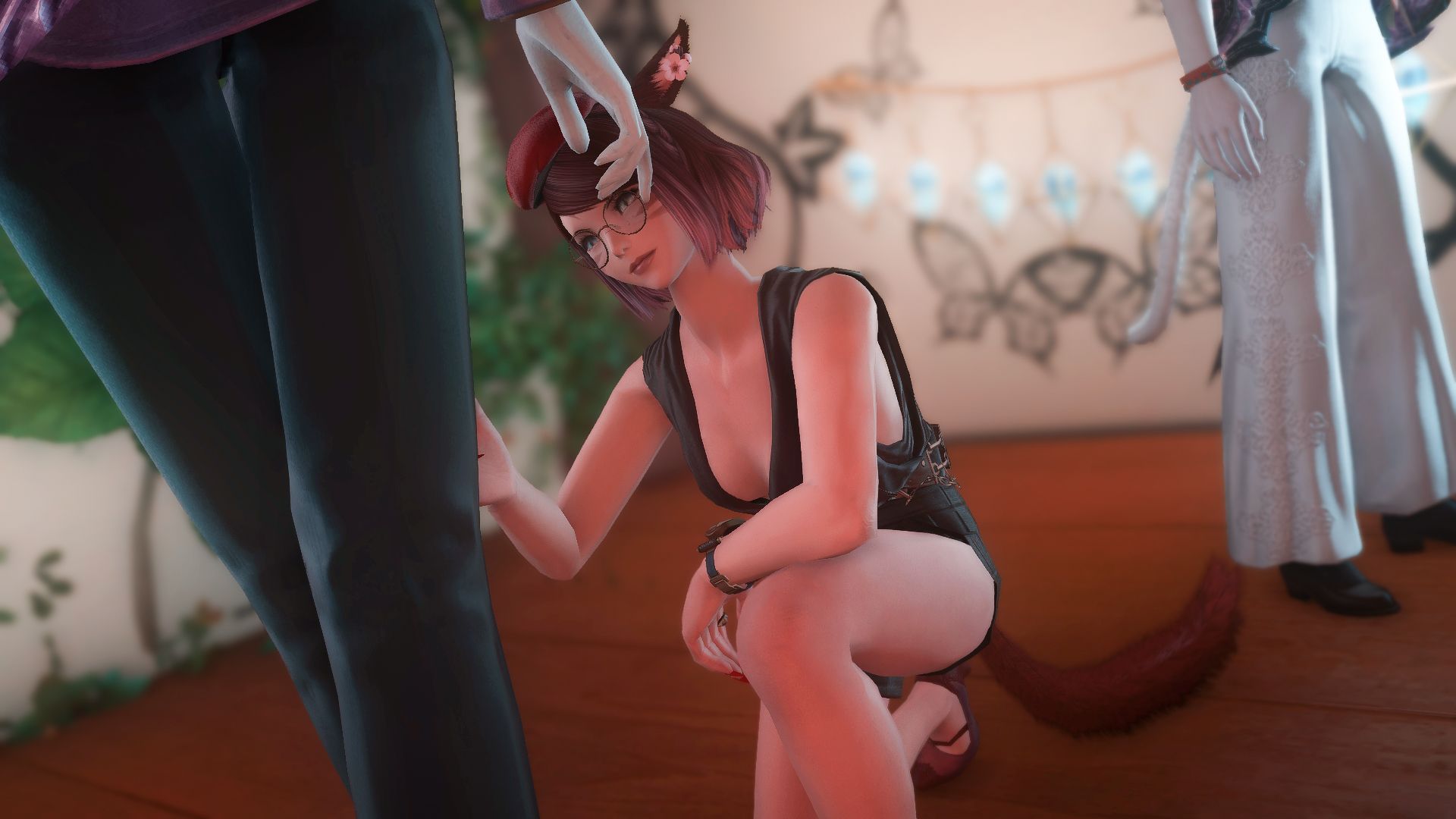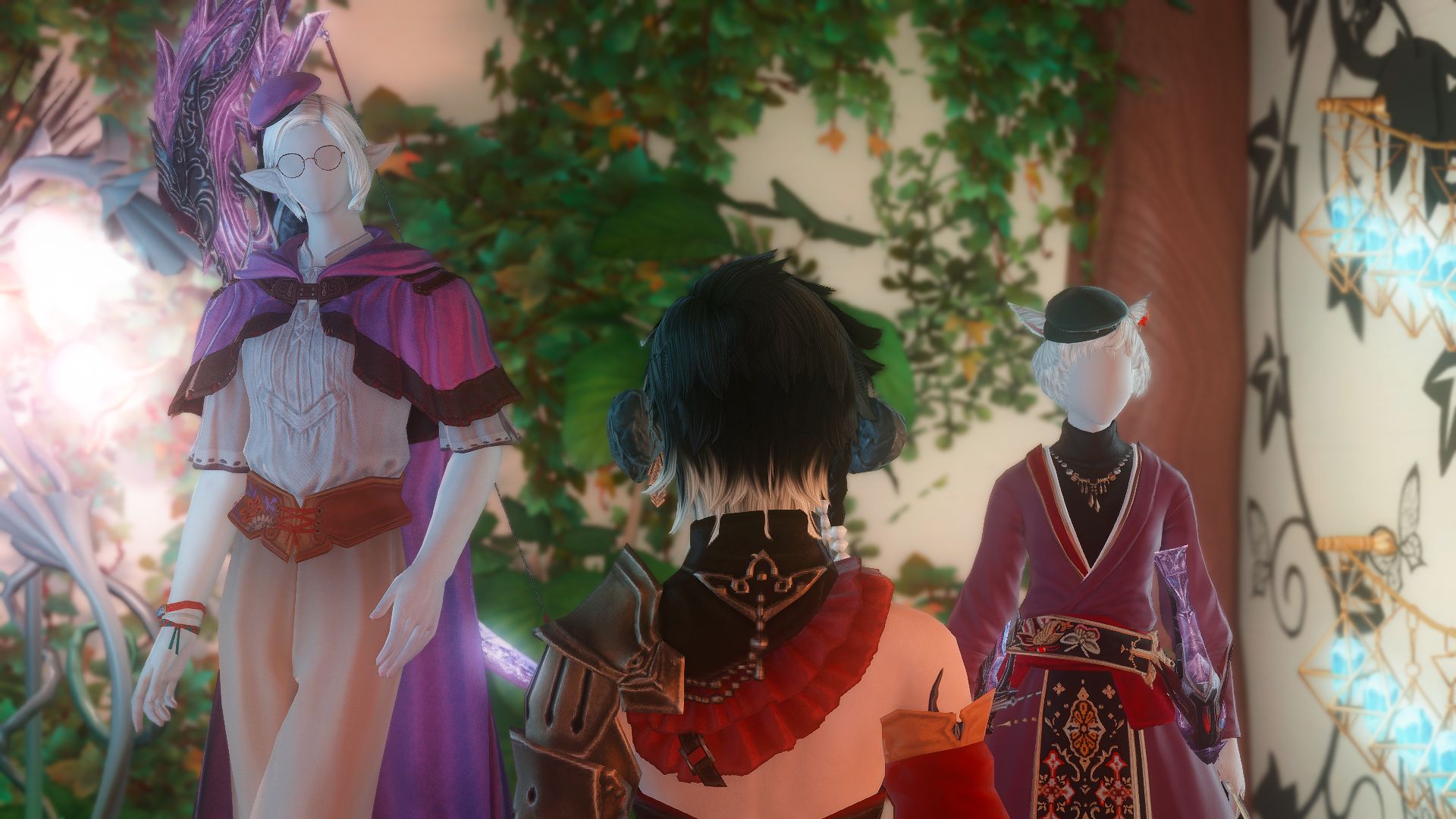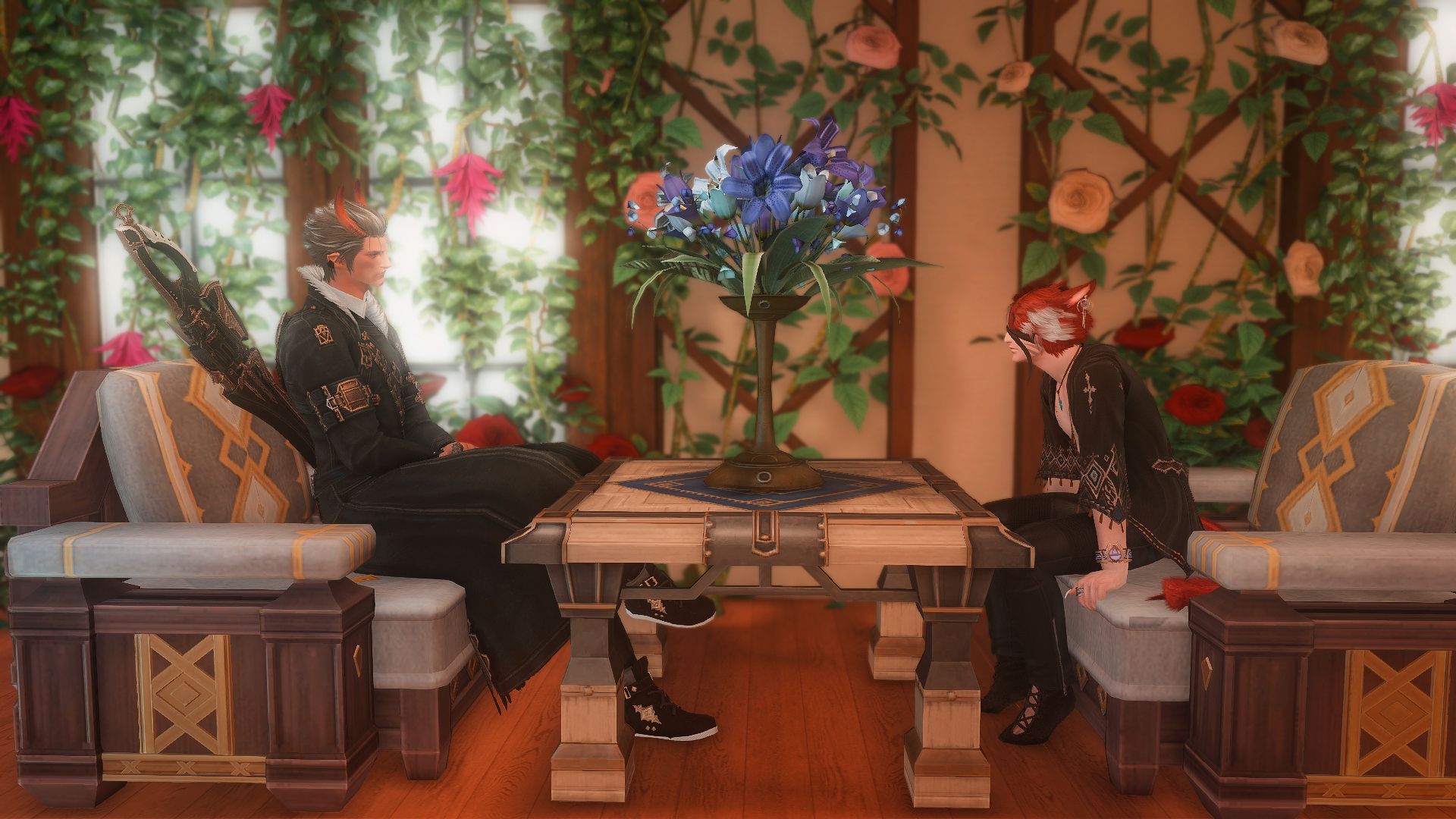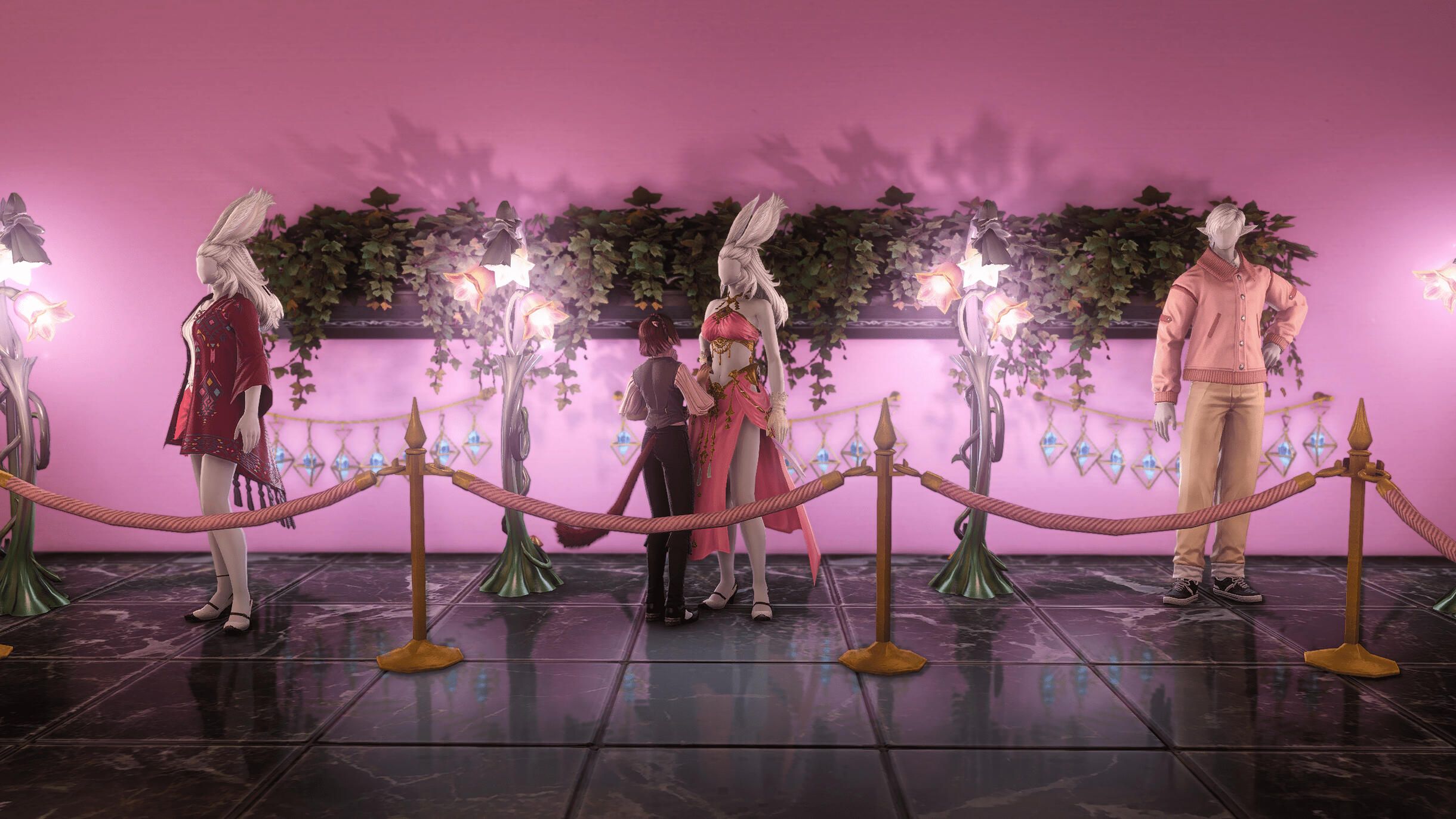 The boutique has two additional rooms under construction to expand its wares further. The team is always looking for new designers to join in and create glamour outfits for customers by utilising the private room function, allowing each designer their own little exhibit.
"Rooms are the best way for us to expand the content we offer. We simply cannot do it all by ourselves," Sol tells me. "We have eight mannequins open for glams in the main hall of our venue. You can have up to 512 rooms in an FC estate. Each room fits four mannequins. We are happy to welcome anyone in the world to come to Chaos-Omega, join the boutique Cats and exhibit their glams. You need a level 50 alt with the GC rank to buy your own room and start showing off. We pay every newcomer a welcome gift, as well as a gil salary for each night your room is ready for business!
"Each room has its theme to work within, and four mannequins to make that theme count. We do not require you to be present in your room during our opening hours and roleplay with anyone – we only want you to keep your room up to date and bring some content to our visitors! No RP required."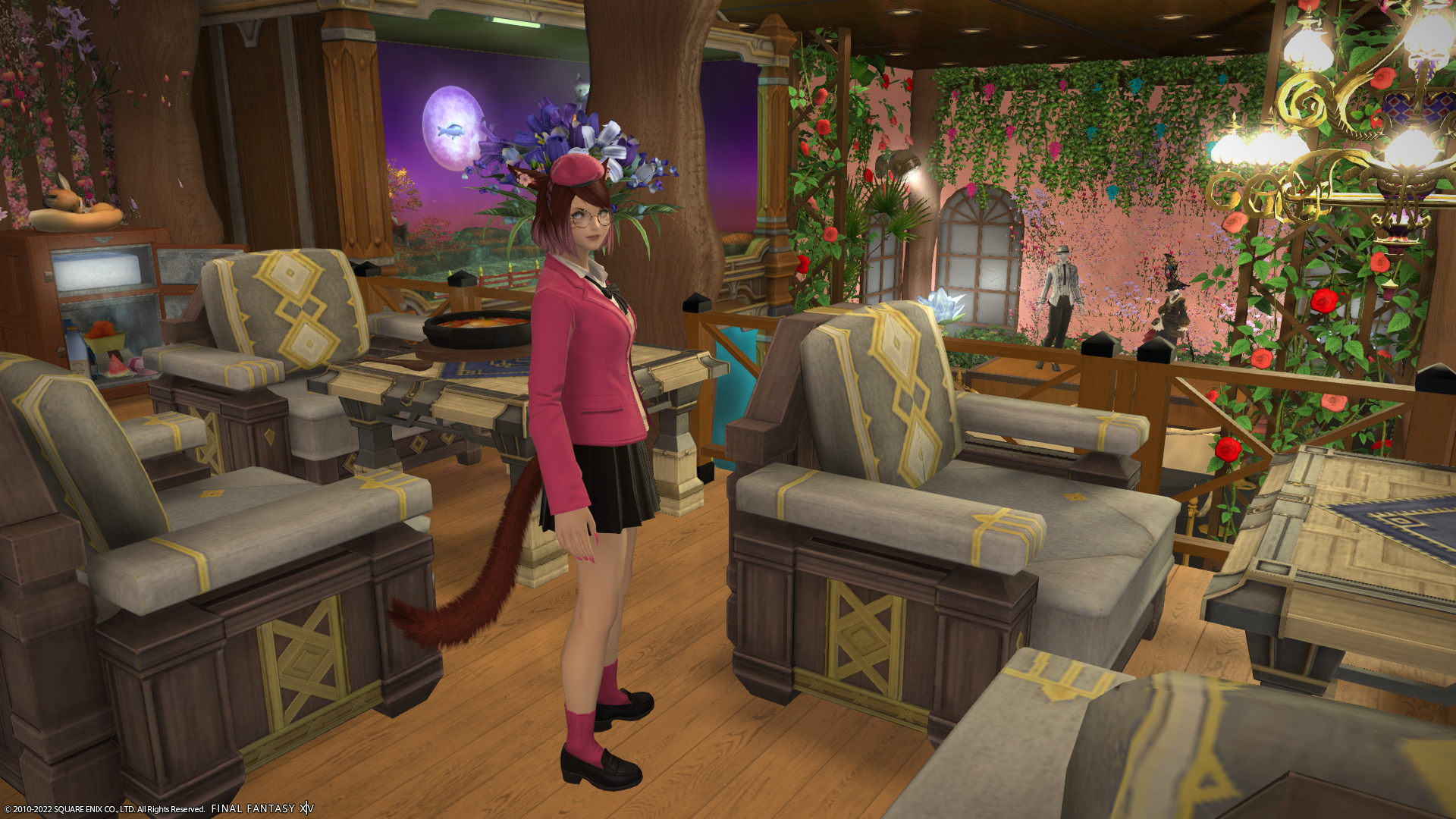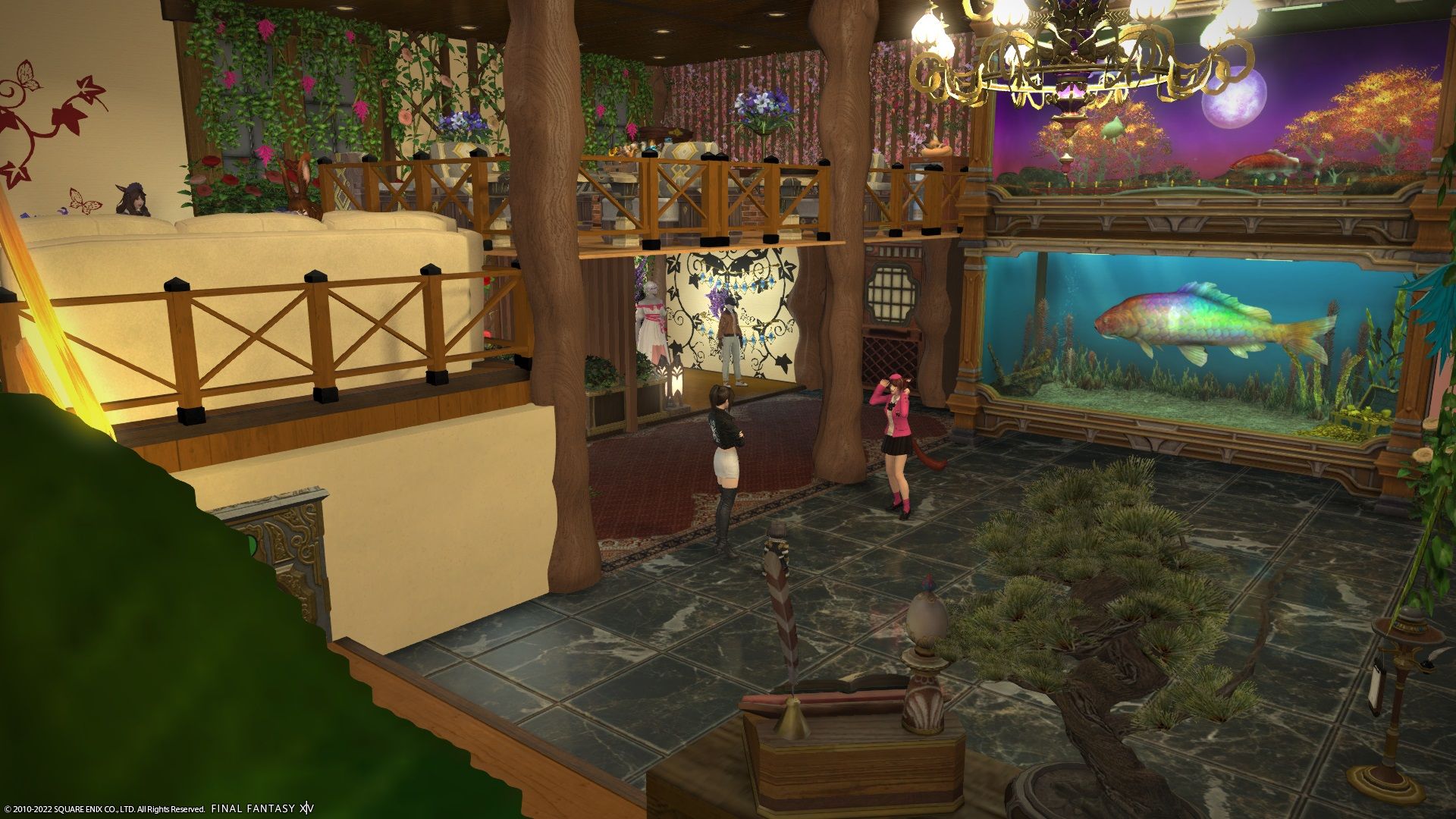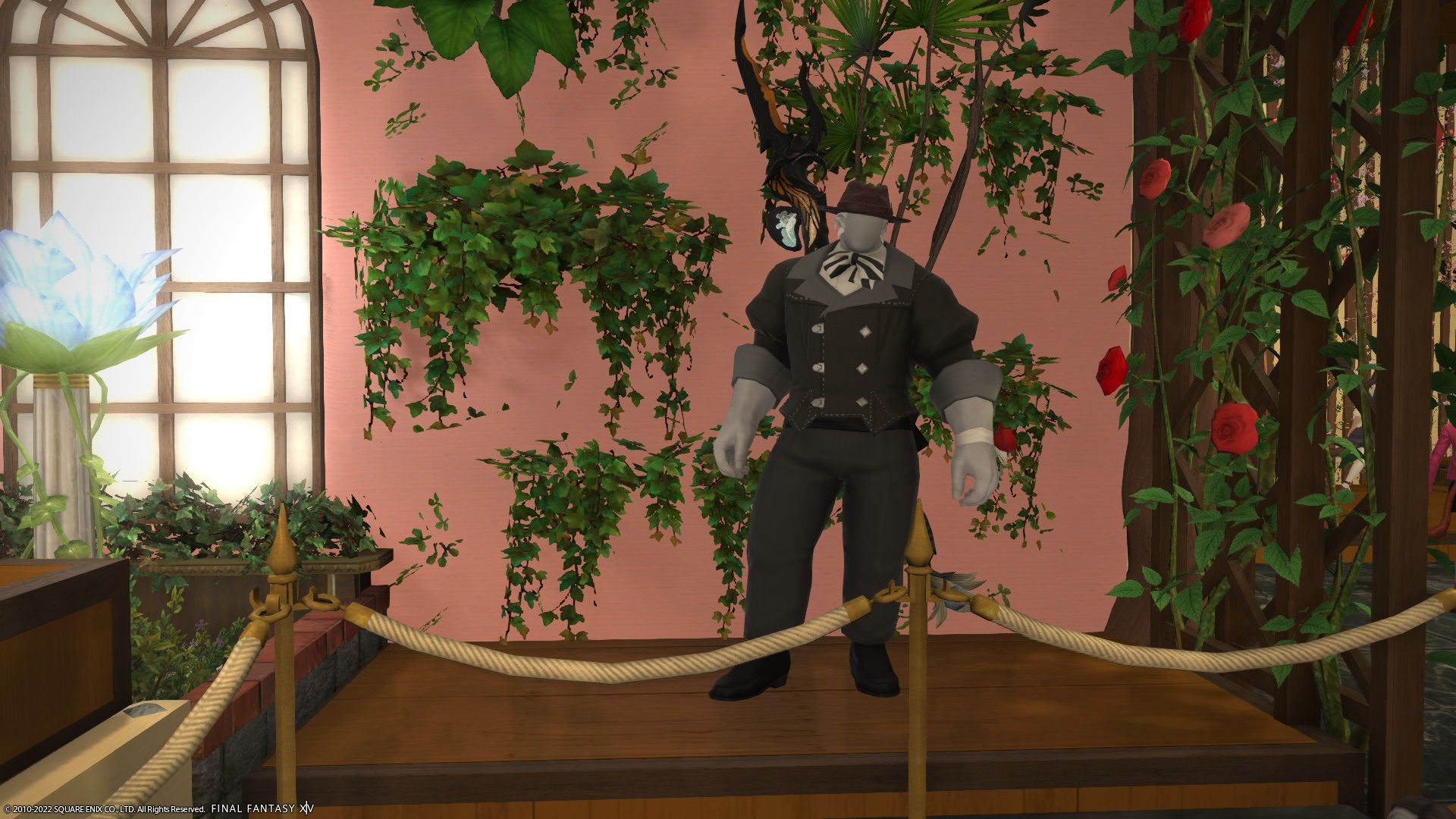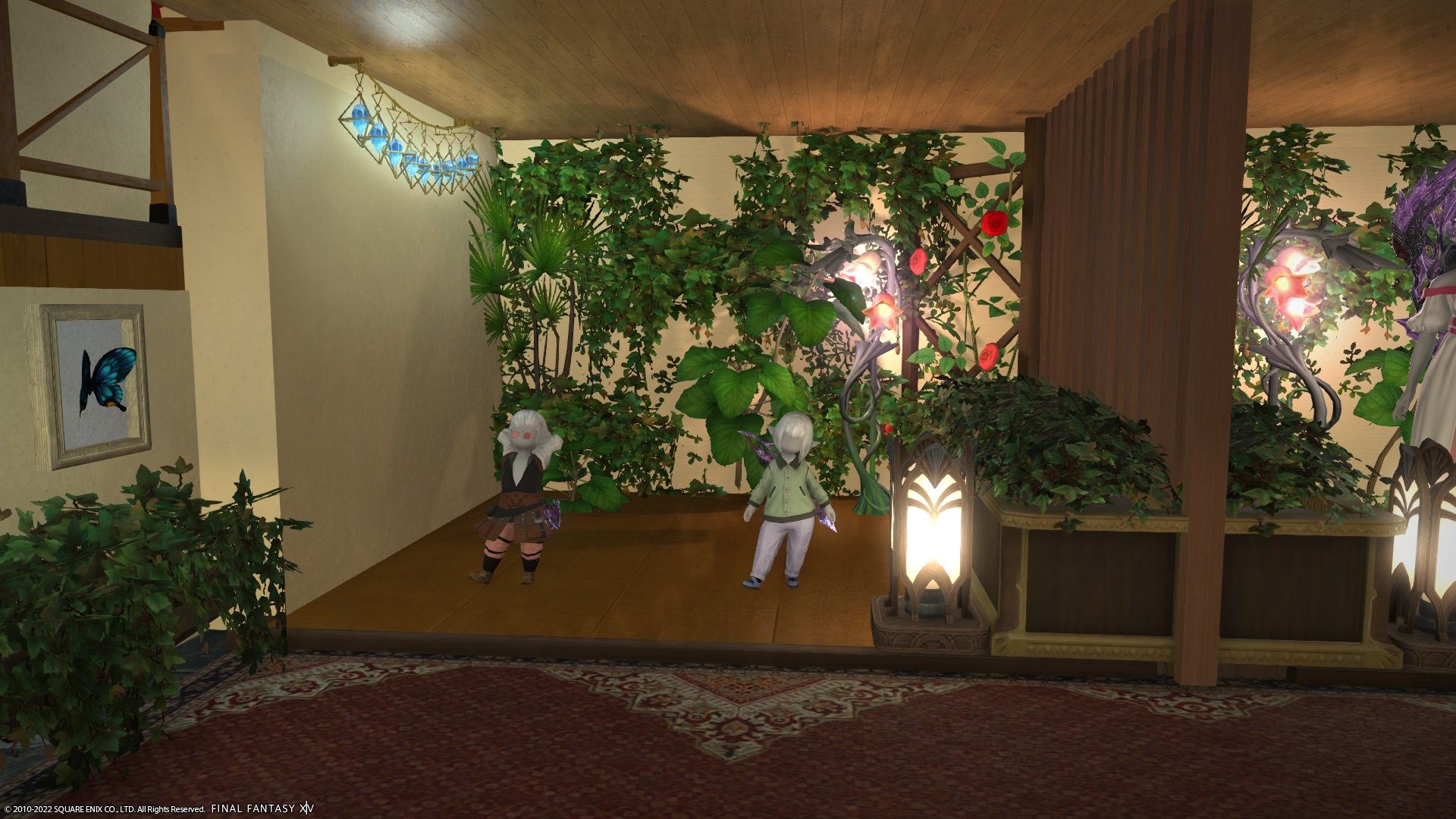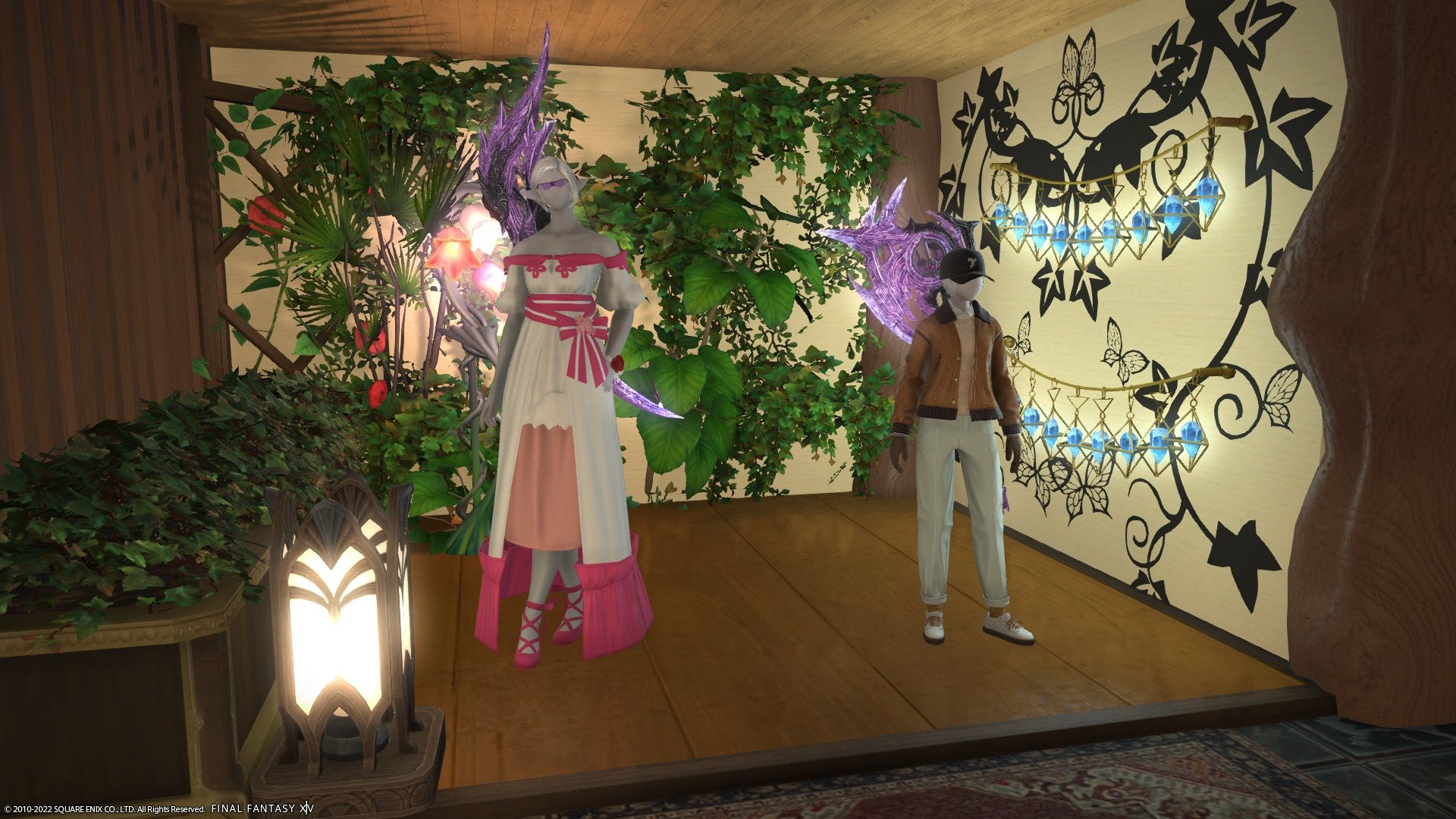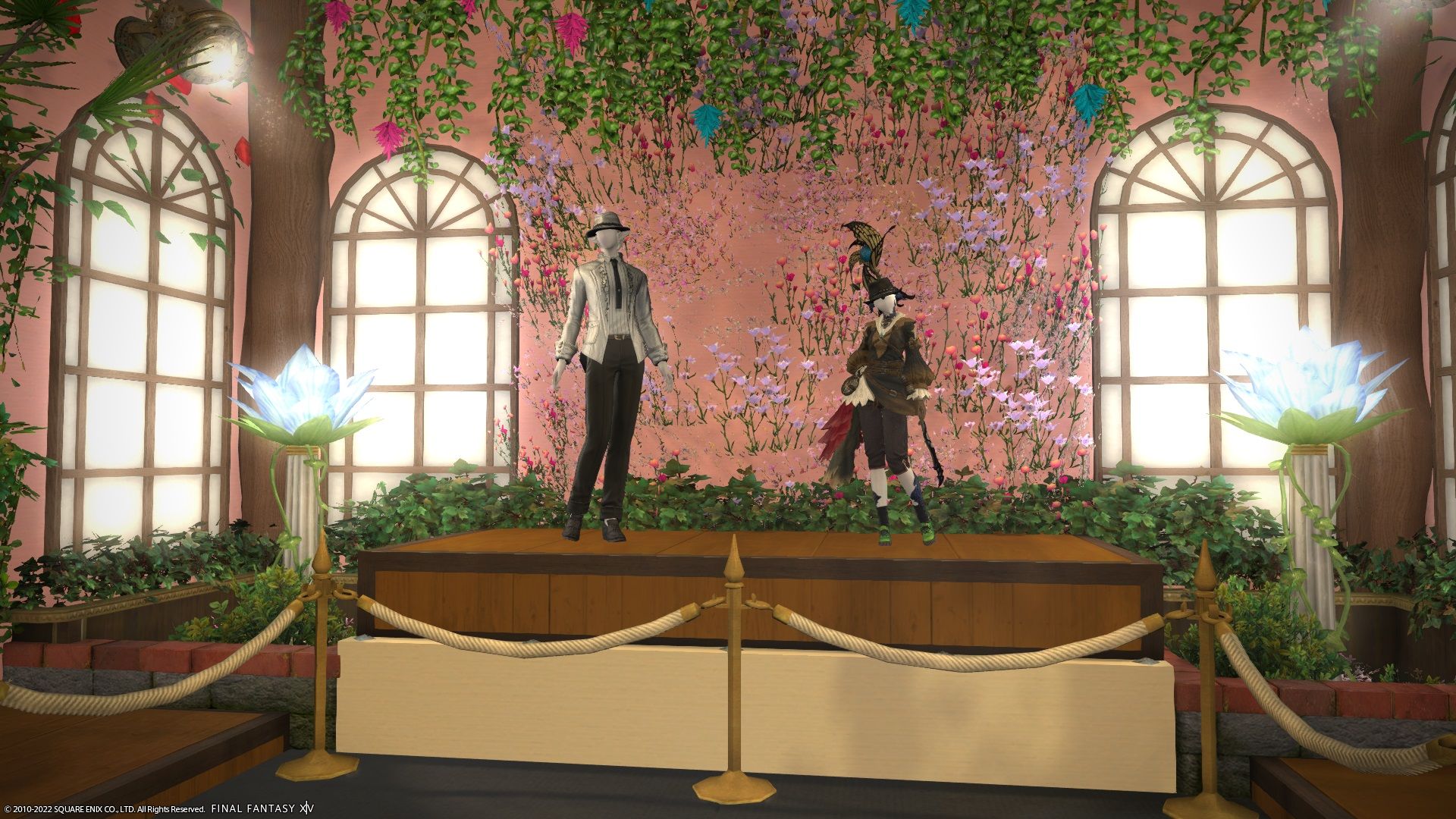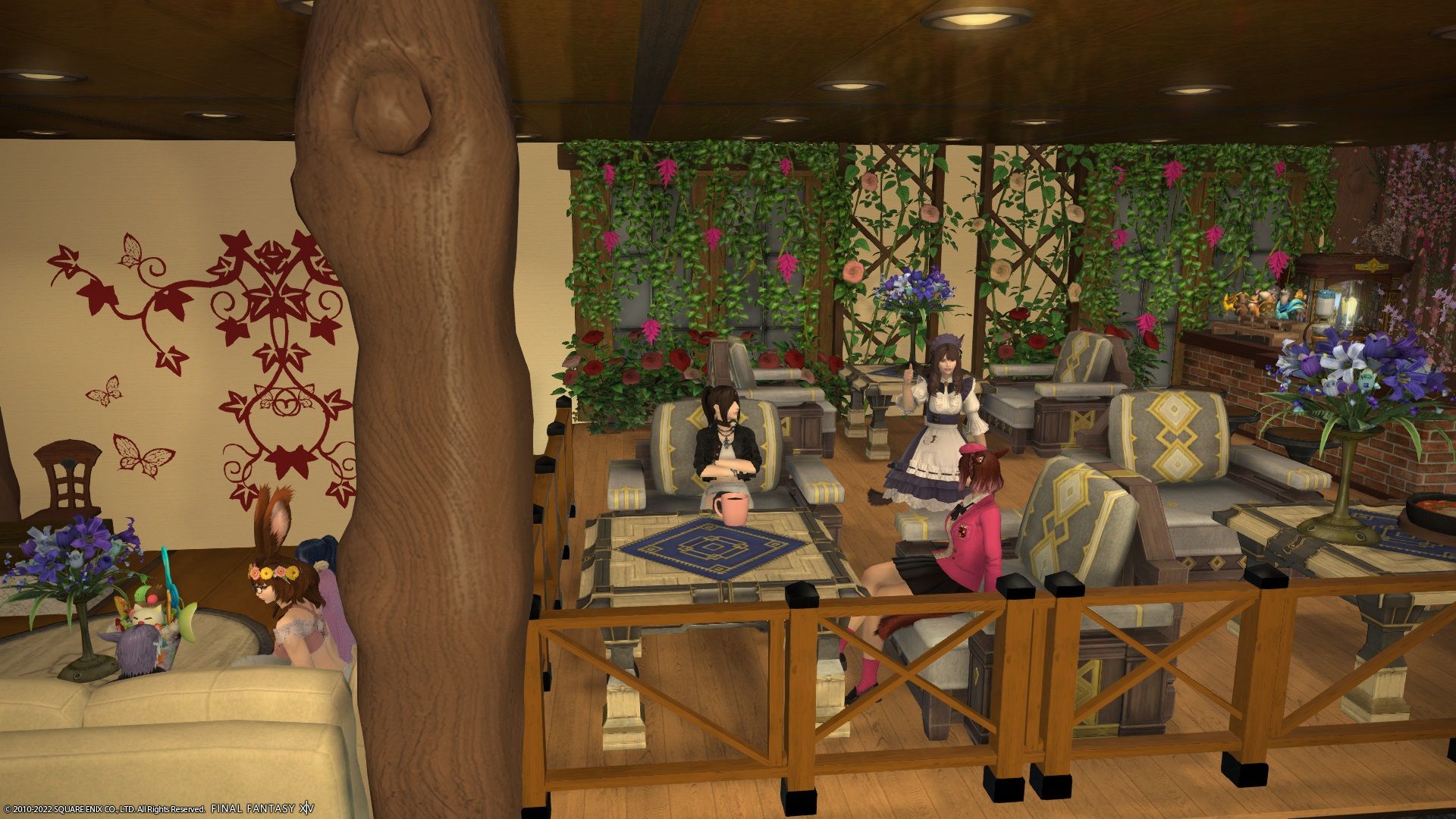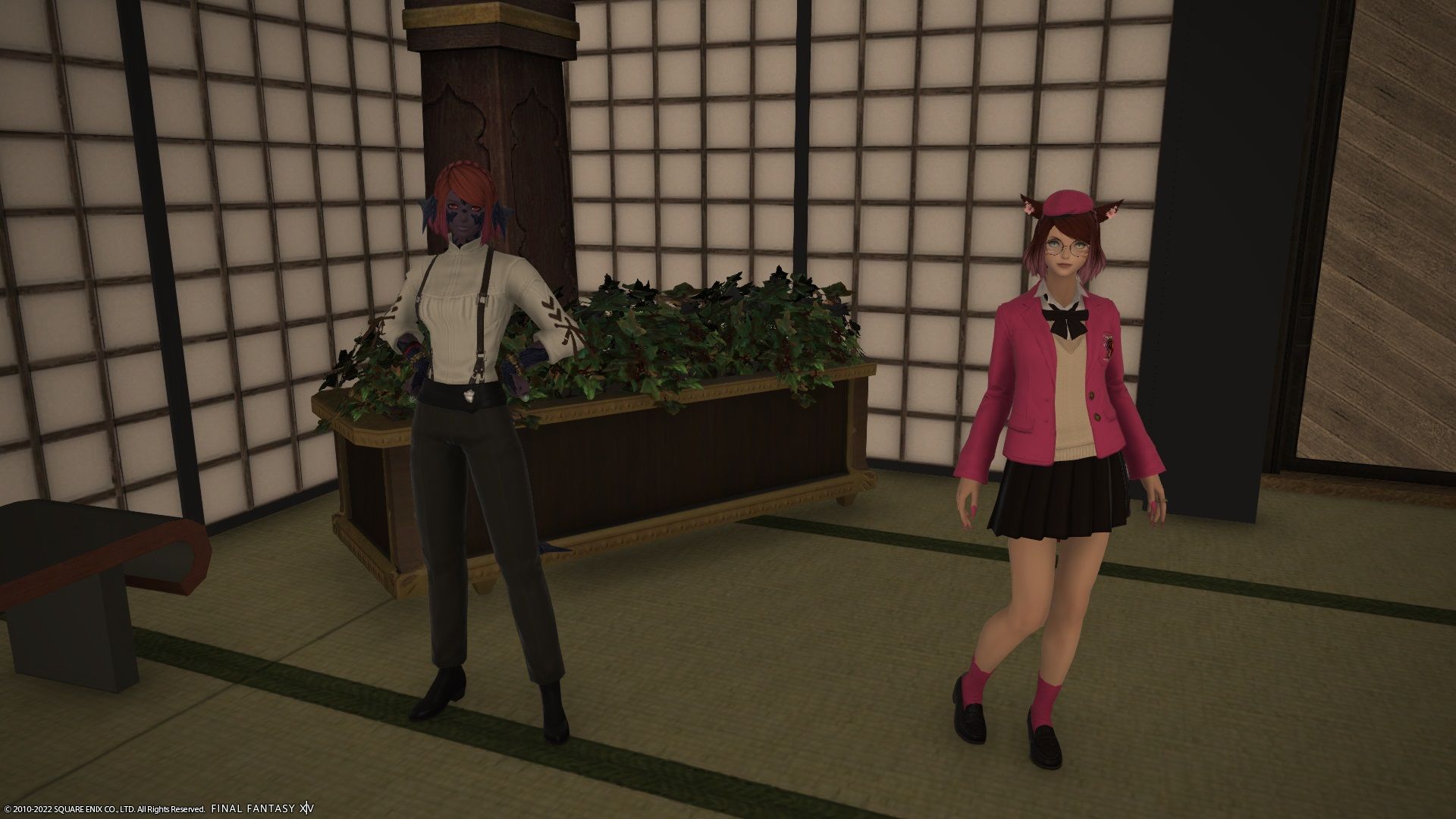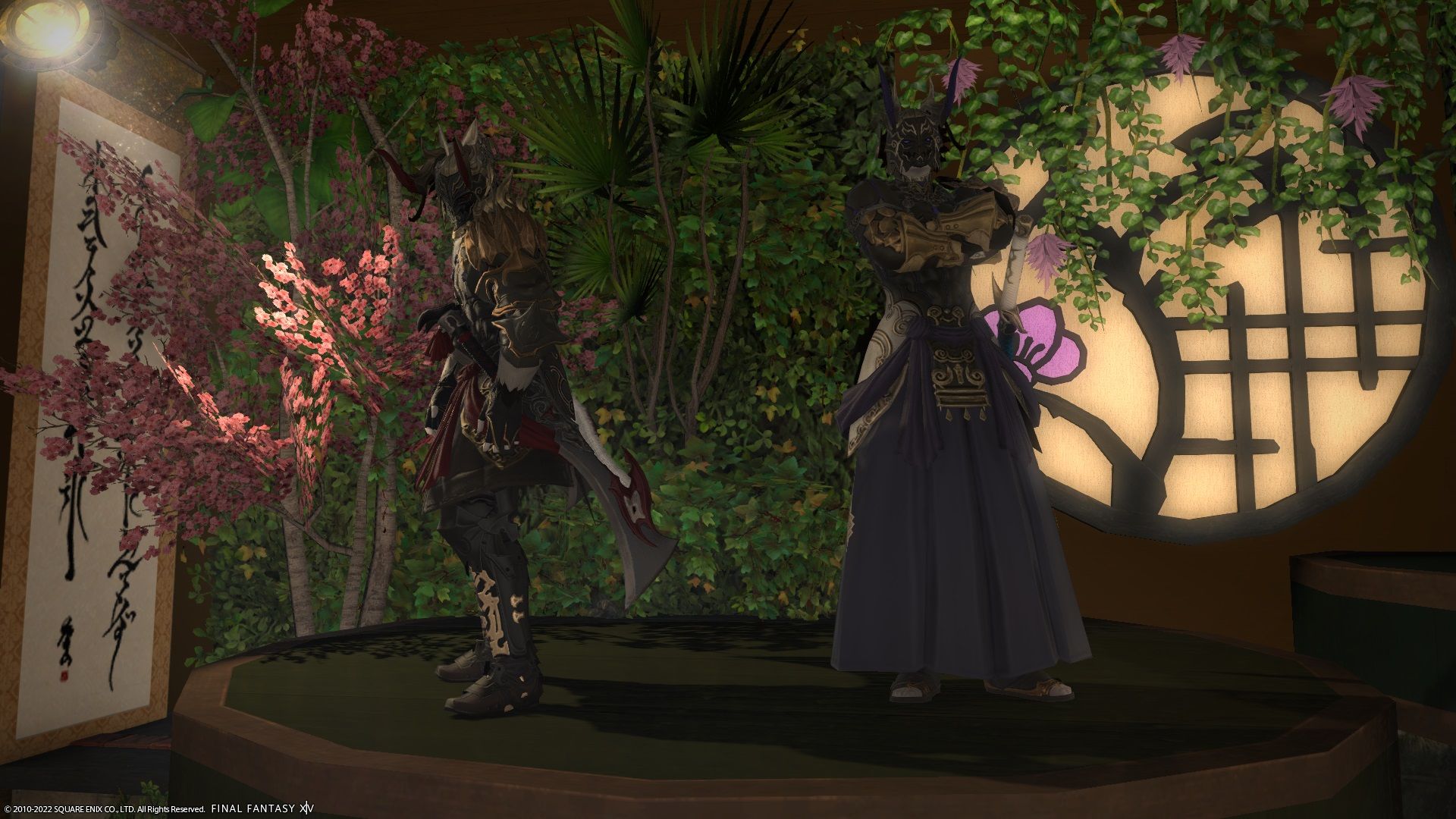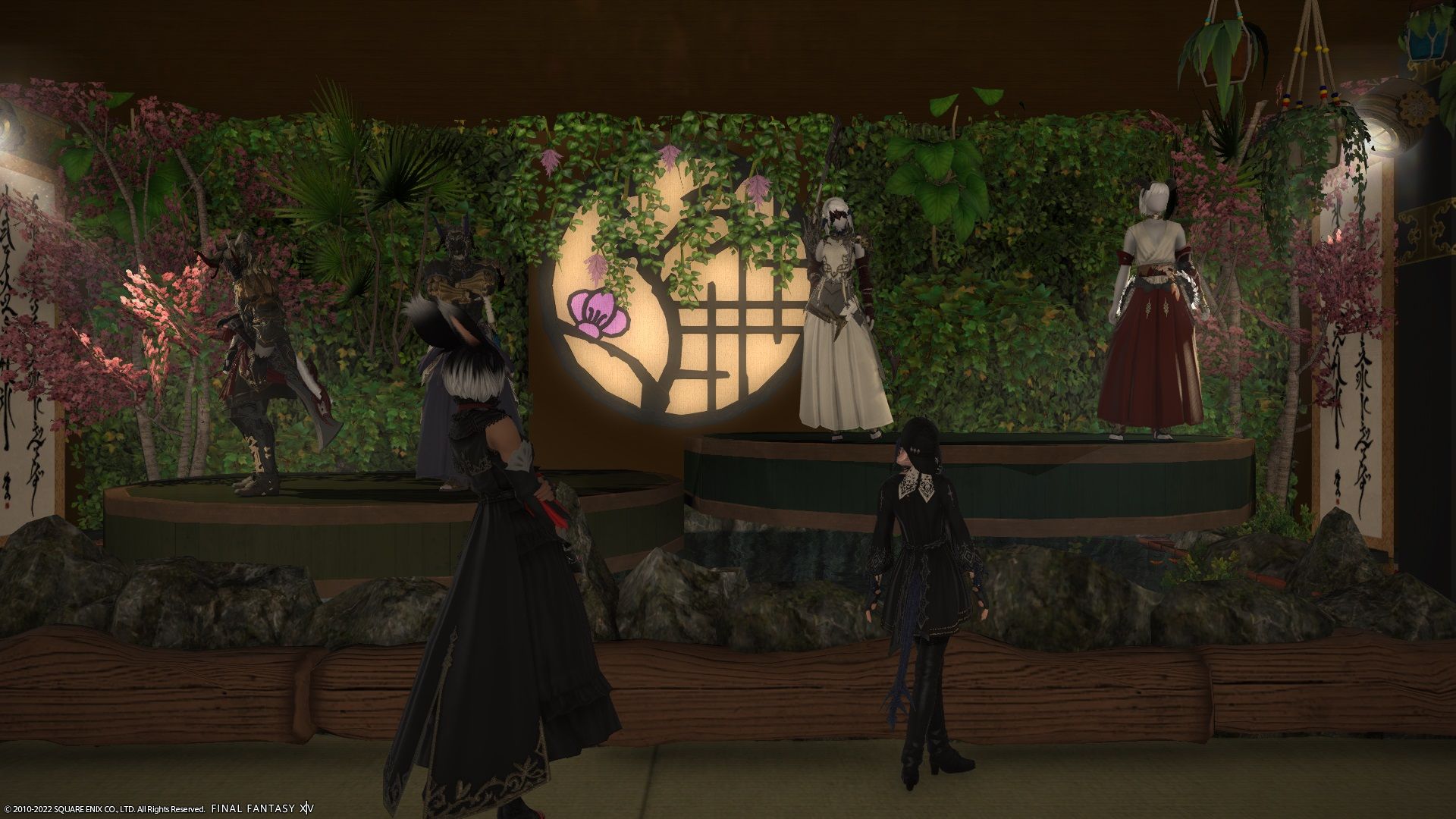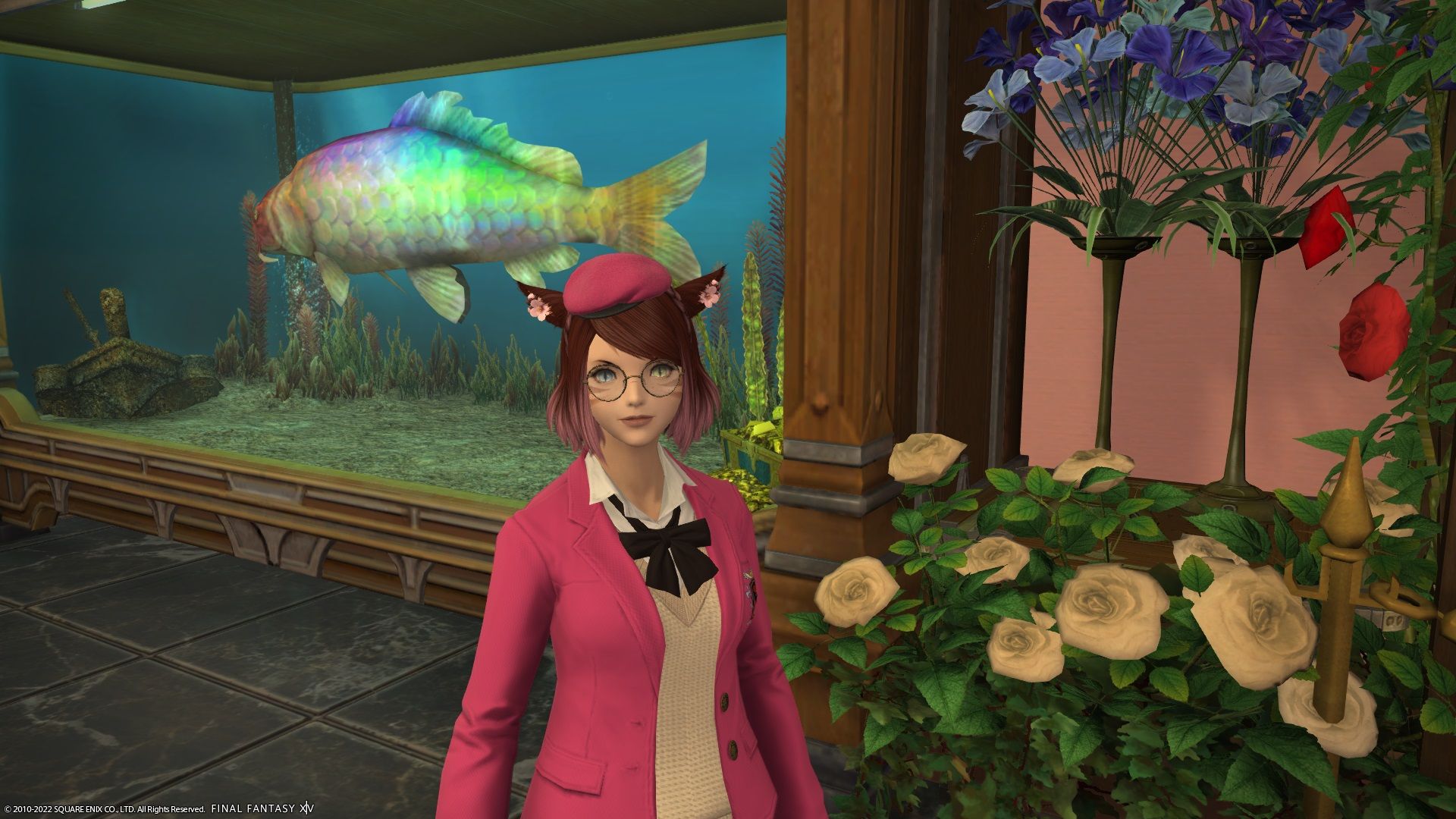 The Cats Boutique & Bistro also offers additional services for patrons. If none of the available glamours catch your eye, the team also takes commissions, so you can request a tailor-made outfit from one of the designers. In addition, they also offer Fashion Report Deliveries to any characters on Chaos and Light worlds. It costs 250,000 for one month of deliveries, which entails receiving the required outfit to get the 60,000 MGP reward from the Gold Saucer's Masked Rose each Friday.
Every glamour bought or commissioned from the boutique comes with a Glam Certificate, describing the outfit in detail while adding some lore for your character. "Use a glam long enough, and you will build a bond with it, "Sol says. "We all know that. So by buying your glam at the boutique or commissioning it from us, you are already giving your next look a story before you even have it. Your exact glam is shown with items, info, pretty pictures, graphics, but most importantly, lore!"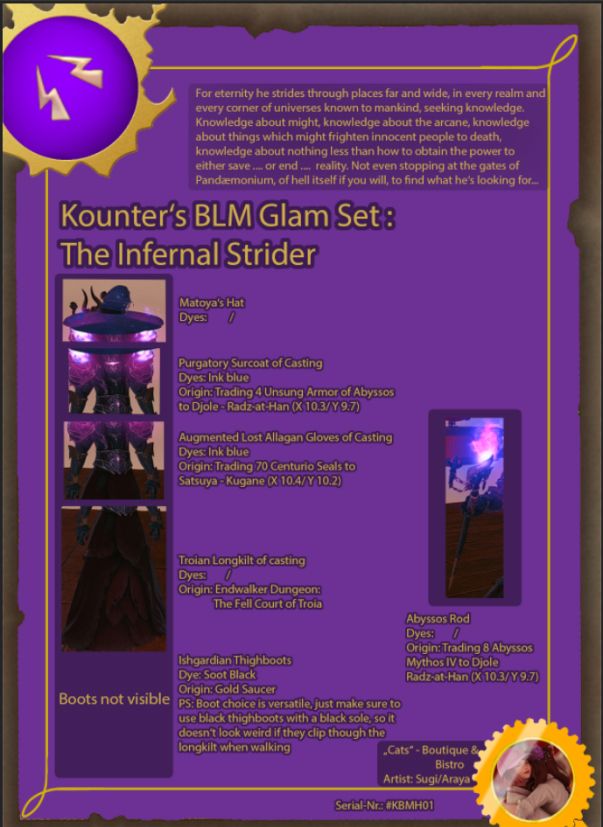 Sol hopes that in the future, Square Enix will update Free Company housing with new features that would benefit the boutique, such as allowing mannequins to be posed in battle stances, allowing them to hold weapons, and showcasing VFX for weapons. "Also another idea," Sol adds. "RP store functions. I would love to handle the register at the boutique! Furthermore, freeing up more sales slots would be great, and increasing the housing item limit."
You can visit the Cats Boutique & Bistro in Shirogane Ward 17, Plot 15 on Omega world, Chaos Data Center. It opens twice a week — on Tuesdays 4-6pm Server Time and Saturdays 2-4pm Server Time. You can find out more information and keep up to date with boutique news via their website and Discord. Sol and the team juggle running the boutique with their busy real lives of work and university, but they're looking forward to what the future will bring.
"We're looking to establish ourselves as a consistent venue rather than a flash in time," Sol explains. It's a big mental load to expand in sustainable ways rather than just adding whatever function comes to mind. We have a massive amount of creativity in this venue and strive to make the best out of it."
Source: Read Full Article