Quick Links
Bond Ring Exploit – Saving Bond Fragments
Bond Ring Stats And S-Skills
Emblem Rings are not the only option you have when it comes to adding unique items to your units in Fire Emblem: Engage. With so few Emblem Rings for the majority of the game, you'll need a second option at hand when it comes to aiding your other, non-Engaging units. For that, the gacha-esque Bond Ring mechanic comes in handy.
For each Emblem Ring you obtain, you'll be able to get an assortment of multi-tiered Bond Rings that can give additional stat bonuses and, potentially, unique skills to you and your allies. Each Bond Ring can come in tiers of C to S, and each gives a maximum of three stat increases. Ultra-rare S-tier rings also give one-of-a-kind abilities for the unit their ring is equipped to, making them indispensable in the early game.
How To Get Bond Rings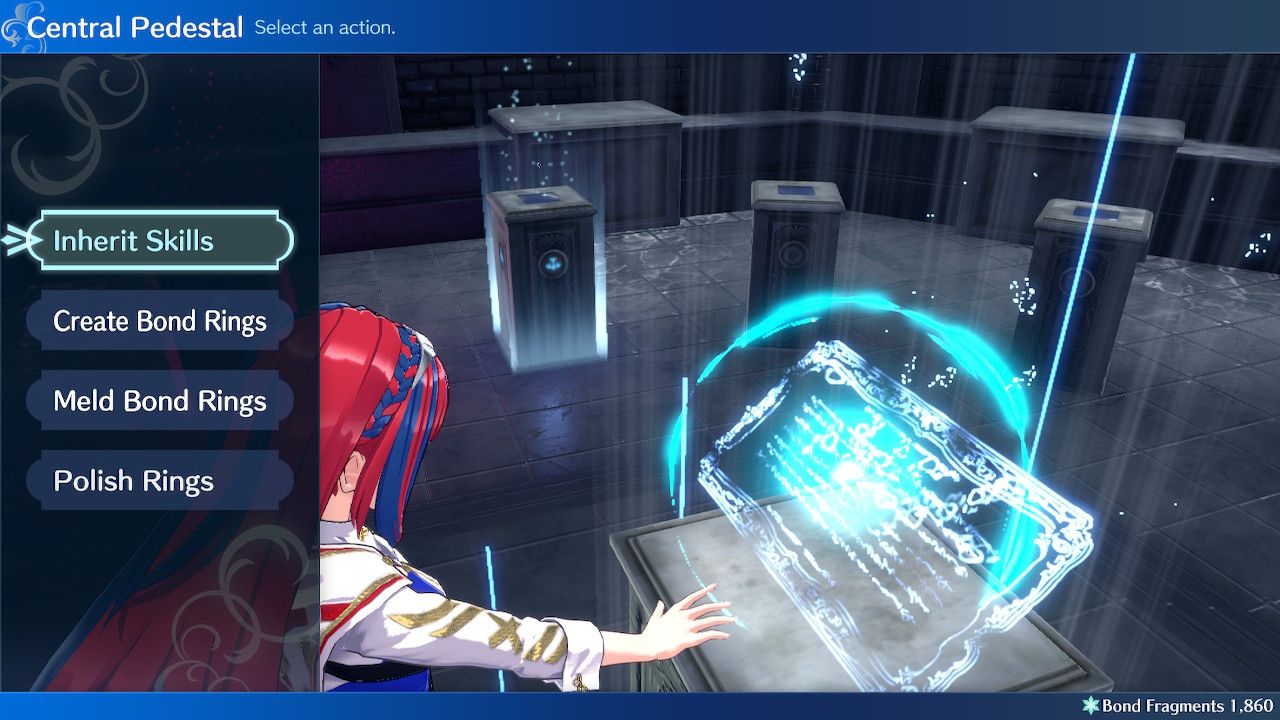 Bond Rings are created in the Ring Vault by purchasing them with Bond Fragments under the Create Bond Rings category. You can either purchase one or ten at a time.
Subsequently, you can also Meld the Bond Rings you already have together to create higher-tier versions of the same ring for a Bond Fragment price, handy for making use of rings you have multiples of.
Melding Bond Rings costs a scaling, exponential (*ten) amount between each tier of ring (the final tier A->S costing 10,000 per Melding), meaning it can be obscenely expensive.
Bond Ring Exploit – Saving Bond Fragments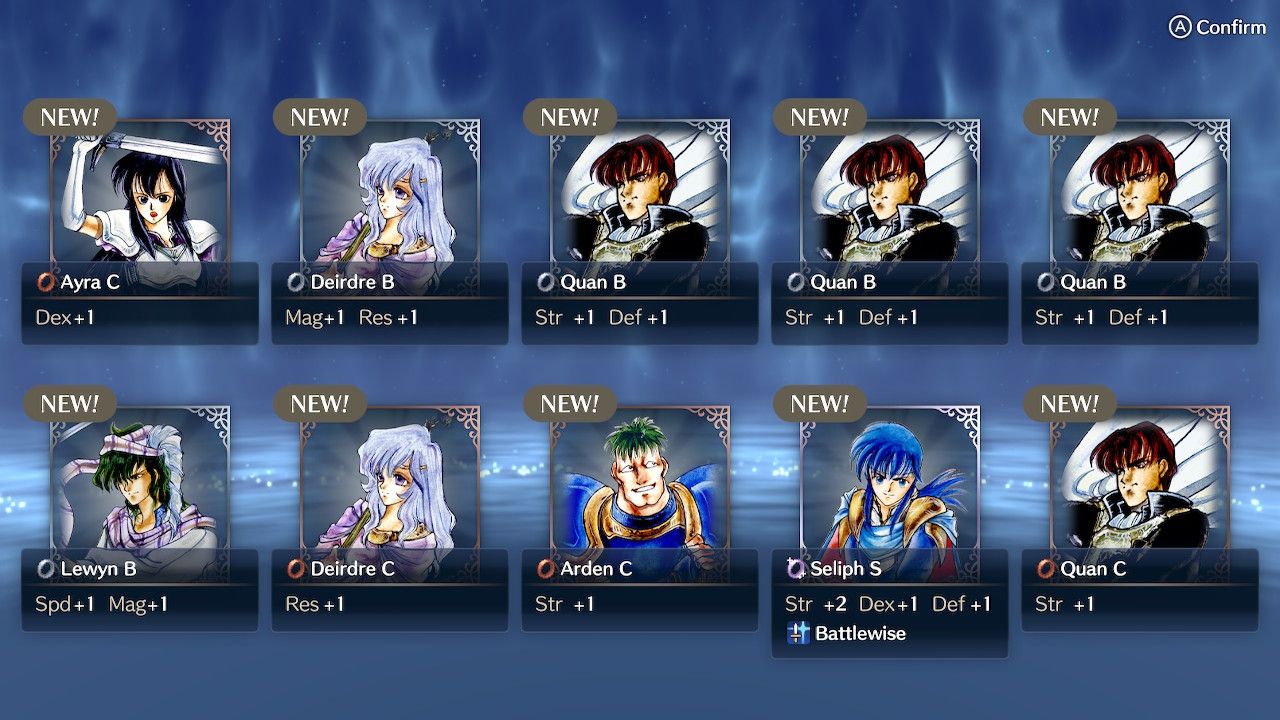 The tier and "type" of Bond Rings you can receive are automatically pre-determined after leaving a field of battle. As a result, it is quite easy to painlessly exploit the Bond Rings mechanic to receive specific rings of your choice while saving Bond Fragments, and it's easier to farm Bond Rings this way than it is to spend the Bond Fragments melding your ideal ring.
In order to make the most of Bond Rings, it is recommended to follow these guidelines:
Save the game in the Ring Chamber after returning from a battle.
Create ten Rings.
Locate the Rings and note their number in the order from left-to-right and top-to-bottom.
If the Rings you pull are not of any interest to you:
Reload your save by returning to the Title Menu.
Exit the Somniel to enter a battle.
Once at the Battle Prep menu, exit and return to the Somniel.
Re-save in the Ring Chamber.
Buy another ten Rings.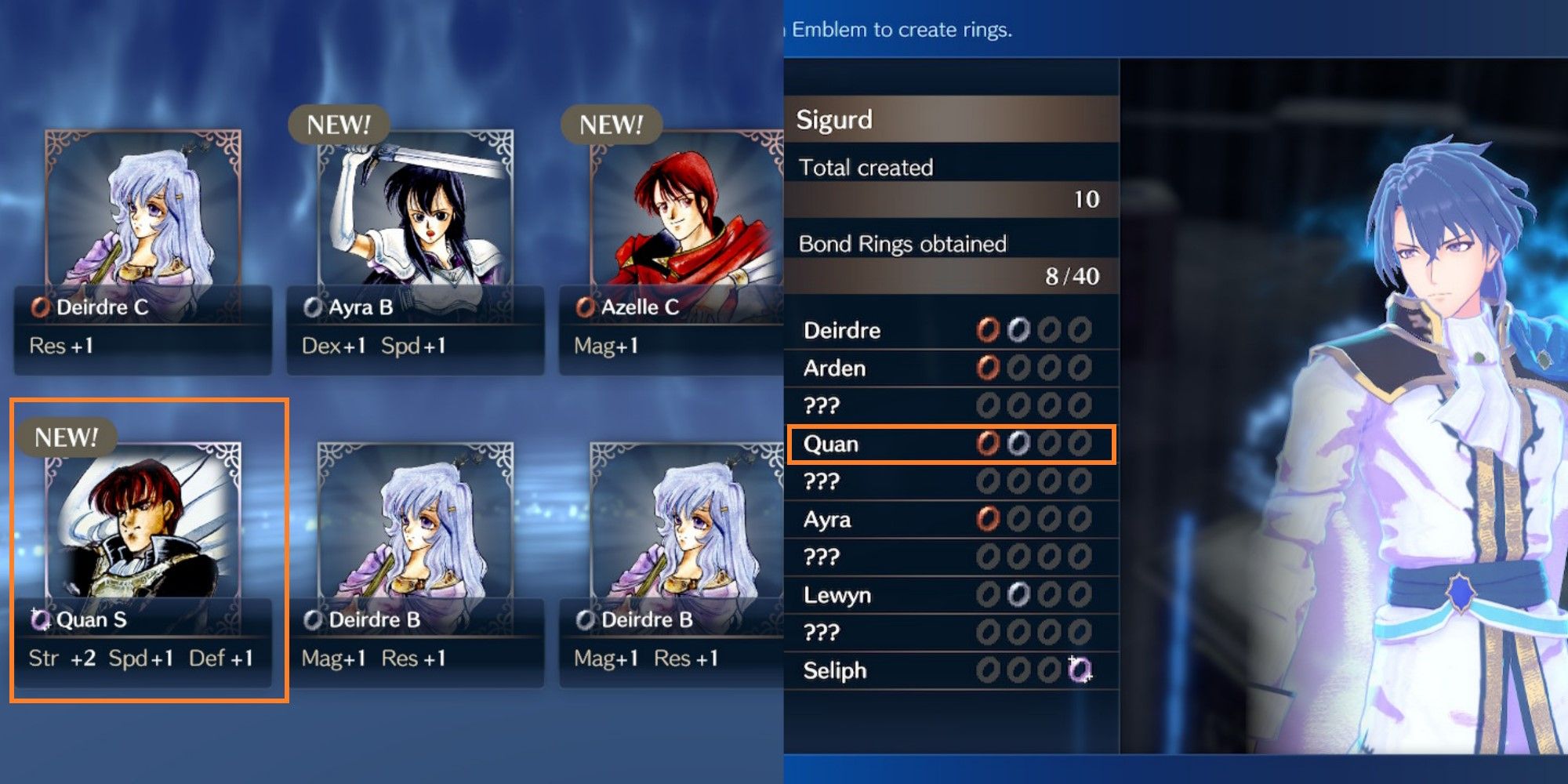 If you pull the correct tier ring (i.e., an S-tier) but it isn't the character you wanted, check the "number" that the character of the Bond Ring represents in the Bond Rings table of the Emblem.
Reload the save and pick an Emblem who has the Bond Ring you prefer in the same number slot. For instance, if you drew an S-tier Quan for Sigurd's rings, he is the fourth slot on the Bond Ring Characters table. Reloading the save and then choosing Byleth instead will give you the S-tier ring for the fourth slot in his table, Dimitri.
If the Rings you pull are of interest to you but are any ring except the tenth ring in the lineup, you can reload your save and purchase each ring one at a time until you get the correct ring. For example, if you pulled the target ring as the third ring in the line-up of ten rings, you will receive that specific S-ring on your third single-ring purchase — saving you an additional 700 Bond Fragments.
Equipping Bond Rings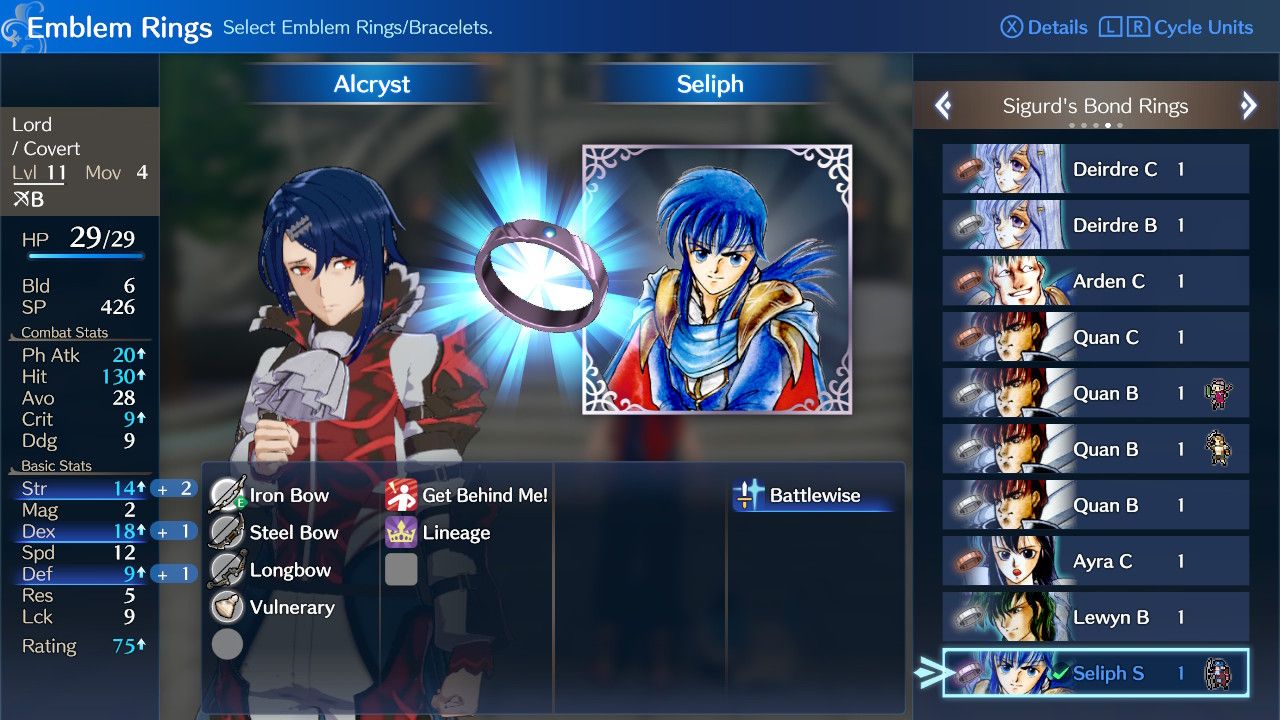 Bond Rings are equipped by entering the Emblem Rings option within your Menu — accessible in the Somniel, as well as the World Map and the Battle Prep Menu. By scrolling to the windows left or right of the Emblem Rings/Bracelets category, your Bond Rings will be separated by the world they hail from and the Emblem they complement.
Having a Bond Ring equipped does allow the unit to gain an amount of SP that scales with EXP but at a lesser rate than Emblem Rings do.
It is currently not possible to compare the effects on stats between a Bond Ring you currently have equipped versus one you are currently considering without manually looking between the two.
Bond Ring Stats And S-Skills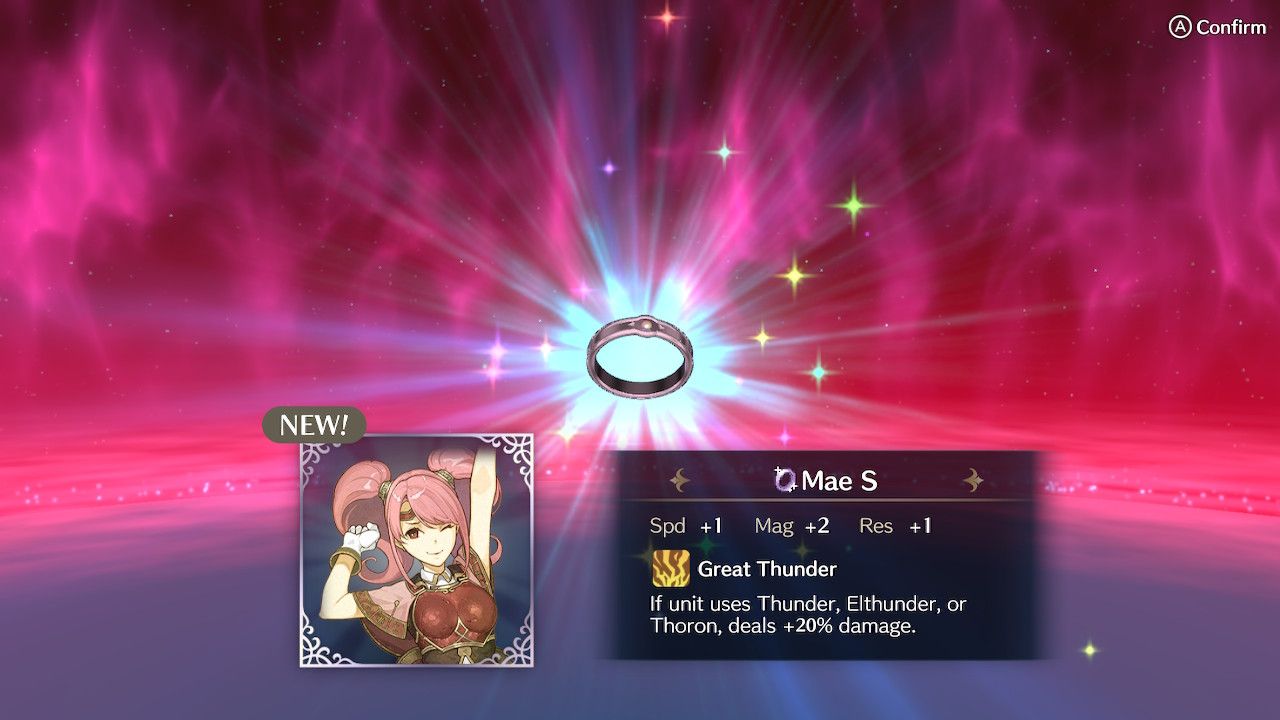 Each Bond Ring character has their own stats, and certain S-rank rings may come with a Skill that will apply to any unit the ring is equipped to. For each higher tier, a Bond Ring represents, an additional stat point is added, with C-tier rings having one stat point and S-tier rings having four.
The exception here is rings that increase HP, in which case the stat points will either be +2 or +5.
There are ten Bond Rings for each Emblem except the Wave 1 DLC Emblems, Tiki and Edelgard/Dimitri/Claude, and the 13th Emblem — all of which have no Bond Rings at all.
Additionally, you may receive "Other World" Bond Rings as a reward for having a Nintendo-linked Fire Emblem: Heroes account.
Marth's Bond Rings
| Character | C Rank | B Rank | A Rank | S Rank | S-Rank Skill (If Applicable) |
| --- | --- | --- | --- | --- | --- |
| Caeda | +1 Speed | +1 Speed, +1 Luck | +1 Speed, +1 Dexterity, +1 Luck | +2 Speed, +1 Dexterity, +1 Luck | Sympathetic – If unit's HP >= 50% when initiating combat, take 5 less damage. |
| Ogma | +1 Strength | +1 Strength, +1 Dexterity | +1 Speed, +1 Strength, +1 Dexterity | +2 Strength, +1 Speed, +1 Dexterity | — |
| Navarre | +1 Dexterity | +1 Dexterity, +1 Speed | +1 Speed, +1 Dexterity, +1 Luck | +2 Dexterity, +1 Speed, +1 Luck | Deadly Blade – Gain +10 Crit when initiating combat with a sword. |
| Merric | +1 Speed | +1 Speed, +1 Dexterity | +1 Speed, +1 Dexterity, +1 Defense | +2 Speed, +1 Dexterity, +1 Defense | — |
| Minerva | +1 Luck | +1 Luck, +1 Defense | +2 HP, +1 Luck, +1 Defense | +2 HP, +2 Luck, +1 Defense | — |
| Linde | +1 Luck | +1 Magic, +1 Speed | +1 Magic, +1 Speed, +1 Luck | +2 Luck, +1 Magic, +1 Speed | — |
| Tiki | +1 Luck | +1 Speed, +1 Luck | +1 Dexterity, +1 Speed, +1 Luck | +2 Luck, +1 Dexterity, +1 Speed | — |
| Kris | +2 HP | +2 HP, +1 Strength | +2 HP, +1 Strength, +1 Dex | +4 HP, +1 Strength, +1 Dexterity | — |
| Katarina | +1 Defense | +2 HP, +1 Defense | +2 HP, +1 Luck, +1 Defense | +2 HP, +2 Defense, +1 Luck | — |
| Legion | +1 Strength | +1 Strength, +1 Speed | +1 Strength, +1 Dexterity, +1 Speed | +2 Strength, +1 Dexterity, +1 Speed | — |
Celica's Bond Rings
| Character | C Rank | B Rank | A Rank | S Rank | S Rank Skill (If Applicable) |
| --- | --- | --- | --- | --- | --- |
| Alm | +1 Strength | +1 Strength, +1 Dexterity | +1 Strength, +1 Dexterity, +1 Defense | +2 Strength, +1 Dexterity, +1 Defense | Windsweep – When initiating combat with a sword, foe might fail to counterattack (Trigger %=Lck) |
| Faye | +1 Magic | +1 Magic, +1 Luck | +2 HP, +1 Magic, +1 Luck | +2 HP, +2 Magic, +1 Luck | — |
| Lukas | +1 Defense | +2 HP, +1 Defense | +2 HP, +1 Defense, +1 Strength | +2 Hp, +2 Defense, +1 Strength | — |
| Silque | +1 Luck | +1 Magic, +1 Luck | +1 Magic, +1 Dexterity, +1 Luck | +2 Luck, +1 Magic, +1 Dexterity | — |
| Delthea | +1 Magic | +1 Magic, Resistance | +1 Magic, +1 Speed, +1 Resistance | +2 Magic, +1 Speed, +1 Resistance | — |
| Mae | +1 Magic | +1 Magic, +1 Speed | +1 Magic, +1 Speed, +1 Resistance | +2 Magic, +1 Speed, +1 Resistance | Great Thunder – Deal +20% damage when using Thunder, Elthunder, or Thoron. |
| Genny | +1 Resistance | +1 Magic, +1 Resistance | +1 Magic, +1 Luck, +1 Resistance | +2 Resistance, +1 Luck, +1 Magic | — |
| Saber | +1 Speed | +1 Speed, +1 Dexterity | +1 Speed, +1 Dexterity, +1 Resistance | +2 Speed, +1 Dexterity, +1 Resistance | — |
| Valbar | +2 HP | +2 HP, +1 Defense | +2 HP, +1 Strength, +1 Defense | +5 HP, +1 Strength, +1 Defense | — |
| Conrad | +1 Dexterity | +1 Dexterity, +1 Defense | +2 HP, +1 Dexterity, +1 Defense | +2 HP, +2 Dexterity, +1 Defense | — |
Sigurd's Bond Rings
| Character | C Rank | B Rank | A Rank | S Rank | S Rank Skill (If Applicable) |
| --- | --- | --- | --- | --- | --- |
| Deirdre | +1 Resistance | +1 Magic, +1 Resistance | +1 Magic, +1 Dexterity, +1 Resistance | +2 Resistance, +1 Magic, +1 Dexterity | Renewal – Begin each turn renewing 5 HP. |
| Arden | +1 Strength | +1 Strength, +1 Defense | +2 HP, +1 Strength, +1 Defense | +2 HP, +2 Strength, +1 Defense | — |
| Azelle | +1 Magic | +1 Magic, +1 Speed | +1 Magic, +1 Speed, +1 Defense | +2 Magic, +1 Speed, +1 Defense | — |
| Quan | +1 Strength | +1 Strength, +1 Defense | +1 Strength, +1 Speed, +1 Defense | +2 Strength, +1 Speed, +1 Defense | — |
| Ethlyn | +2 HP | +2 HP, +1 Speed | +2 HP, +1 Dexterity, +1 Speed | +4 HP, +1 Dexterity, +1 Speed | — |
| Lachesis | +1 Strength | +1 Strength, +1 Speed | +1 Strength, +1 Dexterity, +1 Speed | +2 Strength, +1 Dexterity, +1 Speed | — |
| Lewyn | +1 Speed | + Magic, +1 Speed | +1 Magic, +1 Dexterity, +1 Speed | +2 Speed, +1 Magic, +1 Dexterity | — |
| Erinys | +1 Dexterity | +1 Strength, +1 Dexterity | +1 Strength, +1 Magic, +1 Dexterity | +2 Dexterity, +1 Strength, +1 Magic | — |
| Seliph | +1 Strength | +1 Strength, +1 Dexterity | +1 Strength, +1 Dexterity, +1 Defense | +2 Strength, +1 Dexterity, +1 Defense | Battlewise – Gain +1 Crit each time |
Micaiah's Bond Rings
| Character | C Rank | B Rank | A Rank | S Rank | S Rank Skill (If Applicable) |
| --- | --- | --- | --- | --- | --- |
| Sothe | +1 Dexterity | +`1 Dexterity, +1 Luck | +1 Dexterity, +1 Speed, +1 Luck | +2 Dexterity, +1 Speed, +1 Luck | Bane – Chance to reduce foe's HP to 1 (Trigger %= 1/2 Dexterity). Some enemies (like bosses) may be immune to this ability. |
| Nailah | +2 HP | +2 HP, +1 Luck | +2 HP, +1 Luck, +1 Defense | +5 HP, +1 Luck, +1 Defense | — |
| Elincia | +1 Luck | +1 Luck, +1 Speed | +1 Luck, +1 Speed, +1 Strength | +2 Luck, +1 Strength, +1 Speed | Mercy – When unit kills a foe in combat they initiated, leaves them with 1 HP. |
| Leanne | +1 Luck | +2 HP, +1 Luck | +2 HP, +1 Luck, +1 Resistance | +2 HP, +2 Luck, +1 Resistance | — |
| Nephenee | +1 Speed | +1 Speed, +1 Dexterity | +1 Speed, +1 Dexterity, +1 Resistance | +2 Speed, +1 Dexterity, +1 Resistance | — |
| Sanaki | +1 Magic | +1 Magic, +1 Luck | +1 Magic, +1 Luck, +1 Resistance | +2 Magic, +1 Luck, +1 Resistance | — |
| Naesala | +2 HP | +2 HP, +1 Luck | +2 HP, +1 Luck, +1 Resistance | +5 HP, +1 Luck, +1 Resistance | — |
| Tibarn | +2 HP | +2 HP, +1 Strength | +2 HP, +1 Strength, +1 Defense | +5 HP, +1 Strength, +1 Defense | — |
| Caineghis | +2 HP | +2 HP, +1 Luck | +2 HP, +1 Strength, +1 Luck | +5 HP, +1 Strength, +1 Luck | — |
| Black Knight | +1 Defense | +1 Defense, +1 Dexterity | +1 Strength, +1 Dexterity, +1 Defense | +2 Dexterity, +1 Strength, +1 Dexterity | — |
Roy's Bond Rings
| Character | C Rank | B Rank | A Rank | S Rank | S Rank Skill (If Applicable) |
| --- | --- | --- | --- | --- | --- |
| Lilina | +1 Magic | +1 Magic, +1 Resistance | +1 Magic, +1 Luck, +1 Resistance | +2 Magic, +1 Luck, +1 Resistance | Raging Fire – Deal +20% damage when using Fire, Elfire, or Bolganone. |
| Wolt | +1 Dexterity | +1 Dexterity, +1 Strength | +1 Dexterity, +1 Strength, +1 Speed | +2 Dexterity, +1 Strength, +1 Speed | — |
| Dieck | +2 HP | +2 HP, +1 Dexterity | +2 HP, +1 Dexterity, +1 Strength | +5 HP, +1 Strength, +1 Dexterity | Strong Arm – When equipped with a stmash weapon, gain +20 to Hit. |
| Lugh | +1 Speed | +1 Speed, +1 Dexterity | +1 Speed, +1 Dexterity, +1 Magic | +2 Speed, +1 Dexterity, +1 Magic | — |
| Rutger | +1 Dexterity | +1 Dexterity, +1 Speed | +1 Dexterity, +1 Speed, Strength | +2 Dexterity, +1 Speed, +1 Strength | — |
| Fir | +1 Speed | +1 Dexterity, +1 Speed | +1 Dexterity, +1 Speed, +1 Luck | +2 Speed, +1 Dexterity, +1 Luck | — |
| Raigh | +1 Dexterity | +1 Dexterity, +1 Magic | +1 Dexterity, +1 Magic, +1 Resistance | +2 Dexterity, +1 Magic, +1 Resistance | — |
| Cecilia | +1 Dexterity | +1 Dexterity, +1 Resistance | +1 Dexterity, +1 Resistance, +1 Magic | +2 Dexterity, +1 Magic, +1 Resistance | — |
| Sophia | +1 Resistance | +1 Resistance, +1 Magic | +1 Resistance, +1 Magic, +2 HP | +2 Resistance, +1 Magic, +2 HP | — |
| Fae | +1 Luck | +1 Luck, +1 Strength | +1 Luck, +1 Strength, +1 Dexterity | +2 Luck, +1 Strength, +1 Dexterity | — |
Leif's Bond Rings
| Character | C Rank | B Rank | A Rank | S Rank | S Rank Skill (If Applicable) |
| --- | --- | --- | --- | --- | --- |
| Nanna | +1 Luck | +1 Luck, +1 Speed | +1 Luck, +1 Speed, +1 Dexterity | +2 Luck, +1 Speed, +1 Dexterity | — |
| Finn | +1 Speed | +1 Speed, +1 Strength | +1 Speed, Strength, +1 Dexterity | +2 Speed, +1 Strength, +1 Dexterity | Miracle – Avoid killing attack from a foe (Trigger %= Luck; Max 50%). |
| Osian | +1 Build | +1 Build, +1 Speed | +1 Build, +1 Luck, +1 Speed | +2 Build, +1 Speed, +1 LUck | — |
| Asbel | +1 Speed | +1 Speed, +1 Dexterity | +1 Speed, +1 Dexterity, +1 Magic | +2 Speed, +1 Dexterity, +1 Magic | — |
| Shiva | +1 Dexterity | +1 Dexterity, +1 Strength | +1 Dexterity, +1 Strength, +1 Luck | +2 Dexterity, +1 Strength, +1 Luck | — |
| Olwen | +1 Speed | +1 Speed, +1 Magic | +1 Speed, +1 Magic, +1 Luck | +2 Speed, +1 Magic, +1 Luck | Dire Thunder – Allows unit equipped with Thunder to strike twice. |
| Mareeta | +1 Speed | +1 Speed, +1 Dexterity | +1 Speed, +1 Dexterity | +1 Speed, +1 Dexterity, +1 Luck | — |
| Linoan | +1 Speed | +1 Speed, Dexterity | +1 Speed, +1 Dexterity, +1 Magic | +2 Speed, +1 Dexterity, +1 Magic | — |
| Sara | +1 Dexterity | +1 Dexterity, +1 Magic | +1 Dexterity, +1 Magic, +1 Speed | +2 Dexterity, +1 Magic, Speed | — |
| Ced | +1 Magic | +1 Magic, Dexterity | +1 Magic, +1 Dexterity, +1 Speed | +2 Magic, +1 Dexterity, +1 Speed | — |
Lucina's Bond Rings
| Character | C Rank | B Rank | A Rank | S Rank | S Rank Skill (If Applicable) |
| --- | --- | --- | --- | --- | --- |
| Chrom | +2 HP | +2 HP, +1 Dexterity | +2 HP, +1 Dexterity, +1 Speed | +5 HP, +1 Dexterity, +1 Speed | Rightful Ruler – +5% trigger rate for all skills |
| Lissa | +1 Luck | +1 Luck, +1 Magic | +1 Luck, +1 Magic, +1 Resistance | +2 Luck, +1 Magic, +1 Resistance | Healtouch – +5 HP to user when unit uses to staff to restore an ally. |
| Gaius | +1 Speed | +1 Speed, +1 Dexterity | +1 Speed, +1 Dexterity, +1 Strength | +2 Speed, +1 Dexterity,+1 Strength | — |
| Cordelia | +1 Strength | +1 Strength, +1 Luck | +1 Strength, +1 Luck, +1 Defense | +2 Strength, +1 Luck, +1 Defense | — |
| Nowi | +1 Luck | +1 Luck, +1 Defense | +1 Strength, +1 Luck, +1 Defense | +2 Luck, +1 Strength, +1 Defense | — |
| Tharja | +1 Speed | +1 Speed, +1 Magic | +1 SPeed, +1 Magic, +1 Defense | +2 Speed, +1 Magic, +1 Defense | — |
| Owain | +2 HP | +2 HP, +1 Magic | +2 HP, +1 Magic, +1 Speed | +5 HP, +1 Magic, +1 Speed | — |
| Inigo | +1 Luck | +1 Luck, +1 Speed | +1 Speed, +1 Luck, +1 Dexterity | +2 Luck, +1 Speed, +1 Dexterity | — |
| Severa | +1 Strength | +1 Strength, +1 Speed | +1 Strength, +1 Speed, Defense | +2 Strength, +1 Speed, +1 Defense | — |
| Morgan | +1 Magic | +1 Magic, +1 Resistance | +1 Magic, +1 Resistance, +1 Luck | +2 Magic, +1 Luck, +1 Resistance | — |
Lyn's Bond Rings
| Character | C Rank | B Rank | A Rank | S Rank | S Rank Skill (If Applicable) |
| --- | --- | --- | --- | --- | --- |
| Eliwood | +1 Luck | +1 Luck, +1 Strength | +1 Luck, +1 Strength, +1 Dexterity | +2 Luck, +1 Strength, +1 Dexterity | Draw Back – Pull a unit and self back 1 space. |
| Hector | +1 Strength | +1 Strength, +1 Defense | +1 Strength, +1 Defense, Dexterity | +2 Strength, +1 Defense, +1 Dexterity | — |
| Florina | +1 Speed | +1 Speed, +1 Dexterity | +1 Speed, +1 Dexteritym +1 Luck | +2 Speed, +1 Dexterity, +1 Luck | — |
| Dorcas | +2 HP | +2 HP, +1 Strength | +2 HP, +1 Strength, +1 Dexterity | +5 HP, +1 Strength, +1 Dexterity | — |
| Serra | +1 Luck | +1 Luck, +1 Resistance | +1 Luck, +1 Resistance | +1 Luck, +1 Resistance, +1 Speed | — |
| Matthew | +1 Speed | +1 Speed, +1 Luck | +1 Speed, +1 Luck, +2 HP | +2 Speed, +1 Luck +2 HP | — |
| Rebecca | +1 Speed | +1 Speed, +1 Dexterity | +1 Speed, +1 Dexterity, +1 Luck | +2 Speed, +1 Dexterity, +1 Luck | — |
| Ninian | +1 Speed | +1 Speed, +1 Luck | +1 Speed, +1 Luck, +1 Resistance | +2 Speed, +1 Luck, +1 Resistance | — |
| Nino | +1 Speed | +1 Speed, +1 Resistance | +1 Speed, +1 Resistance, +1 Magic | +2 Speed, +1 Magic, Resistance | Giga Excalibur – +20% damage when using Excalibur during initiated combat. |
| Jaffar | +1 Strength | +1 Strength, +1 Dexterity | +1 Strength, +1 Dexterity, +1 Speed | +2 Strength, +1 Dexterity, +1 Speed | — |
Ike's Bond Rings
| Character | C Rank | B Rank | A Rank | S Rank | S Rank Skill (If Applicable) |
| --- | --- | --- | --- | --- | --- |
| Mist | +1 Speed | +1 Speed, +1 Resistance | +1 Speed, +1 Luck, +1 Resistance | +2 Speed, +1 Luck, +1 Resistance | — |
| Titania | +1 Speed | +1 Speed, +1 Dexterity | +1 Speed, +1 Dexterity, +1 Strength | +2 Speed, +1 Dexterity, +1 Strength | — |
| Shinon | +1 Dexterity | +1 Dexterity, Defense | +1 Dexterity, +1 Defense, +1 Strength | +2 Dexterity, +1 Defense, +1 Strength | — |
| Gatrie | +1 Defense | +1 Defense, +1 Strength | +1 Defense, +1 Strength, +1 Dexterity | +2 Defense, +1 Strength, +1 Dexterity | — |
| Soren | +1 Dexterity | +1 Dexterity, +1 Resistance | +1 Magic, +1 Dexterity, +1 Resistance | +2 Magic, +1 Dexterity, +1 Resistance | Wind Adept – Unit may attack twice when using Wind (Trigger %=Dex). |
| Mia | +1 Speed | +1 Speed, +1 Dexterity | +1 Speed, +1 Dexterity, +1 Luck | +2 Speed, +1 Dexterity, +1 Luck | Shove – Push ally with a Build > than unit 1 space. |
| Ilyana | +1 Resistance | +1 Resistance, +1 Luck | +1 Luck, +1 Resistance, +1 Dexterity | +2 Resistance, +1 Luck, +1 Dexterity | — |
| Lethe | +2 HP | +2 HP, +1 Speed | +2 HP, +1 Dexterity, +1 Speed | +5 HP, +1 Dexterity, +1 Speed | — |
| Ranulf | +2 HP | +2 HP, +1 Strength | +2 HP, +1 Strength, +1 Defense | +5 HP, +1 Strength, +1 Defense | — |
| Greil | +1 Strength | +1 Strength, +1 Defense | +1 Strength, +1 Defense, +1 Build | +2 Strength, +1 Defense, +1 Build | — |
Byleth's Bond Rings
| Character | C Rank | B Rank | A Rank | S Rank | S Rank Skill (If Applicable) |
| --- | --- | --- | --- | --- | --- |
| Edelgard | +1 Strength | +1 Strength, +1 Defense | +2 HP, +1 Strength, +1 Defense | +2 Strength, +2 HP, +1 Defense | Flickering Flower – After initiating combat, chance to freeze foe (Trigger %= Damage dealt) |
| Ferdinand | +1 Speed | +1 Speed, +1 Strength | +1 Speed, +1 Strength, +1 Dexterity | +2 Speed, +1 Strength, +1 Dexterity | — |
| Bernadetta | +1 Dexterity | +1 Dexterity, +1 Speed | +1 Dexterity, +1 Speed, +1 Strength | +2 Dexterity, +1 Speed, +1 Strength | — |
| Dimitri | +1 Strength | +1 Strength, +1 Dexterity | +1 Strength, +Dexterity, +2 HP | +2 Strength, +2 HP, +1 Dexterity | Paraselene – After making an attack on an adjacent foe, choice to move 1 space away. |
| Felix | +1 Strength | +1 Strength, +1 Speed | +1 Strength, +1 Speed, +1 Dexterity | +2 Strength, +1 Speed, +1 Dexterity | — |
| Ingrid | +1 Speed | +1 Speed, +1 Resistance | +1 Speed, +1 Resistance, +1 Luck | +2 Speed, +1 Resistance, +1 Luck | — |
| Claude | +1 Dexterity | +1 Dexterity, +1 Speed | +1 Dexterity, +1 Speed, +1 Luck | +2 Dexterity, +1 Speed, +1 Luck | Wind God – Gain +1 range with bows when HP = 100% |
| Raphael | +2 HP | +2 HP, +1 Strength | +2 HP, +1 Strength, +1 Defense | +5 HP, +1 Strength, +1 Defense | — |
| Lysithea | +1 Magic | +1 Magic, +1 Dexterity | +1 Magic, +1 Dexterity, +1 Speed | +2 Magic, +1 Dexterity, +1 Speed | — |
| Flayn | +1 Magic | +1 Magic, +1 Resistance | +1 Magic, +1 Resistance, +1 Dexterity | +2 Magic, +1 Resistance, +1 Dexterity | — |
Corrin's Bond Rings
| Character | C Rank | B Rank | A Rank | S Rank | S Rank Skill (If Applicable) |
| --- | --- | --- | --- | --- | --- |
| Azura | +1 Speed | +1 Speed, +1 Dexterity | +1 Speed, +1 Dexterity, +1 Luck | +1 Dexterity, +2 Speed, +1 Luck | — |
| Ryoma | +1 Speed | +1 Speed, +1 Strength | +1 Speed, +1 Strength, +1 Luck | +2 Speed, +1 Strength, +1 Luck | Bushido – When unit's level is =< foe's level, gain +10 Crit, +2 to damage given, and -2 to damage received. |
| Hinoka | +1 Speed | +1 Speed, +1 Resistance | +1 Speed, +1 Resistance, +2 HP | +2 Speed, +1 Resistance, +2 HP | — |
| Takumi | +1 Strength | +1 Strength, +1 Dexterity | +1 Strength, +1 Dexterity, +2 HP | +2 Strength, +1 Dexterity, +2 HP | — |
| Sakura | +1 Magic | +1 Magic, +1 Luck | +1 Magic, +1 Luck, +2 HP | +2 Magic, +1 Luck, +2 HP | — |
| Xander | +1 Defense | +1 Defense, +1 Luck | +1 Defense, +1 Luck, +1 Strength | +2 Defense, +1 Luck, +1 Strength | Chivalry – Unit gains +2 to damage given and -2 damage taken when foe's HP = 100%. |
| Camilla | +1 Speed | +1 Speed, +1 Strength | +1 Speed, +1 Strength, +1 Defense | +2 Speed, +1 Strength, +1 Defense | — |
| Leo | +1 Magic | +1 Magic, +1 Resistance | +1 Magic, +1 Resistance, +2 HP | +2 Magic, +1 Resistance, +2 HP | — |
| Elise | +1 Luck | +1 Magic, +1 Luck | +1 Luck, +1 Magic, +1 Speed | +2 Luck, +1 Magic, +1 Speed | — |
| Jakob | +2 HP | +2 HP, +1 Luck | +2 HP, +1 Dexterity, +1 Luck | +5 HP, +1 Dexterity, +1 Luck | — |
Eirika's Bond Rings
| Character | C Rank | B Rank | A Rank | S Rank | S Rank Skill (If Applicable) |
| --- | --- | --- | --- | --- | --- |
| Seth | +2 HP | +2 HP, +1 Strength | +2 HP, +1 Strength, +1 Defense | +5 HP, +1 Strength, +1 Defense | — |
| Ross | +2 HP | +2 HP, +1 Strength | +2 HP, +1 Strength, +1 Luck | +5 HP, +1 Strength, +1 Luck | — |
| Lute | +1 Magic | +1 Magic, +1 Luck | +1 Magic, +1 Luck, +1 Resistance | +2 Magic, +1 Luck, +1 Resistance | — |
| Joshua | +1 Speed | +1 Speed, +1 Dexterity | +1 Speed, +1 Dexterity, +2 HP | +2 Speed, +1 Dexterity, +2 HP | — |
| Tana | +1 Speed | +1 Speed, +1 Luck | +1 Speed, +1 Strength, +1 Luck | +2 Speed, +1 Strength, +1 Luck | — |
| Amelia | +2 HP | +2 HP, +1 Luck | +2 HP, +1 Luck, +1 Strength | +5 HP, +1 Luck, +1 Strength | — |
| Innes | +1 Speed | +1 Speed, +1 Luck | +1 Speed, +1 Luck, +1 Dexterity | +2 Speed, +1 Luck, +1 Dexterity | Sure Strike – Attacks have a chance to be guaranteed to hit (Trigger %=Dex). |
| Gerik | +2 HP | +2 HP, +1 Strength | +2 HP, +1 Strength, +1 Dexterity | +5 HP, +1 Strength, +1 Dexterity | — |
| Marisa | +1 Speed | +1 Speed, Dexterity | +1 Speed, +1 Dexterity, +1 Luck | +2 Speed, +1 Dexterity, +1 Luck | Lethality – Chance to immediately kill a foe (Trigger %=30). Does not work on some enemies, like bosses. |
| L'Arachel | +1 Speed | +1 Speed, +1 Luck | +1 Speed, +1 Luck, +1 Magic | +2 Speed, +1 Luck, +1 Magic | — |
Countless Worlds (Other)
| Character | C Rank | B Rank | A Rank | S Rank | S Rank Skill (If Applicable) |
| --- | --- | --- | --- | --- | --- |
| Alfonse | — | — | — | +2 HP, +2 Strength, +1 Defense | Spur Attack – Adjacent allies gain +2 attack for 1 turn when starting Player Phase next to the unit. |
| Sharena | — | — | — | +2 HP, +1 Speed, +2 Defense | Fortify Defense – Adjacent allies gain +2 defense for 1 turn when starting Player Phase next to the unit. |
| Anna | — | — | — | +2 HP, +2 Speed, +1 Resistance | Spur Resistance – Adjacent allies gain +2 resistance for 1 turn when starting Player Phase next to the unit. |
Source: Read Full Article