Every week there are new Fortnite challenges. Each challenge rewards players with experience points so they can level up. Plus, weekly challenges are usually Epic rarity meaning that they count towards unlocking special styles for certain Battle Pass skins.
We've listed every challenge down below and written down some tips to help you out.
Open Safes (3)
Safes are pretty well scattered throughout the Battle Royale map. You will have to open three safes this week to complete this challenge.
They take quite a while to open, around 10-15 seconds, however, Fortnite safes drop 150 gold bars which always comes in handy. Here are all the safe locations: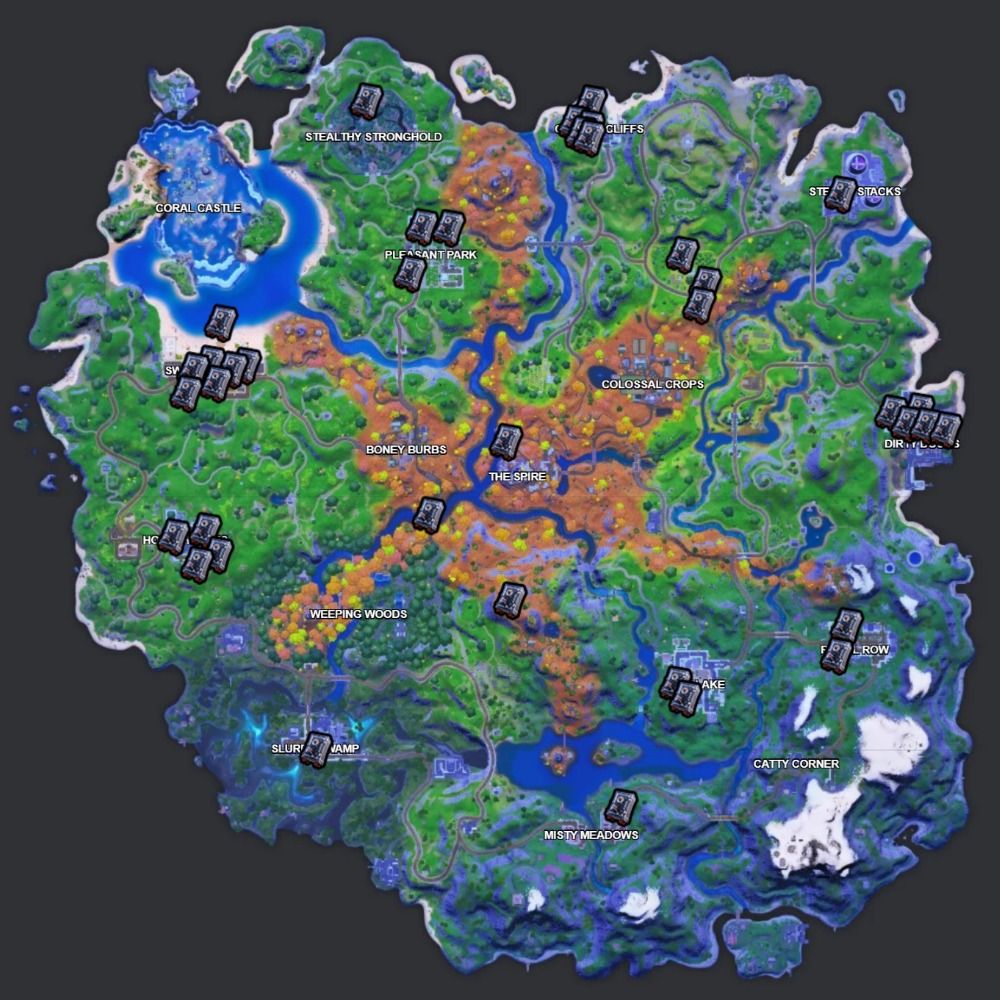 Complete Bounties (3)
There are two ways to receive a bounty, you get them by either speaking to certain NPCs or by interacting with bounty boards. We've made a map so you know where you can find all different the characters and boards across the map.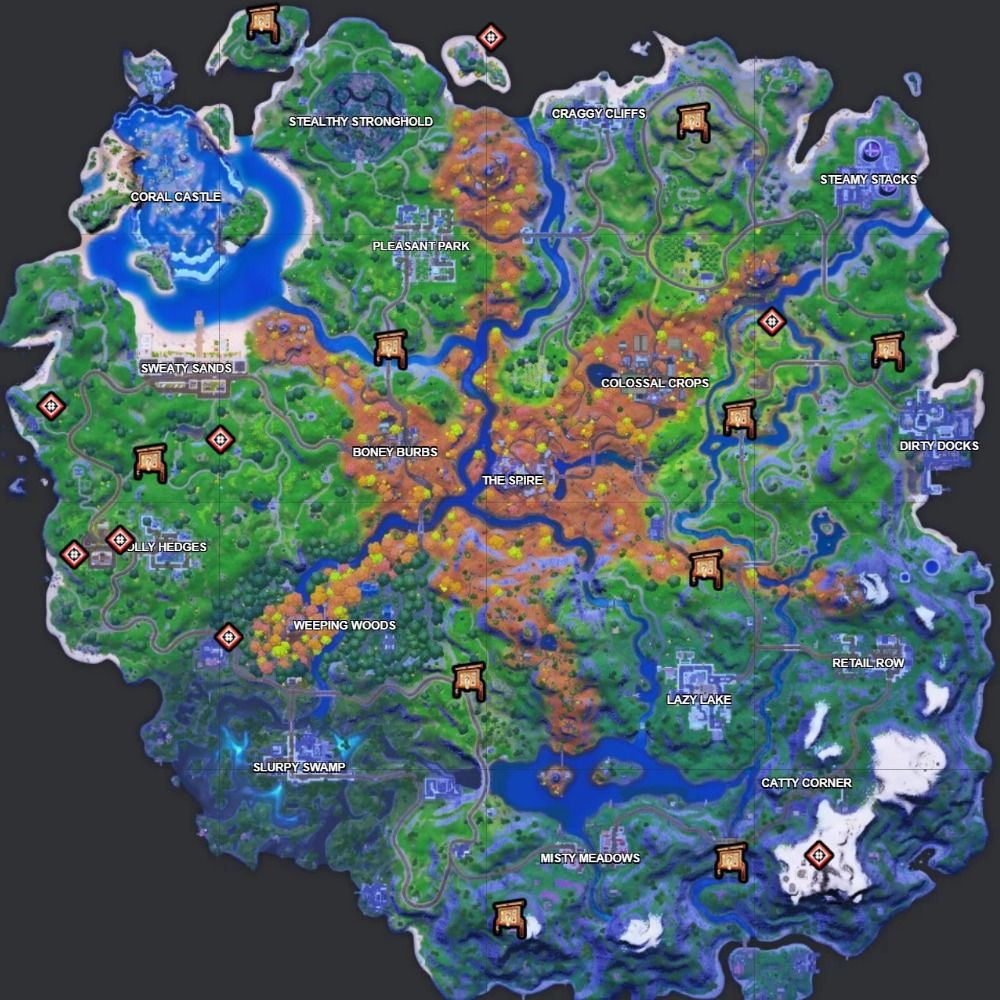 Once you've accepted a bounty the clock will start ticking and you have six minutes to hunt down the other enemy player. You need to successfully do this three times.
Reach Max Shields In Different Matches (3)
Collecting shields is one of the most important things to do once you leave the battle bus. To complete this challenge all you have to do is to reach max shield in three different matches.
You can do this with shield potions but if you can't find any, you can also resort to fishing.
Stay Within 20m Of A Player For 3 Seconds While Wearing A Prop Disguise (3)
You pay an in-game character to turn you in a prop disguise. Activating a prop disguise will turn you into a random object.
Your mission this week is to be able to stay within 20m of an opponent while wearing a disguise for a total of three seconds. Here are all the locations of the NPCs that will turn you into a prop disguise: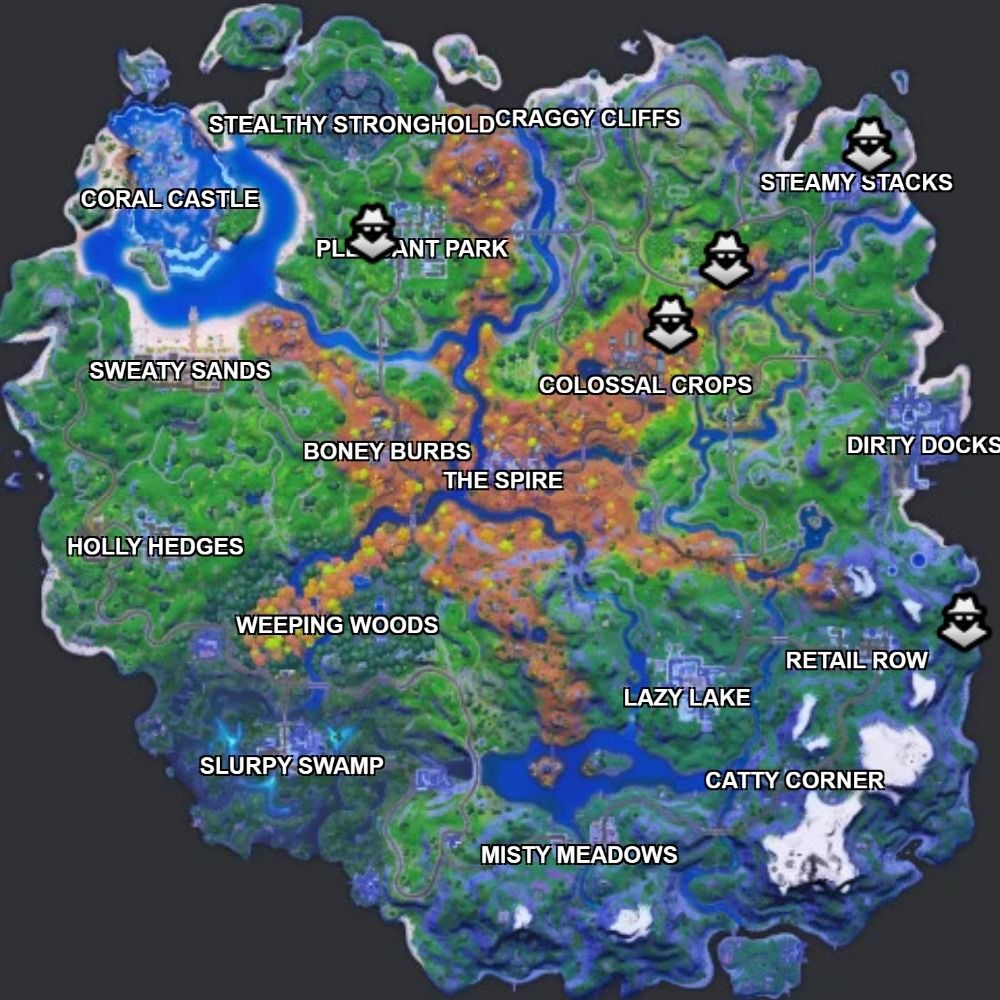 Hit From 50m Or Greater With A Bow (1)
To complete this challenge you need to hit an opponent with a bow's arrow from at least 50m. The easiest way to do this is in the Team Rumble LTM since everyone is in the same small circle only within a few minutes, plus enemies keep spawning.
If you're not having any luck in Team Rumble, try hitting an already knocked opponent, since they won't move around as fast.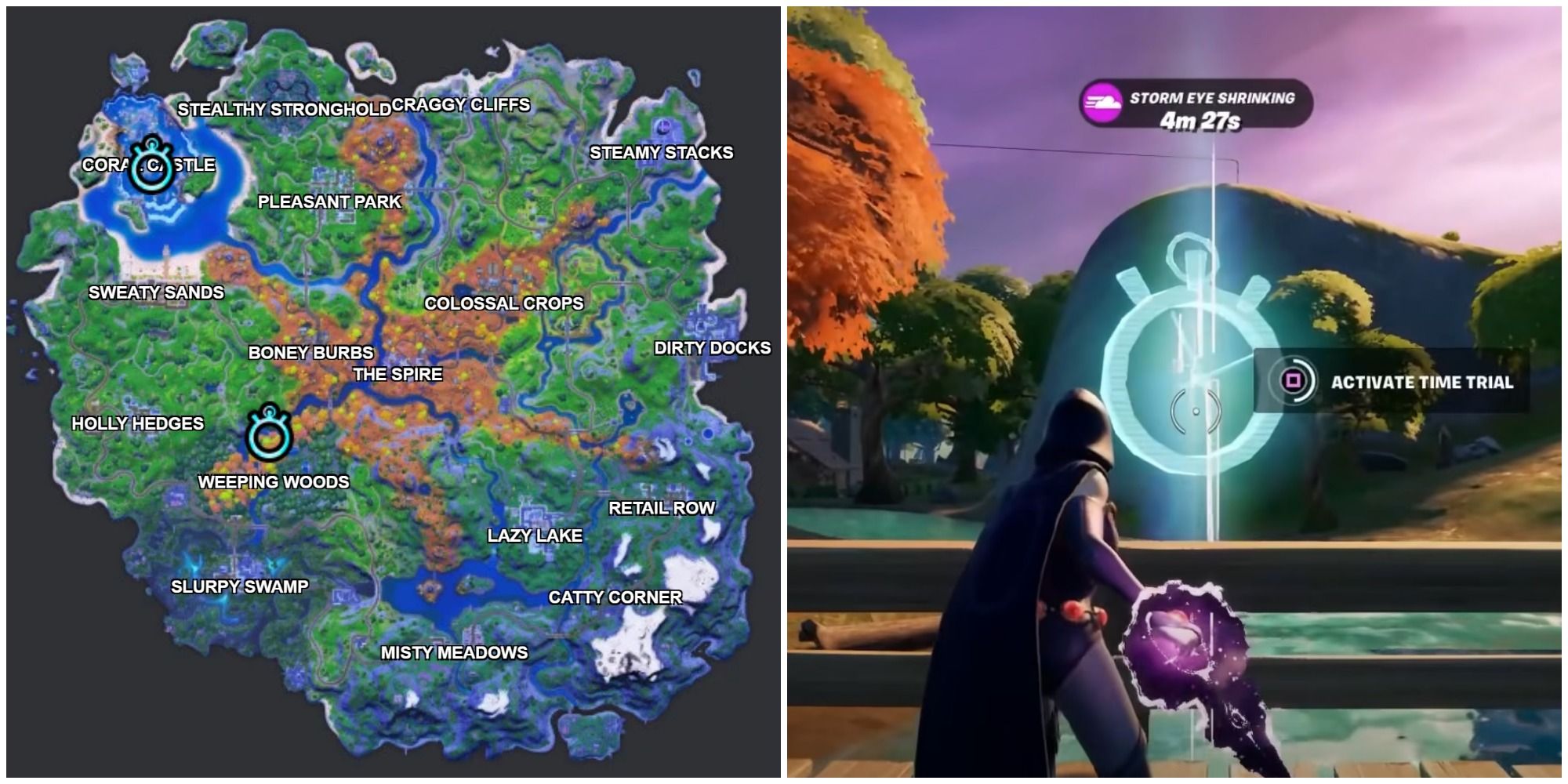 You can complete the swimming trials at your preferred locations, be it Weeeping Woods or Coral Castle.
First, head to the locations marked on the map below. Then once you're close to the holographic timer, press and hold the 'activate time trial' button. Then, as quickly as you can, chase the bright spheres on the screen before time runs out.
Visit Fancy View, Rainbow Rentals, and Lockie's Lighthouse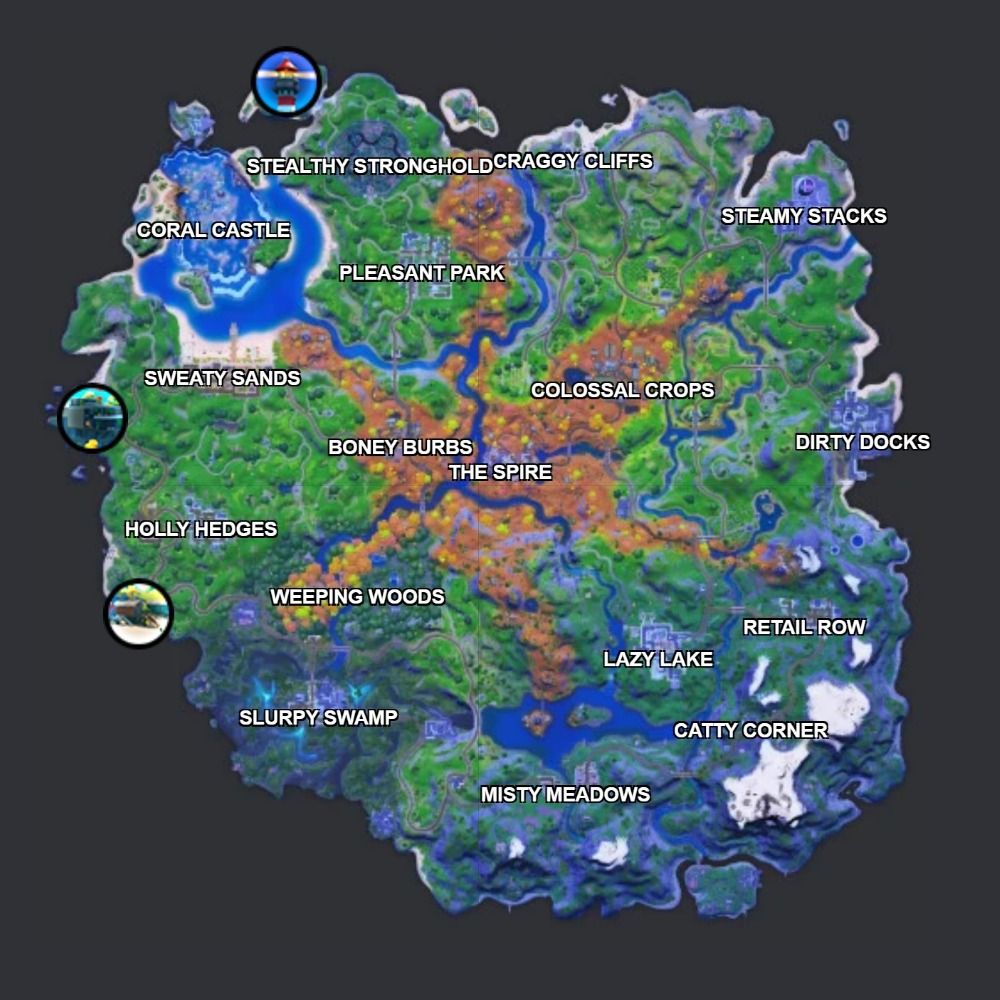 This might seem like an easy challenge since these landmarks are not that far away from each other, however, it can prove a bit tricky since they are on the edge of the map. This makes it more likely for the storm to close in on them.
Deal Damage With Makeshift Weapons (2.5K, 5K, 7.5K, 10K, 12.5K)
Makeshift weapons are the most common weapons in the game and they tend to be the weakest as well. However, they have a lot of potentional since you can craft them into another type of weapon, either into a mechanical or a primal weapon.
You might want to hold off on turning them into another weapon for a while since this weeek's Legendary challenge requires you to deal damage with makeshift weapons. You will earn experience points for each phase you complete.
NEXT: 8 Underrated Fortnite Skins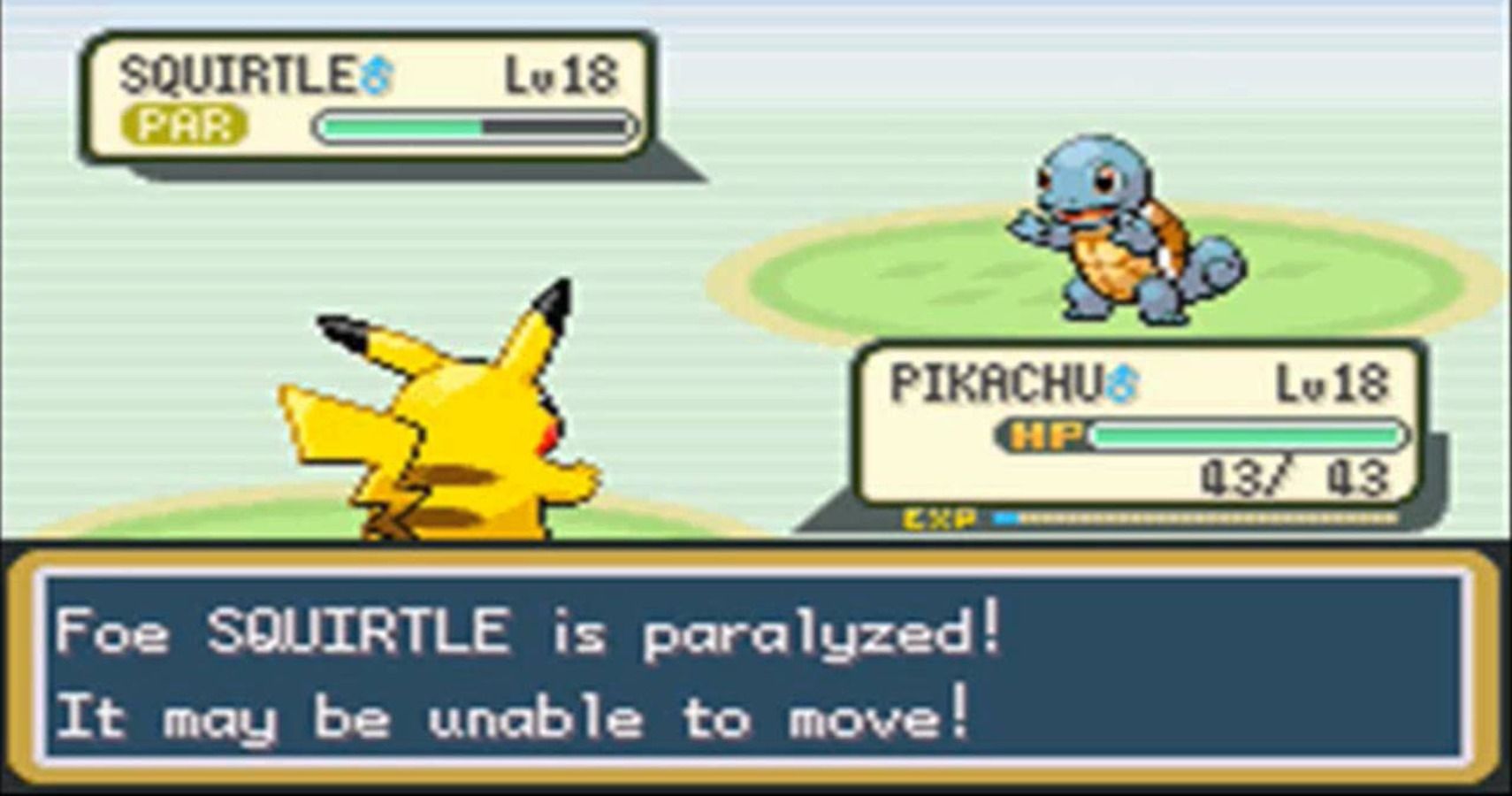 Ashely Claudino is a translator, writer, and above-all someone with a lot of love for video games. She has a Translation degree, which she obtained at the University of Lisbon in 2020. During her internship at the National Museum of Natural History and Science, she worked as a translator and editor. Now, Ashely translates indies for fun and writes about video games.
Source: Read Full Article