Heavy metal and video games, specifically shooters, go hand-in-hand. Whether it is Doom 2016 and Doom Eternal, or you go out of the shooter sphere to Brutal Legend and Guitar Hero, it works wonderfully and sometimes brutally well together. Metal: Hellsinger is a rhythm FPS that delivers a Doom and Guitar Hero-like experience.
While the gameplay keeps you in beat as you shoot up demons with Troy Baker narrating the story, it offers a banger of a soundtrack. Each song has a featuring artist, from trendy European bands to heavy metal giants that have been dominating the world for decades.
15/15

Infernal Invocation I: Hopes And Fears Ft. Mikael Stanne From Dark Tranquillity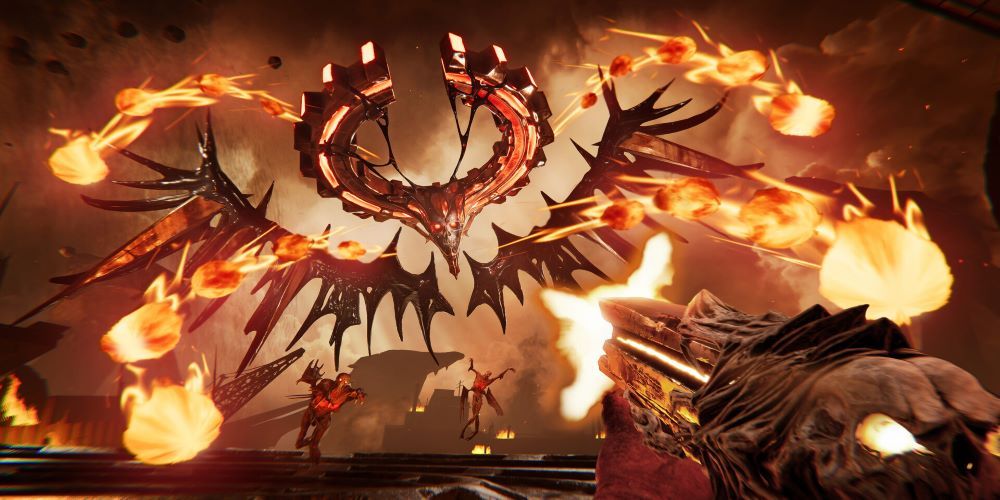 Most artists here feature only once, except for Mikael Stanne from Dark Tranquility, a melodic death metal band from Sweden. The vocalist offers his voice to six songs, including the Infernal Invocation trilogy of tracks.
Hopes and Fears is a tight, adrenaline-pumping song that is the shortest in the game at a minute and 35 seconds. Although the ending is awkwardly abrupt, the rest holds it together. It keeps up the heaviness with a beautiful wordless choir to give it some atmosphere while you keep in rhythm for a high-scoring run.
14/15

Infernal Invocation III: Dreaming In Distortion Ft. Mikael Stanne From Dark Tranquility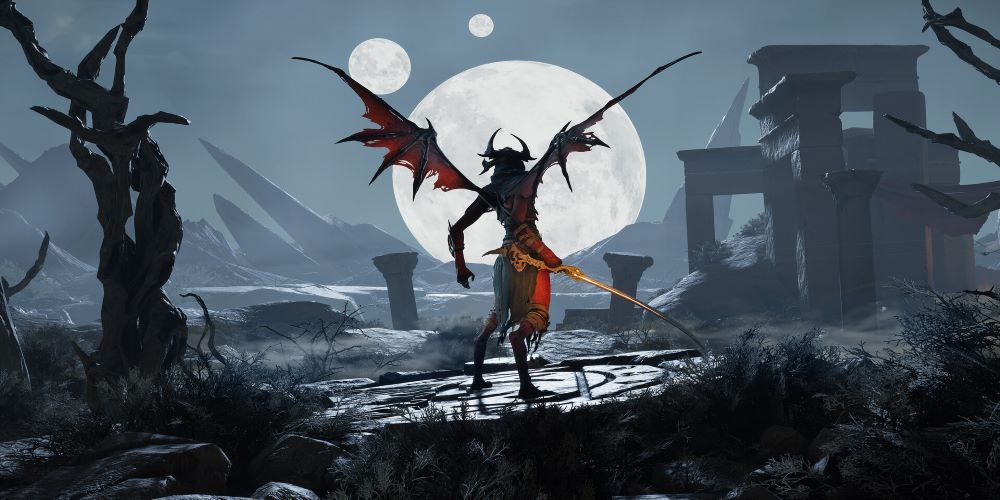 Adding 20 extra seconds to the length of an Infernal Invocation song means Dreaming in Distortion can breathe better than its two siblings. It is an effective anthem for those wanting a traditional death metal song, mostly due to Stanne's powerful vocals.
While a heavy song, it gets a little lost when the rest of the tracklist is so strong. Still, nasty riffs and pummeling drums with vicious vocals are hard to turn off when you are going out to slay demons while Baker talks to you in between scenes.
13/15

Infernal Invocation II: Defiance Ft. Mikael Stanne From Dark Tranquility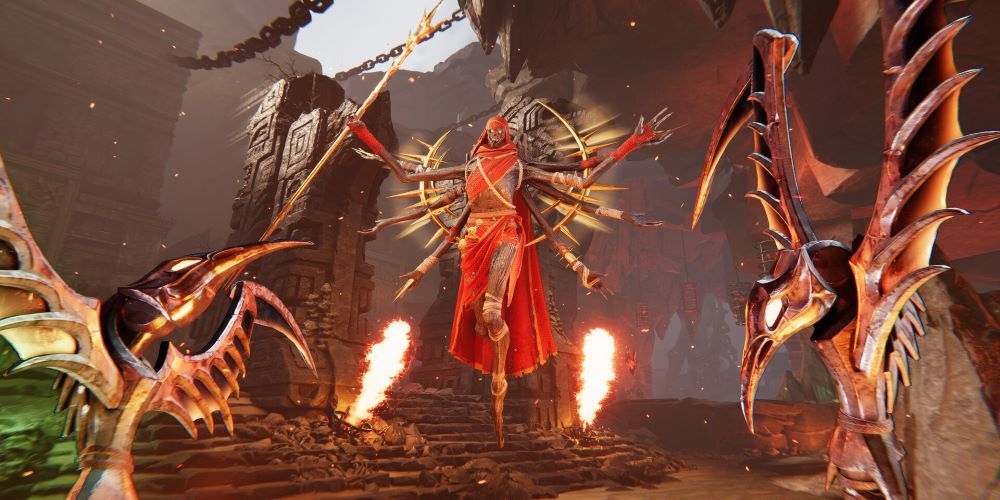 Fans of Stanne will be happy that he features in one of the heaviest songs in Metal: Hellsinger. For a track that is a minute and 36 seconds, it will get you working up a sweat while you keep in rhythm as you blast and slash demons to pieces.
In the realm of shooters like Hellsinger and Doom, it has to be relentless with its gameplay and defiance matches that by being just as relentless and brutal. Meaty riffs and heart-pounding percussion will test your sound system's strength and your neighbor's tolerance to death metal.
12/15

Silent No More Ft. Dennis Lyxzén From Refused And INVSN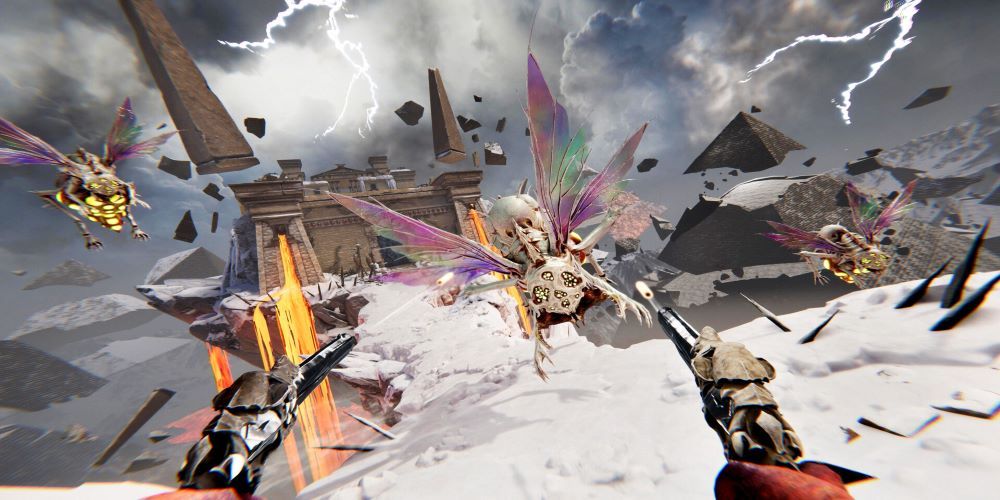 The developers keep up with their Swedish heavy music artists; they slightly divert by bringing in Dennis Lyxzén from the hardcore band Refused and punk group INVSN (pronounced Invasion). With the instrumental identity consistent throughout the soundtrack, it makes for an interesting blend of hardcore and metal.
Silent No More is not silent at all. It jumps to all sorts of places, from atmospheric hardcore to haunting moments with the vocalist's singing joining light instrumentation with a thick bass background. It all comes together for one of the most accessible songs for non-heavy music fans.
11/15

Through You Ft. Mikael Stanne From Dark Tranquility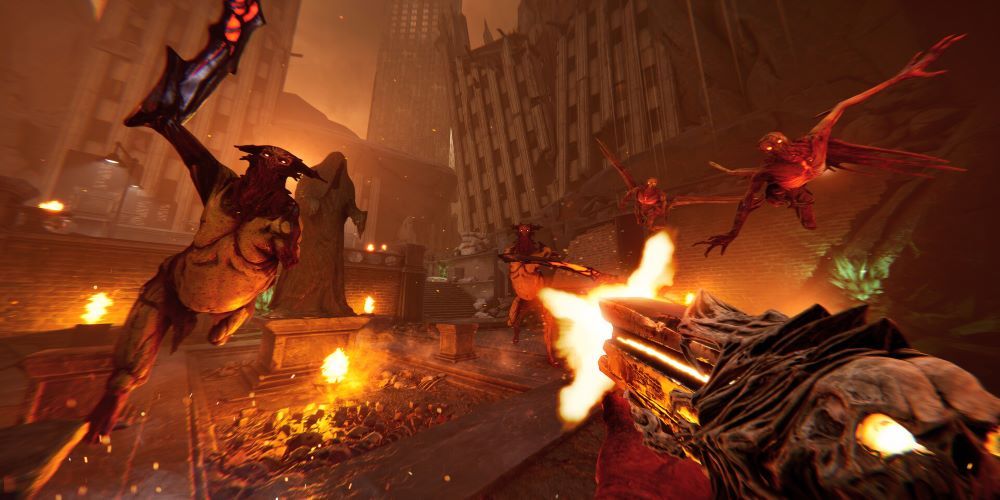 Stanne's mid-range vocals shine in Through You, spotlighting what he can do vocally. If you are keeping up with your score and not losing a combo, you will hear what he can deliver.
Two Feathers, the production company that provided the music to the Hellsinger, delivers strong melodic metal with the occasional light atmospheric touches to listen to while you become the ultimate demon slayer. The added keyboard works well in giving some refined edges to the deadly instrumentation.
10/15

Poetry Of Cinder Ft. James Dorton From Black Crown Initiate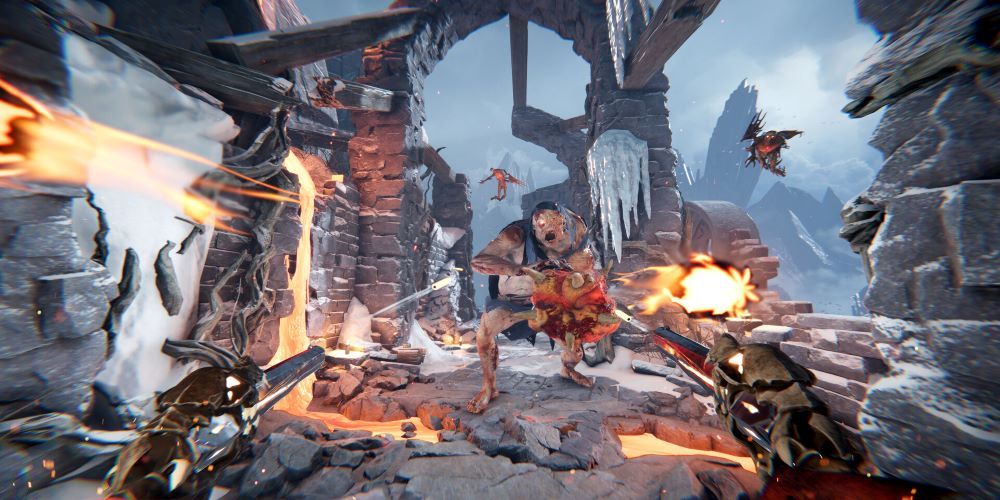 It is time to sail across the seas to America for a feature from James Dorton of the progressive death metal band Black Crown Initiate. While some songs are more approachable for people who are not typically fans of heavy music, this one is for the veterans of listening to blast beats and guttural screams.
The hefty riffs and relentless percussive power that accompanies the brutal vocal performance from Dorton puts Poetry of Cinder on top of the heavier side of the soundtrack. It might be hard to play a game when you are headbanging your head off.
9/15

Dissolution Ft. Björn "Speed" Strid From Soilwork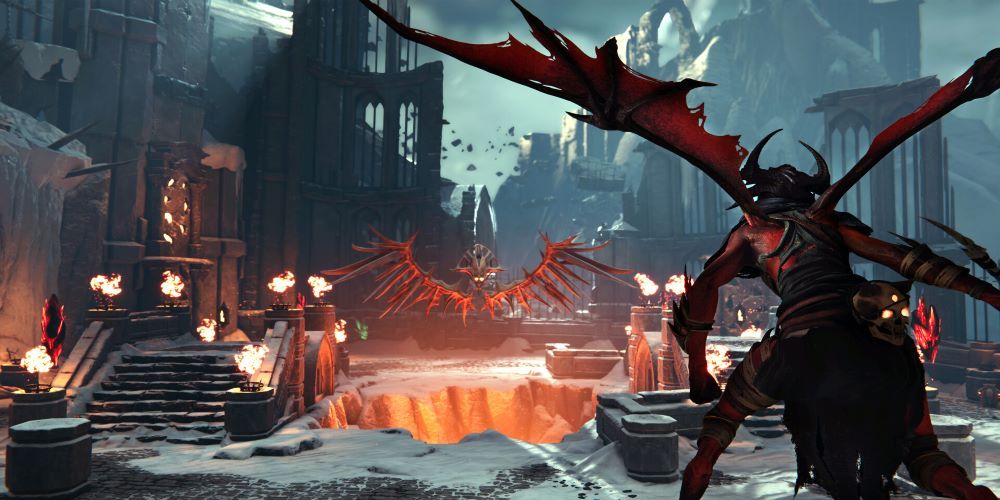 Dissolution is full of twists and turns. This is partially due to Björn "Speed" Strid from the Swedish melodic death metal band Soilwork. If you are unfamiliar with his work, you will start hearing a traditional melodic death metal track that shifts into something more.
A switch happens to deliver some singing from Strid. As he and the instrumentation shift, it flows together like a river of demon blood to make for one of the most dynamic songs composed for Hellsinger as it balances its heaviness and anthemic moments.
8/15

Blood And Law Ft. Mikael Stanne From Dark Tranquility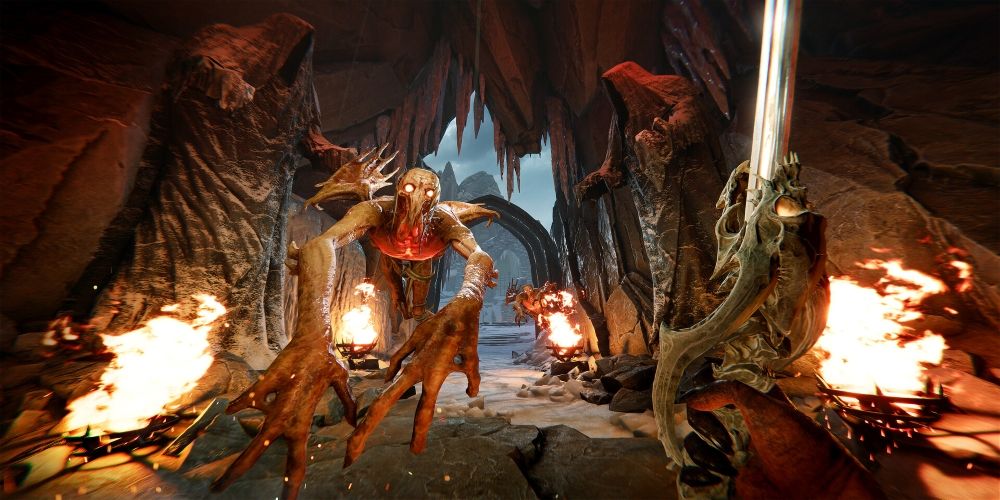 If you went to a concert and the headliner was Two Feathers, you would hope they opened with Blood and Law. It starts slow and builds to a city of speedy riffs and galloping drums. This chaos is lightened with the keyboard and choir that elevate the surroundings.
Stanne has had plenty of moments to shine, but it may be his best vocal performance. Between his sinister vocals and hissing during the bridge where everything dies down to put you on the edge of your seat.
7/15

The Hellsinger By Two Feathers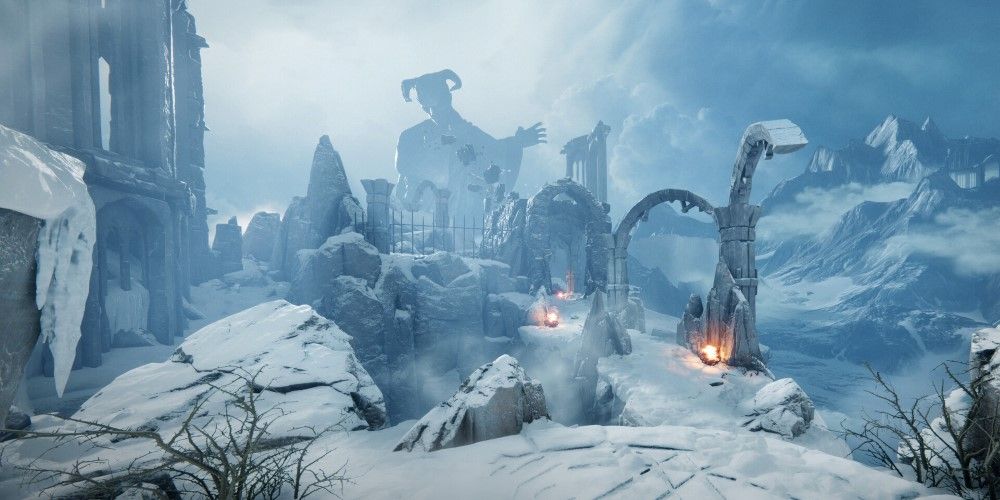 Two Feathers has made a name for itself by working on various games, like Warhammer: Vermintide 2. While some of the features take the spotlight, the main theme for Hellsinger shows what the group can do on its own.
The Hellsinger eases the listener in by starting slow and melodic with its bass and guitars before it crescendos for a rhythmic jog. It sets the tone and style for you to taste what's to come from most songs without being tossed into the deep end.
6/15

Acheron Ft. Randy Blythe From Lamb Of God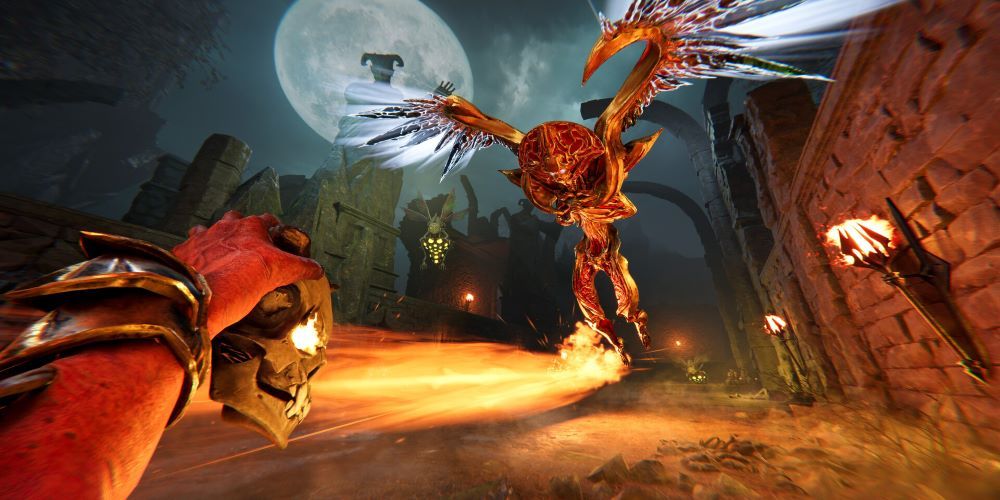 One of the global dominators of metal has been the American band Lamb of God. Frontman Randy Blythe has become known as one of the best vocalists and performers for his distinctive vocals and high energy, and Acheron compliments the metal legend's style.
Blythe and Two Feathers go hand-in-hand with one another for a cohesive banger. When it is heavy, the instrumentation and vocals are snarling beasts. When it tunes down, his ominous speaking turns down the lights for a darker tone while you blast demons.
5/15

This Is The End Ft. Mikael Stanne From Dark Tranquility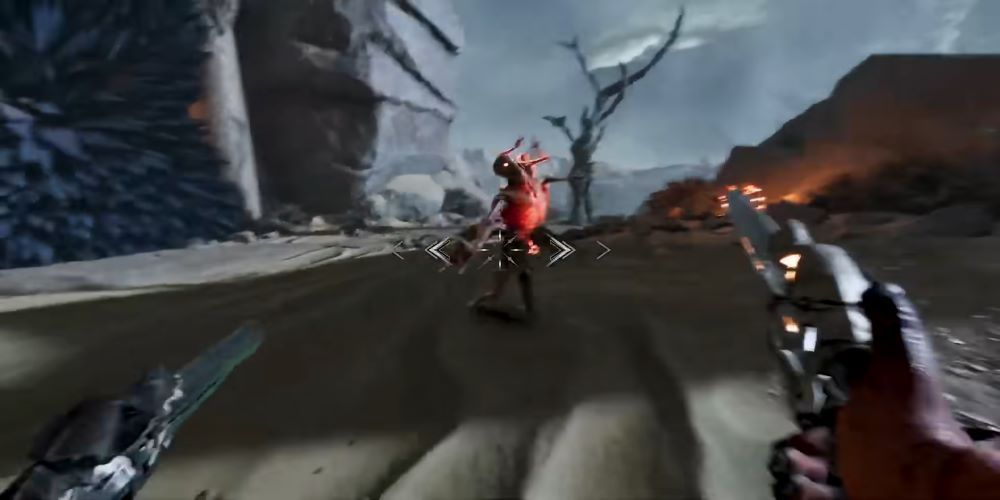 This is the End is another concert-worthy song that would kick up energy in the pits. The piano and bass make for an atmospheric introduction before the drums punch to add a primal nature.
Stanne's vocals then take the lead in this jumpy, rhythmic beast. While the energy is already high, the chorus manages to take it up a notch. The bridge gets intense as it builds to its climatic riffs. While the song is not the actual end, it would fit anywhere in a set list for a live performance.
4/15

This Devastation Ft. Matt Heafy From Trivium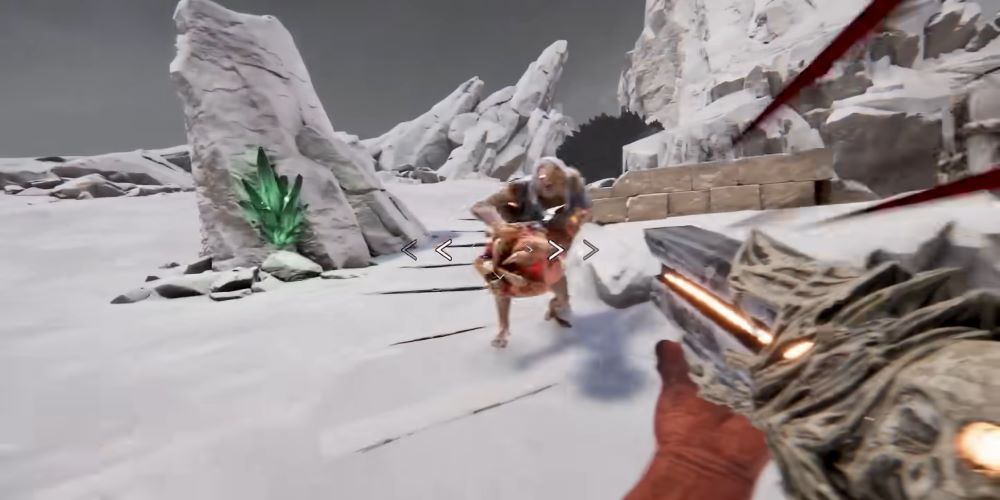 It would have been a shame if Matt Heafy from the American metal group Trivium did not appear. Besides being a major player in the heavy music scene, Heafy is a big gamer. Outside of touring, he has a Twitch channel dedicated to music and video games.
This Devastation begins haunting with its lone cymbal before a fiery storm. In the eye of that storm, Heafy takes command with his vocals that make for a standout on the soundtrack. His demanding presence turns catchy during the choruses that will easily get stuck in your head.
3/15

No Tomorrow Ft. Serj Tankian From System Of A Down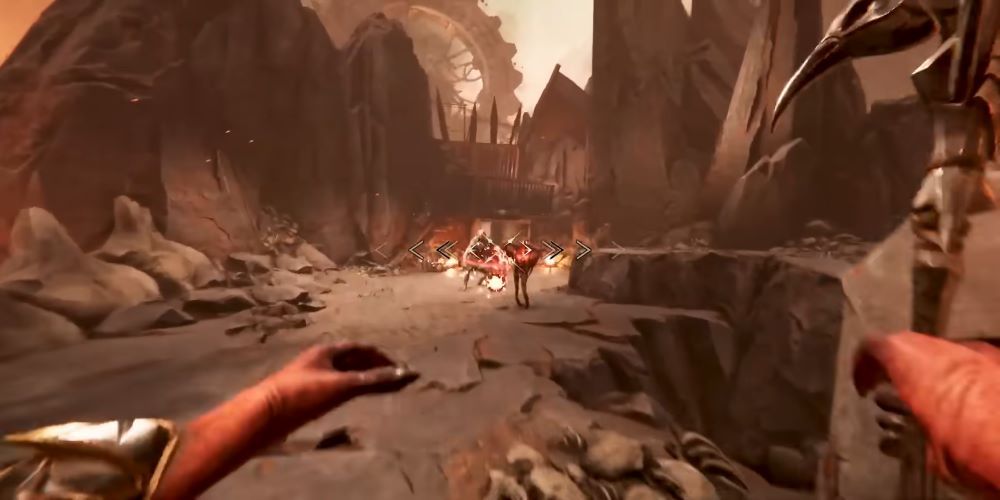 The biggest feature comes from Serj Tankian from the Armenian-American band System of a Down. Known for their oddball sense of style mixed with hard political stances, the band has been dominating the world with their music. While they can get heavy, it was nice to hear Tankian go into a harder style.
No Tomorrow sticks to the core sound of Hellsinger while Tankian does his thing. His melodic singing -that goes into weird places as he is known for his experimentation- blends the melodic metal inspirations Two Feathers has taken and mixed with System of a Down.
2/15

Burial At Night Ft. Tatiana Shmayluk From Jinjer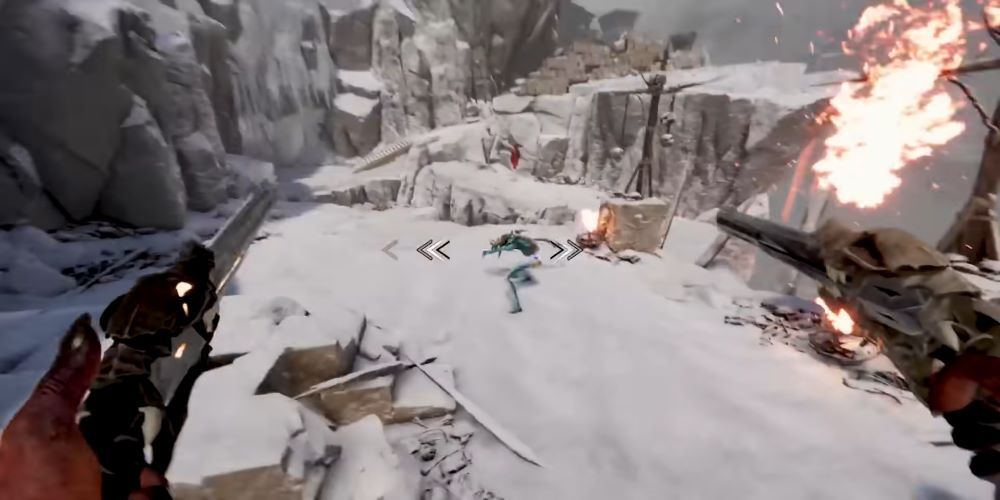 After having largely Scandanavian features, you will travel to Eastern Europe to Ukraine to hear Tatiana Shmayluk from the progressive metal band Jinjer. The underrated band has found its success and will hopefully find new fans with Burial at Night.
The song has an eerie atmosphere that blends with its bouncy energy, making you want to jump into a mosh pit. Shmayluk makes great use of her appearance as she can deliver angelic singing and turn into a werewolf with her animalistic screams.
1/15

Stygia Ft. Alissa White-Gluz From Arch Enemy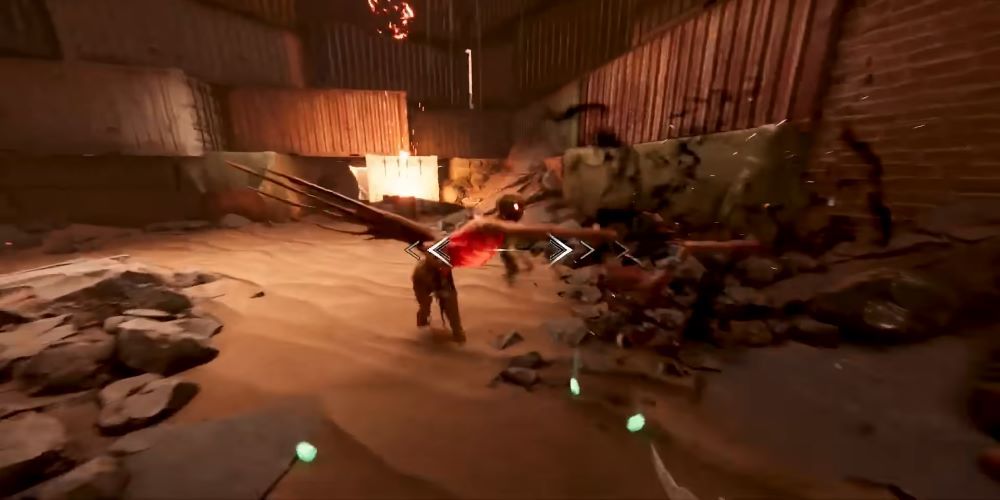 Alissa White-Gluz has become the metal goddess since she turned from her Canadian group The Agonist to Swedish melodic death metal royalty with Arch Enemy. In Stygia, she shows why she has the reputation she holds in the metal underworld.
The guitar players of Two Feathers start with something different with spidery riffs. Once White-Gluz opens up, the instrumentation can flex to what she would do, from her screams to her singing. Most notable is the melodic chorus that is worth a crowd singing along to.
Source: Read Full Article