After ridding the internet of emulators and ROMs and freely available copyrighted music, Nintendo is now taking aim at whatever is left. And what's left is the site that lets you download official box art for emulated Nintendo Switch games on Steam.
As reported by GBAtemp (via Games Radar), Nintendo has sent DMCA takedown requests to SteamGridDB for six games: Pokemon Scarlet, Pokemon Violet, Splatoon 3, Xenoblade Chronicles 3, Super Mario Odyssey, and The Legend of Zelda: Breath of the Wild. SteamGridDB is an image hosting site that lets users upload custom images for use in Steam libraries. The site only hosts images and doesn't host any ROMs, ISOs, or emulation software, but because emulators use the site to download box art, that's apparently enough for Nintendo to unleash its legal hounds.
For those unaware, Steam doesn't have emulation software available to download, but it does allow users to add their own games to Steam's library to use it as an all-in-one launcher. Those custom game links often won't have their own thumbnails or icons, but SteamGridDB allows users to download those images and make their custom emulated Steam library entry look like it's official. Again, this is purely aesthetic and has nothing to do with actually pirating software. In fact, the vast majority of SteamGridDB users just download custom art to spruce up their Steam libraries.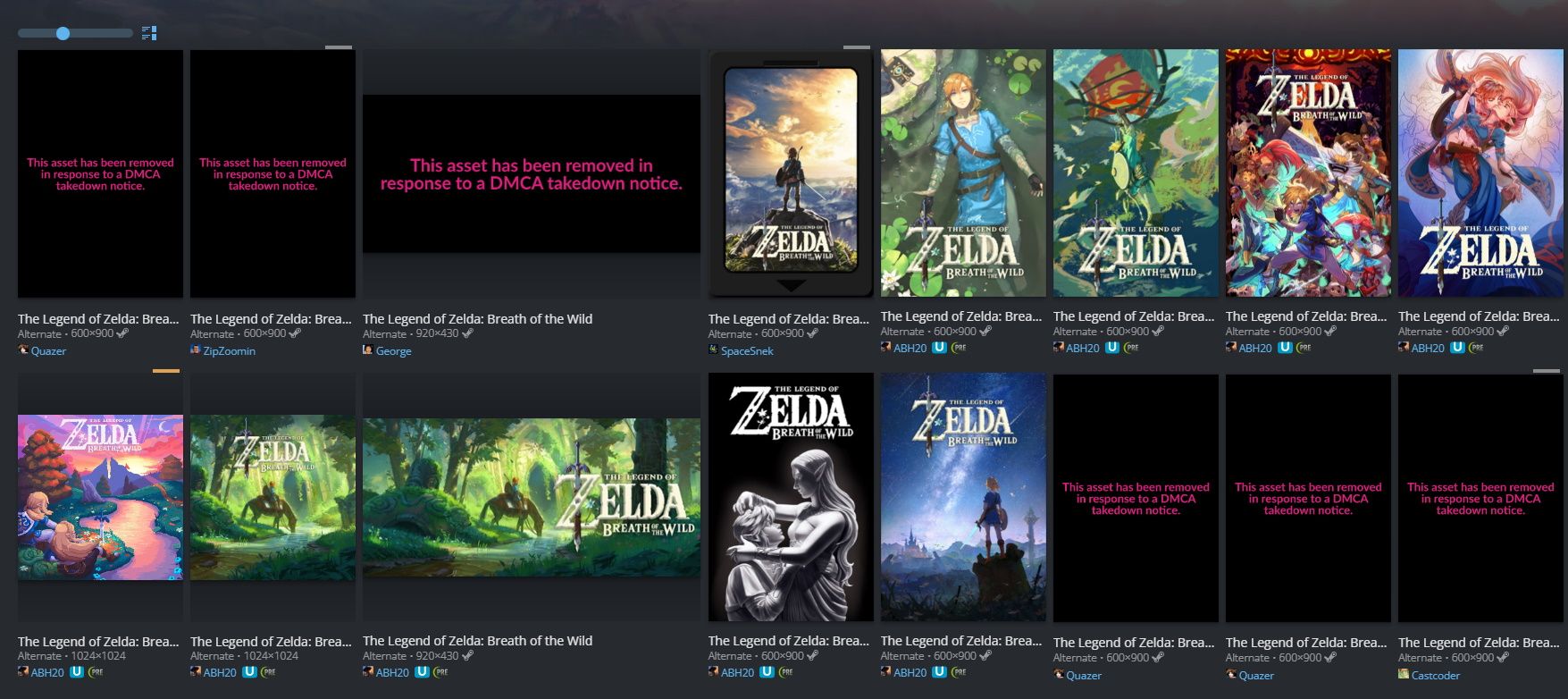 But the ease at which Steam can list emulated games in its library, and how Switch emulators can be installed on the Steam Deck, has apparently caught Nintendo's interest. Not wanting the Steam Deck to be even more of a Switch rival, the Mario company is making sure the Deck can't be anywhere near as pretty as the Switch for playing Switch games, even though it'd likely offer far better performance for Pokemon Scarlet & Violet.
It looks like Nintendo's efforts against SteamGridDB aren't entirely successful. Users are uploading non-official box art as quickly as the official stuff is getting taken down, so there's still plenty of options for Switch emulators in Steam libraries to choose from.
Source: Read Full Article