When you're playing Persona 5 Royal, or any RPG with a semblance of a social element, it's tough to ignore the pull to become friends with the characters. Joker, the protagonist, will have a limited amount of free time throughout the course of the story, and what he does is up to you. You can work on your skills, dungeon crawl for bonuses, or spend some time with your Confidants to bolster your relationships.
Every time you rank a Confidant up a level, you'll do so through an interactive cutscene. Each of your Confidants has their own storyline going on outside the main one, a good many of them somewhat heartbreaking. We've picked our favorite of all the scenes of you hanging out with your friends. Some are heartwarming, some are touching, and some are funny, but they all lend to the impressive cast of characters available in Persona 5 Royal.
10

Goro Akechi, Rank 8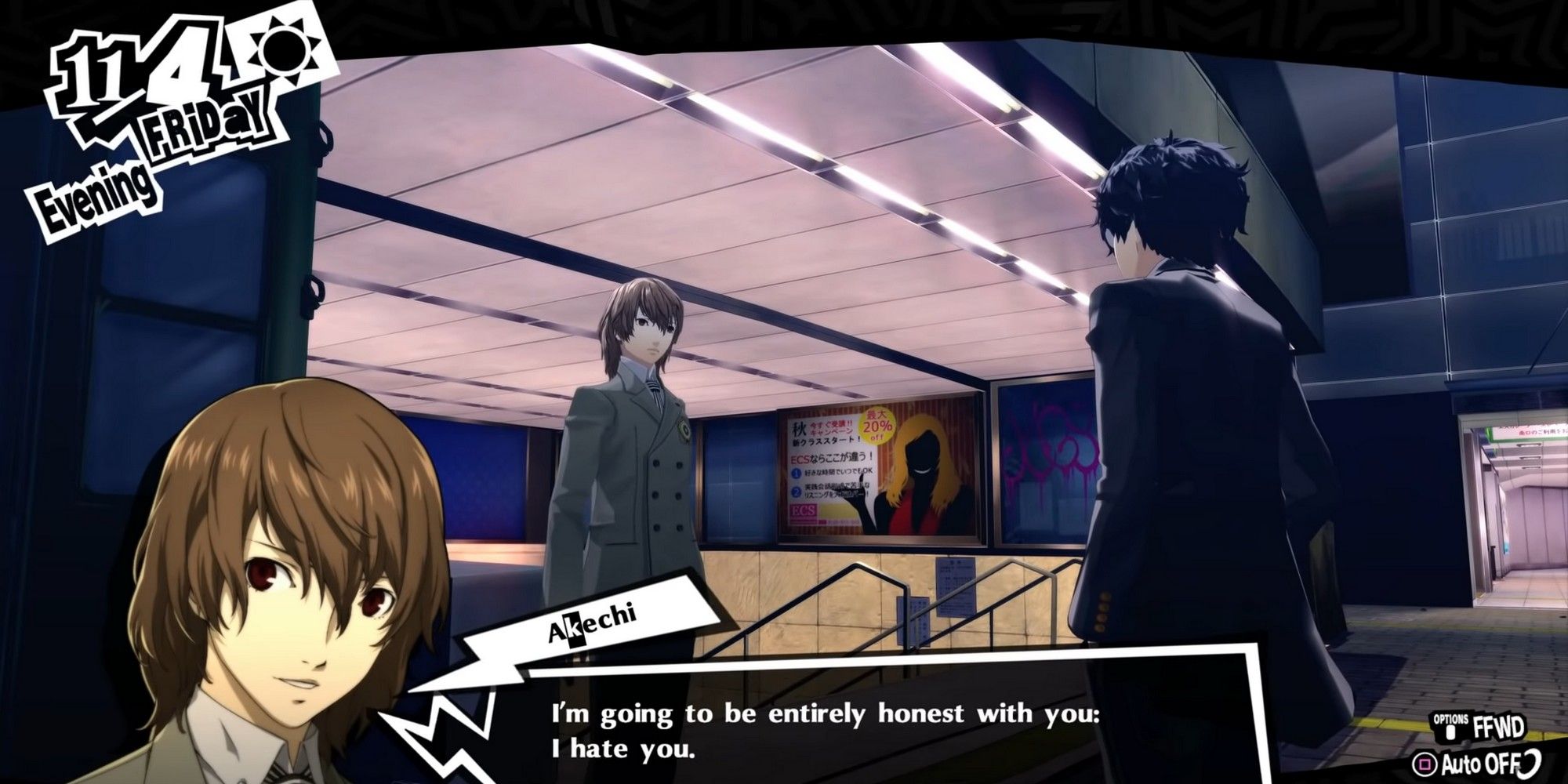 In the original Persona 5, Akechi's Confidant leveled up automatically with your story progression, but in Royal, you'll have to choose to spend time with him. His Rank 8 scene sees the two of you going into Mementos together – he wants to fight you, one-on-one.
He sees how adept you are at battling with your Persona and wants a real competition with you, but he stops the fight right before you beat him. He confesses afterward that he hates you for how good you are, but also respects and relies on you for it. He's a little callous even in his nicer moments, but it was nice to be able to understand him a little more.
9

Shinya Oda, Rank 10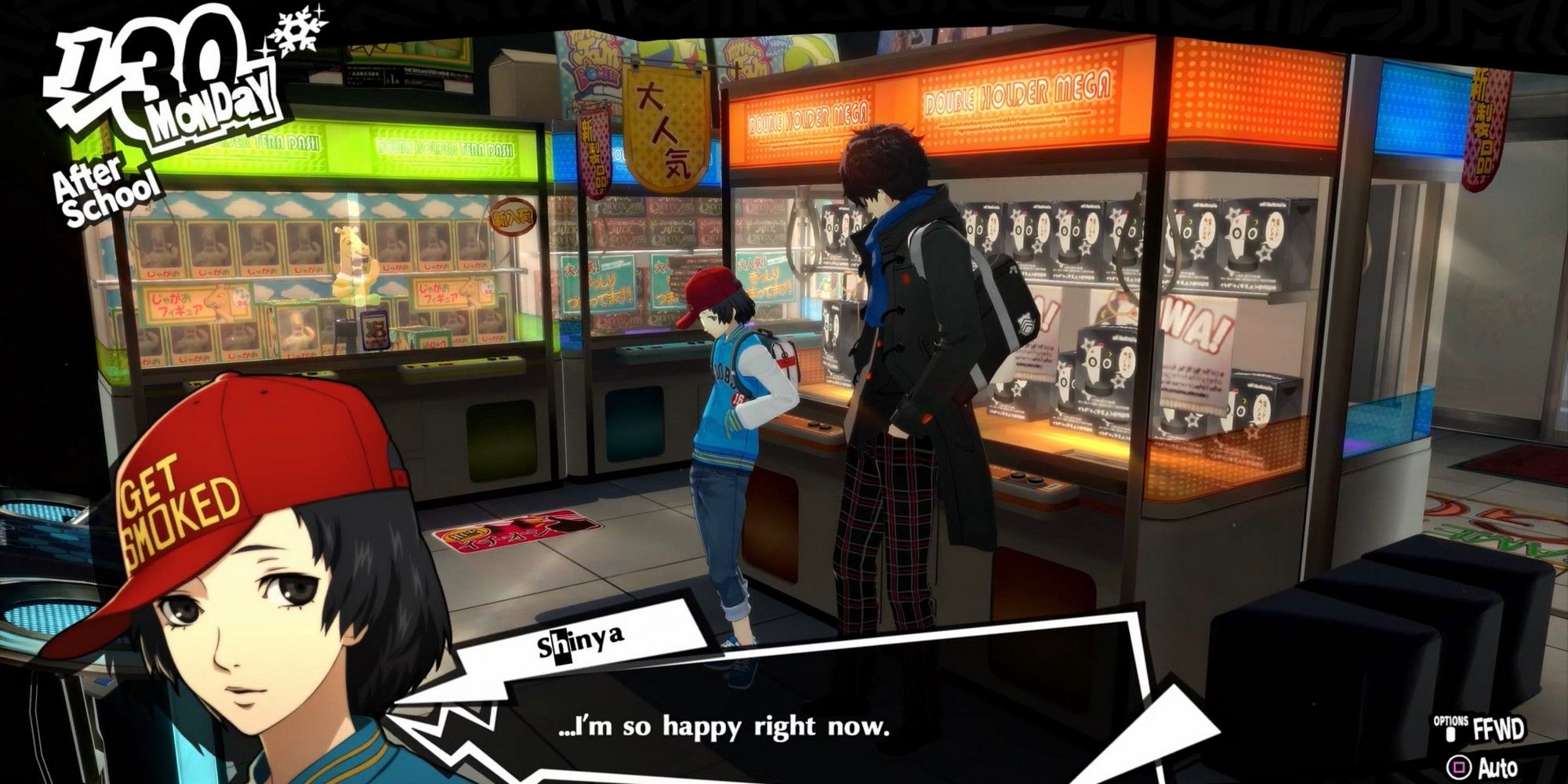 Maxing Shinya's Confidant ranking will require a good amount of work. He doesn't unlock until September, and you'll have to dive into Mementos a few times, but we think Shinya's worth it. He's a good boy who just wants to make friends and hang out at the arcade in Akihabara – what's not to love?
His Confidant arc is about helping him stop a cheater, and because you get to know Shinya along the way, it's really heartwarming to see how much he's grown by the end. He gives the cheater a stern talking to, and we see he's made friends his own age as well, so it's great to see him finally starting to thrive.
8

Haru Okumura, Rank 5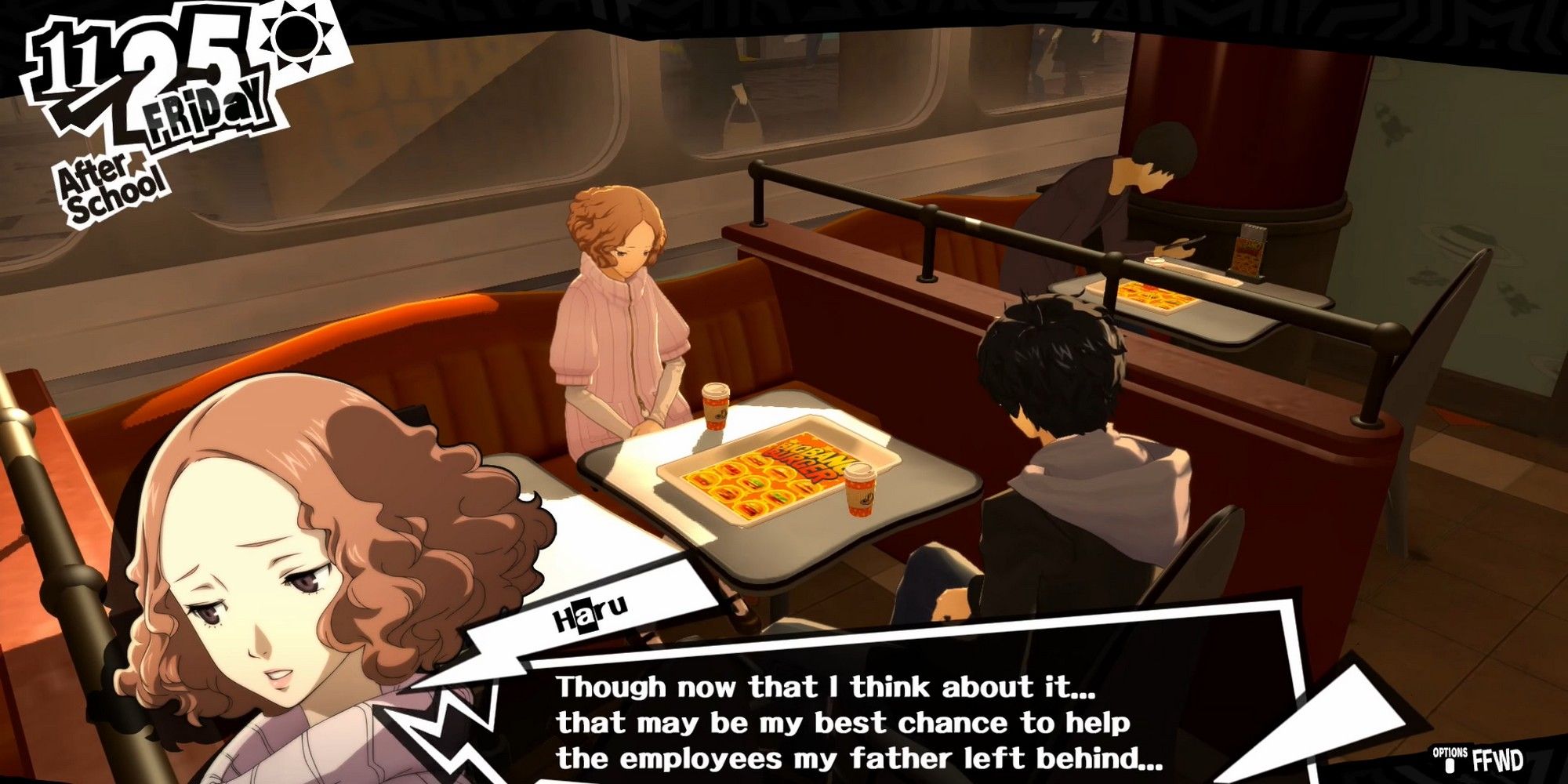 The Empress Confidant can be challenging – you can't begin talking to her until after finishing her father's Palace. She can be found gardening on the school roof, eventually focusing on coffee.
Her fifth hangout is maybe the most tender. Haru shows you a vulnerable side of herself, expressing that she's trying to make sense of life now that her fiancé and father are gone. She's growing the coffee to try to make the board members of Okumura Foods, which she inherited upon the death of her father, see her as an equal. You're there for her when she expresses doubt, which is heartwarming, given her background of solitude.
7

Takuto Maruki, Rank 7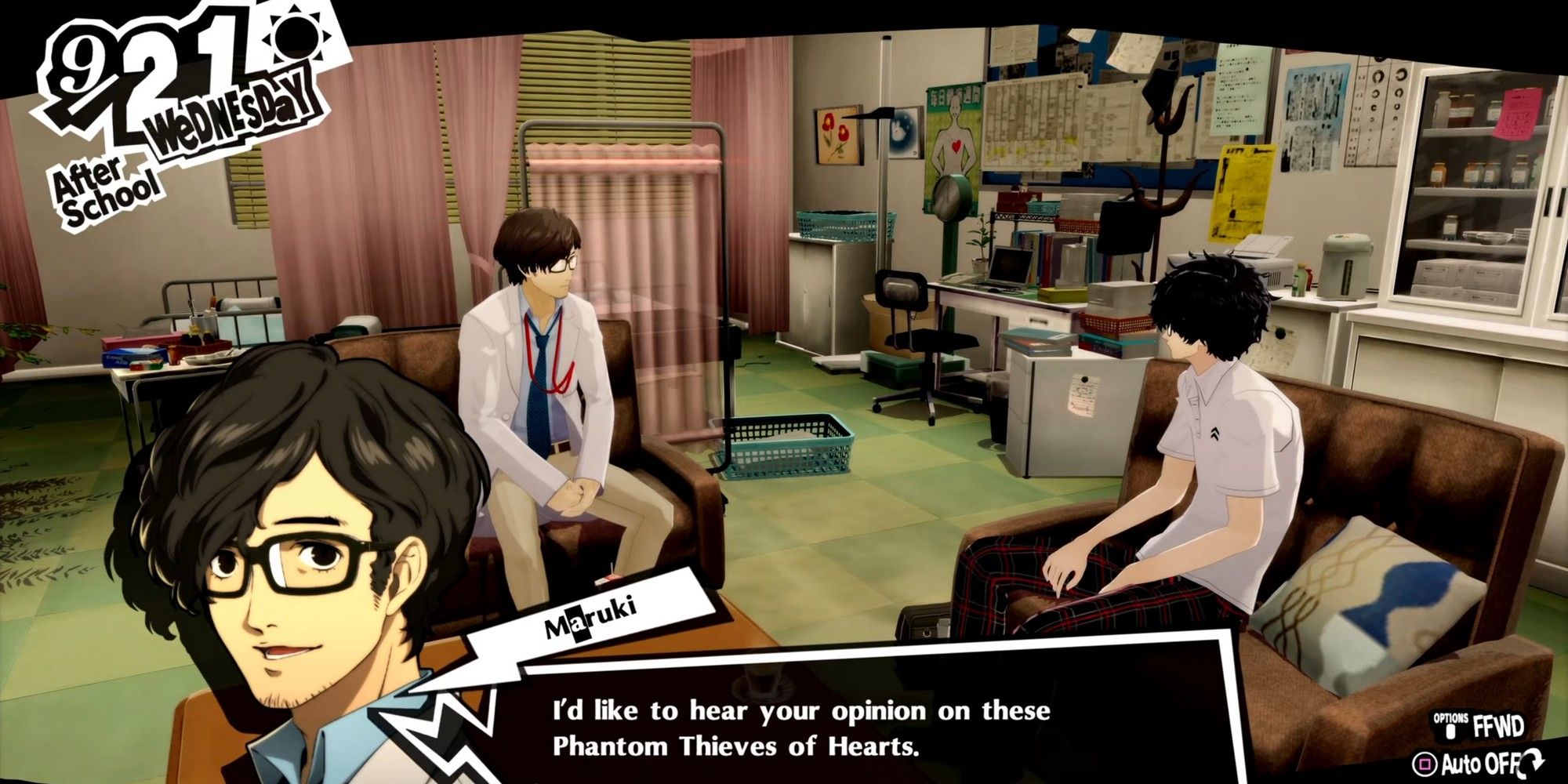 Another character's Confidant added in Royal, Maruki is your guidance counselor at school who's working on a paper about cognitive science. You spend the school year helping him in various ways, and you get the idea that he might know something about The Metaverse.
In his Rank 7 hangout, he doesn't come right out and say it, but he's implied to know you're a Phantom Thief. He asks questions about their methods that you're able to turn back around on him, but feigning innocence is the best way to rank him up. He confirms this knowledge in his final hangout, ushering in the endgame content of Royal.
6

Ryuji Sakamoto, Rank 9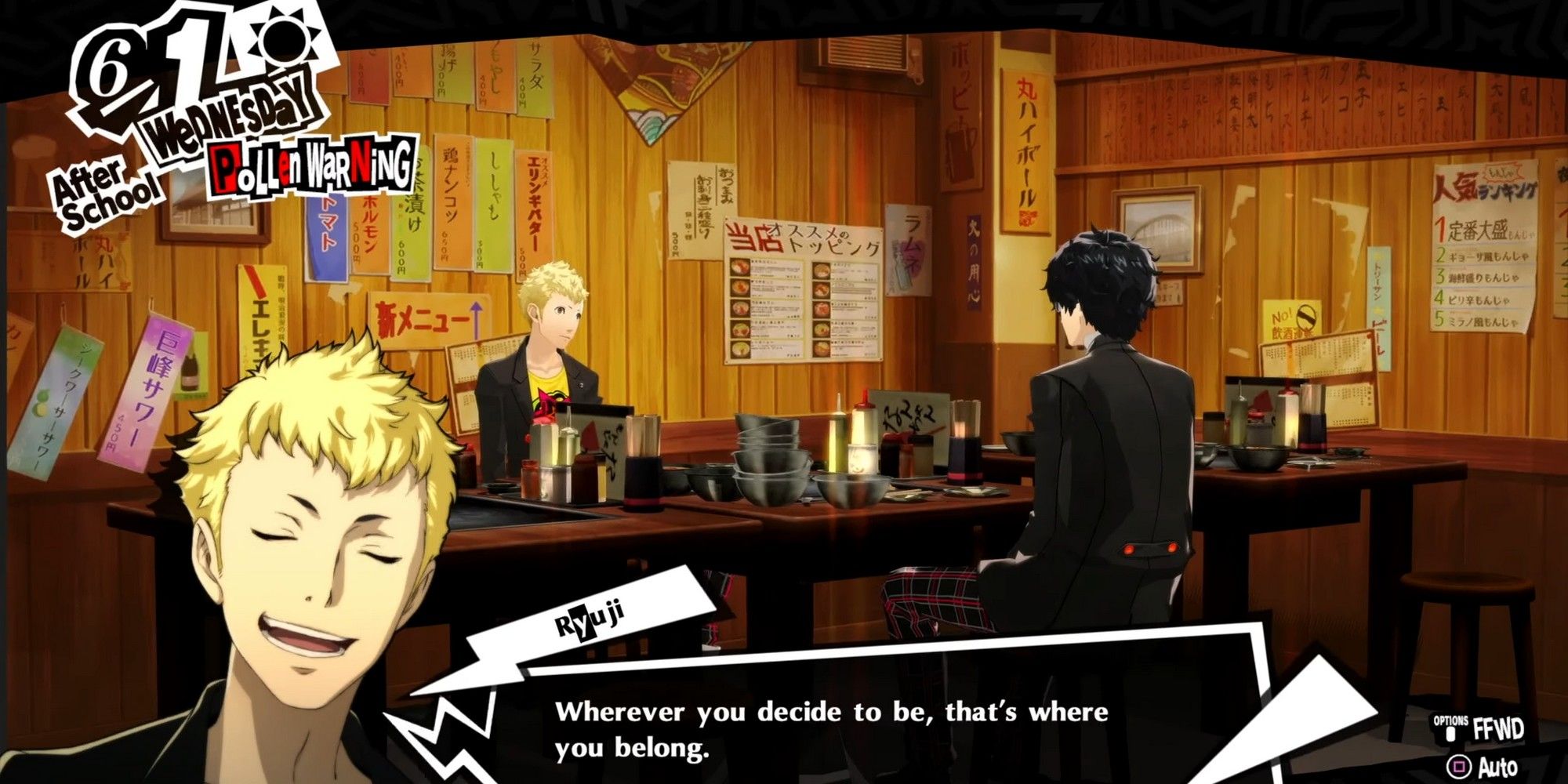 You and Ryuji click from the start because you're both outcasts, but you learn that he's been horribly miscast. He wasn't willing to put up with Kamoshida's abuses, and it led to an altercation between them that resulted in the disbanding of the track team.
You see Ryuji work through this in your Confidant hangouts. He tells you at Rank 9 that the track team is reassembling and that he's been invited to rejoin. He declines the offer, though, talking about how you've helped him find where he's meant to be, with good friends who believe in him.
5

Sojiro Sakura, Rank 6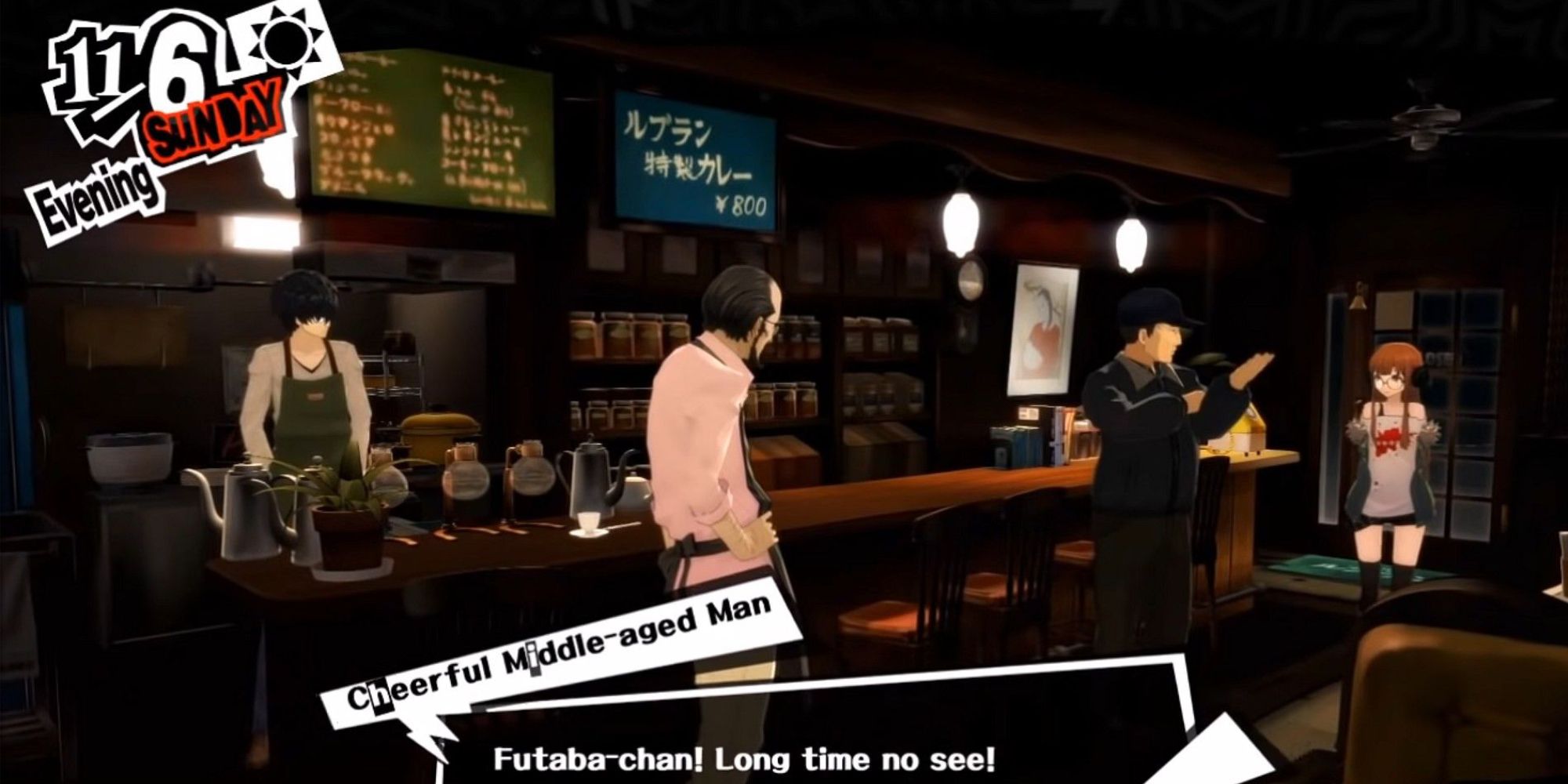 You've gone through the bulk of the game by now feeling like Sojiro is group dad, and you learn in his Rank 6 scene that he's somehow even cooler than you thought. This scene is locked until after Futaba's Palace, since it's where you learn about Futaba's family troubles.
She's upset when she sees her uncle in Leblanc to argue with Sojiro about taking her back, and you learn of the abuse she suffered at her uncle's hand after her mother died. Now, he's back in the picture again, extorting Sojiro for even more money than he got initially. Sojiro confides in you that he's always trying to think of what's best for Futaba, even if it's hard on him.
4

Ann Takamaki, Rank 9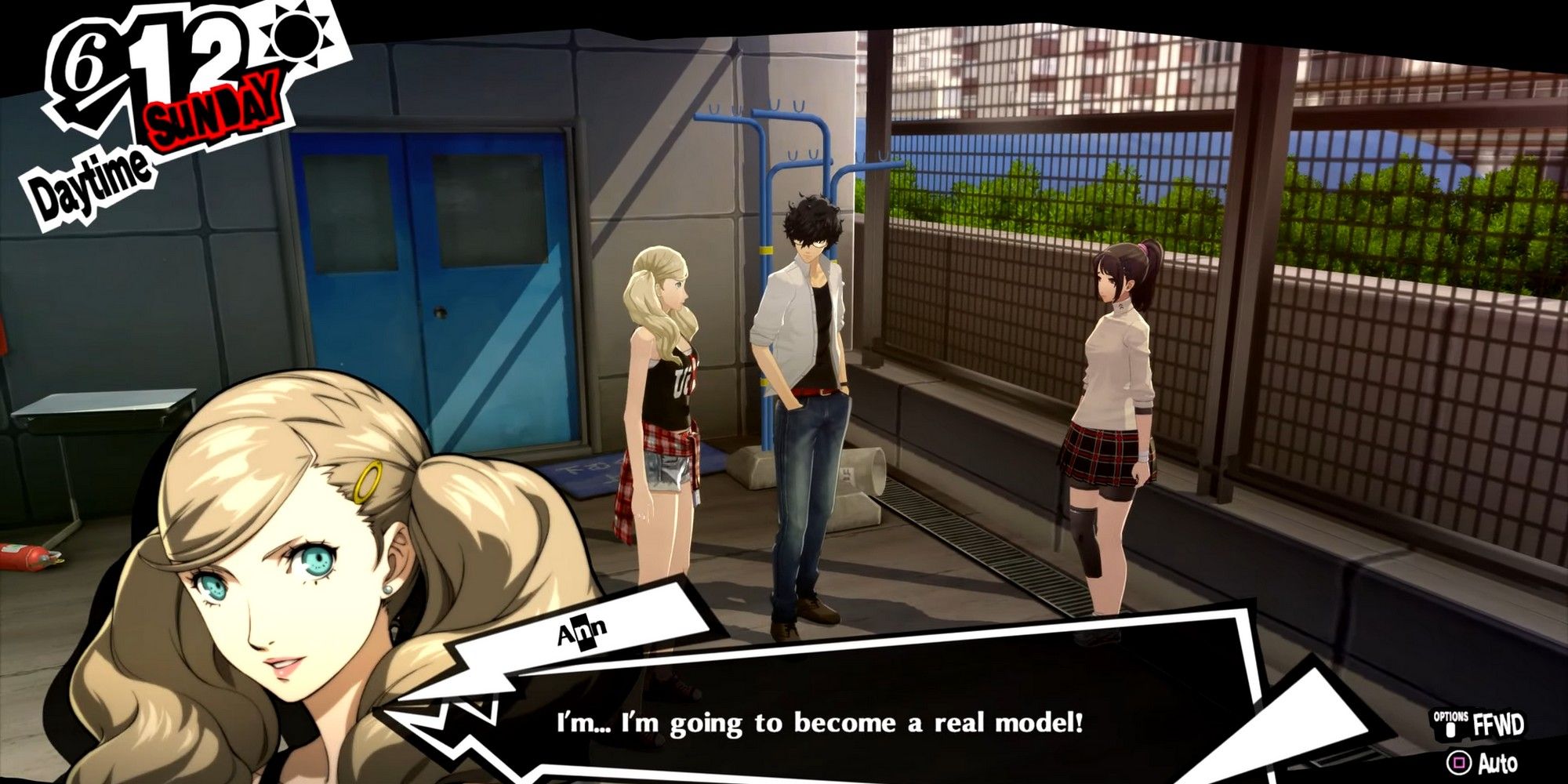 While Ann seems like a stereotypical model at first, you spend your hangouts trying to help her find strength again after her friend, Shiho, attempts to end their life. She's determined to show Shiho how strong she's become, and how well she's doing with her modeling career.
Rank 9 sees the two of you up on the roof with Shiho when she's revisiting the location, in order to make peace with what happened. She goes into detail about her thoughts and feelings leading up to the incident, and while it hurts Ann to hear, Shiho tells her it was Ann's strength that helped her get through rehabilitation afterward. The scene isn't so much about your friendship, but theirs.
3

Futaba Sakura, Rank 5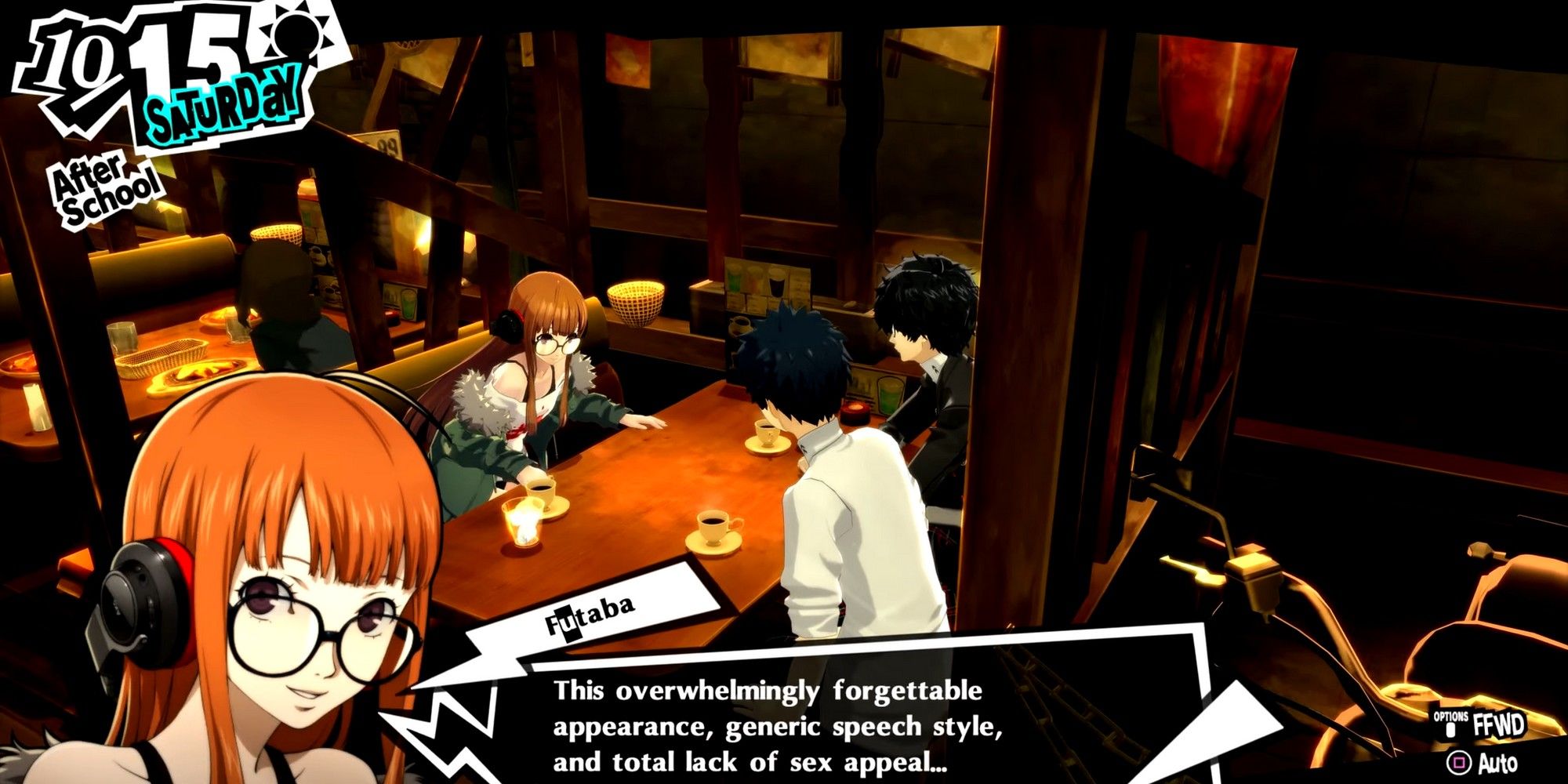 You know Futaba has a lot going on before you start hanging out with her, but once you do, you help in her mission to assimilate back into everyday life. In her Rank 5 scene, you and her go to the diner, and Mishima will come and say hello. Futaba asks him to help her have a conversation with someone her age, and Mishima is flabbergasted that a girl wants to talk to him.
But leave it to him to blow it, because he immediately asks her if she's a "racy" streamer. Futaba absolutely roasts him for it, but it's made better by the fact that she doesn't really see this as an insult.
2

Yusuke Kitagawa, Rank 5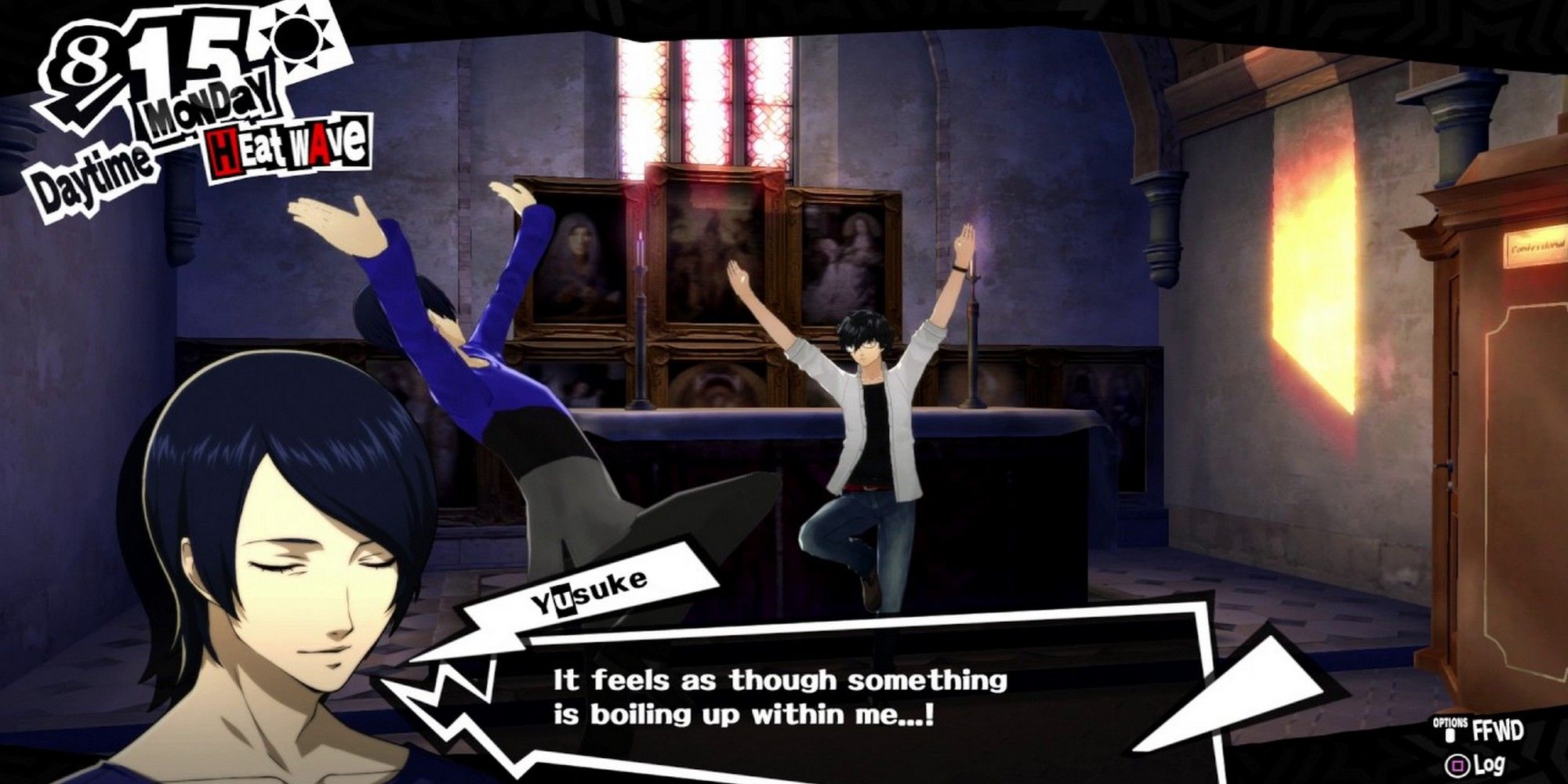 Most of the time you spend with tortured artist Yusuke Kitagawa will be creative in nature – your hangouts are his inspiration for new paintings. Getting him up to Rank 5 sees you two heading to the church to explore the theme of anguish, via the crucifixion.
He asks you to pose like Jesus and then chides you for not looking like you're suffering enough. He shows you what he wants, and his very earnest, whole-body example is nothing short of hilarious. The priest gives a different view on the subject of anguish, but not before asking what you're doing in his church.
1

Sojiro Sakura, Rank 10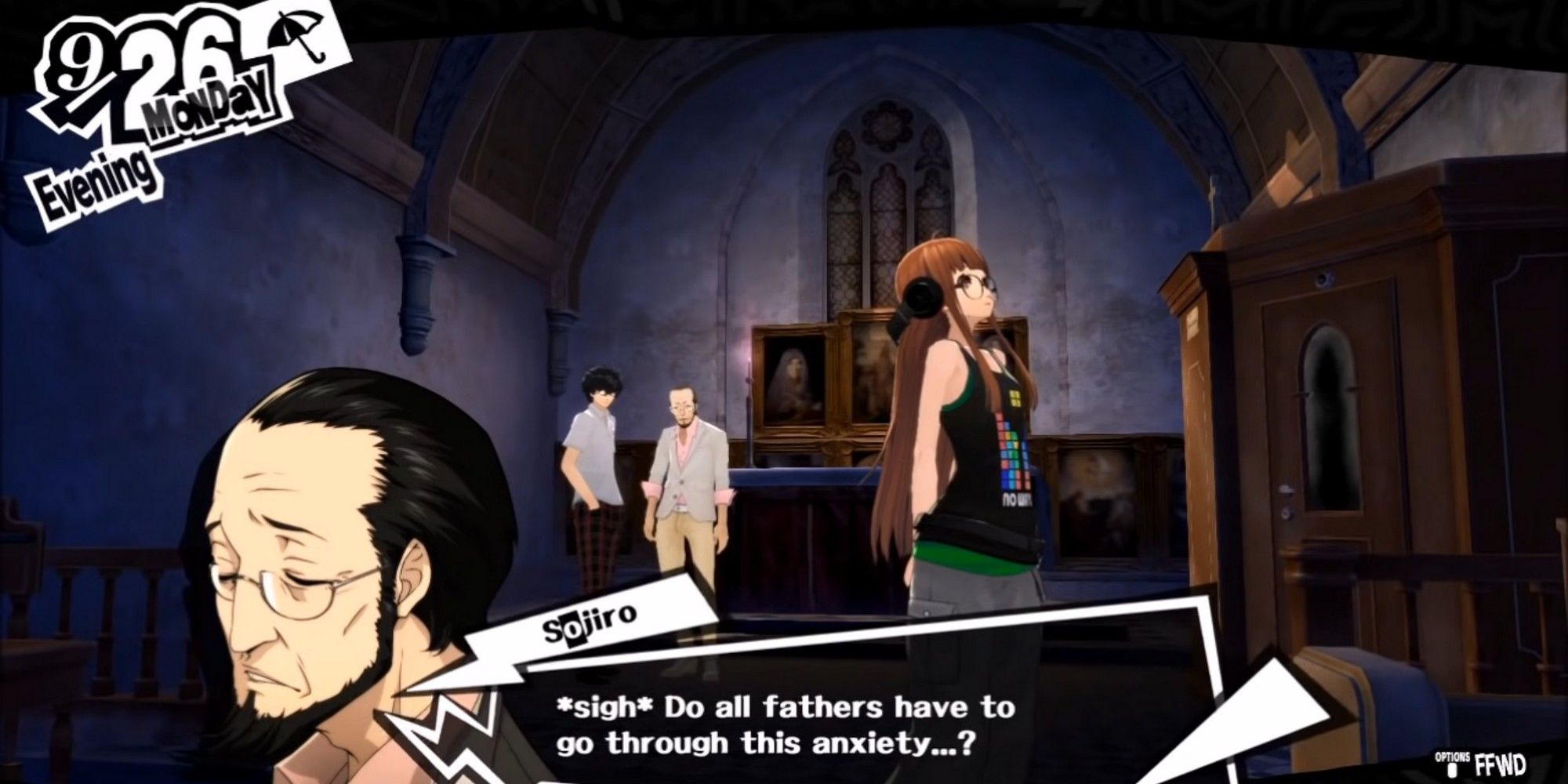 Everyone loves the father-and-adoptive-daughter pair, Sojiro and Futaba Sakura. Their story takes the majority of the game to unfold, but it's the heartwarming tale of a lost man and an orphaned girl, out here trying their best for sake of one another.
It's never questioned whether Sojiro loves Futaba, but it's blatantly obvious when the three of you head to the church for his final hangout. Sojiro mourns for Wakaba, Futaba's mom, here and says it's the first time "the four of you" are together. He tells you, in a moment of sentimentality when thinking about Futaba and Wakaba, that he sees you as part of their family, too.
Source: Read Full Article