Question, the developers behind The Blackout Club and The Magic Circle, are working on the next South Park game.
A new South Park game was previously confirmed in 2021 by Trey Parker, who said that he wanted to use some of the money earned through the ViacomCBS Inc. acquisition to create "a 3D video game that is set in the world of South Park". It was later confirmed that Ubisoft isn't involved with this South Park game, despite previously publishing The Stick of Truth and developing The Fractured But Whole.
Thanks to a new listing on its careers page, we now know that Question is developing the next South Park game. Question has two games under its belt so far, The Blackout Club and The Magic Circle, but the studio is comprised of "ex-AAA developers whose past team credits include: Thief: Deadly Shadows, BioShock, BioShock 2, BioShock Infinite, Dishonored, South Park: The Stick of Truth, and South Park: Fractured But Whole", so it's not too surprising to see them return to the licence.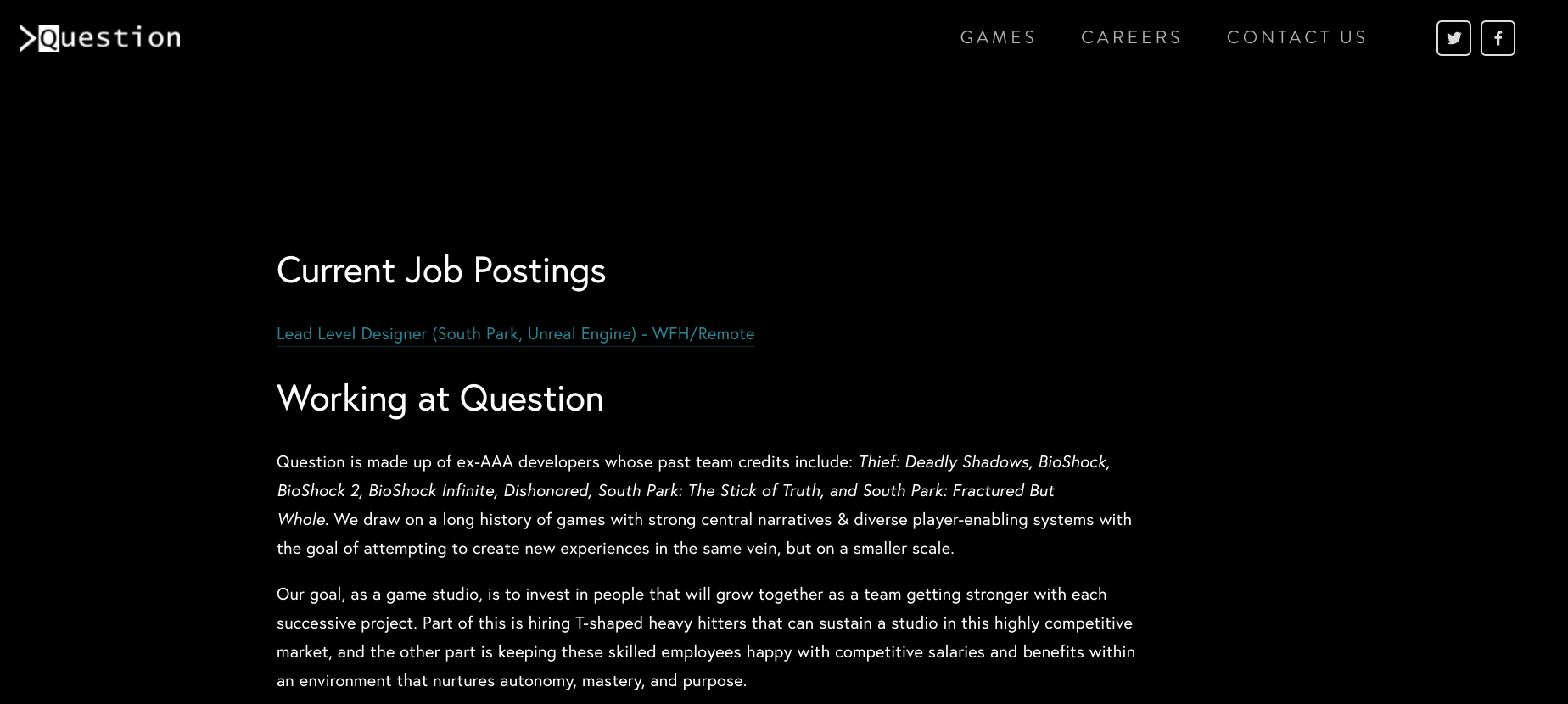 The listing is for a lead level designer and the project is simply called "South Park", although that's likely a placeholder name. The description for the listing says, "Question and South Park Digital Studios are seeking a Lead Level Designer for work on a new video game set in the world of South Park", which lines up with what was said in 2021 about the project partially being handled in-studio.
No gameplay details are mentioned in the listing, although it's mentioned that applicants need to have "shipped at least one multiplayer game as a senior level designer or have equivalent relevant experience".
Although the scope of the project hasn't been announced, the listing also mentions that "due to the smallness of our team, we will not be able to respond to every applicant. Only those selected for an interview will be contacted". With that in mind, it's possible that the upcoming South Park game is a smaller project than previous games in the series.
Source: Read Full Article