See How They Run feels like a movie we should enjoy while we still can. Movies of this size, made with moderate budgets hoping for moderate returns, are fading away, especially without the backing of a moderate director. The death of the DVD market and our current incessant need to turn everything into a franchise means standalone 'double-A' movies, for want of a better term, seem on the demise. That's especially telling with See How They Run, which feels like the salt shaker that came with the house when Disney bought Fox to get its hands on X-Men and the Fantastic 4. If See How They Run is the end of an era though, at least it's bowing out in style.
The movie positions itself as both a remake of and a homage to The Mousetrap. Agatha Christie's long-running stage play is to be adapted into a movie, but the unpleasant would-be director (played by Adrien Brody) is killed and left on stage in a macabre display. It then falls to Sam Rockwell's grizzled detective and Saoirse Ronan's eager rookie cop to untangle the web within. It does a clever enough job of both reinventing the play's plot and tip-toeing around potential spoilers, which is a well worn tradition with The Mousetrap. The plot and caper itself however is probably the weakest part of the flick, which is never great for a murder mystery, but then I don't particularly care for The Mousetrap so your mileage may vary. I enjoyed See How They Run significantly more than the play precisely because it brings other elements to the table beyond the whodunnit, while The Mousetrap relies almost entirely on its twist and premise.
One of these extra elements is the aforementioned dynamic between Rockwell and Ronan. Though their archetypes are every bit the cliches my description makes them out to be, the film's comedy stylings allow the duo to feel fresh. Earlier this year we saw Natalie Portman debut her new bulky physique as she put herself through intense training for Thor: Love & Thunder. It's a surprise that Ronan isn't currently sporting the same hulking biceps after the effort it must have taken her to carry this movie. There are other good performances smattered throughout, but Ronan is undoubtedly the lead and the film is all the better for it.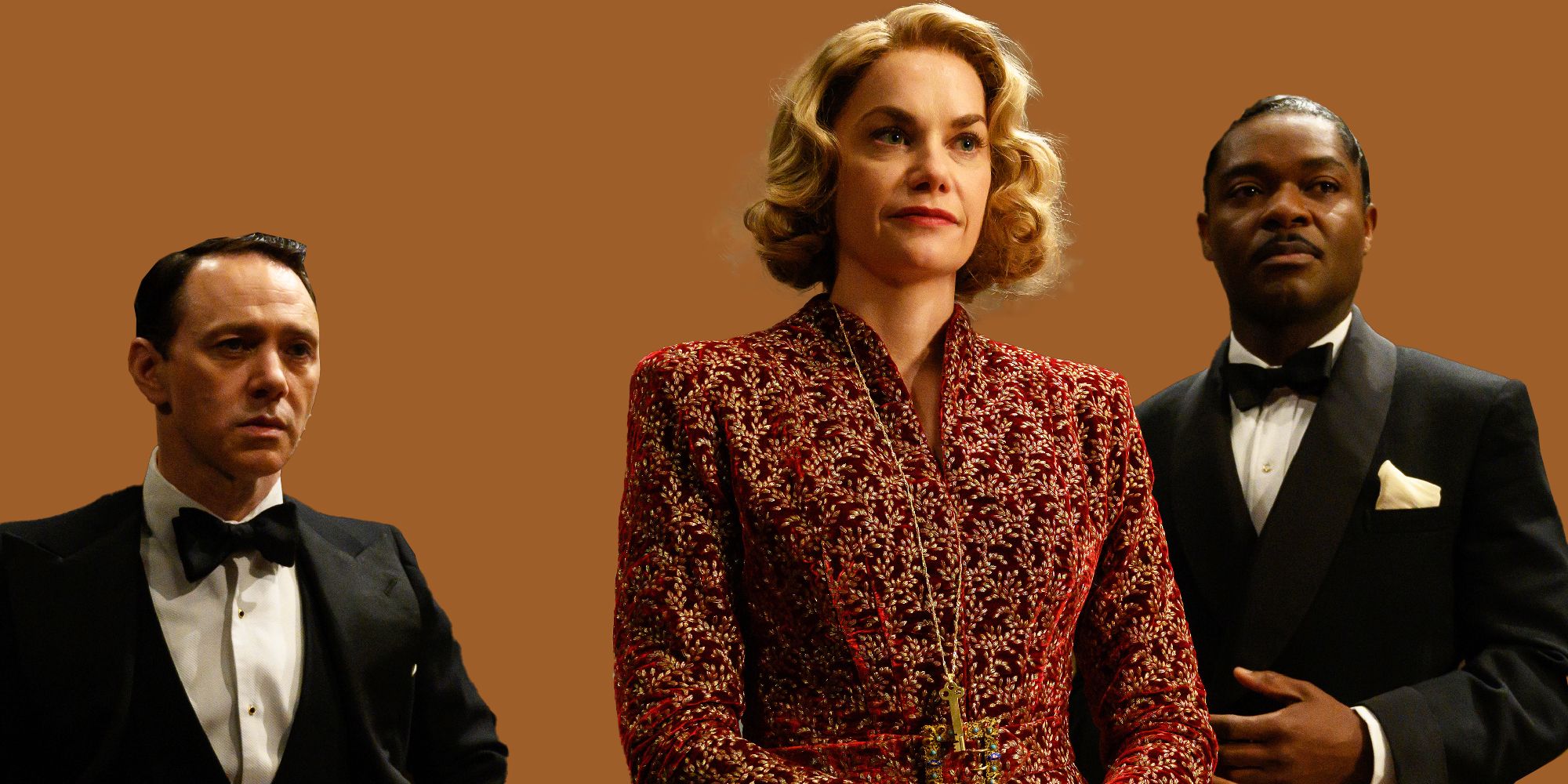 Often in the grizzled/rookie dynamic, it's the experienced one who leads and the newbie follows excitedly. Here, because Ronan is so effortlessly funny and magnetic in each scene, it feels as if this is her movie that we're all being taken through. Rockwell is a great straight man opposite her and makes his character more than the thin tropes the script provides him with, but it's Ronan in the spotlight here. A few of the comedy stars drafted in to play up the pomp (Tim Key, Charlie Cooper) excel, but some of the more serious actors (Ruth Wilson, Sian Clifford) feel cut adrift. David Oyelowo is caught between these two – he's a serious actor tasked here with carrying the bulk of the comedy, and does an able job but occasionally overplays his hand into parody when a lighter touch might have landed better.
Aside from Ronan, by far the most exciting turn comes from Harris Dickinson. Playing Richard Attenborough in a delightful send-up, Dickinson has a tremendous amount of fun with his homage to one of the greats, charmingly condescending and every inch the blowhard Attenborough seems in the stories about him. It pairs superbly well with Ronan's Katharine Hepburn impersonation, whipped out for a single line of dialogue. See How They Run feels like another chapter in the 'before' story of Harris Dickinson. With strong performances in so-so movies The King's Man and Where The Crawdads Sing already under his belt for 2022, Dickinson feels on the brink of a breakout into superstardom. This year's Palme D'Or winner Triangle of Sadness could be a launching pad for him later this year.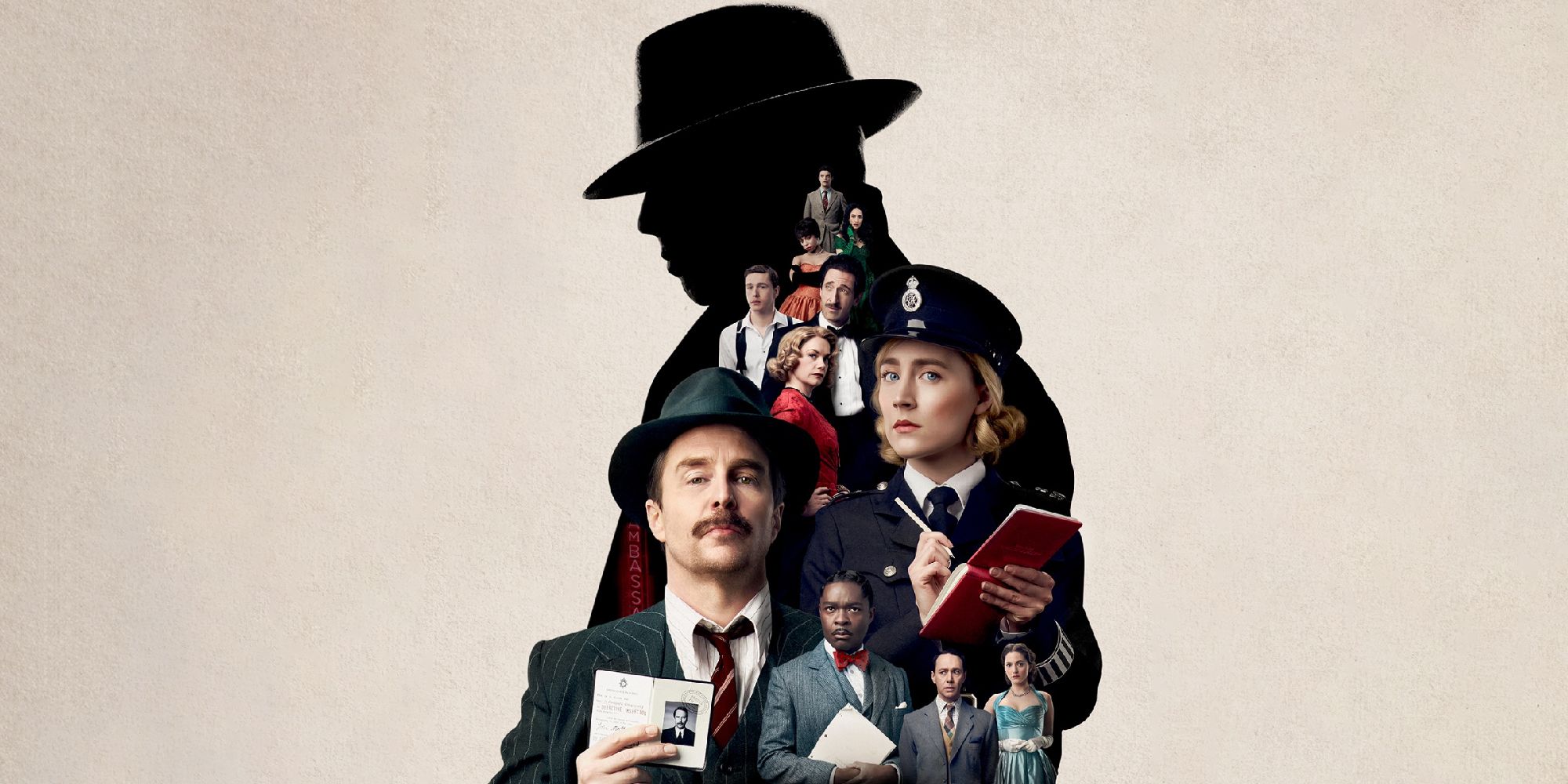 A lot of the promotion (limited though it may be in the wake of Disney's Searchlight deal) has drawn comparisons to both Wes Anderson and Knives Out. I can see why people think that, and in fact the 'Andersonness' of the trailers were what had most excited me before my screening, but I'm not sure either of those hold true in the final cut. There are certainly some brilliant pops of pastel and neat framing that we associate with Anderson's work, but it feels a little less pointed. On the Knives Out front meanwhile, Rian Johnson never lets go of the plot for a moment, constantly keeping you guessing and thinking. Here though director Tom George (you can read our interview with him here) is less concerned with staying three steps ahead of the audience and more interested in amusing us. The plot is occasionally set aside for some silly red herrings or jokes thrown in the mix. When these fall to Ronan or Dickinson, you'll find yourself not caring about the murder at all, content to enjoy the ride.
That's not to say See How They Run is without compare. The humour is right out of a Coen Brothers picture, though it's never quite as intricate or witty as its inspiration, while the presentation feels less like Anderson and more like a '60s crime caper. In our interview George compares it to Bullit, and watching it I couldn't shake the similarities to Charade. Again, it's perhaps not quite on that level, but I laughed more during See How They Run than I did during any of the films mentioned here (with the exception of the Coen Brothers' filmography).
Overall, See How The Run strikes the perfect balance between clever and fun, sports some great performances and interesting twists on classic character tropes, with pretty framing and fantastic costuming to boot – it's just let down by the story itself. In that sense, it's the perfect adaptation of The Mousetrap in every way.

See How They Run is in cinemas September 9. TheGamer was invited to a press screening for this review
Source: Read Full Article