Sports Story's most recent update has removed a secret developer room that, when accessed, featured developers that were clearly meant to represent the creators of the game, Sidebar Games, sharing stories of the game's troubled development.
After being suddenly shadowdropped towards the end of last year, Sports Story was met with a less positive reception than many were expecting, mostly due to its glitchy state. It seems that the developers were aware of this, because they created a secret room that can only be accessed via glitching that features developers talking about a game going through a "troubled development", and how the title's "original vision no longer exists".
Considering the long development time of Sports Story, its sudden shadowdrop, and the glitchy state that it released in, it seems pretty clear that the secret developer room was a message from Sidebar Games about Sports Story's troubled development and the working conditions that the developers were stuck in while finishing the game. It seems that a higher-up might not be too happy about the dev room, however, as it's now been patched out of the game entirely.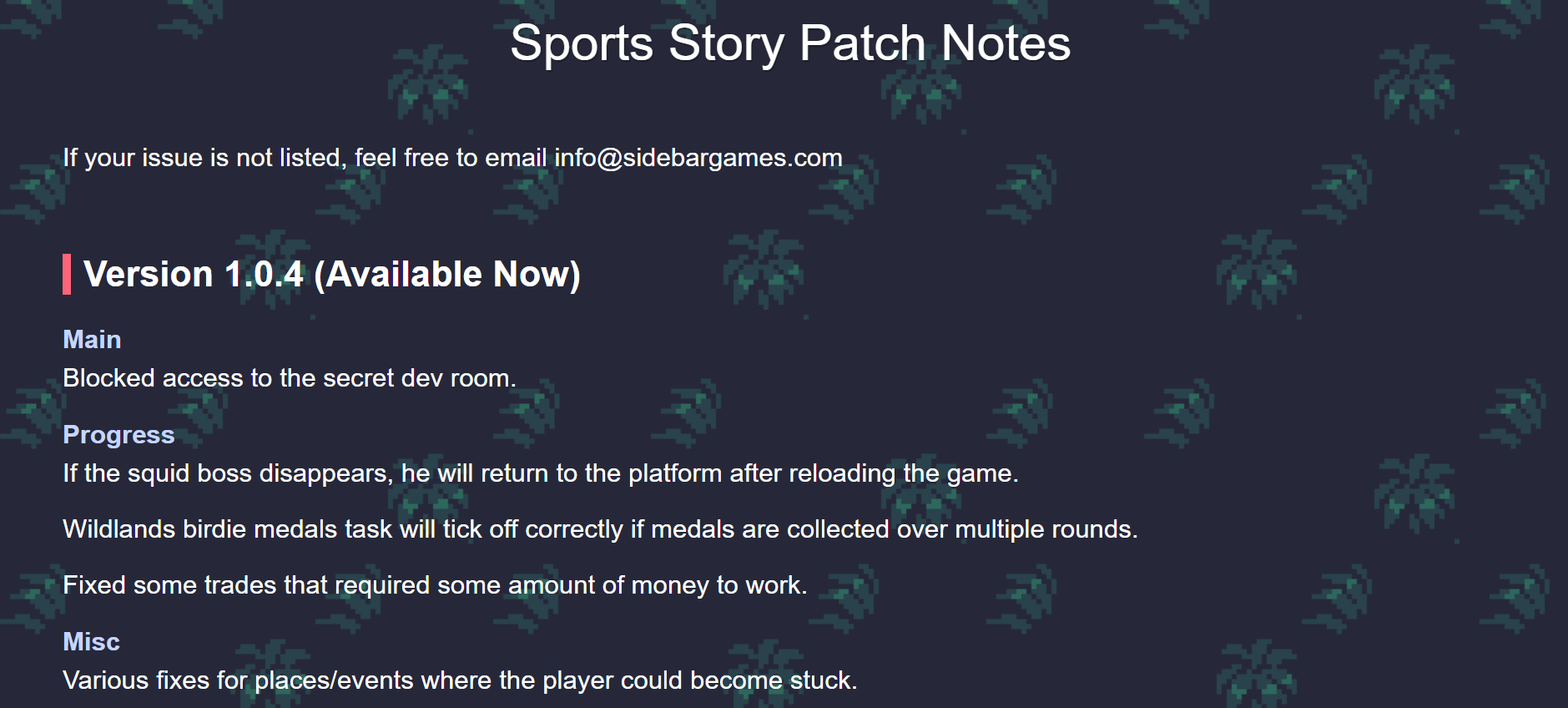 As spotted by independent journalist Liam Robertson, the latest Sports Story patch notes for Version 1.04 reveal that the team has "blocked access to the secret dev room". Considering the secret dev room required some pretty precise glitching to get into and had no negative effect on the game itself, it seems likely that Sidebar Games was told to remove the room from the game altogether.
Although the Sports Story secret developer room was reported about by several outlets when Sports Story released, Sidebar Games hasn't ever commented on the situation. In fact, this brief mention in the patch notes is the first time that the studio has acknowledged that the secret dev room even exists, and it's to say that access has been blocked to it altogether.
Sidebar Games might have had to remove access to the secret room, but if you're interested in seeing what it looked like and what the developer said, check out this YouTube video from tendog that shows how it was originally accessed.
Source: Read Full Article