Quick Links
Every Cheat Code For PS4/PS5
Every Cheat Code For Xbox One/Xbox Series X/S
Every Cheat Code For Switch
Cheat codes are as legendary as they are underutilised in modern gaming. Everyone knows the 'Konami Code' and many Indie games still throw back to this code (such as Infernax). Cheat Codes have mostly fallen out of favour, however, so seeing a modern, big-budget release packing them is rather unusual. Enter Spyro (not the Dragonfly…anything but that…).
Spyro The Dragon has always had cheat codes, so when those codes followed Spyro to his excellent remaster – the Reignited Trilogy – players everywhere rejoiced. Not only that but even more cheats were added into the game, making this a paradise for the long-lost art of messing around.
How To Activate Cheats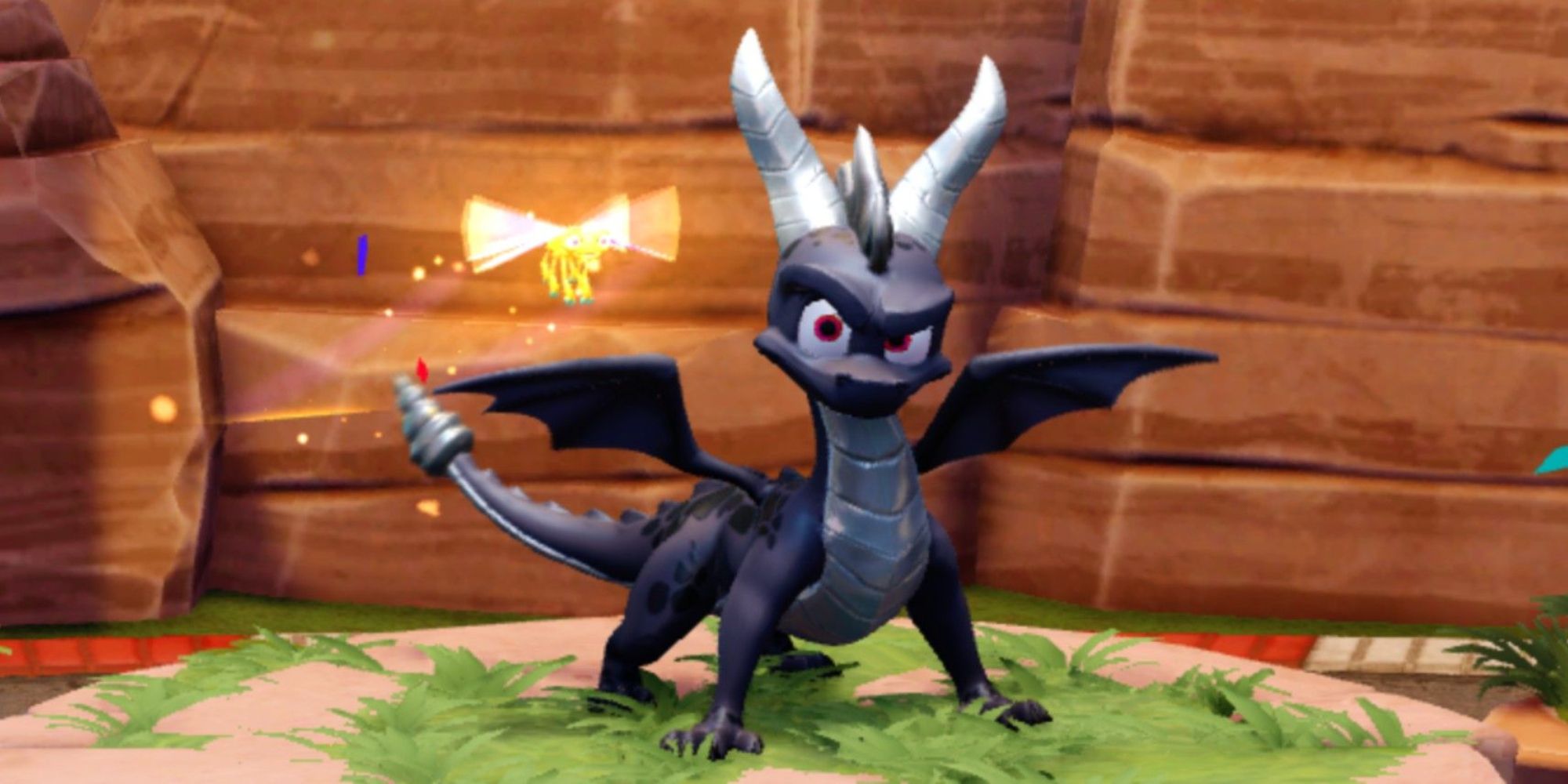 To activate cheats, all you have to do is go to the Pause Menu and input the code. If you want to disable a cheat, simply input the code for a second time. All of the codes below can be activated without any unlock requirements with the exception of Super Flame, which requires you to unlock the cheat in game.
To unlock the ability to activate Super Flame (only usable in Ripto's Rage), you need to collect 10,000 Gems and 64 Orbs over the course of a single playthrough of Ripto's Rage.
Not all codes will work for every entry, and some codes only work for specific platforms.
Every Cheat Code For PS4/PS5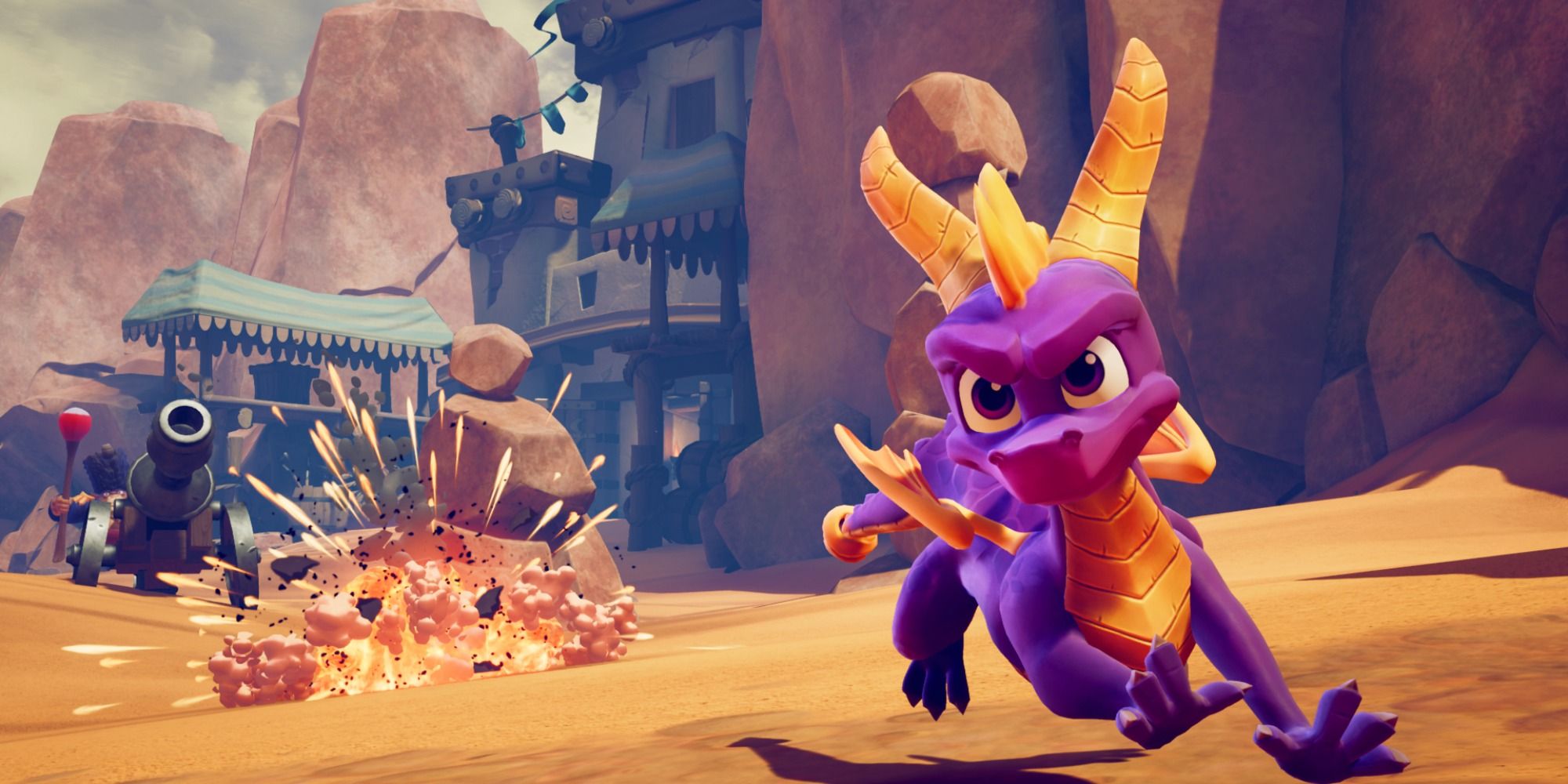 Cosmetics
| Cheat | Code |
| --- | --- |
| Big Head Mode | Up, Up. Up, Up, R1, R1, R1, R1, Cirlce |
| Black Spyro | Up, Left, Down, Right, Up, Square, R1, R2, L1, L2, Up, Right, Down, Left, Up, Down |
| Black Sunglasses | R1, R1, R1, R1, Left, Left, Left, Left, Down, Up, Triangle |
| Blue Spyro | Up, Left, Down, Right, Up, Square, R1, R2, L1, L2, Up, Right, Down, Left, Up, Cross |
| Flat Spyro | Left, Right, Left, Right, L2, R2, L2, R2, Square |
| Green Spyro | Up, Left, Down, Right, Up, Square, R1, R2, L1, L2, Up, Right, Down, Left, Up, Triangle |
| Pink Spyro | Up, Left, Down, Right, Up, Square, R1, R2, L1, L2, Up, Right, Down, Left, Up, Square |
| Purple Spyro | Up, Left, Down, Right, Up, Square, R1, R2, L1, L2, Up, Right, Down, Left, Up, Right |
| Red Spyro | Up, Left, Down, Right, Up, Square, R1, R2, L1, L2, Up, Right, Down, Left, Up, Circle |
| Retro Spyro | L1, L1, L1, L1, Up, Down, Up, Down, Up, Down, Triangle |
| Small Head Mode | Right, Right, Right, Right, R1, L1, Left, Left, Left, Left, Cross |
| Tiny Wings | Left, Left, Left, Left, L1, R1, Right, Right, Right, Right, Cross |
| Yellow Spyro | Up, Left, Down, Right, Up, Square, R1, R2, L1, L2, Up, Right, Down, Left, Up, Up |
| Squid Skateboard (Year Of The Dragon) | Up, Up, Left, Left, Right, Right, Down, Down, Square, Square, Circle |
Mechanics
| Cheat | Code |
| --- | --- |
| 99-Lives | R2, L2, R2, L2, Up, Up, Up, Up, O |
| Super Flame (Ripto's Rage) | L1, L1, L1, L1, Up, Down, Up, Down, Up, Down, Triangle |
Every Cheat Code For Xbox One/Xbox Series X/S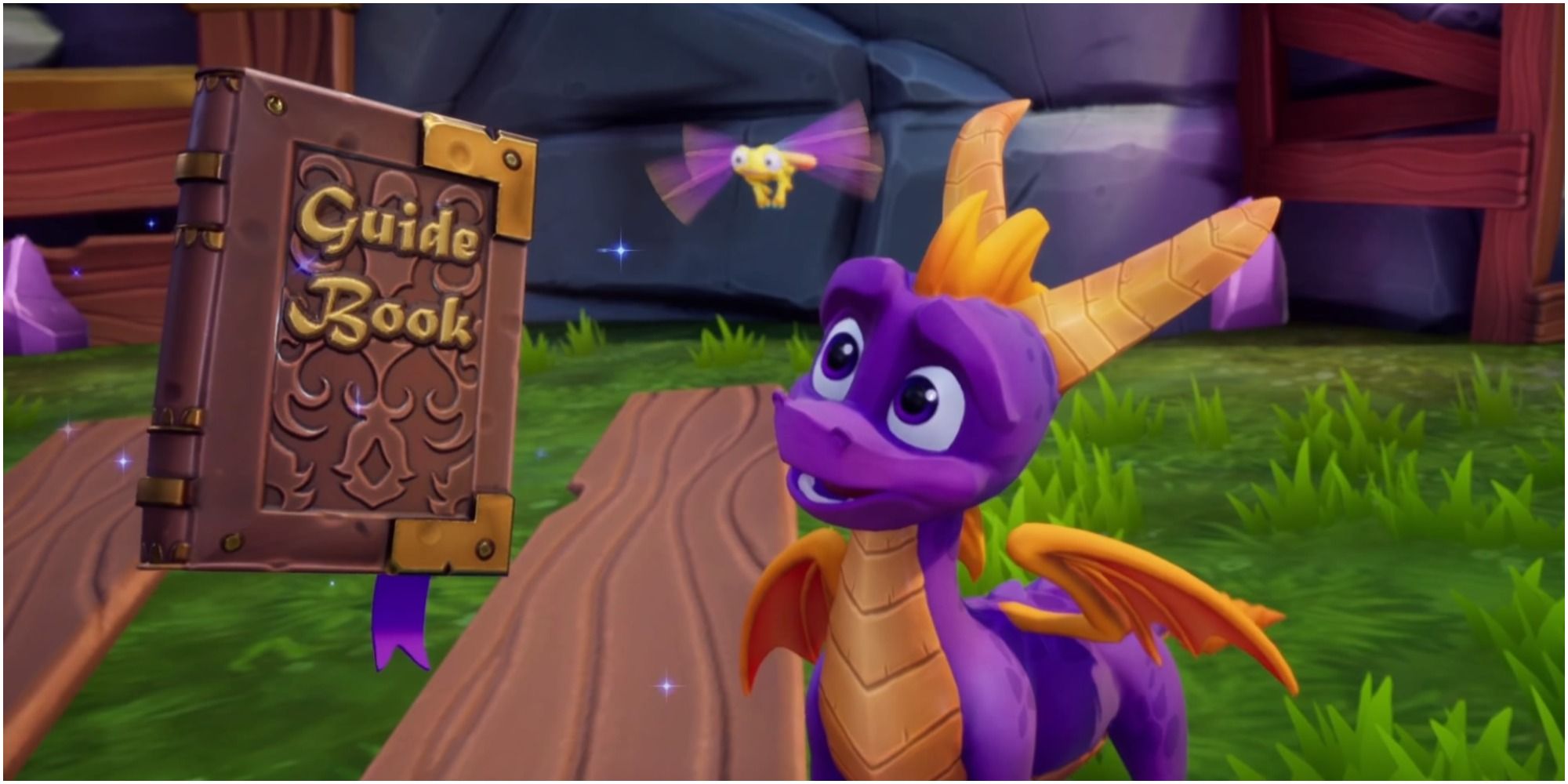 Cosmetics
| Cheat | Code |
| --- | --- |
| Big Head Mode | Up, Up, Up, Up, RB, RB, RB, RB, B |
| Black Spyro | RB, RB, RB, RB, Left, Left, Left, Left, Down, Up, Y |
| Black Sunglasses | R1, R1, R1, R1, Left, Left, Left, Left, Down, Up, Triangle |
| Blue Spyro | Up, Left, Down, Right, Up, X, RB, RT, LB, LT, Up, Right, Down, Left, Up, A |
| Flat Spyro | Left, Right, Left, Right, LT, RT, LT, RT, X |
| Green Spyro | Up, Left, Down, Right, Up, X, RB, RT, LB, LT, Up, Right, Down, Left, Up, Y |
| Pink Spyro | Up, Left, Down, Right, Up, X, RB, RT, LB, LT, Up, Right, Down, Left, Up, X |
| Purple Spyro | Up, Left, Down, Right, Up, X, RB, RT, LB, LT, Up, Right, Down, Left, Up, Right |
| Red Spyro | Up, Left, Down, Right, Up, X, RB, RT, LB, LT, Up, Right, Down, Left, Up, B |
| Retro Spyro | LB, LB, LB, LB, Up, Down, Up, Down, Up, Down, Y |
| Small Head Mode | Right, Right, Right, Right, RB, LB, Left, Left, Left, Left, A |
| Tiny Wings | Left, Left, Left, Left, LB, RB, Right, Right, Right, A |
| Yellow Spyro | Up, Left, Down, Right, Up, X, RB, RT, LB, LT, Up, Right, Down, Left, Up, Down |
| Squid Skateboard (Year Of The Dragon) | Up, Up, Left, Left, Right, Right, Down, Down, X, X, B |
Mechanics
| Cheat | Code |
| --- | --- |
| 99-Lives | RT, LT, RT, LT, Up, Up, Up, Up, B |
| Super Flame (Ripto's Rage) | LB, LB, LB, LB, Up, Down, Up, Down, Up, Down, Y |
Every Cheat Code For PC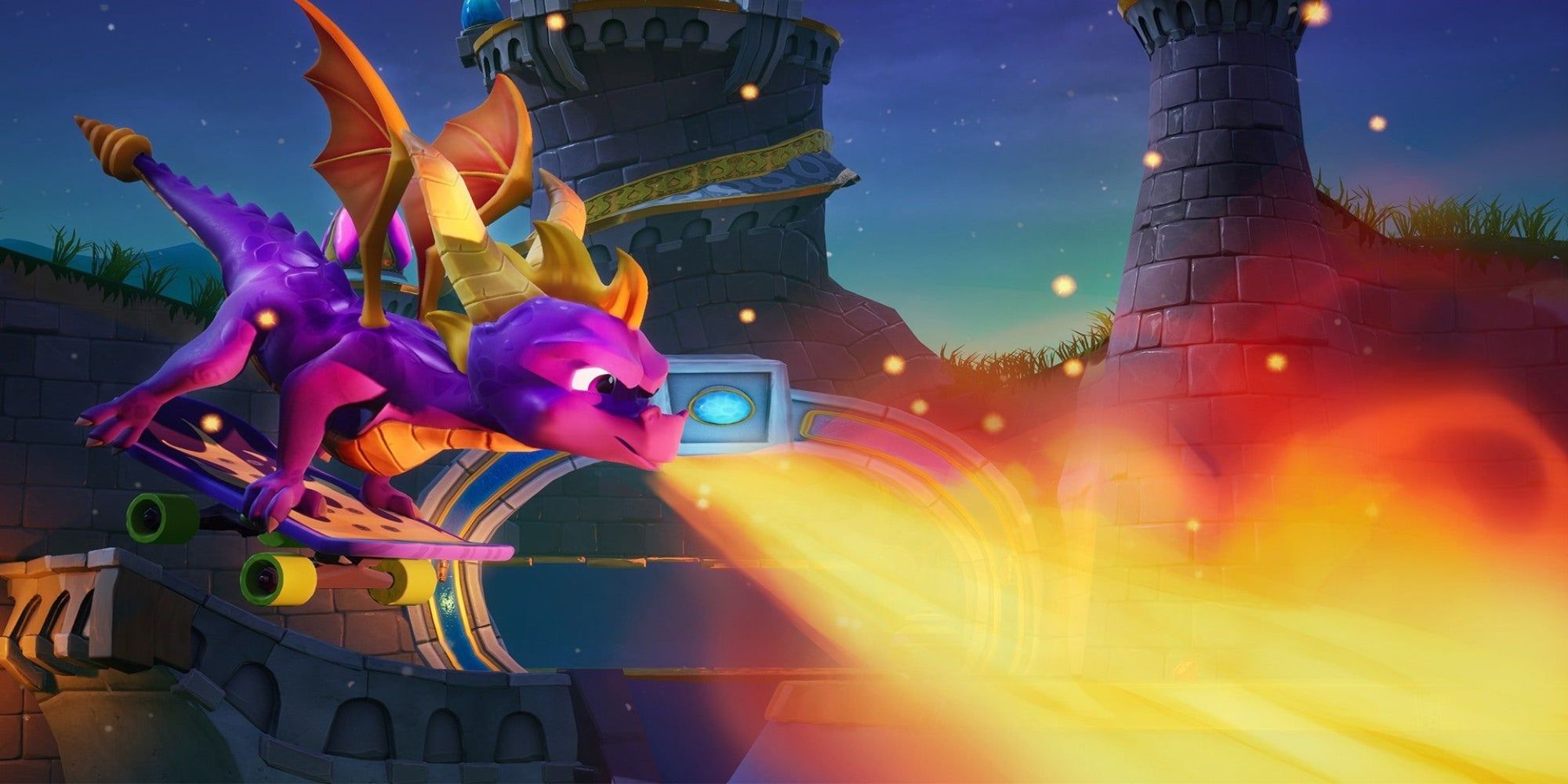 Cosmetics
| Cheat | Code |
| --- | --- |
| Big Head Mode | W, W, W, W, E, E, E, E, Left Click |
| Black Spyro | W, A, S, D, W, Left Click, E, 3, Q, 1, W, D, S, A, W, S |
| Black Sunglasses | E, E, E, E, A, A, A, A, S, W, F |
| Blue Spyro | W, A, S, D, W, Left Click, E, 3, Q, 1, W, D, S, A, W, Space |
| Flat Spyro | A, D, A, D, 1, 3, 1, 3, Right Click |
| Green Spyro | W, A, S, D, W, Left Click, E, 3, Q, 1, W, D, S, A, W, F |
| Pink Spyro | W, A, S, D, W, Left Click, E, 3, Q, 1, W, D, S, A, W, Right Click |
| Purple Spyro | W, A, S, D, W, Left Click, E, 3, Q, 1, W, D, S, A, W, D |
| Red Spyro | W, A, S, D, W, Left Click, E, 3, Q, 1, W, D, S, A, W, Left Click |
| Retro Spyro | LB, LB, LB, LB, Up, Down, Up, Down, Up, Down, Y |
| Small Head Mode | D, D, D, D, E, Q, A, A, A, A, Space |
| Tiny Wings | A, A, A, A, Q, E, D, D, D, D, Space |
| Yellow Spyro | W, A, S, D, W, Left Click, E, 3, Q, 1, W, D, S, A, W, W |
| Squid Skateboard (Year Of The Dragon) | W, W, A, A, D, D, Right Click, Right Click, Left Click |
Mechanics
| Cheat | Code |
| --- | --- |
| 99-Lives | 3, 1, 3, 1, W, W, W, W, Left Click |
| Super Flame (Ripto's Rage) | A, D, A, D, E, E, E, E, Right Click |
Every Cheat Code For Switch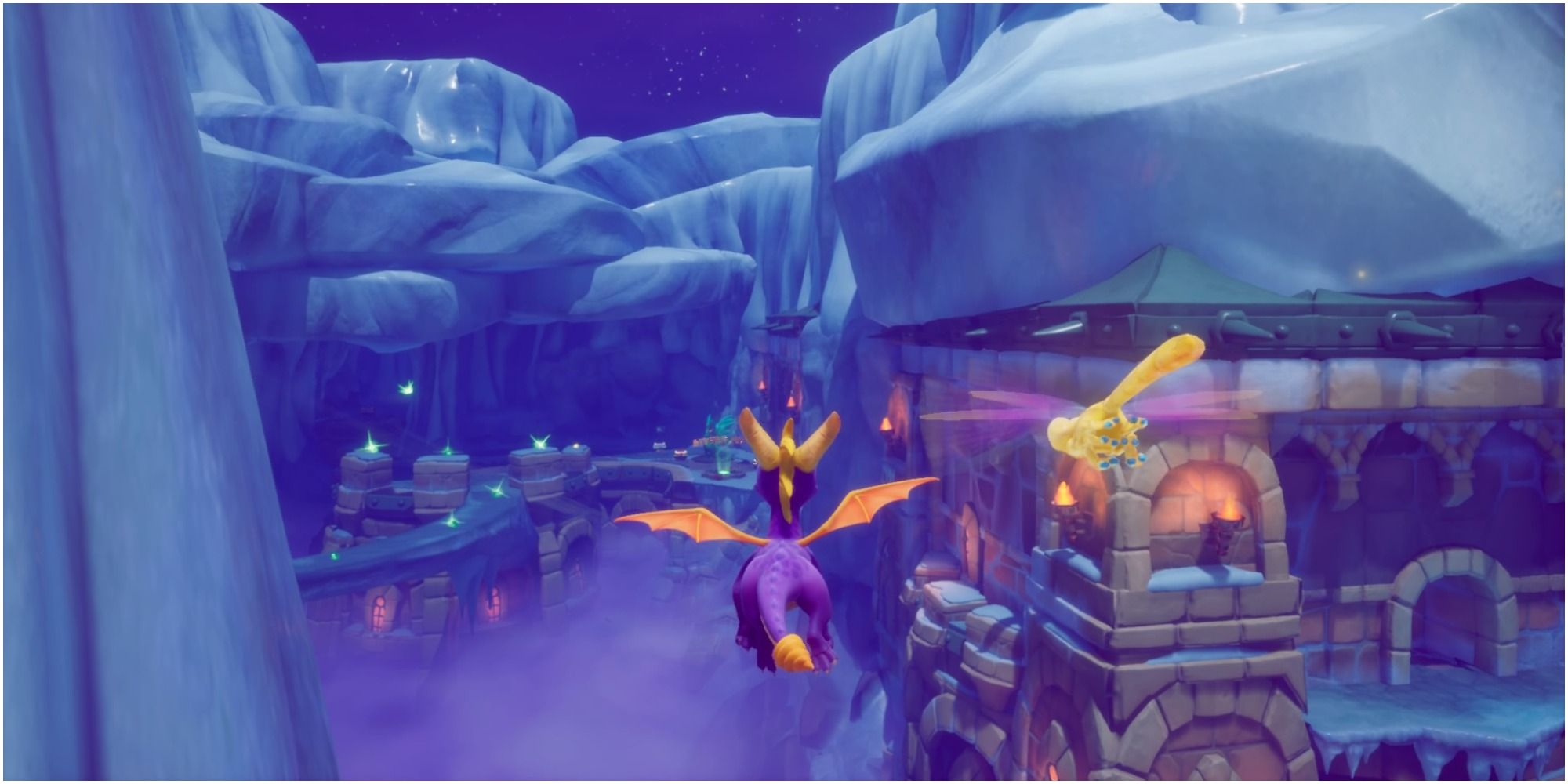 Cosmetics
| Cheat | Code |
| --- | --- |
| Big Head Mode | Up, Up, Up, Up, RB, RB, RB, RB, A |
| Black Spyro | Up, Left, Down, Right, Up, Y, R, ZR, LB, ZL, Up, Right, Down, Left, Up, Down |
| Black Sunglasses | RB, RB, RB, RB, Left, Left, Left, Left, Down, Up, X |
| Blue Spyro | Up, Left, Down, Right, Up, Y, RB, ZR, L, ZL, Up, Right, Down, Left, Up, B |
| Flat Spyro | Left, Right, Left, Right, ZL, ZR, ZL, ZR, Y |
| Green Spyro | Up, Left, Down, Right, Up, Y, RB, ZR, L, ZL, Up, Right, Down, Left, Up, X |
| Pink Spyro | Up, Left, Down, Right, Up, Y, R, ZR, LB, ZL, Up, Right, Down, Left, Up, Y |
| Pride Glasses (Switch Only) | RB, RB, RB, RB, Left, Left, Left, Left, Down, Up, Y |
| Purple Spyro | Up, Left, Down, Right, Up, Y, R, ZR, LB, ZL, Up, Right, Down, Left, Up, Right |
| Red Spyro | Up, Left, Down, Right, Up, Y, R, ZR, LB, ZL, Up, Right, Down, Left, Up, A |
| Retro Spyro | LB, LB, LB, LB, Up, Down, Up, Down, Up, Down, X |
| Small Head Mode | Right, Right, Right, Right, RB, LB, Left, Left, Left, Left, B |
| Tiny Wings | Left, Left, Left, Left, LB, RB, Right, Right, Right, B |
| Yellow Spyro | Up, Left, Down, Right, Up, Y, RB, ZR, L, ZL, Up, Right, Down, Left, Up, Up |
| Squid Skateboard (Year Of The Dragon) | Up, Up, Left, Left, Right, Right, Down, Down, Y, Y, A |
Mechanics
| Cheat | Code |
| --- | --- |
| 99-Lives | ZR, ZL, ZR, ZL, Up, Up, Up, Up, A |
| Super Flame (Ripto's Rage) | LB, LB, LB, LB, Up, Down, Up, Down, Up, Down, X |
Source: Read Full Article