The best way to start off a new year is with a new game. Thankfully, GameStop is holding a sale on numerous bestselling titles for the next couple of days. Many of these discounts are time sensitive, so be sure to give it a look if you're hoping to pick up hit titles you missed over the course of 2019.
One of the best deals mentioned is for Borderlands 3, with the game selling for just $30. Our review found the game to be more of the same — in a good way. More guns, more comedy, more explosions… it's the logical next step for the franchise. Nabbing it at this low price is a no-brainer for fans of the series.
Death Stranding is also listed at $40, a pretty steep markdown considering it launched in November. Reviews for this one are all over the place, but if you're one of Kojima's dedicated followers you'll find much to like in this so called "Strand Game."
Other notable sales include The Division 2 ($12), Madden NFL 20 ($30), Red Dead Redemption 2 ($40), The Outer Worlds ($40), and Call of Duty: Modern Warfare ($45). Beyond games, you can also pick up a few Corsair products on the cheap, such as the M65 RGB Elite Gaming Mouse ($40) or the K70 RGB MK 2 Gaming Keyboard ($110). For a listing of all the deals, check out the official GameStop advertisement.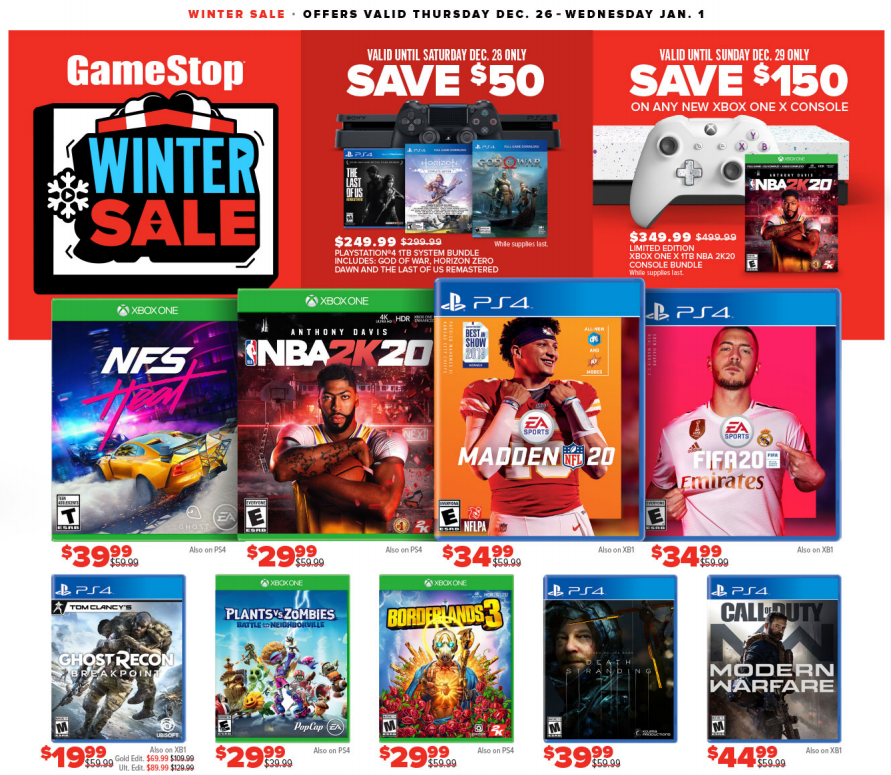 This sale is a great opportunity for gamers who may have been gifted a new console during the holidays. Gaming can become an expensive hobby, but discounts like this are the best time to build up a library while still keeping your wallet fat.
Even though GameStop has hit a rough patch lately, it's great to see the company still offering discounts on hit titles. No one can predict the future, but it's plain to see that something needs to change, or GameStop will be going the way of the dodo in the next few years. Marking down popular titles is a good way to get customers through the door, however it probably won't be enough to keep the struggling business alive.
Source: GameStop, GameSpot
Source: Read Full Article