Quick Links
How To Unlock Internet History
Internet History Course Details
Internet History Required Rooms And Facilities
Two Point Campus is full of interesting courses that you can offer students. One of the more random courses available is Internet History, which is pretty much what the name suggests. Internet History is a course for 'web-goblins' who want to study the history of the internet and computers.
Internet History is a good secondary course to invest in since it requires rooms that are also on other courses. For example, a VR Lab can be used for Internet History and Virtual Normality. The required Computer Lab can also be used on a number of different courses. This guide will break down everything about Internet History and how to make it work on your campus.
How To Unlock Internet History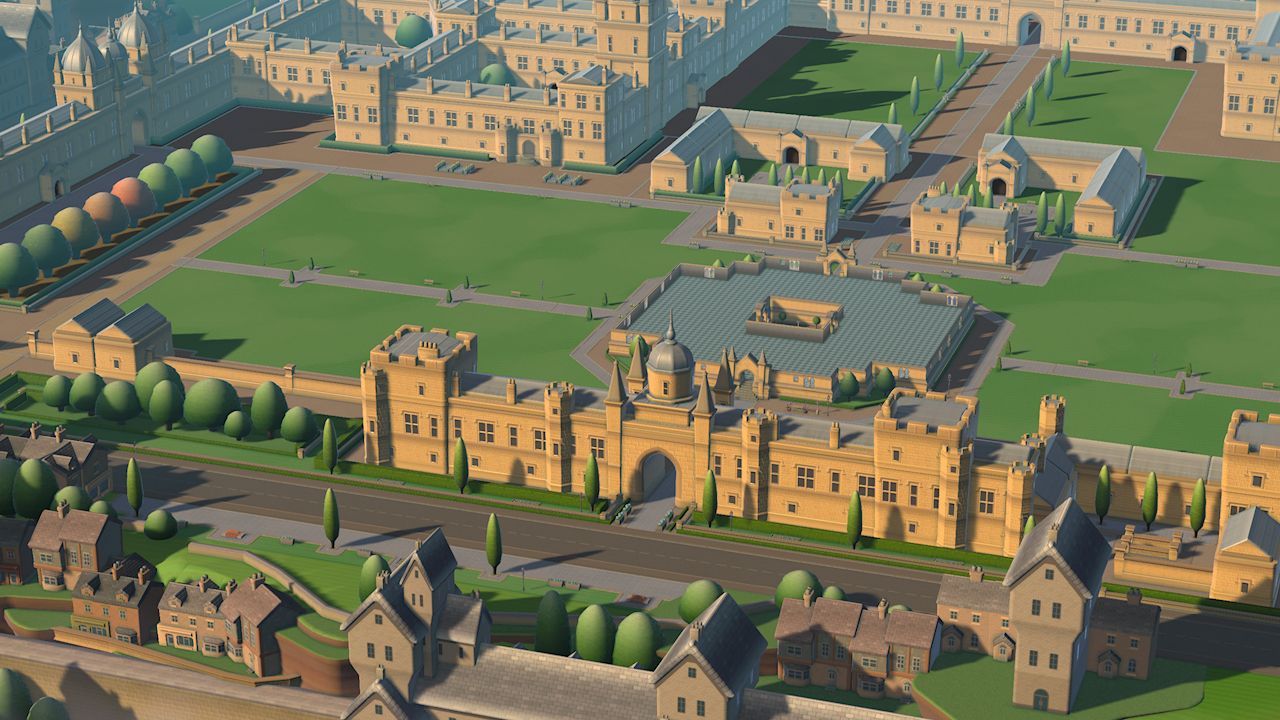 To unlock Internet History, you'll need to progress to the third level of the campaign, Mitton University. Once you start this level, you'll immediately be given access to Robotics, but you'll need to complete the One Star objective to also unlock Internet History. Here's a breakdown of all the objectives to earn One Star at Mitton University.
Objective
Details
Build a Robot

This objective will pretty much complete itself. Simply build a Robotics Classroom and let students build the robot themselves

Complete Two Research Projects

To complete this objective you'll need to build a Research Lab and also have a teacher qualified in research.
From this room, you can choose to begin several different research projects for money or to upgrade your facilities.

10 Level 6 Robotics Students

Students will level up automatically when they're happy and have the facilities they require.
Make sure you have all the required learning spaces available, like a fully equipped library, lecture theatre and classrooms.
Mitton University gets quite cold, so place enough radiators and outdoor heating on the campus.
Upgrading lecterns and placing certain equipment on campus can provide learning boosts.

Campus Level 12

Several factors will affect the level of your campus, including attractiveness, how comfortable the temperature is, the average room level, and the number of highly-qualified staff.
A quick way to boost your campus level is to decorate it with relatively cheap items. Hang up decorative posters in the corridors and plants on the campus exterior.
Completing these objectives gives you a variety of rewards, including access to the Internet History course.
Internet History Course Details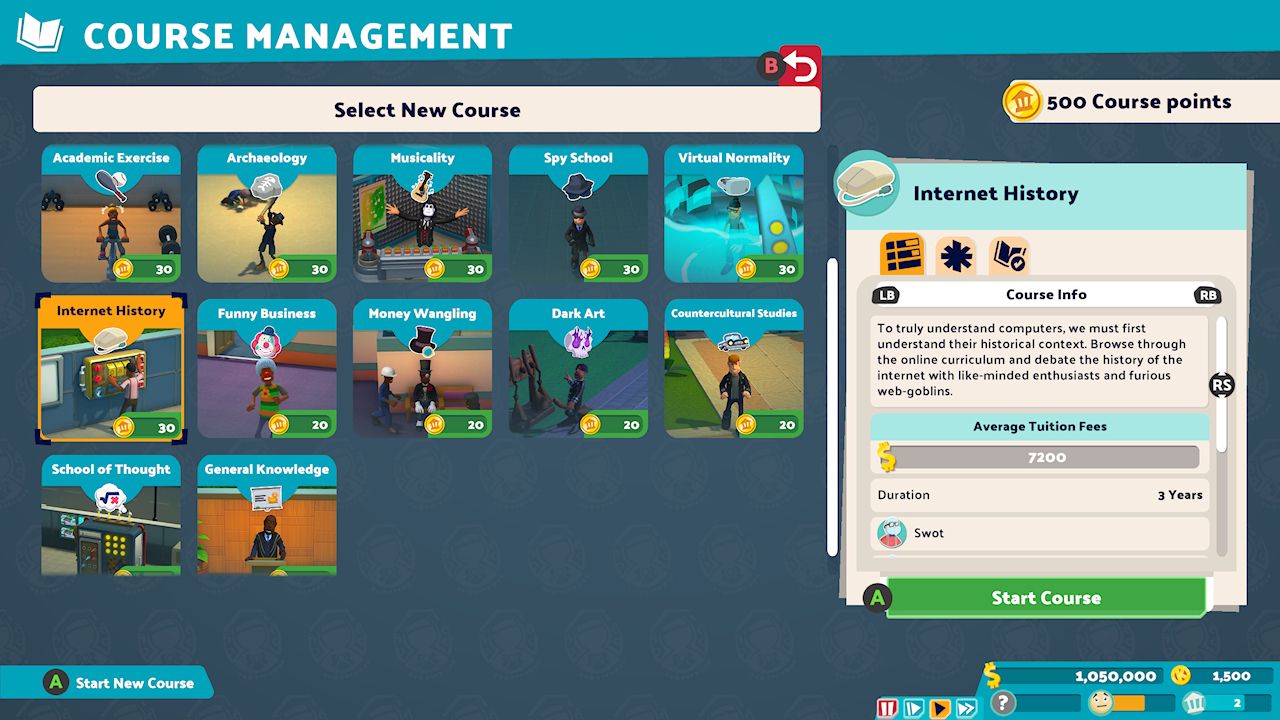 Internet History has a medium difficulty level and a duration of three years, which means students will graduate after three years if their grades are sufficient. This course also has an average tuition fee of $7,200 per student, making it even more attractive as a secondary course alongside Virtual Normality.
You'll be able to upgrade existing courses or offer new ones at the end of an academic year. During this summer break, you'll have the option of spending Course Points on any of your unlocked courses. Internet History costs 30 Course Points to begin and upgrading the course further will increase the course's student intake and maximum teacher qualification.
A level one Internet History course will require one Computer Lab, one Lecture Theatre, and one teacher qualified in Internet History. As you level up your courses and your student intake increases, your campus will soon seem very full. This also means that you'll need to build more facilities to accommodate your growing campus. Here's a breakdown of the required rooms for every Internet History course level:
| Course Level | Student Intake | Maximum Teacher Qualification Level | Computer Labs | Lecture Theatres | Internet History Teachers |
| --- | --- | --- | --- | --- | --- |
| 1 | 10 | 3 | 1 | 1 | 1 |
| 2 | 15 | 4 | 1 | 1 | 1 |
| 3 | 20 | 5 | 1 | 1 | 2 |
| 4 | 25 | 6 | 2 | 1 | 2 |
| 5 | 30 | 6 | 2 | 1 | 2 |
| 6 | 35 | 7 | 2 | 1 | 3 |
| 7 | 40 | 7 | 2 | 1 | 3 |
| 8 | 45 | 8 | 2 | 1 | 3 |
| 9 | 50 | 9 | 3 | 2 | 4 |
| 10 | 55 | 10 | 3 | 2 | 4 |
Install vending machines, food and drinks kiosks, and water coolers to make sure students aren't hungry or thirsty.
Internet History Required Rooms And Facilities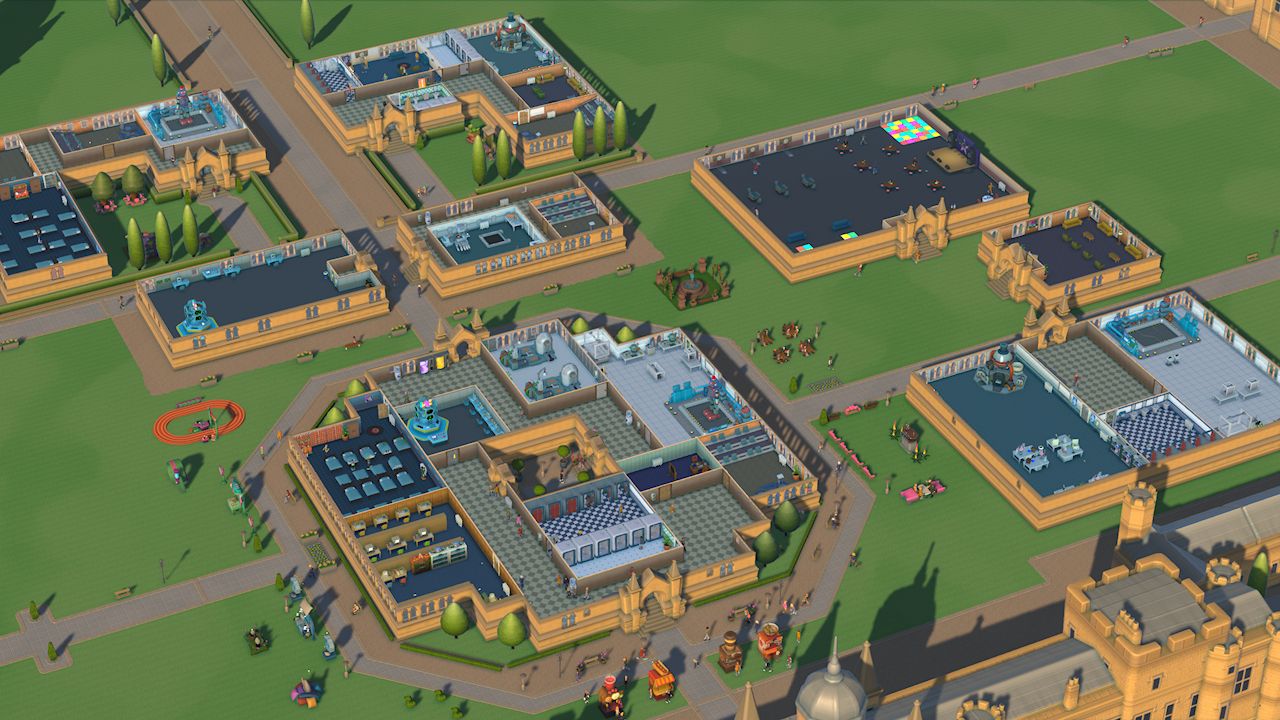 Internet History mainly takes place across lectures in the Lecture Theatre or classes in the Computer Lab. The game will only tell you that Internet History requires a Lecture Theatre and a Computer Lab, but students will still demand and need other facilities to complete the course, including a VR Lab. Even if you fill a room with all of its required items, students will request other items for assignments in the following years and months.
Toilets, Shower Rooms, and a Student Union should all be built to satisfy student needs and keep them happy. Dormitories are important, as they give students a place to rest, get changed and relax.
If students are unhappy due to a lack of hygiene or entertainment, they may consider dropping out, or they might just refuse to pay their tuition fees.
VR Lab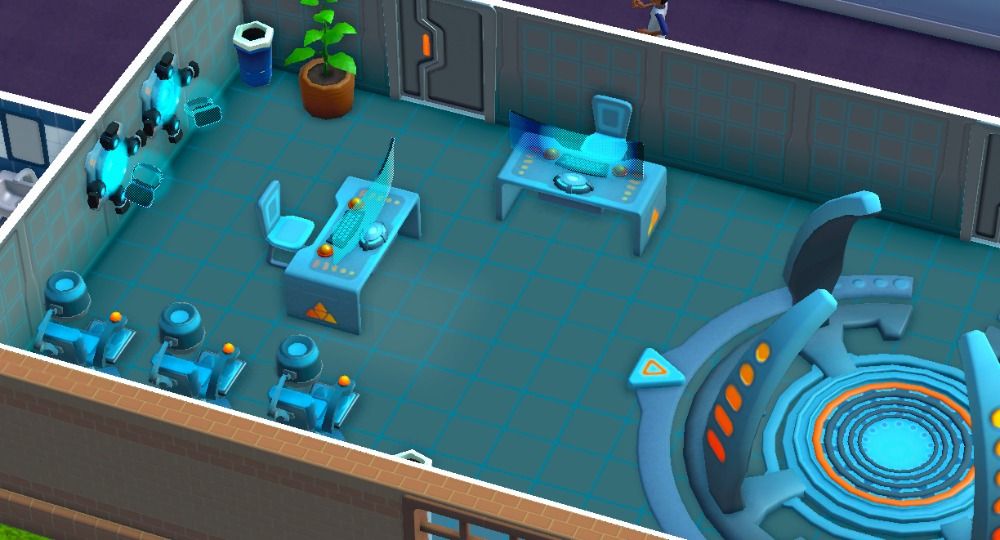 VR Labs are unique since the only courses that need them are Virtual Normality and Internet History. Internet History students will use this room for classes and to level up.
VR Labs will only require an entrance and a VR Platform before you're able to place the room, but, over time, students will need all the equipment below to study with.
VR Labs cost $35,100 and have a minimum room size of 5×4. That minimum room size is only really enough to fit in a VR Platform and a few chairs, so if you have the space, make this room larger.
Item
Details
VR Platform

$25,000
Required Item
Needs Maintaining

VR Chair
VR Desk
VR Headsets
VR Projector

$15,000
+2% Learning Power
Required for Assignment
Computer Lab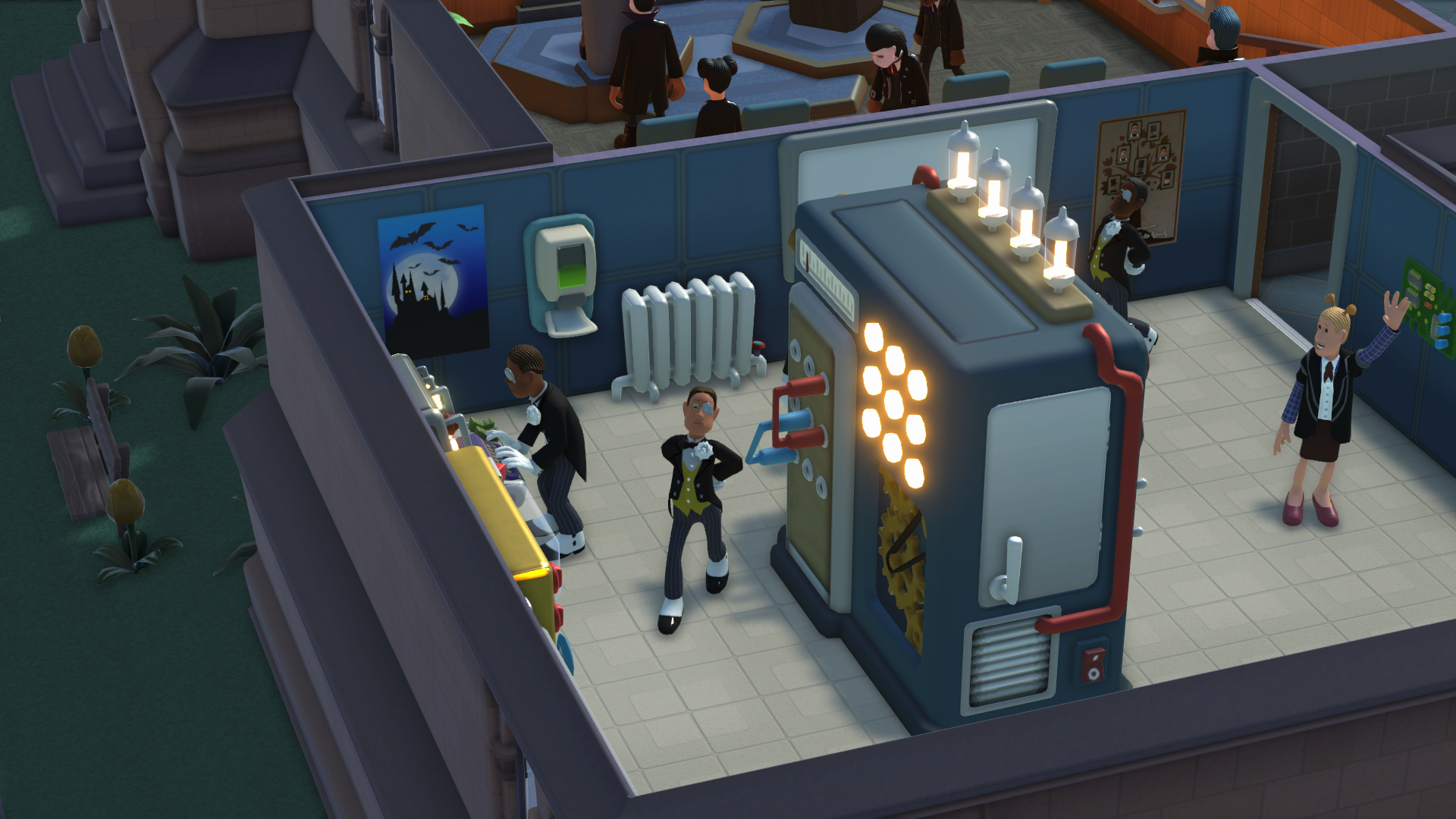 Computer Labs are used in many courses, including Internet History. Many of the items in the Computer Lab provide learning boosts, which is useful since students will request many of those same items for their assignments.
Computer Labs cost $26,700 and have a minimum room size of 6×5.
Here's a breakdown of the most essential Computer Lab items:
Items
Details
Whiteboard
Analogue Console
Analogue Computer
Super Computer

$50,000
+10% Learning Power
100 Kudosh
Required for Assignment

Digital Console

$3,500
+1% Learning Power
50 Kudosh
Required for Assignment

Super Console

$6,000
+2% Learning Power
100 Kudosh
Required for Assignment

Super Server

$40,000
+2% Learning Power
75 Kudosh
Required for Assignment

Digital Server

$25,000
+1% Learning Power
200 Kudosh
Required for Assignment

Monitor

$3,000
+1% Learning Power
120 Kudosh
Required for Assignment
Lecture Theatre Items
Lecture Theatres are essential rooms regardless of what course you decide to teach. Remember that you can also hold film screenings in the events tab to provide entertainment and improve campus happiness.
It costs $21,300 to build a Lecture Theatre and it has a minimum room size of 4×4. If you're happy with one of your lecture theatres, copy and paste the room whenever you need a duplicate.
| Item | Details |
| --- | --- |
| Lectern | |
| Lecture Seating | |
| Autocue | |
| Surround Sound | |
Library Items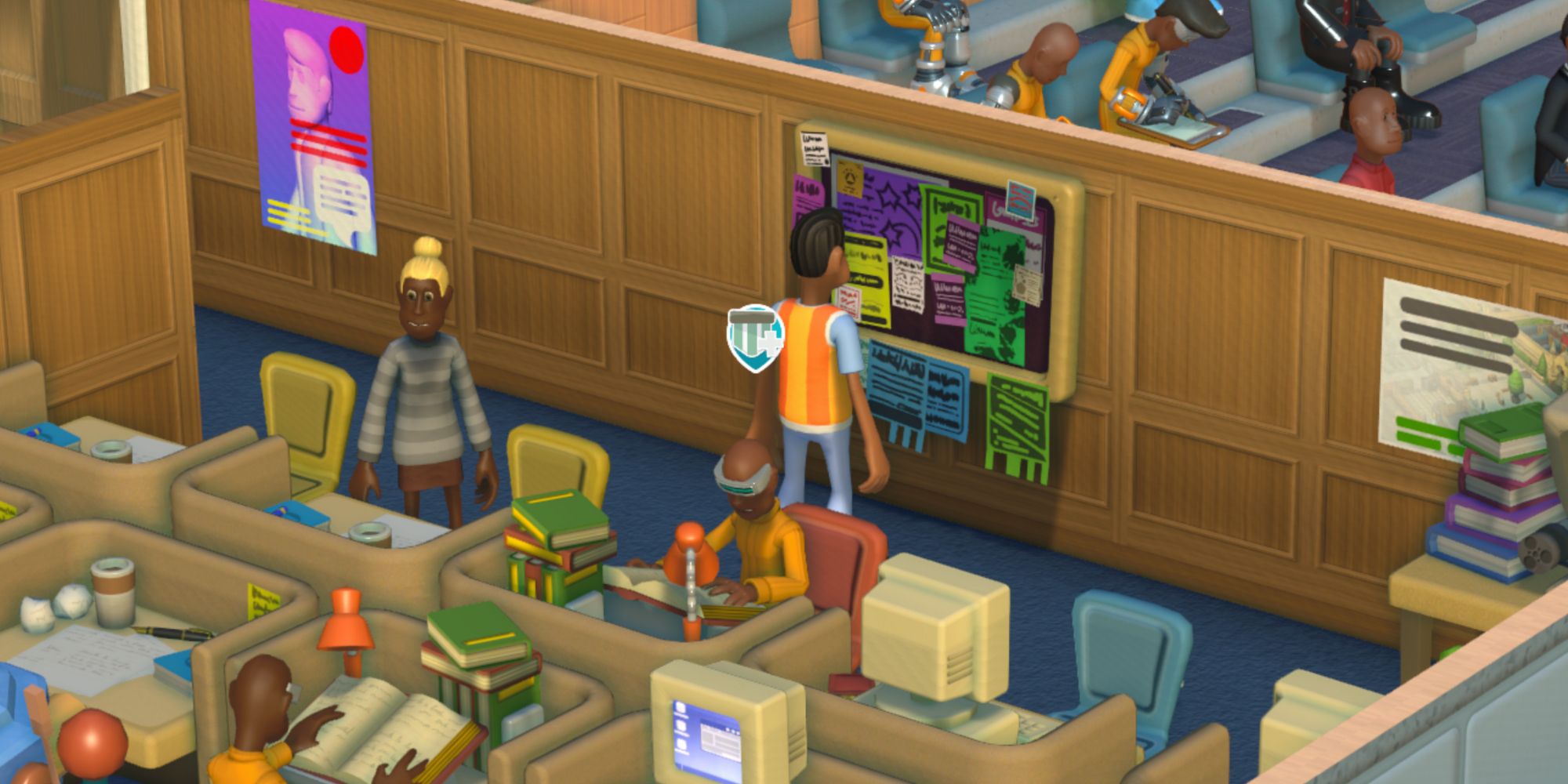 A Library can be used by students of any course to study, complete assignments and level up. Make sure you place enough bookshelves and cubicles since a queue will form around certain items if you don't provide enough of them.
A Library costs $11,900 to build and has a minimum room size of 3×3.
Item
Details
Textbook Cubicle
Library Reception
Bookcase
Computer Cubicle

$800
Required for Assignment

Study Cubicle

$300
Required for Assignment

Internet History Bookcase

$6,000
Required for Assignment
+5% Learning Power
100 Kudosh

Giant Library Reception
Records Cubicle

$4,000
Required for Assignment
5 Kudosh
Source: Read Full Article