Quick Links
Best Protection Warrior Races
Best Talents For Protection Warrior
Best Stats And Gear For Protection Warrior
Tanks are looking pretty powerful in World of Warcraft: Dragonflight, and due to the new talent trees, you can easily modify your builds based on your chosen content. Protection Warrior is an iconic specialisation and has been an ever-present force on the frontlines across the expansions. Bulky and powerful, if charging around while yelling loudly is your thing, then you may enjoy playing the quintessential WoW tank.
This guide will teach you the best Protection Warrior talent builds, races, rotation, and consumables, as well as suggest why you might want to try it out in the first place. If you want to pick up Protection Warrior, you'll learn everything there is to know to help you start.
Why Protection Warrior?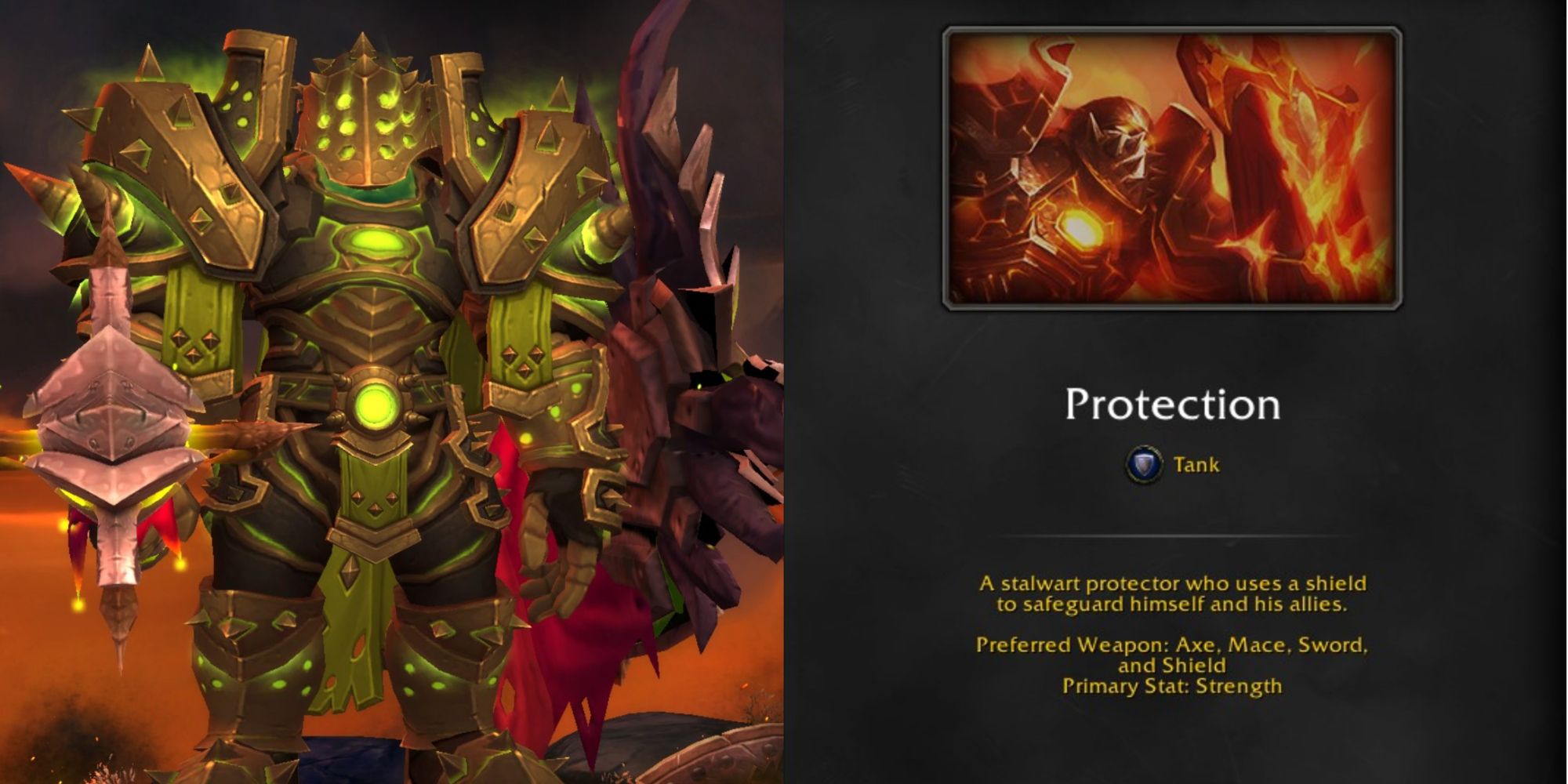 Pros

Cons

High Damage: Thanks to a combination of strong AoE abilities, Warriors can dish out very high burst damage and can easily dump Rage into big Executes
Extremely Powerful Defensives: Multiple panic buttons means Protection can be a good tanking spec to learn the role with
High Mobility: Charging and leaping around, you should be able to get out of trouble and back into the fray with ease

Limited Self-Healing: Reliant on their healer for receiving health gain, more focused on damage mitigation and smoothing out incoming hits
Rotational Downtime: It is possible to be Rage starved, and although the rotation is centred around low cooldown spells, there can be times when you lack a button to press
Susceptible to Magic Damage: A historical weakness of Protection, Spell Reflection helps somewhat, but your primary mitigation does not protect you against those pesky spells
Best Protection Warrior Races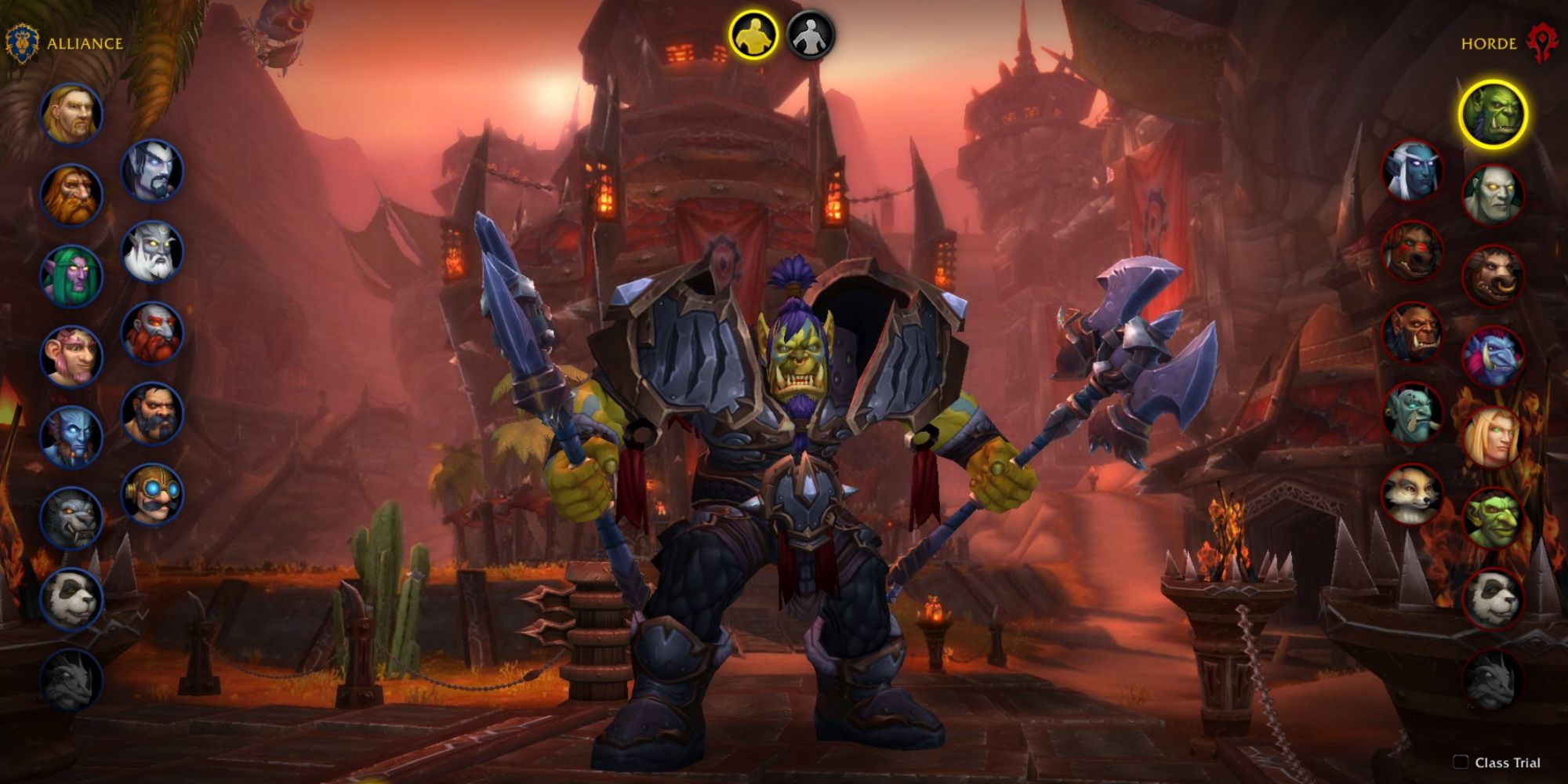 Although races in WoW differ in their racial abilities, the gaps are very small, and you should always go for whichever you like the best. Liking how your character looks will help your gameplay a lot, and unless you are looking to try and completely min-max your output, the racial effect differences are not that big a deal. Despite this advice, there are some nice options to consider if you want to try out Protection Warrior.
| Race | Racial Name | Effect |
| --- | --- | --- |
| Kultiran Human | Brush It Off | Extra 1% Versatility, alongside healing a portion of damage taken |
| Dwarf | Stoneform | Active ability that removes all Poison, Disease, Magic, Curse, and Bleed effects and reduces Physical Damage taken (2-minute cooldown) |
| Human | The Human Spirit | Gain 2 percent more secondary stats from all sources |
| Highmountain Tauren | Rugged Tenacity Mountaineer | Reduces damage taken by a flat amount Extra 1% Versatility |
| Blood Elf | Arcane Torrent | AoE purge, especially strong in Mythic Plus (2-minute cooldown) |
Best Talents For Protection Warrior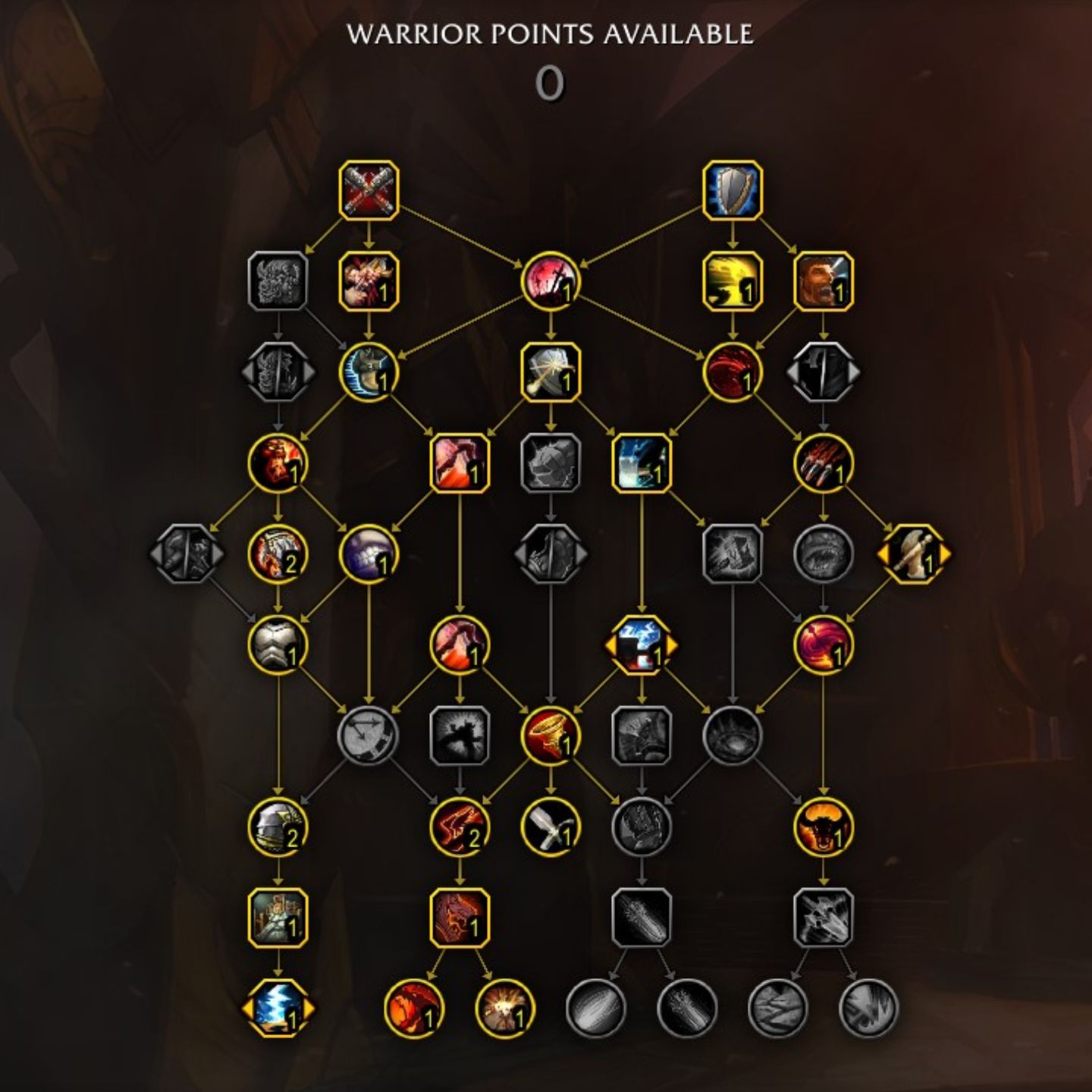 Protection Warrior Class Talent Tree
Warrior Class Tree

Row One

Battle Stance

Stance that grants 3% crit chance and 10% movement impairment reduction; stay in this when you want to output more damage

Defensive Stance

Stance that grants 15% damage reduction, but also all damage you deal by 10%, your default tanking stance

Row Two

Impending Victory

A strong single target damage and heal that is reset and made free when killing an enemy

War Machine

Extra Rage from auto attacks, and killing an enemy grants Rage and movement speed

Rallying Cry

Amazing group-wide defensive cooldown, providing extra maximum health for everybody

Row Three

Fast Footwork

Small movement speed increase

Spell Reflection

A critical defensive for dealing with Magic Damage, can also be used to reflect high damage spells for big damage

Leeching Strikes

Tanks love Leech, and 5% for free is very welcome

Row Four

Frothing Berserker

Chance for Revenge to refund half of its cost

Heroic Leap

Great mobility spell, and a lot of fun to use, make sure the small damage dealt doesn't pull extra enemies

Thunder Clap

A core spell, you slam the surrounding ground, dealing damage and slowing nearby enemies

Furious Blows

Extra auto attack speed, which provides extra Rage

Row Five

Crushing Force (2/2)

Extra damage and critical damage from your Shield Slam

Pain and Gain

Small heal when taking damage, on a 10-second internal cooldown

Storm Bolt

Single target ranged stun, can be used as a pseudo interrupt on eligible enemies (Mythic Plus Only)

Sidearm

Auto attack proc to deal small AoE (area-of-effect) damage in front of you

Row Six

Reinforced Plates

Large increase to your Armor, which is a critical stat for tanks

Bounding Stride

Reduces cooldown of your Heroic Leap and grants a sizable movement speed increase after its use

Blood and Thunder

A core talent, this increases Thunder Clap damage and Rage cost and causes it to apply Rend (if talented) to nearby enemies

Barbaric Training

Extra damage on your Revenge, but it costs more Rage

Row Seven

Double Time

Gives Charge a second charge, and reduces its cooldown

Seismic Reverberation

Causes your Revenge and Whirlwind to strike enemies an additonal time if it hits three or more

Row Eight

Armored to the Teeth (2/2)

Gain Strength equal to a small portion of your Armor

Wild Strikes (2/2)

Extra Haste and causes your auto attack crits to increase your attack speed

One-Handed Weapon Specialisation

Another 5% Leech and extra damage when using a One-Handed weapon (which will be all the time)

Endurance Training

Extra Stamina and reduction to certain crowd control debuff times

Row Nine

Avatar

Integral DPS cooldown, causes you to deal 20% increased damage for 20 seconds, as well as freeing you from roots and snares

Thunderous Roar

AoE bleed ability that generates a small amount of Rage

Shockwave

AoE frontal stun that deals a small amount of damage and grants a small amount of Rage (Mythic Plus Only)

Row Ten (Keystone Talents)

Unstoppable Force

Augments Avatar to increase Thunder Clap and Shockwave damage by 50% and the cooldown of Thunder Clap by 50%

Uproar

30 seconds reduced cooldown of Thunderous Roar

Thunderous Words

Increases the duration of Thunderous Roar's bleed, and the damage of all of your bleed effects, which has great synergy with your tooltkit
A shared tree between all three Warrior specialisations, the class tree allows you to pick a selection of core spells and passives. How you navigate the tree will vary depending on which build you are aiming for, as certain choices will only be useful in niche situations.
Spells such as Intervene and Berserker's Rage are not included in a standard class tree build, but they are both very useful spells that can be talented in specific situations. When it comes to utility spells, you can play around with which ones you want to run as long as the points spent do not impede your progression to throughput talents.
Best Protection Warrior Raid Talent Build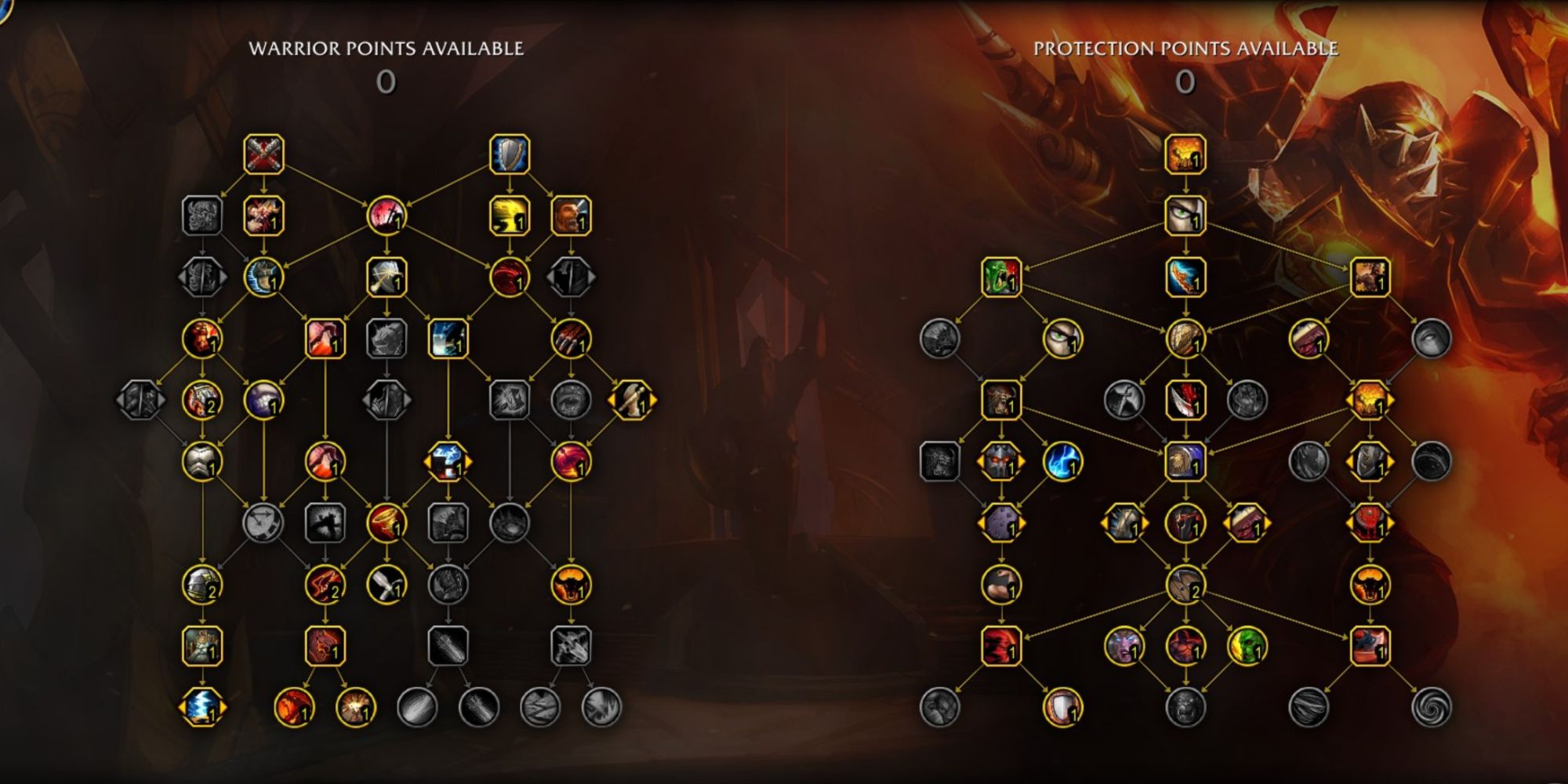 Protection Warrior Talents (Raid)

Row One

Row Two

Row Three

Demoralizing Shout
Devastator
Last Stand

Row Four

Best Served Cold
Strategist
Brace for Impact

Row Five

Challenging Shout
Rend
Bloodsurge
Brutal Vitality

Row Six

Sudden Death
Thunderlord
Shield Wall
Tough as Nails

Row Seven

Into the Fray
Enduring Defenses
Anger Management
Impenetrable Wall
Punish

Row Eight

Focused Vigor
Shield Specialisation (2/2)

Row Nine

Shield Charge
Booming Voice
Indomitable
Violent Outburst
Ravager

Row Ten (Keystone Talents)
Talent Build Code: BkEAR5QSZgdnGefDo4ho9ZGXKLgAAAAASSCJJk0SKJJp0QEiQRIUSSAiIJBtQSCIQIAAAAAAAQSAAoUaA
The Protection raid talent build focuses on providing single target damage and less emphasis on crowd control and AoE. It is still quite similar to the Dungeon build, as most of Prot's abilities are used in the same way against one or multiple targets.
Multiple talents focus on spending Rage to gain a benefit; whether it be cooldown reduction through Anger Management or healing through Indomitable, you should be focused on building and spending as much Rage as possible to make the build flow.
Some of your Core Talents include:
Ignore Pain: An active defensive mitigation button, providing a shield that can stack up with multiple applications
Revenge: Your primary AoE Rage spender, multiple talents will interact with this, providing increased damage and a chance for free procs
Devastator: Replaces your filler ability with a passive proc; this makes your rotation a lot less spammy
Ravager: AoE spinning weapon ability that generates a huge amount of Rage over its duration
Shield Charge: An AoE charge attack that also generates a good amount of Rage and stuns the primary target; a great opener as it provides Shield Block and Revenge
Best Protection Warrior Dungeon Talent Build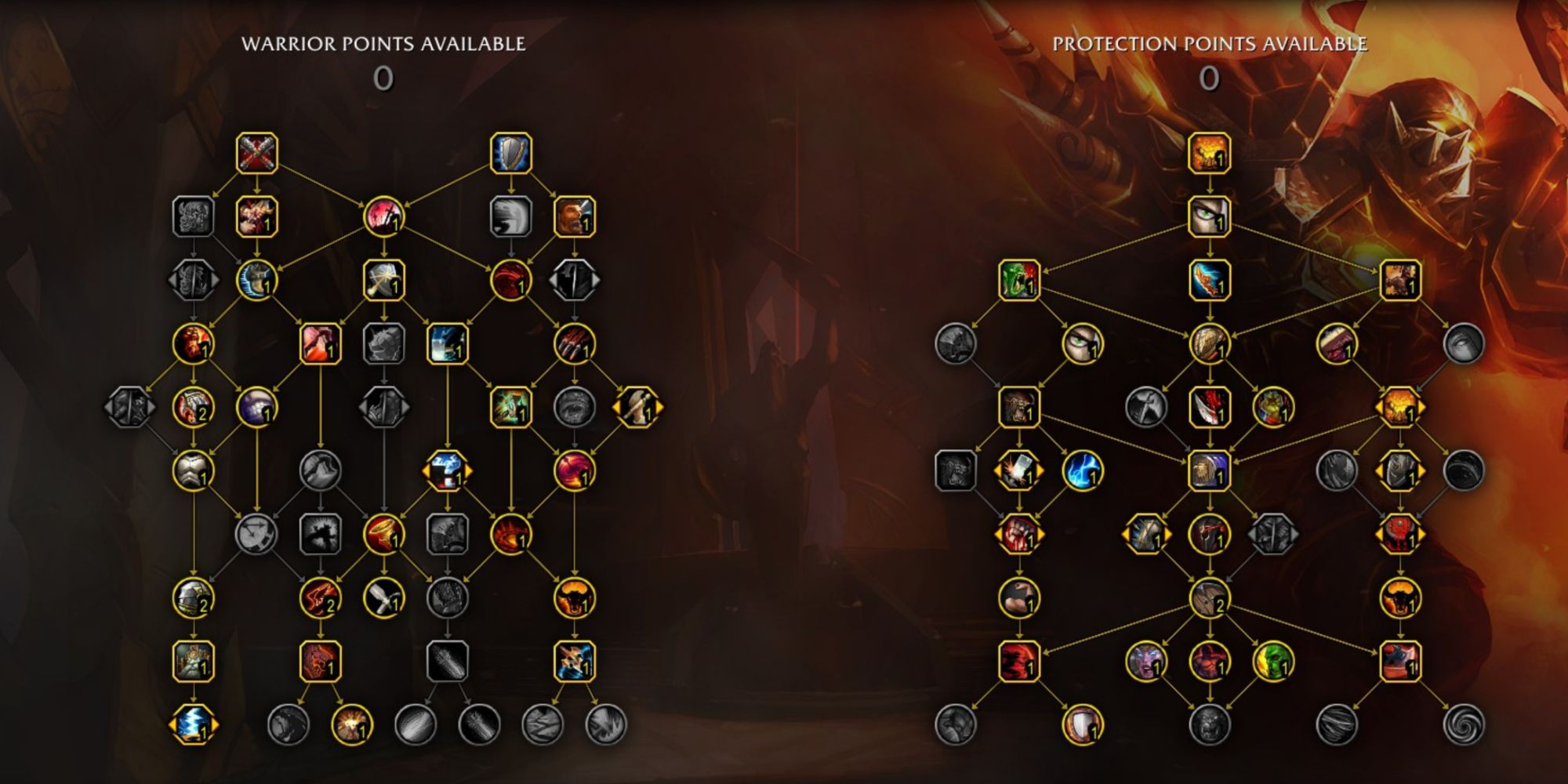 Protection Warrior Talents (Dungeon)

Row One

Row Two

Row Three

Demoralizing Shout
Devastator
Last Stand

Row Four

Best Served Cold
Strategist
Brace for Impact

Row Five

Challenging Shout
Rend
Bloodsurge
Brutal Vitality

Row Six

Show of Force
Thunderlord
Shield Wall
Tough as Nails

Row Seven

Into the Fray
Enduring Defenses
Anger Management
Impenetrable Wall
Punish

Row Eight

Focused Vigor
Shield Specialisation (2/2)

Row Nine

Shield Charge
Booming Voice
Indomitable
Violent Outburst
Ravager

Row Ten (Keystone Talents)
Talent Build Code: BkEAR5QSZgdnGefDo4ho9ZGXKLgAAAAASSSkkQikSSSaFEBCFJSUSSACkE0CJJICECAAAAAAAkEAAKlGA
In Dungeons, your build relies on outputting as much damage as possible with your Thunder Clap and Revenge abilities. Blood and Thunder from the class tree help augment your Thunder Claps with a bleed effect, providing you talent into Rend. This means that you never actually need to press the Rend button, as you will be using Thunder Clap even in single-target situations.
This build will take talents, such as Shockwave and Storm Bolt, to help out your group with crowd-controlling packs of enemies. Shockwave, in particular, is very strong and should be used liberally as an additional Rage generator.
Situational talents you may want to consider are Enduring Alacrity and Battle-Scarred Veteran. Both of these are defensive options, and as Prot is already very strong defensively, the core build focuses more on damage output.
Both options are strong; if you find yourself struggling to stay alive, you may want to consider them as alternatives.
In Mythic Plus especially, you can rely on Heroic Leap to kite away from enemies. They will struggle to catch you, and with your Charge, Shield Charge, and possibly even Intervene spells, you should be able to dart around an encounter.
Going into a pull, you can struggle slightly, as you want to keep Shield Block up at all times. Shield Charge is great for this, and don't forget that Demoralising Shout is a lower cooldown than stated, thanks to Thunderlord.
How To Play The Rotation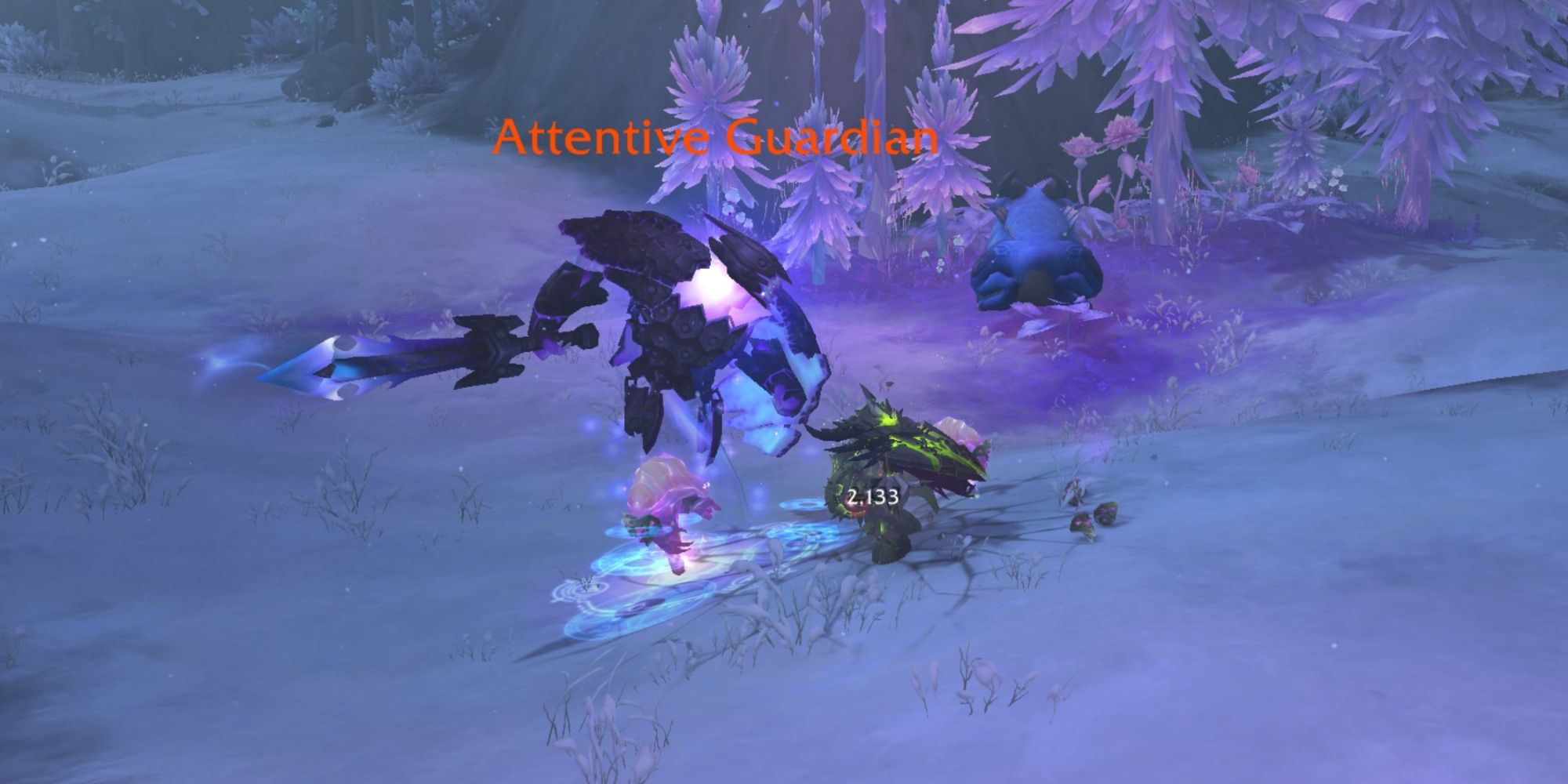 The Basics
Instead of a strict rotation, Protection Warriors utilise a priority list for their abilities.
| Priority | Action | Explanation |
| --- | --- | --- |
| 1. | Keep up Shield Block by spending Rage | Your primary source of mitigation, this is imperative to have up when tanking either a raid boss or multiple enemies in a dungeon. |
| 2. | Synchronise your offensive cooldowns | Combining offensive abilities such as Avatar and Ravager will maximise your damage and allow you to hold aggro. |
| 3. | Utilise defensive cooldowns to stay alive | Abilities such as Shield Wall should be used when taking a high amount of incoming damage. |
| 4. | Build Rage with Shield Slam and Thunder Clap | These are your primary Rage generators and should be kept on cooldown as much as possible. |
| 5. | Spend Rage on Revenge, Execute or Ignore Pain | Revenge for AoE damage, Execute for single target, and Ignore Pain as an extra defensive option. |
Your primary resource as a Warrior is Rage. This can be generated and spent by a variety of spells, and it is up to you to decide whether to output more damage with Revenge/Execute or to build up a stronger Ignore Pain shield.
Protection has a nice flow to it, and you find yourself generating large amounts of Rage during combat. Abilities such as Ravager and Demoralising Shout can also help you to create large chunks of Rage. When entering a pull, leading off with Charge will give you a nice amount of Rage to put up your Shield Block.
Warriors have access to the Taunt ability, which will normally gain aggro of a single enemy. All tanks possess a version of this spell, but Protection can also pick up Commanding Shout via their talent tree. Whilst on a long 2-minute cooldown, this can act as a great way of holding the attention of multiple enemies.
Impending Victory is a great single-target spell that will heal you for a significant amount. Use this when you need a quick burst of health or when you lack another button to press.
As a tank, Protection Warrior can also call upon some strong defensive cooldowns to mitigate damage and survive.
Ability

Explanation

Shield Wall

3.5-minute cooldown
A 40% damage reduction for 8 seconds

Last Stand

3-minute cooldown
Increased max health by 30% for 15 seconds and heals you for that amount

Spell Reflection

25-second cooldown
Reflects the first spell cast on you and reduces magic damage taken by 20% for 5 seconds

Rallying Cry

3-minute cooldown
Grant all party and raid members 15% maximum health for 10 seconds

Demoralising Shout

45-second cooldown
Reduce the damage all nearby enemies deal to you by 25% for 8 seconds
Shield Wall's cooldown will be significantly reduced via Anger Management and Impenetrable Wall, so you can use it liberally.
When playing as a tank, it is up to you to manage these cooldowns as and when you see fit. Staying alive is your number one priority, and you should not be afraid to use a defensive just because you think you might need it later. That being said, spells such as Rallying Cry are typically pre-coordinated, at least in an organised raid, as it benefits the whole group and is considered a raid cooldown.
Protection Warrior Macros
One of the most important macros for any class and spec is combining your trinket uses with your cooldowns. This can be done by referencing the slot the trinket is currently equipped, either slot 13 or 14. You will want to combine trinkets with Avatar when playing a Protection Warrior.
#showtooltip /cast Avatar /use 13
Another helpful macro can be to mark a target with the skull marker. This will show up to your group and can be used to focus their damage on a certain enemy.
If you need to interrupt an enemy at a set time, setting them as your focus will allow you to use this macro rather than retargeting them during the fight.
#showtooltip /cast [@focus,harm,nodead] [ ] Pummel
When casting a ground-targeted spell you can remove the need to click by macroing the targeting reticule to your cursor.
#showtooltip /cast [@cursor] Heroic Leap
Best Stats And Gear For Protection Warrior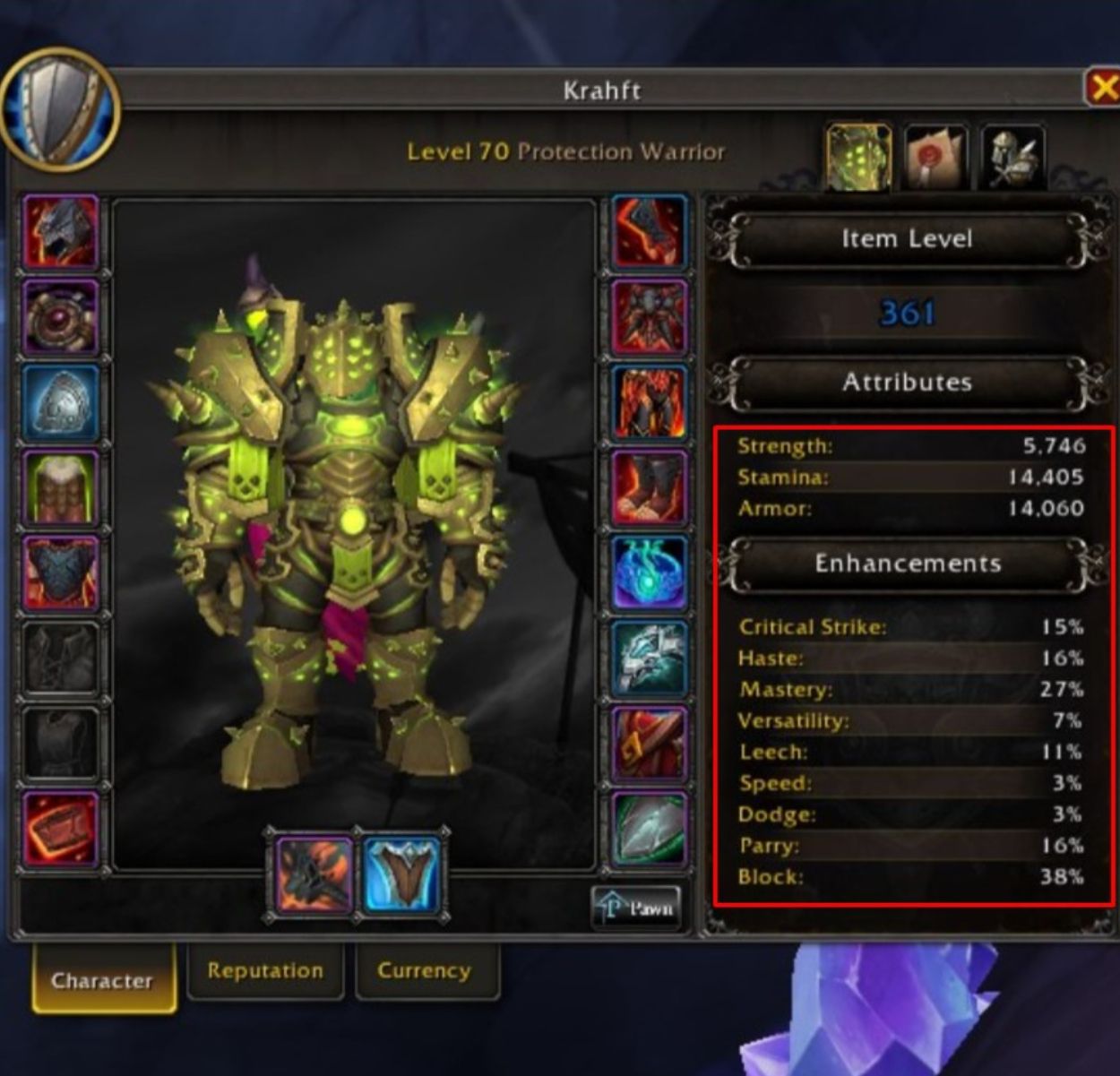 Once Dragonflight Season One begins, you will get the majority of your BiS (best in slot) PvE gear from the Vault of the Incarnates raid or high-level Mythic Plus. Before heading into that content, you will want to gear up with some easier methods. Mythic zero dungeons and early renown levels can help you grab some early max-level gear, and should set you up for a smooth entry into the end game.
This list will focus on items featuring the Haste stat, but also include a healthy amount of Versatility. Here are the following recommendations for your Best in Slot Pre Raid gear.
| | | | |
| --- | --- | --- | --- |
| Slot | Gear Name | Source | Boss |
| Head | Decay Mother's Wrathful Gaze | Brackenhide Hollow | Decatriarch Wratheye |
| Neck | Bromach's Disentombed Locket | Uldaman | Bromach |
| Shoulders | Pauldrons of Immutable Truth | Uldaman | Chrono-Lord Deios |
| Back | Potion-Stained Cloak | Algeth'ar Academy | Overgrown Ancient |
| Chest | Cuirass of Irreparable Madness | The Azure Vault | Umbrelskul |
| Wrists | Reinforced Fisherman's Vambraces | Iskaara Tuskarr | Renown Level 14 |
| Hands | Relic Handler's Gauntlets | Dragonscale Expedition | Renown Level 12 |
| Waist | Trapmaster's Utility Belt | Brackenhide Hollow | Gutshot |
| Legs | Drake Hunter's Greaves | The Nokhud Offensive | Granyth |
| Feet | Ohn'ahran Plainswalkers Boots | Maruuk Centaur | Renown Level 11 |
| Ring | Circle of Ascended Frost | Halls of Infusion | Khajin the Unyielding |
| Ring | Thunderous Downburst Ring | The Nokhud Offensive | The Raging Tempest |
| Trinket | Ruby Whelp Shell | Ruby Life Pools | Melidrussa Chillworn |
| Trinket | Homeland Raid Horn | Uldaman | The Lost Dwarves |
| Weapon | Spellbane Cutlass | Algeth'ar Academy | Vexamus |
| Shield | Crystalized Bulwark | The Azure Vault | Umbrelskul |
Your true BiS gear will be plate items from Blacksmithing. However, at the start of the expansion, these material costs will be very expensive, and you might want to save up for a certain item or fill in your weakest slot. The list above is orientated towards easy-to-acquire gear, but if you want to try and reach the highest possible power level for the start of the season, you could look towards investing in some crafted items.
Stat Priority
Your primary stat as a Protection Warrior is Strength, and this should be your major focus as it directly increases the damage of your spells and the Armor gained from your Vanguard passive. As a tank, you should also consider maximising your Armor and Stamina, as these will help to keep you alive, which is your main role. Additionally, you have four secondary stats to choose from:
Critical Strike, which increases the chance for extra effective attacks and heals.
Haste, which increases your attack speed and decreases certain cooldowns.
Mastery, which increases your chance to block, your chance to critically block, and your Attack Power
Versatility, which increases damage and healing as well as reduces damage taken.
For survivability, your general stat priority should be:
Strength > Haste > Versatility > Critical Strike > Mastery
Critical Strike is one of your best stats when it comes to dealing damage, and if you find yourself easily being able to survive, then you can consider investing in more Crit to improve your output. All secondaries are quite close together, and you should mainly be going for item level and the highest amount of stats overall.
Due to secondary stats being quite flexible, you can acquire a more detailed breakdown by simming your character using tools such as Raidbots. This will let you know which stats to aim for to maximise your DPS, and as long as you're staying alive, investing in more damage is key.
Gems, Enchants, And Consumables
As noted above, you will want to go for Strength followed by Haste when gemming.
Your best gems will be:
One Fierce Illuminated Diamond (Strength and Haste)
Multiple Quick Ysemerald (Haste)
Gems are crafted by Jewelcrafters, and you should socket the highest quality gems you can find, which will result in a higher amount of overall stats.
Your best enchants are:
| | |
| --- | --- |
| Gear Slot | Enchant Name |
| Weapon | Sophic Devotion |
| Neck | Tiered Medallion Setting |
| Back | Regenerative Leech |
| Chest | Sustained Strength |
| Wrists | Devotion of Leech |
| Legs | Fierce Armor Kit |
| Boots | Watcher's Loan |
| Rings | Devotion of Haste |
Your list of consumables is as follows:
Phial: Phial of Elemental Chaos (Raid) / Phial of the Eye in the Storm (Dungeon)
Potion: Elemental Potion of Ultimate Power
Health Potion: Refreshing Healing Potion
Food: Grand Banquet of the Kalu'ak / Timely Demise / Aromatic Seafood Platter
Weapon Buff: Howling Rune
Try to get the highest quality consumables you can, and remember to be well stocked up before taking on any end-game content.
Source: Read Full Article