It's almost June, and that means it's time for Xbox Game Pass to refresh its ever-growing library of titles for subscribers to peruse. For June starts us off with For Honor: Marching Fire Edition, follows that up with Ninja Gaiden: Master Collection, and then brings four games on June 7 with Assassin's Creed Origins, Chorus, and two indie titles.
For Honor has been around since 2017 as Ubisoft's premiere medieval hack-and-slash multiplayer action game. Take control of your knight in shining armor (or samurai, or centurion, or highlander, etc.) and then join in combat with friends or enemies in eight different gameplay modes. Marching Fire Edition adds the Wu Lin to the Samurai, Viking, and Knight factions, bringing ancient Chinese warriors into the fray.
Ninja Gaiden: Master Collection brings all three Ninja Gaiden games under one roof. Featuring remastered visuals and all previously released DLC, the Master Collection also represents the first North American release of the Sigma versions of Ninja Gaiden 1 and 2. This game didn't get any easier in the remaster, so prepare for some tough battles.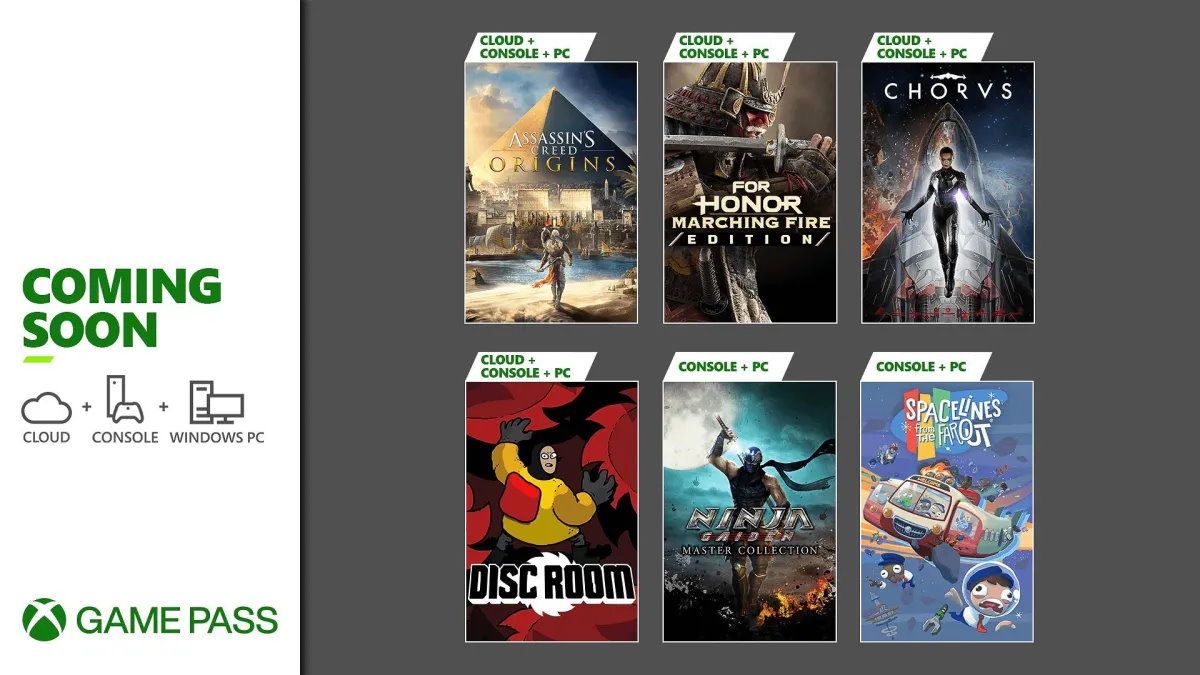 Although Valhalla is the new hotness, Assassin's Creed Origins still definitely holds up even after more than four years. See the origins of the Assassin Brotherhood and Templar order in Ancient Egypt as Bayek the Medjay, who works to protect the people during a time of social and political upheaval.
If you're into space shooters, then Chorus is likely to tickle your fancy. Battle it out in open space with Forsaken, your sentient spaceship, using gatling guns, laser cannons, and missile launchers. Nara, the pilot, gains new combat abilities after exploring ancient temples, which will definitely help her in overthrowing an oppressive cult.
Finally, we hit our two indie roguelikes. Disc Room has you explore a sprawling intergalactic slaughterhouse orbiting Jupiter, while Spacelines from the Far Out is a co-op management game about airlines in space.
Here's the full list of games coming to Game Pass in June:
For Honor: Marching Fire Edition (Cloud, Console, and PC) – June 1
Ninja Gaiden: Master Collection (Console and PC) – June 2
Assassin's Creed Origins (Cloud, Console and PC) – June 7
Chorus (Cloud, Console, and PC) – June 7
Disc Room (Cloud, Console, and PC) – June 7
Spacelines from the Far Out (Console and PC) – June 7
And here's the list of games leaving Game Pass on June 15:
Darkest Dungeon (Cloud, Console, and PC)
Dungeons & Dragons: Dark Alliance (Cloud, Console, and PC)
Greedfall (Cloud, Console, and PC)
Limbo (Cloud, Console, and PC)
Worms Rumble (Cloud, Console, and PC)
Source: Read Full Article