Patience is both a virtue—and a currency—in The Longing, an idle game about waiting for your king to wake up from his 400 days-long rest. His only other instruction for you, other than to rouse him from his slumber then, is to never leave this subterranean universe in the meantime. As an enigmatic little creature known as the Shade, you can find ways to while away your hours by wandering about the seemingly boundless network of caverns, picking up new hobbies and books to read, or mustering the nerve to defy your king: find a way out. The twist to this entire gambit? The 400 days will be spent in real time. Thankfully, it passes too even as you're not playing—or rather, experiencing the game.
Referring to The Longing as an idle game, however, is both impossibly accurate and a misnomer. More than just repetition and routine, idle games are known for their excessiveness, and the need to grind for resources and progress by clicking on the screen till your fingers give way to exhaustion. It's the very distillation of video games into one distinct motion, until you become extremely adept at it. Take for instance Cookie Clicker, the quintessential idle game about baking cookies. At the very beginning, a single click will net you just one cookie. That is, until you have enough resources to advance your cookie churning skills, to the point where you can possibly generate 295,637 nonillion cookies with every passing second (that's 30 zeros, if you're wondering).
But in The Longing, you simply wait. Or well, idle about. Unlike most idle games, there aren't many resources to gather, other than the lumps of coal that plop on the ground—little black specks that are almost indiscernible from the soot and grime around them. You can collect some wood to build a bed, or coloured chalks you can doodle with at your leisure. You can wander about and perhaps discover wondrous, ethereal places you wouldn't expect to find in a dank, cheerless cave. You can make time pass a wee bit faster by decorating your room with random trinkets and material comforts, like a fire and some books. But progress comes at a painstakingly slow, even glacial pace, because there are barely any ways to make time advance even faster. Doors creak open ever so wearily, sometimes taking a few minutes to several hours to swing open, their rusted hinges screeching from perhaps decades of neglect. Even the Shade walks unhurriedly towards their destination; after all, there is no point in making haste when you have so much time to kill.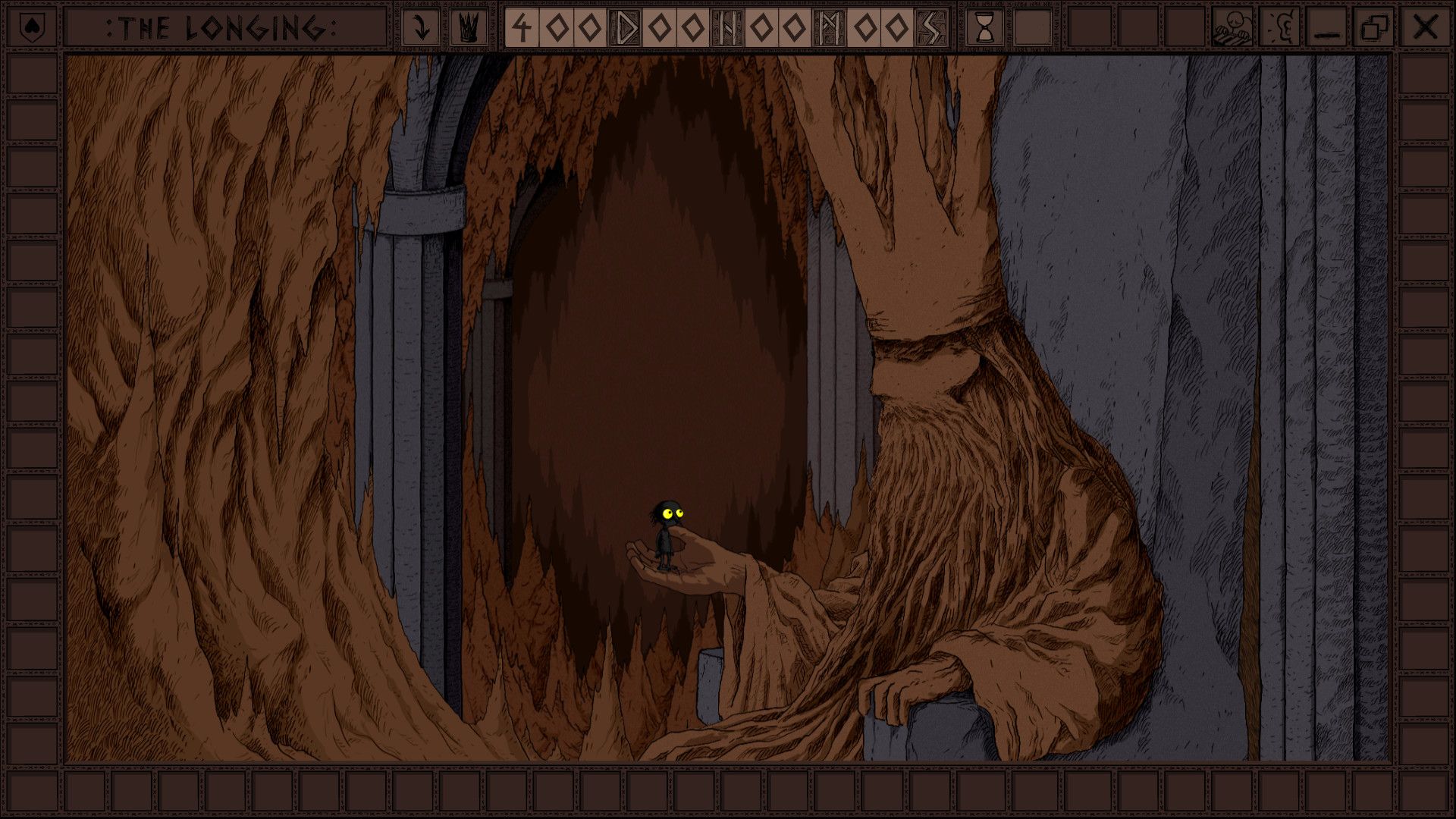 Compared to the high-octane action of most games—any games at this rate, really—the inactivity of The Longing feels like a chore. Boring even. Yet I've spent more than just a few hours alongside the Shade, watching wordlessly as they plod along from one room to the next, searching for nothing in particular. I've even, at times, whipped out an actual book to read, as I watch them shuffle about in the caves.
But what it conveys more proficiently than most games is a state of great, immense solitude—one that's at times disquieting, and other times comforting. The game's repetitiveness soon eased into a soothing personal routine, as I check in on the Shade once every few days. On occasions we even embark on a journey together, unearthing parts of an instrument, or a pickaxe for chipping away at a lovely jewel. Even as I find myself visiting the little dude less and less, I've often imagined how they're passing their days, back in their own modest little space without my constant presence.
The Longing is often said to be an experience about the despair of loneliness, but much less is said about how it also replicates the comfort of solitude. And very occasionally, the warmth of companionship—one I've experienced myself when I spend some hours with the Shade, doing little to nothing at all.
Source: Read Full Article