Over the past few years, Warhammer Age of Sigmar has grown to become one of Games Workshop's most popular titles, second only to the grimdark, future tabletop wargame Warhammer 40,000. With the variety on offer, it's difficult to know what to buy. Today we are looking at some of the best, last-minute gift ideas for players of Warhammer Age of Sigmar, old and new.
Starter Boxes
Every player has to start somewhere, and thanks to Games Workshop most players start with one of GW boxed editions. For Warhammer Age of Sigmar, in much the same way as it's futuristic cousin, there are three entry points that make things a little easier. Of the three options, Warhammer Age of Sigmar Storm Strike is the cheapest. For total newcomers, this is a great option as it gives a good taster of the Age of Sigmar universe, rules, and wargaming hobby. It's also all that is needed for two players to play as it includes two, admittedly small, armies. You can always spring for one of the larger starter boxes, Tempest of Souls or Soul Wars, with the latter being the big one and most comprehensive. The major difference between editions is the number of gaming miniatures you get.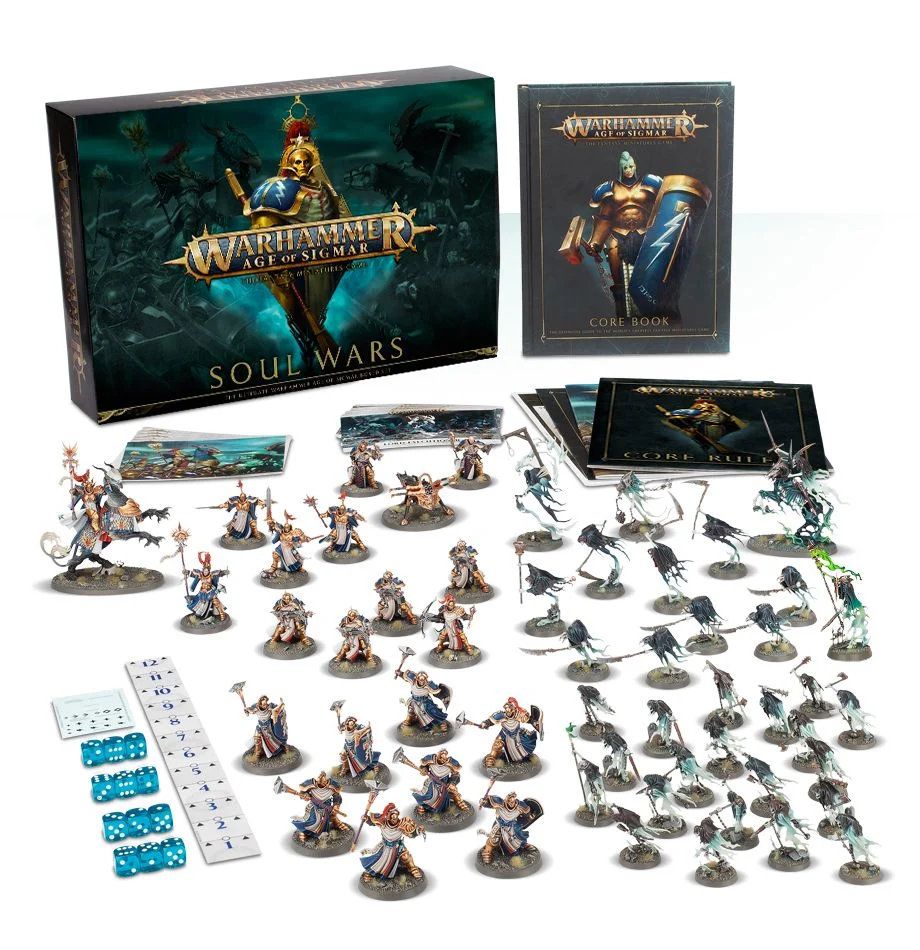 Soul Wars also comes with a hardback copy of the full core rules, something that will be appreciated, later on, we're sure. If you do opt for one of the smaller box sets, don't worry, The three kits are compatible with each other as they provide minis for the same two armies. All the included plastic miniatures come as unpainted, self-assembly kits, but thankfully for newcomers to the hobby, all the models require limited assembly and are push-fit; no glue required. Of course, you may want to buy one of the themed paint sets to give you mini-gamer a leg up.
Broken Realms: Morathi
Long-time players will be well aware of what is about to unfold, as Age of Sigmar looks set to undergo some pretty major changes. Broken Realms: Morathi, sets the stage for the events that are about to unfold and is an essential purchase for existing players. The rules supplement contains update rules for Morathi, leader of the Daughters of Khaine faction, and a new sub-faction that represents her personal guard. The supplement also introduces the core lore changes and the story that is unfolding and several narrative play games that allow players to re-enact the events as they unfold. You will also find rule updates for Cities of Sigmar, Stormcast Eternals, Daughters of Khaine, Slaves to Darkness, and Idoneth Deepkin armies.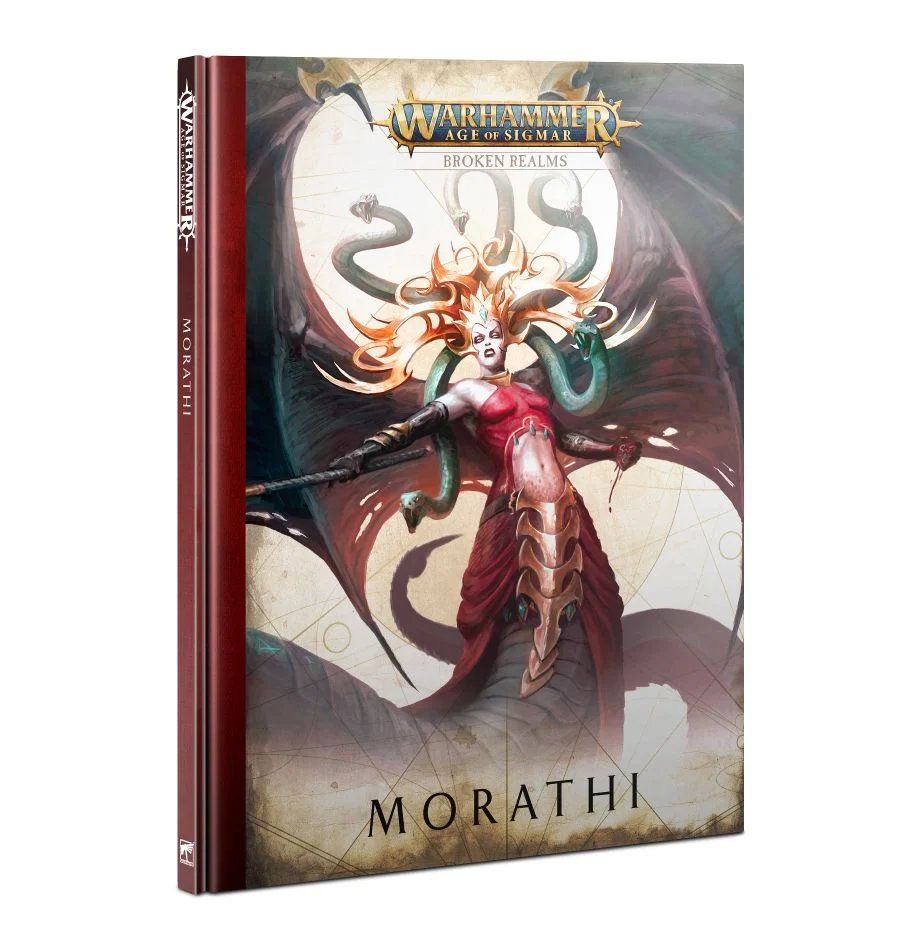 For new players, we still recommend picking up the Soul Wars era starting box set as the core rules will remain the same for a while longer, just be prepared that a new release is likely to hit the middle of next year. Pick up a copy of Morathi and the subsequent expansions, and you can follow the story as it unfolds. Even if you don't play and just enjoy the lore, this tome is an essential read.
Warcry: Catacombs
Another great entry to the hobby is the self-contained game, Warcry: Catacombs, which is set within the Warhammer Age of Sigmar universe. The great thing about Warcry, and the other boxed board games that GW offer, is that you don't have to buy anything else but you get the same hobby experience. Warcry can be considered the fantasy equivalent to Warhammer 40K's Necromunda, as it is a skirmish game that uses small warbands that fight in the dungeons beneath the surface of the Eightpoints.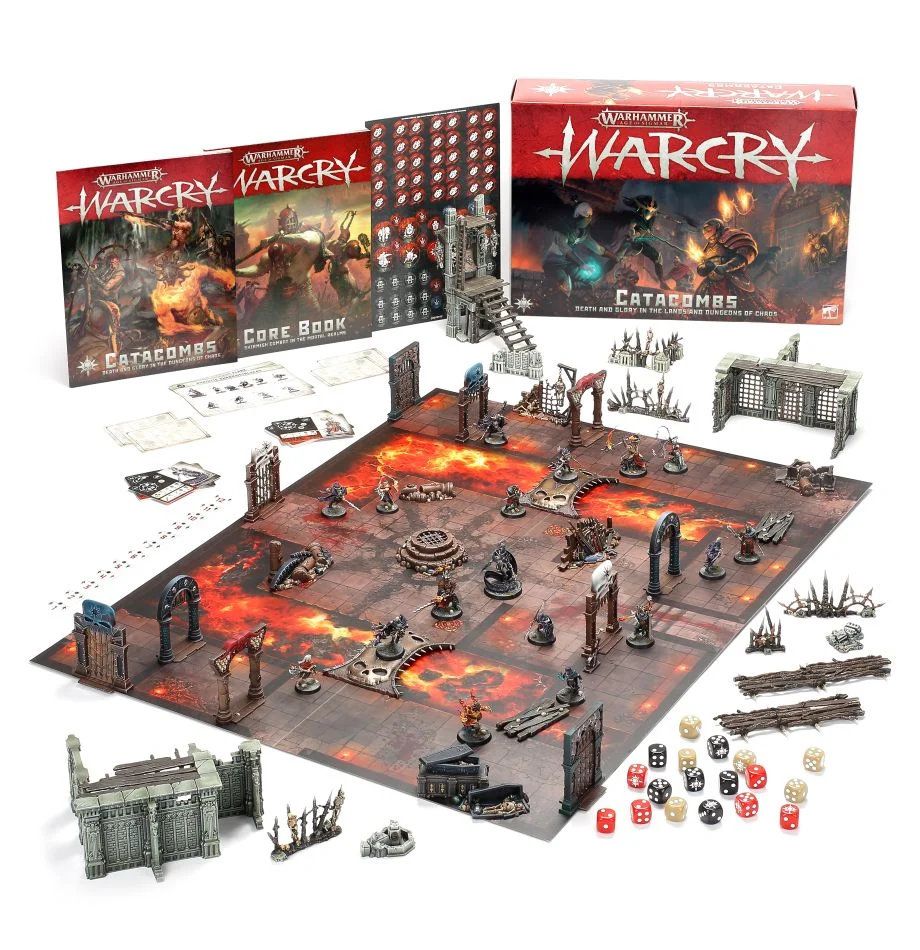 Warcry: Catacombs is the latest edition and comes with a double-sided board and a decent amount of plastic terrain that when placed can mix up your games. You get the core rulebook, the catacombs supplement, and all the accessories you need to start playing. There are also two warbands included, the Scions of Flame and Khainite Shadowstalkers. You can extend the game with additional warbands and use all the included minis in your Warhammer Age of Sigmar games. Warcry games are also quick and easy to set-up, ideal for when you are time-limited.
Blood Bowl
Technically Blood Bowl is not Age of Sigmar related, but the fantasy focused sports game has its origins deeply rooted in Warhammer. The original Blood Bowl was a mainstay of many gaming tables during the '80s and '90s, before a long hiatus and returning in 2016. GW released the second season of its reboot about a month ago, so this edition is fresh and is an important purchase for new players.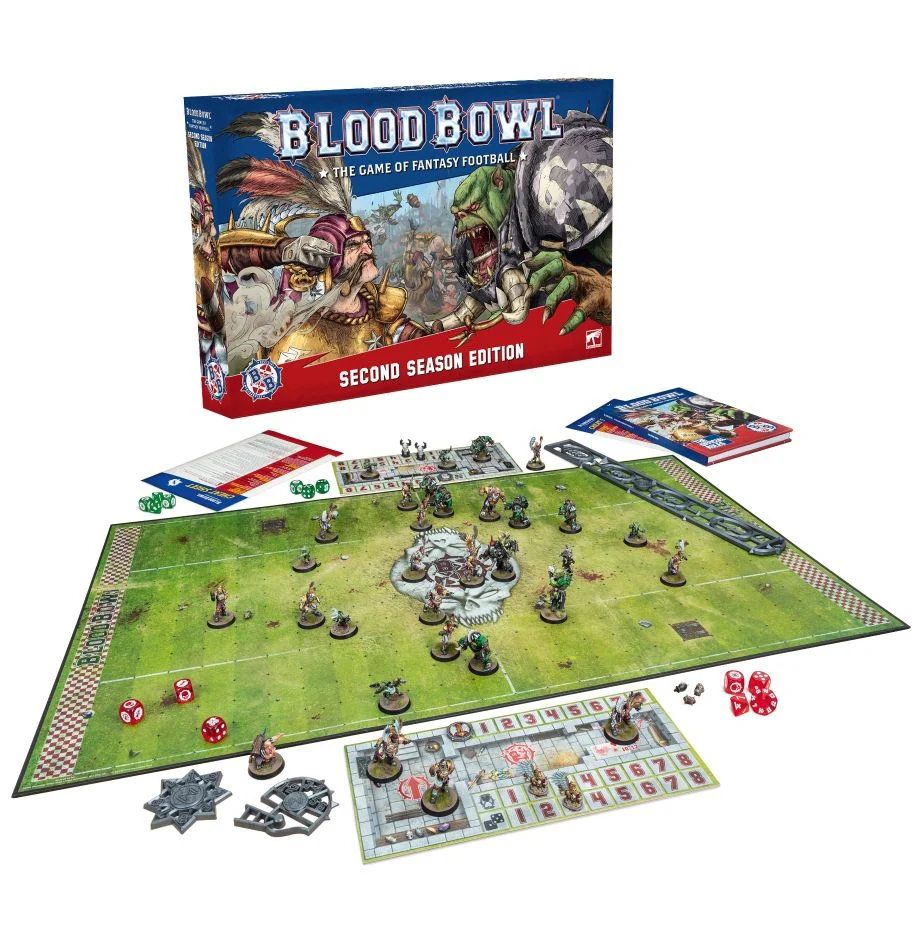 Blood Bowl is a fantasy football brawler; think a cross between football (American, not soccer), rugby, and fight club. The two-player game has an all-star cast of fantasy tropes facing off against each other. Past the included human Imperial Nobility, and Black Orc, you can field teams of humans, dwarfs, elves, orcs, and many more. Rule supplements and team kits are available aside from the boxed game for those looking to expand their options.
Jakkob Bugmansson XI
To round out our Age of Sigmar gift guide, we have a special miniature that is available only for a limited time. The name Bugman has been a part of Warhammer for as long as we can remember. Famous for his brewing prowess, Josef Bugman was known across the old world. Now, in the Age of Sigmar a namesake and distant relative has risen to claim his birthright – Jakkob Bugmansson XI. With a skill rivaling that of his ancestor, Jakkob brings back the legendary XXXXXX brew to Duadin the Realms over.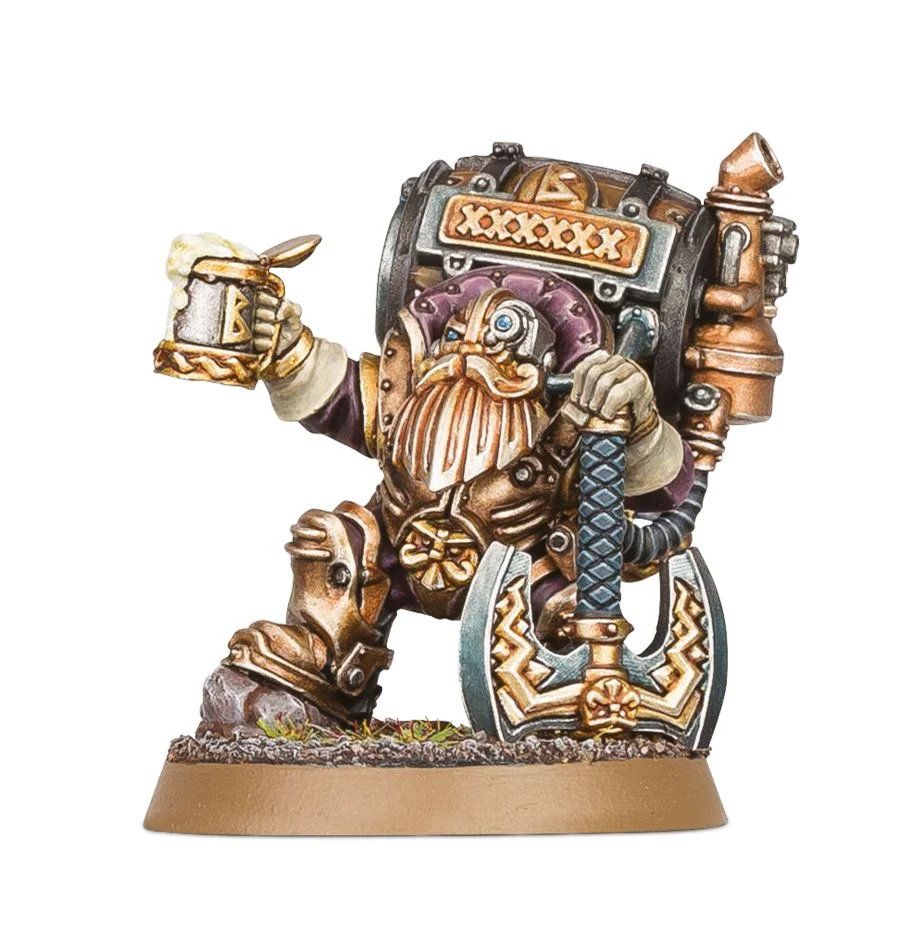 The multi-part kit brings Bugmansson to the tabletop, with rules included with the November issue of White Dwarf. Limited issue models have come quite collectible in recent years, and Bugmansson shows no sign of breaking this trend. Besides, who doesn't love a drunken battle-hardened Duadin stumbling across the theater of war?
These items can be found through the Games Workshop website, or at your local game store if shipping times are a concern.
NEXT: Blood Bowl 3: New Information And Screenshots Revealed During Games Made In France Event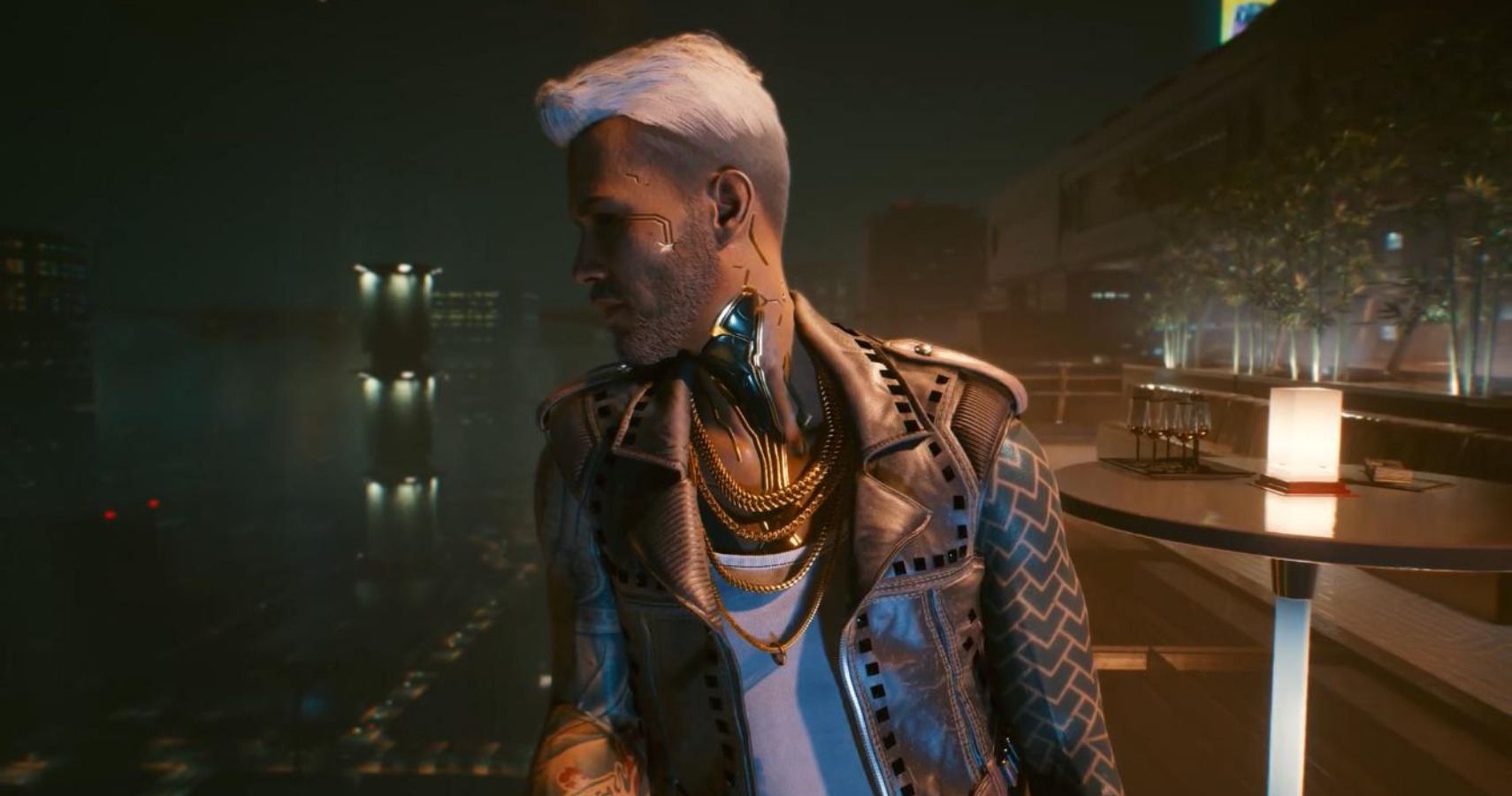 TheGamer Originals
Tabletop
Warhammer
Board Games
Warhammer Age Of Sigmar
Source: Read Full Article