When it comes to gaming PCs, nothing matters more than your graphics card. To push as many pixels as possible you're going to want the fastest graphics card you can afford—but ever-shifting prices and product lineups make it difficult to keep track of what's available.
In honor of keeping frame rates high, we decided to rank all the major available discrete GPUs from Nvidia GeForce and AMD Radeon, starting with the fastest graphics card available and working on down.
We've verified this information through hours of blood, sweat, and benchmarking. Feel free to hit up the individual reviews to see our work in greater detail. Or, if you want more concrete buying advice for your specific budget or display resolution, be sure to read our guide to the best graphics cards for gaming. It provides much more information than this simple list, complete with discussion about considerations like form factors and what to look for in a customized model.
But if you just want to know if GPU A is faster than GPU B, starting with the current consumer gaming champion, read on. The higher up a graphics card is on this list, the faster and more powerful it is.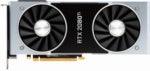 Nvidia's GeForce RTX 2080 Ti costs significantly more than its predecessor, but it's also the first graphics card capable of gaming well past the 4K/60 barrier. If you can afford it, this graphics card can feed a 4K, 144Hz monitor like no other, and it's built for the future with dedicated ray tracing hardware.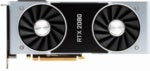 Nvidia's GeForce RTX 2080 Founders Edition trades performance blows with an overclocked GTX 1080 Ti, but offers the promise of ray tracing and AI-enhanced games for $100 more. This card delivers an excellent 4K/60 gaming experience.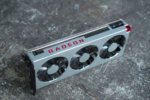 AMD's Radeon VII is a fast, memory-rich graphics card loaded down with the latest technologies. It trades blows with Nvidia's GeForce RTX 2080 in 4K gaming.
With the Gigabyte RTX 2070 Windforce delivering such strong performance at $500, there's little reason to spend more on an RTX 2070 graphics card unless you're looking for specific features.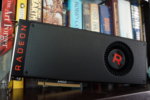 AMD's Radeon RX Vega 64 is an excellent graphics card for 1440p gaming. It uses a lot more power than rival GeForce GPUs and runs very loud in its reference form, however.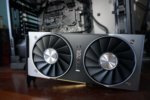 The Nvidia GeForce RTX 2060 Founders Edition delivers superb 1440p and 1080p gaming as well as real-time ray tracing in an affordable package. The design of the graphics card is stunning, too.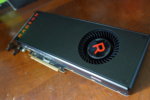 AMD's Radeon RX Vega 56 manages to be slightly more powerful than the GeForce GTX 1070 while generating less heat. It's a great option for all gaming except 4K.
The EVGA GeForce GTX 1660 Ti XC Ultra strips out fancy extras to focus purely on great performance in all functional areas. It's an outstanding all-around graphics card for 1080p and 1440p gaming.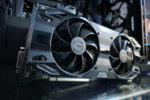 Nvidia's GeForce GTX 1660 and EVGA's superb XC Ultra custom design result in a new mainstream gaming champion. This is the graphics card you want for 1080p gaming at 60 frames per second.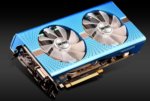 The Sapphire Radeon RX 590 Nitro+ delivers superb 1080p gaming performance with few compromises, though the power draw is massive.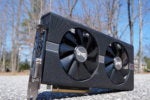 The Radeon RX 580 is basically the Radeon RX 480 with a new name, but that still makes it the best mainstream graphics card around. Sapphire's custom Nitro+ design is stellar.
The Gigabyte Aorus is a gorgeous, well-performing graphics card. The Radeon RX 570 is the best sub-$200 gaming option around—but it isn't much of a step up over the RX 470.
The EVGA GTX 1050 Ti SC Gaming can effortlessly upgrade a prebuilt PC into a gaming rig capable of outplaying modern consoles. It's cool and power-efficient, too.
MSI's overclocked GeForce GTX 1050 graphics card outpunches its AMD rival for significantly lower cost, and can seamlessly slip into prebuilt "big box" computers. It's a great budget gaming option.
You'll also find lower-powered consumer graphics cards like the GeForce GTX 1030 and Radeon RX 550 available. Unless you're extremely budget-constricted, however, or can't accommodate additional power connections, avoid everything below the Radeon RX 570. It provides an incredible amount of value at the $130 sale price you can consistently find it for, and damned fine 1080p gaming if you don't mind dialing visual settings back from Ultra.
…But that's beyond the scope of this list. Again, be sure to check out our guide to the best graphics cards for gaming if you want our GPU recommendations for any budget and other helpful information designed to help you choose the best graphics card for you.
Source: Read Full Article